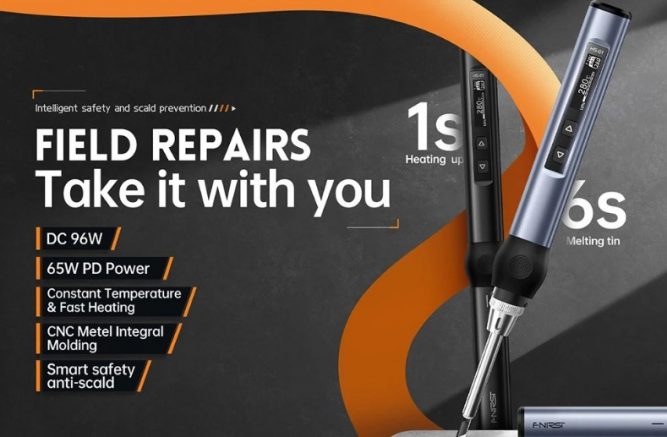 FNIRSI is a brand known to offer every measurement tool you need to get your machine up and running again: comprehensive oscilloscope kits, genuine soldering kits, and maintenance necessities such as current testers. Not sure what tools you need? This guide will show you exactly what tools to use for your repair or maintenance job.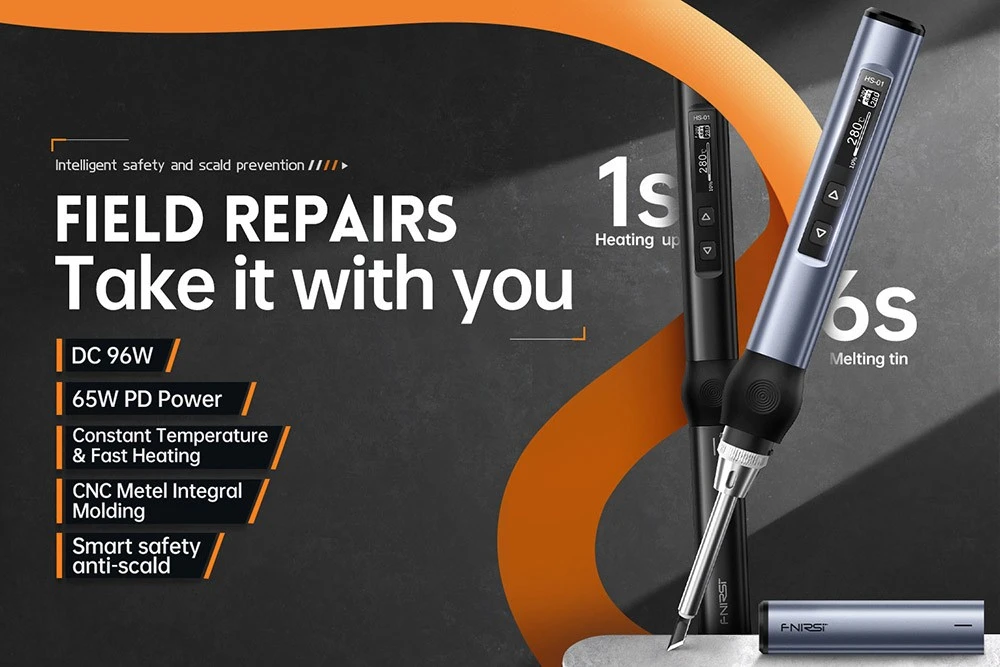 FNIRSI designed a powerful HS-01 electric soldering tool for a great price. Off a 4s lipo, the FNIRSI HS-01 iron will get max hot in less than ten seconds. The iron tips are replaceable and they will last as long as possible with proper use.
As far as the build quality and use, the FNIRSI HS-01 soldering iron kit is easy to hold, and there's a cap that covers the tips when not in use. The OLED display will make sure that the data is clear and readable. Besides, 2 buttons are available to control the temperature.
You do need a 65W USB-C PD adapter which will not come with the kit, but you can also use up to a 24V DC power supply, and an adapter to USB-C is included.
The soldering kit can be used for appliance repair, model aircraft maintenance, PCB soldering, mobile phone repair, PC repair, etc.
Exclusive Offer
28.99USD CODE: FNIRSIHS01
26.99EUR CODE: FNIRSIHS01EU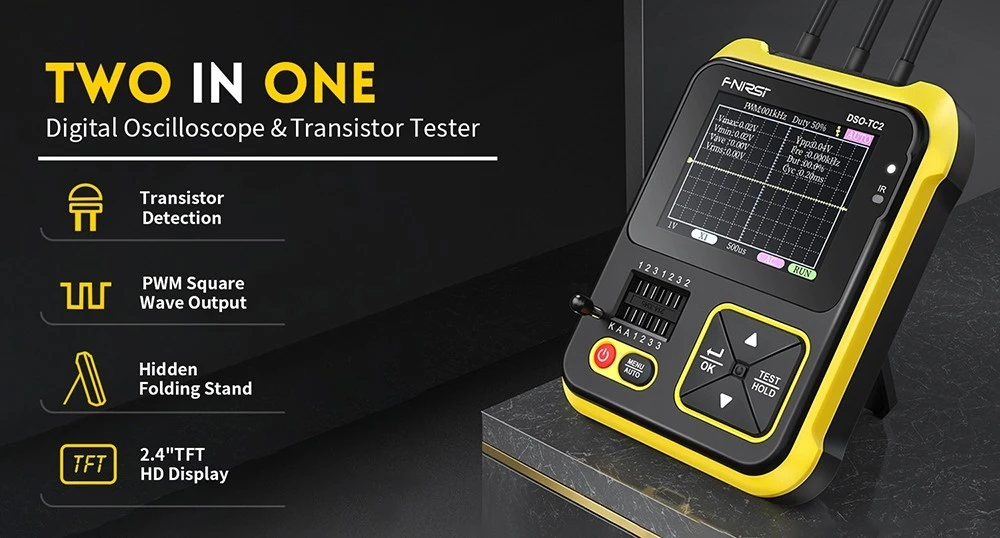 FNIRSI DSO-TC2 oscilloscope ingeniously integrates a digital oscilloscope, electronic component tester, PWM signal generator, and other functions into its ultra-compact body. The large-size color dot matrix TFT display and the built-in rechargeable lithium battery, all make the FNIRSI DSO-TC2 oscilloscope practical to use.
FNIRSI DSO-TC2 oscilloscope can be used for testing components, resistors, transistors, diodes, etc.. in addition to checking TV signal, audio, and more.
Exclusive Offer
41USD CODE: DSOTC2US
39EUR CODE: DSOTC2EU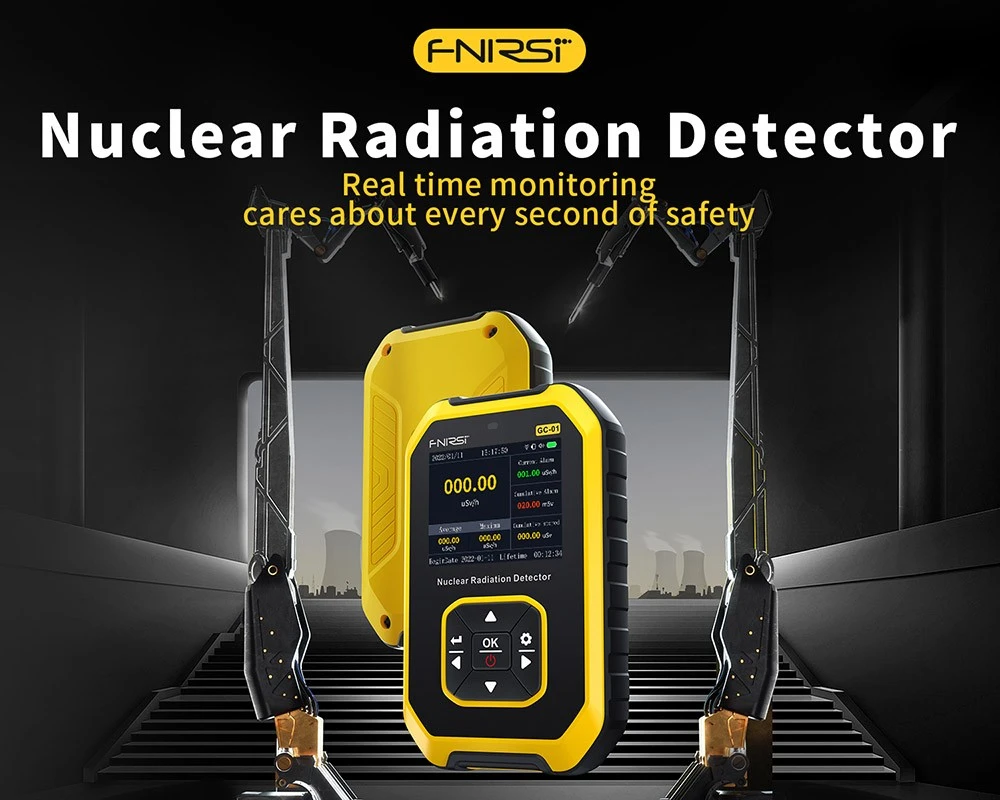 FNIRSI GC-01 Geiger Counter is designed for detecting the intensity of ionizing radiation (beta particles, gamma rays, and x-rays).
What are the hazards of nuclear radiation?
Nuclear radiation affects human health, causing dementia, high blood pressure, heart disease, and reduced immunity, besides damaging our blood and nervous system.
The side effects can be chronic and are generally caused by prolonged use of computers, exposure to objects with radiation, and long-term exposure to high-radiation environments.
Radiation higher than 100msv is harmful to human beings.
Exposure to radiation doses between 100-500msv for a long time will reduce the white blood cells quantity in our blood.
Radiation doses within 1000-2000msv may lead to symptoms such as fatigue, vomiting, or anorexia.
Radiation doses within 2000-4000msv, the quantity of red and white blood cells in the human blood will be significantly reduced, resulting in internal bleeding.
What things produce radiation harmful to the human body?
The nuclear power plant, ore, ionizing radiation, computer, radiology medical equipment, industrial environment, etc.
What FNIRSI GC-01 Geiger Counter Radiation Detector could do for you?
Set alarm value, when the radiation dose exceeds the value you set, alarm alert. Help you stay away from the environment and things that exceed the radiation dose.
Exclusive Offer
39EUR CODE: FNGC01EU
42USD CODE: FNGC01US