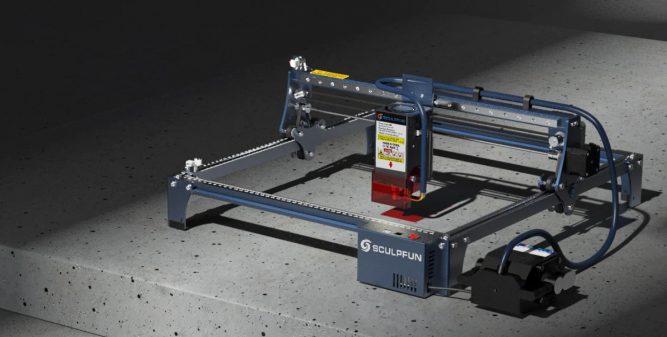 Invest in a Bluetooth Antenna or Bluetooth module
The brand also claimed that the S30 series enables Bluetooth support. Here is the trick:
The S30 series does not come with Bluetooth Antenna. The users can purchase it themselves and there is no software upgrade required when activating the Bluetooth function.
If you are connecting any one of the S30 series laser engravers with a notebook, no extra Bluetooth module is required; but if you are connecting it to a desktop PC, then a small investment in a Bluetooth module is indispensable.
Enable Bluetooth on Sculpfun S30 / S30 Pro / S30 Pro Max
1. Turn on the Sculpfun S30 series laser engraver, connect to PC, and input ($Radio/Mode=BT)in the Lightburn command. Search and add the Bluetooth in your notebook or PC named "Scupfun".
2. After the Bluetooth is added, find out the newly-added Bluetooth Port in the Device Manager of your notebook or PC, select the corresponding Port in Lightburn, and reconnect.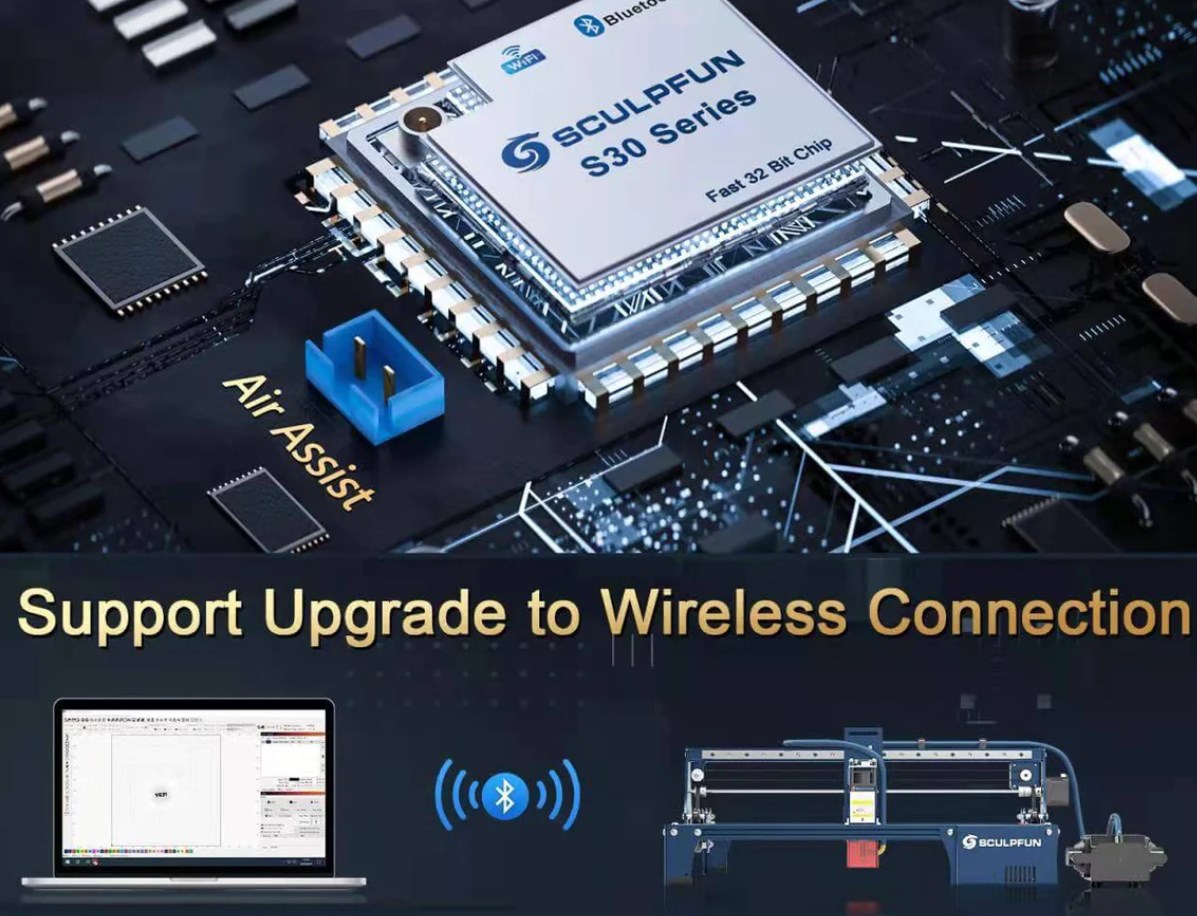 A brief intro into the Sculpfun S30 series
Sculpfun S30 series is one of the most recent brainchild of the brand that comes with 3 laser setups, namely, the S30 with 5W laser power, the S30 Pro with 10W laser power, and the most powerful 20W S30 Pro Max. Each variant features a fully automated air assist + air pump system and ultra-fine compressed spot. Notably, the replaceable lens and the 20W variant are initiatives that no other competitors have ever attempted before.
Moreover, the S30 series comes along with a full set of accessories for those who want to explore the full potential of the laser engraver, including the laser bed, extension kits, rotary roller for cylinder objects, smoke exhaust, etc. This series target newbies and professionals alike, whether you are looking to start a small business setup or a hobby with a laser, there is always an option from Sculpfun S30 series that will adapt to our needs.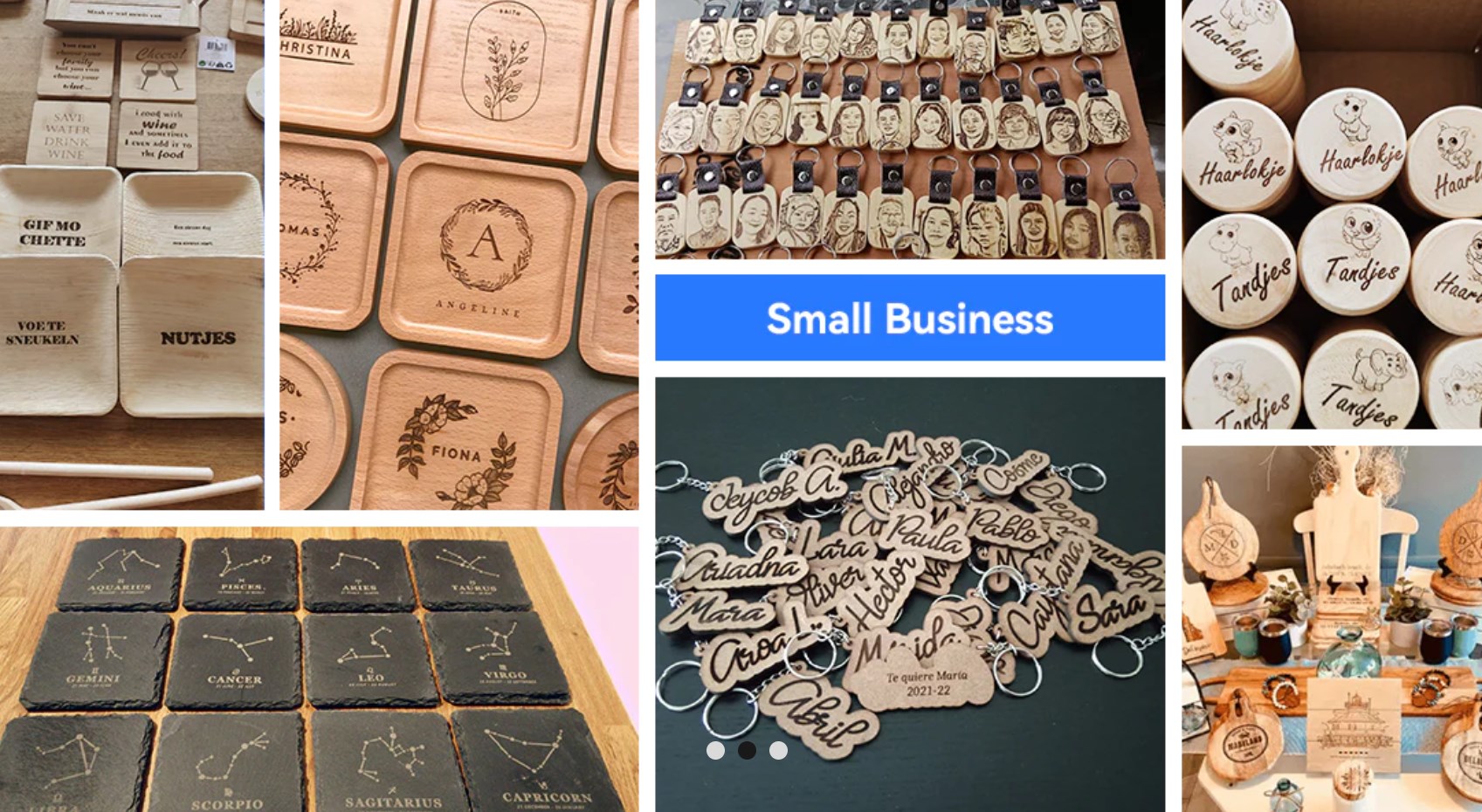 Sculpfun S10/S30 Pro/S30 Pro Max Common Material Settings For Reference Only
Sculpfun S30
| Material Name | Thickness(mm) | Processing | Power(%) / Speed(mm/s) / Pass |
| --- | --- | --- | --- |
| Plywood | 3MM | Cutting | 300mm/min 1 passes power 100% Air On |
| Plywood | 6MM | Cutting | 240mm/min 3 passes power 100% Air On |
| Plywood | 10MM | Cutting | 180mm/min 12 passes power 100% Air On |
| Plywood | / | Engraving | 3000mm/min power 43% |
| Basswood | 3MM | Cutting | 240mm/min 1 passes power 100% Air On |
| Basswood | 6MM | Cutting | 180mm/min 2 passes power 100% Air On |
| Tung board/cork | 10MM | Cutting | 300mm/min 4 passes power 100% Air On |
| Tung board/cork | 15MM | Cutting | 300mm/min 7 passes power 100% Air On |
| Tung board/cork | 20MM | Cutting | / |
| Black Acrylic | 6MM | Cutting | 180mm/min 5 passes power 100% Air On |
| Black Acrylic | 11MM | Cutting | / |
| MDF | 3.6MM | Cutting | 180mm/min 4 passes power 100% Air On |
| MDF | / | Engraving | 3000mm/min power 35% |
| Stainless steel | / | Engraving | 180mm/min power 100% |
| g Kraft paper | / | Engraving | 1800mm/min power 25% |
| Leatherwear | / | Engraving | 1800mm/min power 15% |
Sculpfun S10 & S30 Pro
| Material Name | Thickness(mm) | Processing | Power(%) / Speed(mm/s) / Pass |
| --- | --- | --- | --- |
| Plywood | 3MM | Cutting | 480mm/min 1 passes power 100% Air On |
| Plywood | 6MM | Cutting | 180mm/min 1 passes power 100% Air On |
| Plywood | 10MM | Cutting | 180mm/min 4 passes power 100% Air On |
| Plywood | / | Engraving | 3000mm/min power 30% |
| Basswood | 3MM | Cutting | 360mm/min 1 passes power 100% Air On |
| Basswood | 6MM | Cutting | 180mm/min 1 passes power 100% Air On |
| Tung board/cork | 10MM | Cutting | 300mm/min 2 passes power 100% Air On |
| Tung board/cork | 15MM | Cutting | 180mm/min 2 passes power 100% Air On |
| Tung board/cork | 20MM | Cutting | 300mm/min 10 passes power 100% Air On |
| Black Acrylic | 6MM | Cutting | 180mm/min 2 passes power 100% Air On |
| Black Acrylic | 11MM | Cutting | 180mm/min 11 passes power 100% Air On |
| MDF | 3.6MM | Cutting | 240mm/min 2 passes power 100% Air On |
| MDF | / | Engraving | 3000mm/min power 15% |
| Stainless steel | / | Engraving | 360mm/min power 100% |
| g Kraft paper | / | Engraving | 1800mm/min power 15% |
| Leatherwear | / | Engraving | 1800mm/min power 10% |
Sculpfun S30 Pro Max
Material Name
Thickness(mm)
Processing
Power(%) / Speed(mm/s) / Pass
Plywood
3MM
Cutting
780mm/min 1 passes power 100% Air On
Plywood
6MM
Cutting
360mm/min 1 passes power 100% Air On
Plywood
10MM
Cutting
300mm/min 2 passes power 100% Air On
Plywood
/
Engraving
3000mm/min power 20%
Basswood
3MM
Cutting
600mm/min 1 passes power 100% Air On
Basswood
6MM
Cutting
300mm/min 2 passes power 100% Air On
Tung board/cork
10MM
Cutting
300mm/min 2 passes power 100% Air On
Tung board/cork
15MM
Cutting
180mm/min 1 passes power 100% Air On
Tung board/cork
20MM
Cutting
180mm/min 3 passes power 100% Air On
Black Acrylic
6MM
Cutting
300mm/min 3 passes power 100% Air On
Black Acrylic
11MM
Cutting
180mm/min 6 passes power 100% Air On
MDF
3.6MM
Cutting
300mm/min 1 passes power 100% Air On
MDF
/
Engraving
3000mm/min power 18%
Stainless steel
/
Engraving
900mm/min power 100%
g Kraft paper
/
Engraving
1800mm/min power 15%
Leatherwear
/
Engraving
1800mm/min power 15%
The limit test parameters are for reference only, and the actual parameters need to be adjusted according to the actual material thickness