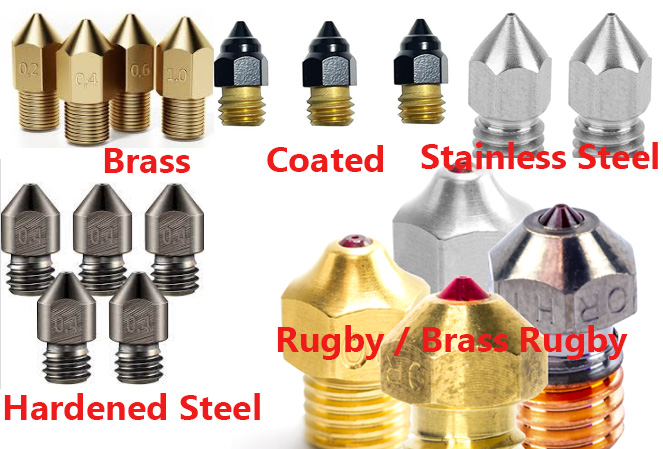 As one of the essential parts of a 3D printer, nozzles will greatly influence the print result, namely the resolution, printing time, and appearance. In order to achieve the best possible printing results and to extend the life expectancy, we are expected to pay great importance to the choice of a nozzle.
What is the application of a nozzle?
Nozzles are connected to the hot end and through which the printer heats up and melts the filament in order to shape it on the printing platform. They are generally replaceable. It is undoubtedly worthwhile to replace or upgrade the nozzle if you have specific 3D printing requirements.
3D printer nozzles differ. The primary characteristics of a nozzle are:
*Nozzle diameter
*Material
The material and diameter of a nozzle will decide on what filaments you gonna use for your prints.
Nozzle diameter
Nozzle diameters vary from 0.1 to 2.0 mm and they will largely determine the possible layer height and the printing speed as well.
In other words, how much and how fast the filament is extruded.
As a rule, the maximum layer height values should be less than 80% of that of the nozzle diameter. For example, the recommended maximum layer height of a 0.4mm nozzle is 0.32 mm.
The maximum and minimum layer height you can print with your nozzle is as follows:
Nozzle Size(mm)
0.2
0.4
0.5
0.6
0.8
1.2
Max Layer Height(mm)
0.15
0.3
0.375
0.45
0.6
0.9
Min Layer Height(mm)
0.05
0.1
0.125
0.15
0.2
0.3
Formula
Max Layer Height
0.75 * nozzle diameter
Min Layer Height
0.25 * nozzle diameter
0.4 mm nozzle has been the standard for most of the FDM 3D printers on the market as it is considered to be able to achieve the perfect balance among resolution, precision and printing speed.
Mozzles with a diameter <0.4 mm are ideal for prints with ultra-fine details, featuring barely visible layer traces. So small as it is, the printing duration is thus extended as compared to a standard 0.4 mm nozzle. In addition, comparatively more demanding filaments cannot be processed with small nozzles, as the risk of clogging the nozzle shall increase.
Large nozzles guarantee higher material flow, thicker layer heights, and shortened printing duration. The wider the extrusion and the higher the layers, the more stable the prints and the worse the details. Moreover, wider nozzles hardly clog and are therefore ideal for materials like wood, carbon fiber, or glow-in-the-dark filaments.
Thanks to their advantages in printing speeds, large nozzles are specifically designed for rapid prototyping.
⇒ Fact: When printing at a layer height of 0.4 mm, the printing time is almost halved compared to a 0.2 mm counterpart.
Nozzle materials
With relatively high thermal conductivity, the materials of 3D printer nozzles differ. Since some filaments have abrasive properties, certain types of metal wear out faster than others. The nozzle material should be selected accordingly.
The advantages and disadvantages of each nozzle material are as follows:
Nozzle
Max. Temperature
Advantages
Disadvantages
Brass nozzles
max 300 ℃
1. Low cost
2. High thermal conductivity
1. Lower thermal conductivity
2. Lower print quality
3. Higher cost
Coated nozzles
max 500 ℃
1. Higher wear resistance than normal brass or copper
3. Perfect all-rounder
4.. High-temperature resistance
5. High thermal conductivity
1. Not as hard as hardened steel
2. Not suitable for permanent use with abrasive materials
Stainless steel nozzles
max 500 ℃
1. Better wear resistance than brass
2. Can be used for food-safe filaments
1. Lower thermal conductivity than brass
2. Lower wear resistance than hardened steel
Hardened Steel Nozzles
max 500 ℃
1. Very durable
2. Suitable for abrasive materials
1. Lower thermal conductivity
2. Lower print quality
3. Higher cost
Ruby Nozzles / Brass Ruby Nozzles
max 550 ℃
1. High thermal conductivity due to the brass body
3. High wear resistance
4. High-temperature resistance
1. Higher cost
Most commonly used with great heat transfer and at a relatively low cost. When processing abrasive special filaments with wood, carbon, or metal fibers, however, a brass nozzle wears out quickly.In order to protect the relatively soft nozzle material from excessive abrasion and to reduce the friction between the filament and the nozzle, a brass nozzle can be coated with nickel or chrome.
In order to protect relatively soft nozzle material from excessive abrasion and to reduce the friction between the filament and nozzle, brass or copper nozzles are also available with a nickel or chrome coating.
In addition to improved scratch resistance, the coating also significantly increases its temperature resistance.
Steel is another popular material as it offers slightly better wear resistance than brass nozzles. To some extent, they also prevent molten plastic from sticking to its surfaces and contaminating the print with lead, which is often the case with brass nozzles. Steel nozzles are therefore theoretically suitable for food-safe materials. Steel allows a wider range of filaments to be processed but is not recommended if abrasive filaments are used frequently. It is also less heat-conductive compared to brass.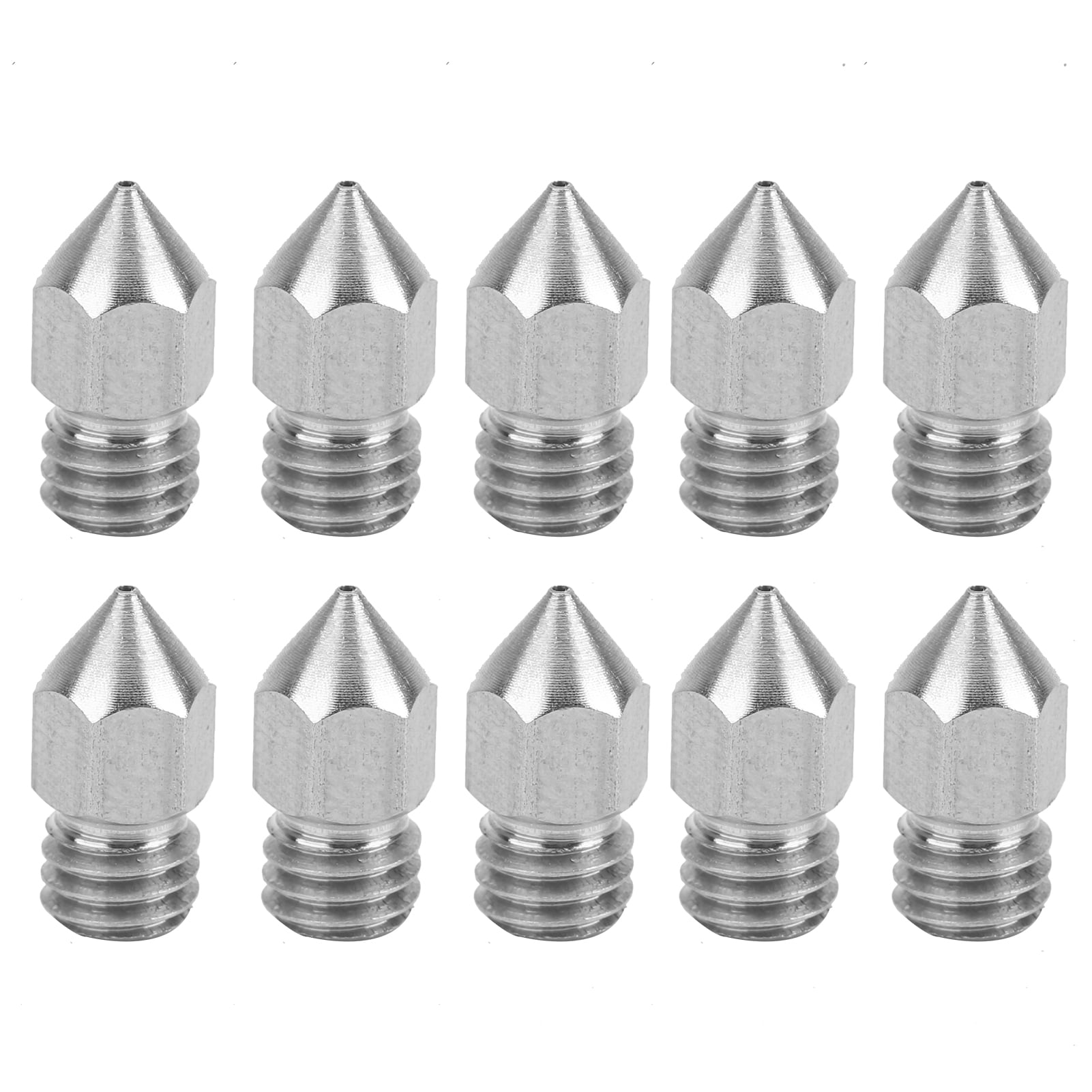 Hardened steel nozzles are tough enough for frequent use of abrasive materials (10 times more wear-resistant than brass nozzles) and literally last longer. However, it characterizes a lower thermal conductivity than the two previous materials and is more expensive. Since the inner surface of the nozzle is not as smooth as other "softer" nozzles, it may lead to poor print quality.
Ruby Nozzles / Brass Ruby Nozzles
Nozzles with ruby tips belong to the luxury category. In general, ruby nozzles are brass nozzles with or without a coating that has a ruby on the tip. Since the hole in the ruby can be made very precisely, there are only small diameter tolerances. The ruby tip of the nozzle delivers additional wear resistance, which is particularly useful when processing special filaments. In comparison, the ruby nozzle is the most expensive one.