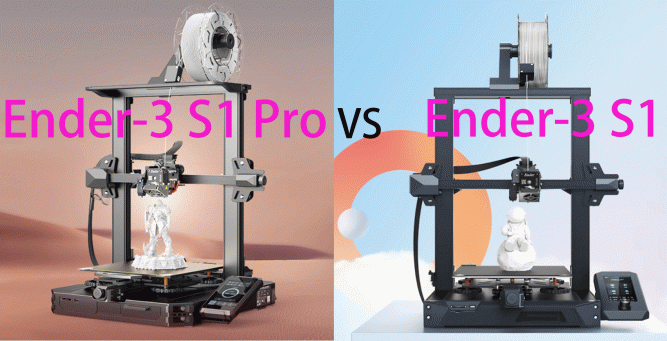 Creality Ender-3 S1 Pro or Creality Ender-3 S1, that's the question! Let`s explore the differences to find out which will work the best for you.
Ender-3 S1 and Ender-3 S1 Pro all have:
Automatic bed leveling with CR-touch
Two Z-axis motors
Filament Detection Sensor
32Bit Slient Board
6 Step Easy to Assemble
Double-gear drive extrusion
220*220*270mm Printing Size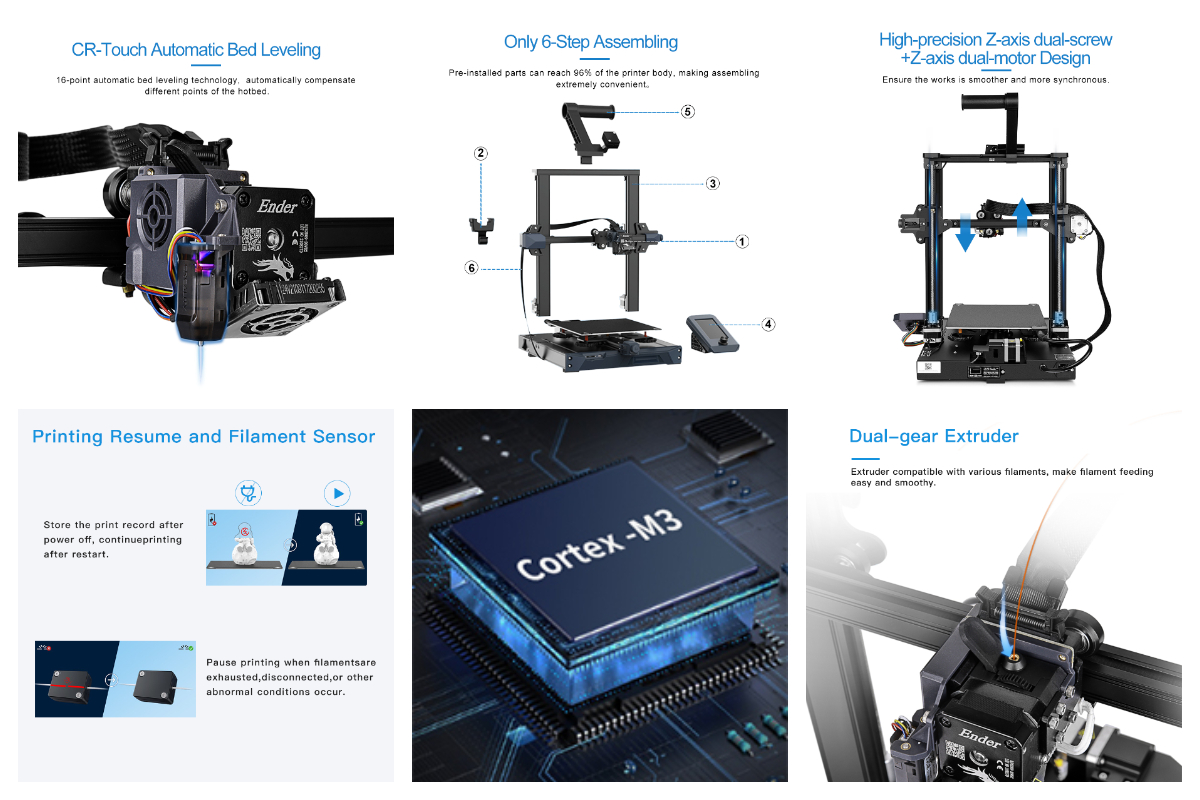 Differences Between Ender-3 S1 and Ender-3 S1 Pro
Ender 3 S1 Pro has a PEI spring steel hotbed, whereas the Ender 3 S1 equips one which is made of PC spring steel. The former is more flexible and will stop it from sticking to your projects.
An LED strip is mounted onto the Ender 3 S1 Pro to illuminate your prints! Aesthetically, the redesigned all-in-one structure of the base plate makes the machine more pleasing to the eyes.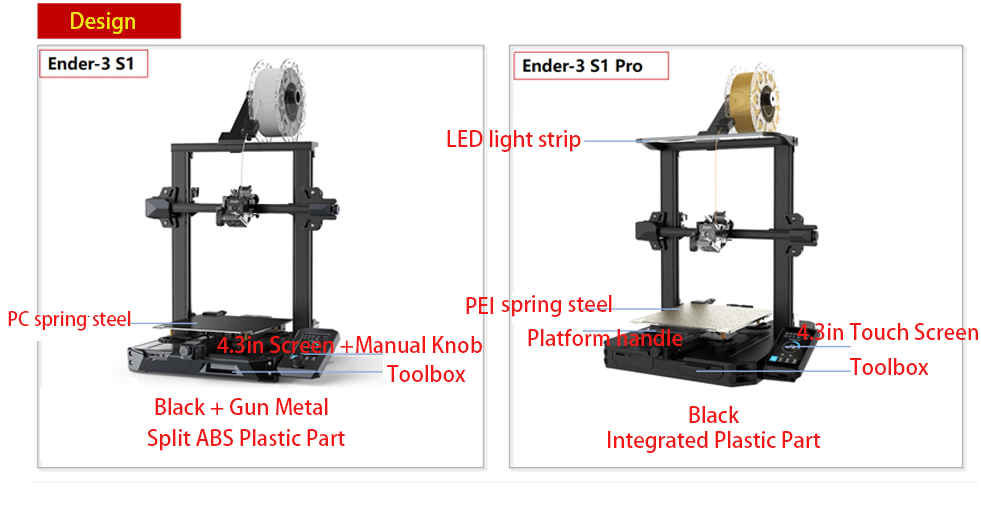 As it is known, Creality is constantly surprising us, and even with this Ender 3 S1, it has taken a step forward. This Printer is extremely easy to set up and is a significant upgrade of Ender 3 series, with a dual gear direct drive, auto-leveling, dual Z-axis, quick assembly, PC coated spring steel print sheet etc. With Ender 3 S1 pro, we get an All Metal Titanium Alloy tube, which means improved heat resistance and extended life expectancy over the plastic one. Thanks to the all-metal titanium alloy tube, the Ender 3 S1 pro unlocks the possibilities of ABS/Wood/PA filaments printing. Without a doubt, this is not only a nice-to-have upgrade for the majority of users but also an added bonus for the needed.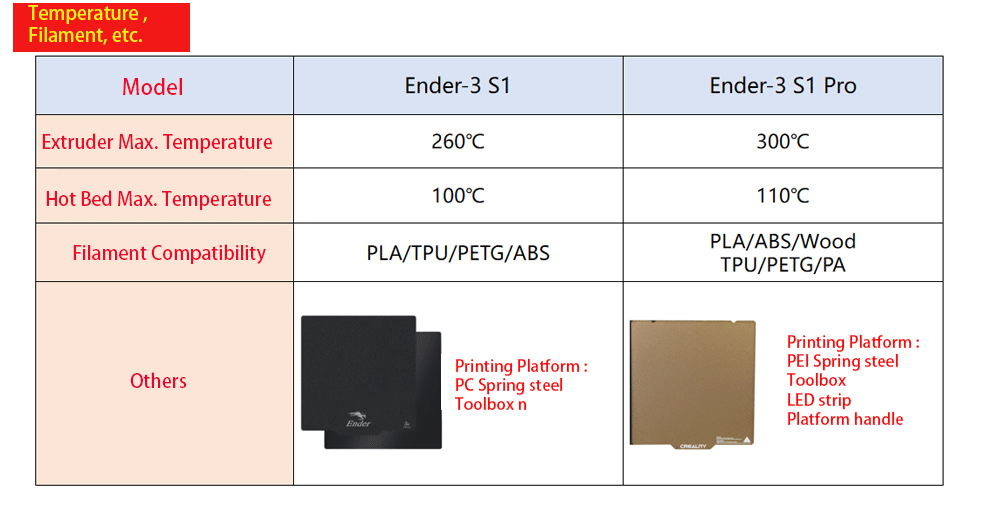 With the Crealty Ender 3 S1, the operation of the 4.3-inch LCD screen and the user interface has a mixture of a traditional and modern design. Everything that you need is easy to find, having the standard "Print", "Control", "Prepare" & "Level" options. The only issue is, you have to either press or turn the knob manually each step of the way. On contrary, the Touchscreen of the Ender-3 S1 Pro will save you the hassle. Simply select and click, you are done. 9 languages are available, including Chinese, English, German, French, Italian, Spanish, Portuguese, Russian, and Turkish. No firmware flash is required as with the Ender-3 S1.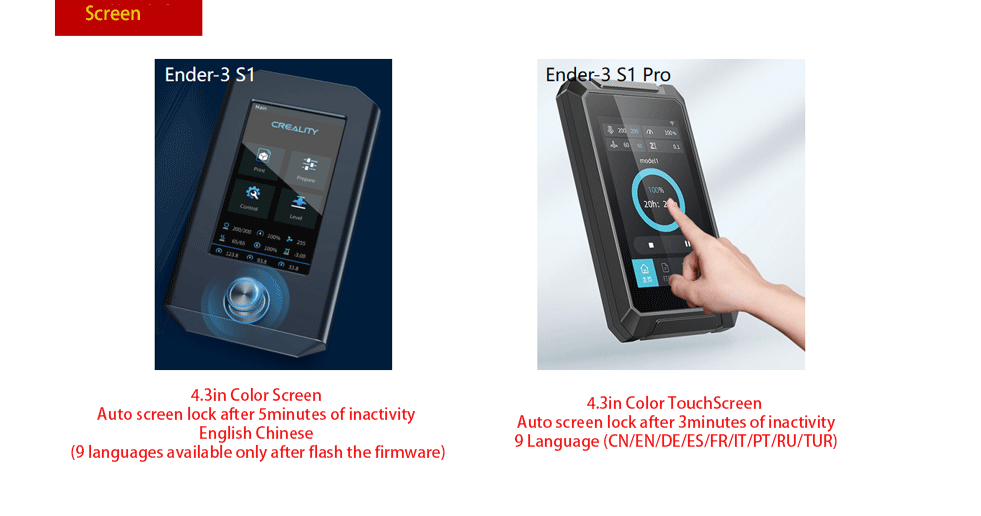 The Verdict
If ABS/Wood/PA printing is not included in your schedule, then get the Creality Ender-3 S1. If high-temperature printing is a necessity, then the Creality Ender-3 S1 Pro comes into play. As for the touchscreen or manual knob operation, I don't think it matters. You will get used to either of them after a few prints. BTW, the screen can be replaced if necessary.
Both the Creality Ender-3 S1 and Ender-3 S1 Pro are on sale at Geekbuying.com. If there is no stock, please feel free to subscribe to our In Stock Notice on the product details page and be the first to get notified once they are in stock.