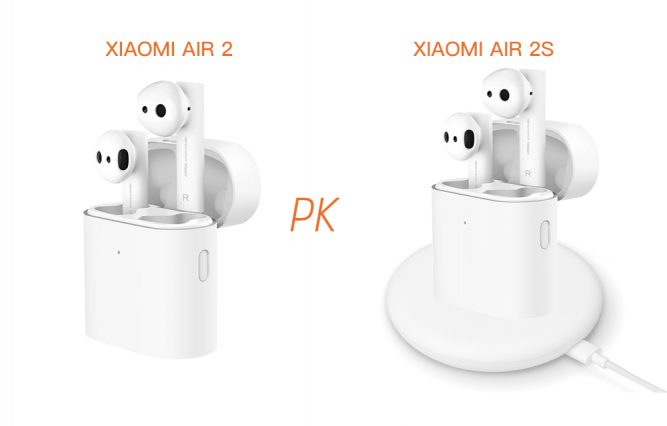 Xiaomi Air 2S TWS Earbuds
are no different from the
Air 2
aesthetically, but as we know the appearance is sometimes deceiving. More than in design, these new headphones differ in a number of features that we didn't have before. Let's see the upgrades in the Xiaomi Air 2S TWS Earbuds in detail.
QI Wireless Charging & Extended Battery life
The
Xiaomi Air 2S TWS Earbuds
have the possibility of recharging via the Qi base. The supported charging power is 2.5W and therefore rather limited, but on the other hand, we have a really excellent autonomy. In fact, the
Xiaomi Air 2S TWS Earbuds
manage to give a sound experience for 5 consecutive hours, up to 24 hours if recharged with your own case. This can also be recharged via socket USB type-C in about an hour (maximum power 5W).
Despite the lack of Wireless Charging support,
Xiaomi Mi Air 2 TWS Earbuds
give 4 hours of use and a combined total of 18 hours with the charging case.
Voice Control via XiaoAI
Except for the great improvements in terms of battery life and the addition of wireless charging, the
Xiaomi Air 2S TWS Earbuds
allow for voice control via the digital assistant (XiaoAI), weight back, and presence of the touch commands. This feature is highly sought after and a simple touch to control the volume is enabled.
Optimized LHDC Decoding for MIUI System
The
Xiaomi Air 2S TWS Earbuds
have thoroughly optimized the LHDC Bluetooth decoding for the MIUI system while applying a new architecture for in-depth optimization of the hardware.
Dual-Core Chip to Reduce Delay and Improve Anti-Interference Performance
The
Xiaomi Air 2S TWS Earbuds
have upgraded to a dual-core chip, adopting the binaural synchronous transmission technology to transmit sound signals to the left and right headphones simultaneously, effectively reducing delay and strong anti-interference both in gaming and music listening, and the connection between the left and right headphones is more stable.