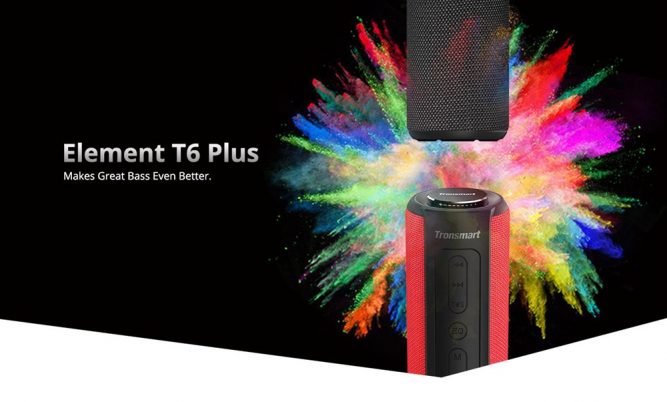 1. Is this Bluetooth speaker waterproof?  
Yes, T6 Plus comes with IPX6 design.
2. Can I use it while charging? 
We do not suggest using it while charging, it will harm the battery lifespan.
3. With an Android phone, it is very quiet despite phone volume and speaker volume on full. Perfectly fine with an iPhone. Please advise.
We suggest that you can close all the back office Apps, and then open the music App you want to play. If still quit, please write to our customer service at support@tronsmart.com.
4. Is Tronsmart Element T6 compatible with Spotify? 
Yes, Tronsmart Element T6 speaker is compatible with Spotify. It is compatible with Bluetooth enabled smartphones, tablets, and laptops.
5.  Is there a way to get the battery status of the speaker?
The T6 Plus speaker doesn't support battery status showing. When the battery is in low status, it will remind you with voice "battery low".
6. Does T6 support TWS?
Yes, it does.
7. How can I switch the source? Such as: From Bluetooth to AUX?
Turn off the Bluetooth, use the AUX line to connect your phone to T6.
8. Is T6 Plus compatible with Google mini?
Yes.
9. Can I switch songs from the speaker when it is in AUX mode?
NO. You can only switch playbacks from the sound source end (cellphone, PC, tablet, etc.) in AUX mode. But you can switch songs via the speaker over Bluetooth Mode.