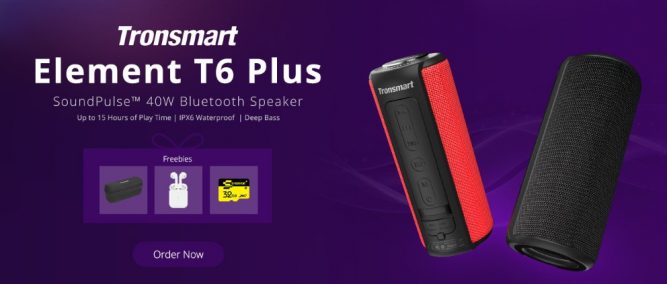 After 2 long years, the upgrade edition of Tronsmart T6 Speaker has arrived, and they look similar. But it's what's inside that counts. Priced at $79.99, the T6 Plus comes with a maximum power output of 40 Watts and the addition of support for SIRI. Now you can summon Siri by a gentle tap at your iPhone.
Available in black and Red, the T6 Plus Bluetooth Speaker by Tronsmart is technically IPX6 water-resistant, meaning that it is capable of withstanding heavy splashes, rain, and sweat. Plus, it's also incredibly stylish.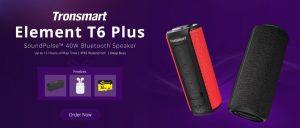 You can get the new Tronsmart T6 Plus Speaker with or without carry case, or you can purchase the other options, including one with 3 ports car charger + 64GB MicroSD card, one with carrying case + 32GB MicroSD card, one with the most popular i10 TWS earbuds, and one with the Tronsmart Spunky Buds TWS earbuds.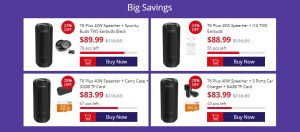 By the way, you can get a $10 coupon code during the promo sale from 4/19/2019 – 4/29/2019. An added bonus, you may have the chance to receive a Carry Case for Free (100pc Limit) if you are lucky enough to be one of the first 200 Tronsmart T6 Plus customers.
$10 Off Coupon Code: T6P10OFF