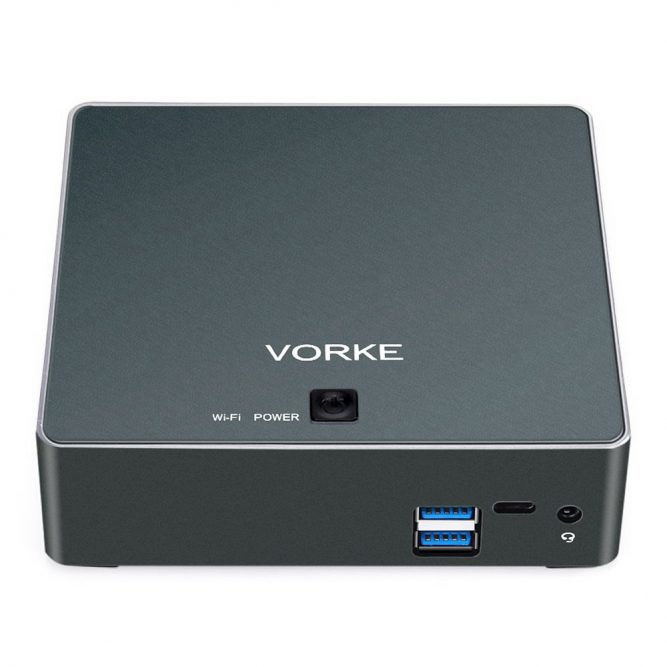 VORKE entered the PC market 2 years ago with its V2 that was designed to target the portable office computers in both performance and design. This year the brand steps forward by focusing on the most recent Intel Kaby Lake R variant with the lunch of the VORKE V2 Pro.
VORKE went for the very best components and upgrade possibilities for the V2 Pro. Despite the 8GB DDR4 RAM, both the 128GB and 256GB models run the Samsung M.2 NVMe SSD, one of the fastest MINI PC drives currently available.
Compared with the 8th-generation Intel Core i7-8550U-powered 256GB model, the 128GB model is slightly less competitive but still delivers a powerful punch: it has 4 cores, 8 threads, a maximum turbo frequency of 3.40 GHz and 6 MB SmartCache, even this 'basic' offering is capable of demanding video and photography work.
As mentioned earlier, the 256GB version comes in a range of configurations, with the top-end model boasting a huge amount of power. The i7-8550U is equipped with four cores aided by a turbo frequency of 4.00GHz, therefore it offers devastating short-term single core performance. There's no denying the solid build quality and the convincing specifications.
Another big improvement, however, comes to the UHD graphics620 positioned between the Nvidia GeForce 910M and 920M dedicated graphics, making it particularly well suited for casual games like Team Fortress 2, Rocket League or Farming Simulator 17.
If you were setting out to build the more powerful office desktop, there's no doubt the VORKE V2 Pro would top the list. Besides, its compact body would sit comfortably on an A4 sheet.