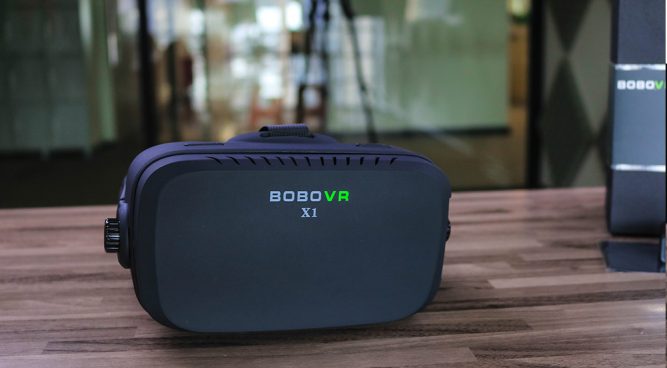 An All In One Headset That Entails The Least Fiddling On Your Part
It`s generally acknowledged that Virtual Reality headsets have been a great tech hit since last year, and they have come in droves along with a selection of forms starting from the primitive Google cardboard to the most recent All In One Android pieces.
The best things about the X1 AIO, BOBOVR`s custom VR OS-driven virtual reality headset that came out lately are what it isn't: Complicated, Heavy. Expensive. Finicky. Tricky. Most important of all, designed as an all-in-one VR headset means you get a screen that matches the lenses, the interface controls you need, and no fiddling around with your regular smartphone.
Humanized Design, Solid Build
The BOBOVR X1 AIO turns out wrapped in a black cartoon box enveloped by a logo-printed a cover. I see solid build at the first sight of the X1 AIO all in one headset. And when I put my hands on, I feel a sense of quality and technology. Weighing up in my hands, it feels a little heavier than the ones that require a smartphone or PC to work properly.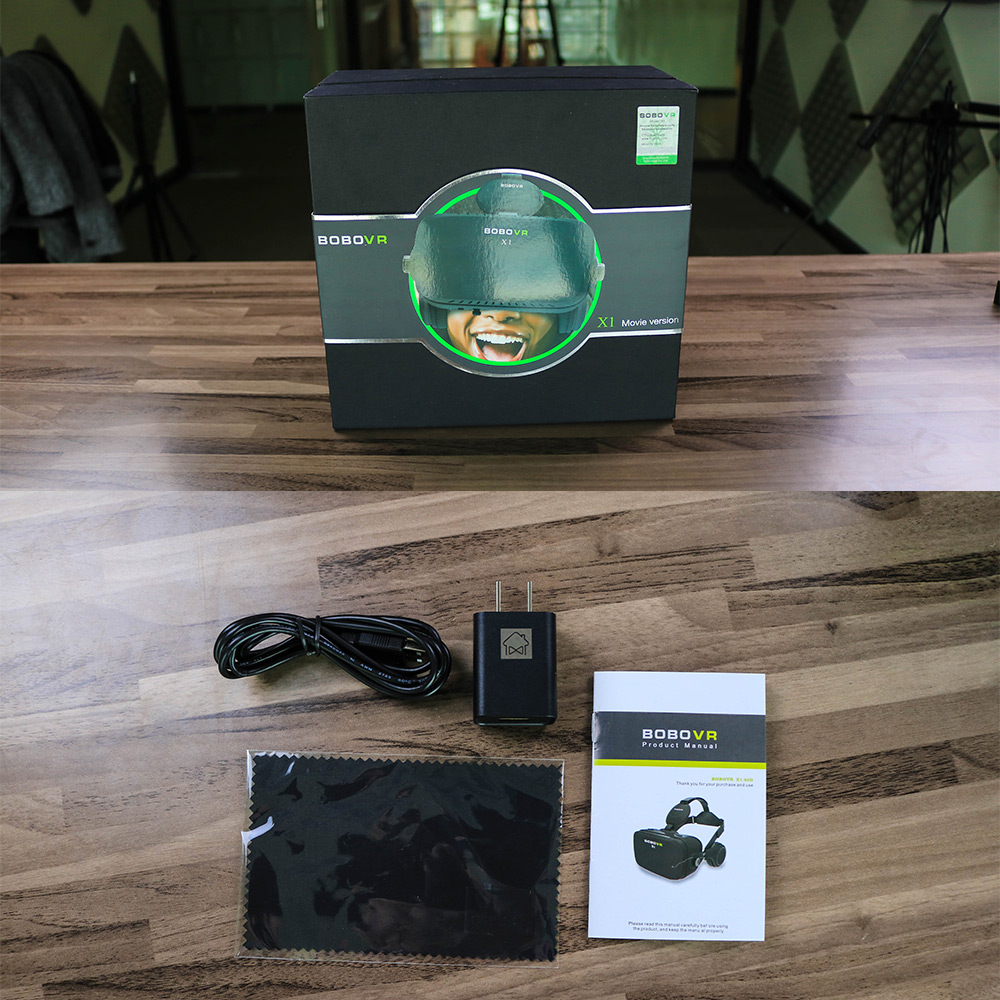 A glimpse over the surface brings up 2 buttons of equal lengths atop, one for Volume +/1, the other On/Off and Menu. The 2 bulges hanging over the face-plate are mechanical knobs meant for Focus adjustment- the ideal solution for glasses wearers, allowing no glasses to be worn, but enabling users to adapt the lenses to their exact vision prescription. Even though these settings help eliminating blur or distortion, it still takes pains to get rid of the slight fishbowl effect that prevails the VR world.Besides, the retractable headphone sandwiched between the knobs and the faceplate sets users free from tangling wires.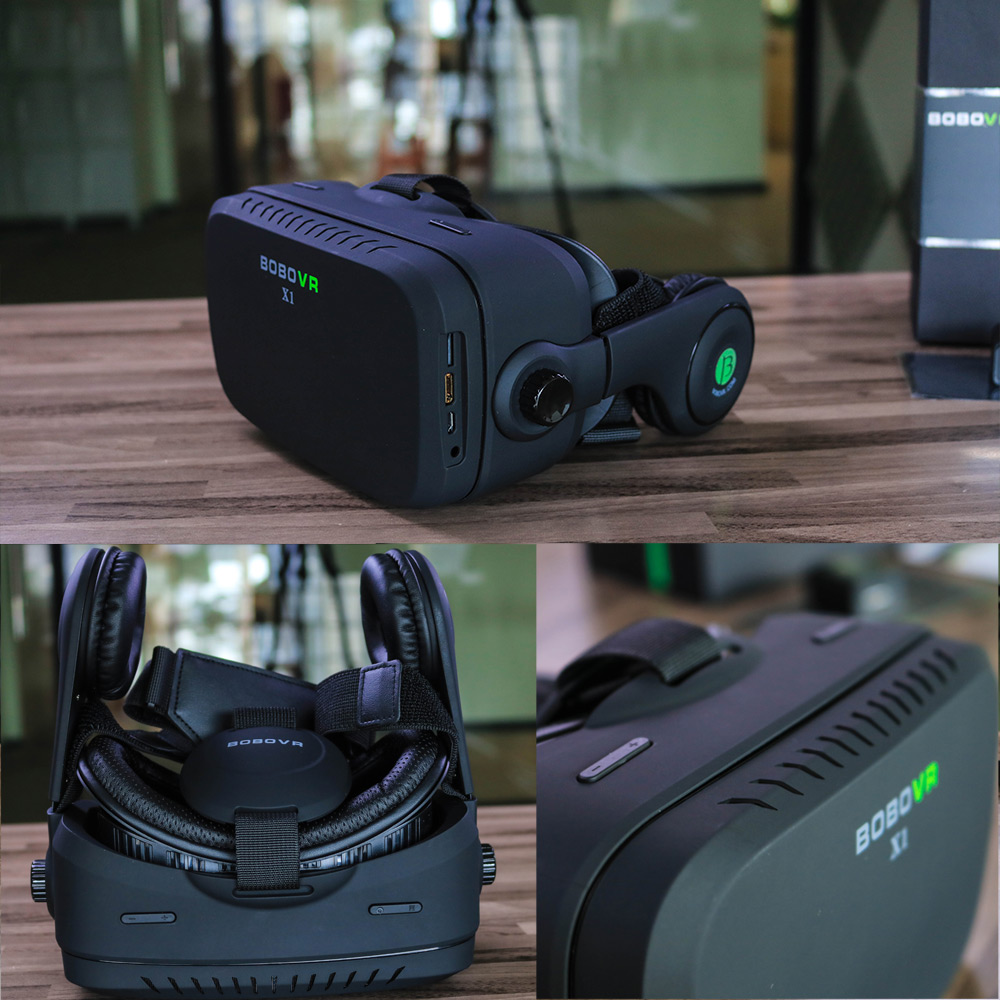 Again, as it`s an all-in-one, it has most of the required interfaces we could think of, a slot for a micro TF card, a Mini HDMI for image output, a headset jack, plus a micro USB for power supply. Down to the bottom, we catch sight of the return button with a Confirm Joystick next to it. A Bluetooth gamepad could be connected as well, theoretically nothing special, but a better-have for those game lovers.
The BOBOVR X1 AIO is secured to the head with a pair of black elastic bands that use Velcro. The horizontal strap is stretchable enough to accommodate most heads, while the vertical band is long enough to work with even the most complicated of hairstyles.
Fully Loaded, Convincingly Performed
I`ll just cut to the chase. The VR experience you get wearing the headset boils down to both the software and hardware that the BOBOVR X1 AIO outfits with. As mentioned above, it is an all-in-one headset, therefore, the basic idea of this headset comes to that it runs on Custom VR OS based on Android, powered by Allwinner H8 processor, along with a 2GB RAM and 32GB Flash storage, in addition to wifi and Bluetooth support. The screen resolution is about 400 pixels per inch, on par with the iPhone 6's 401 pixels per inch. To say the least, this sounds like a great headset on paper.
The first interface you see when you turn on the headset is an immersive screen similar to that of the Gear VR. As it is something worn on head, it blocks users from the real world and then lock in the virtual world with interaction tools. Unlike those with something somewhere halfway between a true virtual view and a screen split view, this headset shows the the split-screen view, a giant screen hanging in front of view with the two side-by-side pictures on it.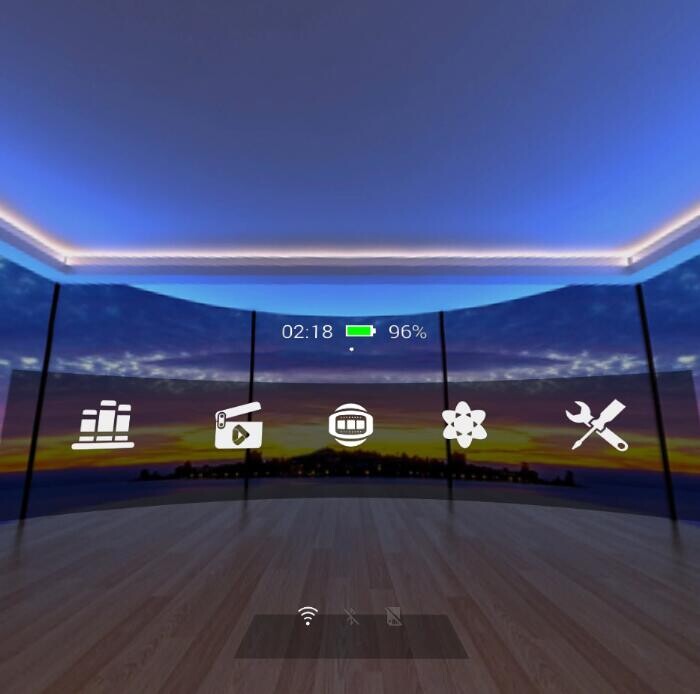 There's a dot in space which will move as your head turns, pointing to any one of your desired options and press the Confirm joystick at the bottom. A trackpad for Volume control and Return can be found once you press the joystick during video playing or gaming. It is easy-to-navigate and works reasonably well, but I'm not going to dig into this. On top of that, there are also pre-installed VR apps, making it work right out of the box. Since this is Android-based, it only makes sense for the developers to also include Play Store service, which thankfully X1 has – one customized for VR (APP Store). This speaks to the fact that the BOBOVR X1 all in one virtual reality headset has access to the large library of applications, movies and games offered by the APP Store.
It was fun trying out 1080P 360-degree video, and playing movement controlled games, an experience enhanced over the PC headsets thanks to the All In One nature of the X1 AIO.

Conclusion
In a nutshell, the BOBOVR X1 AIO is a fantastic bit of kit that barely compromises in anything. It comes in full load with all the components one might need to get in contact with the world of virtual reality. Be that as it may, these indeed add up to its weight – something that few of the others can conquer at present. Despite this insignificant minus, it provides a low cost intro into Android-based virtual reality at a price tag of $129.99 from Geekbuying. PC set may cost less, but needs to be powered up by a High-end host if one intends to unlock its full potential. You may end up staring at something fuzzy otherwise.
Highs
Works right out of the box
More convenient than PC headsets
Andjustable Focus
Lows
The inne components add up to its weight
Inappropriate for long time use