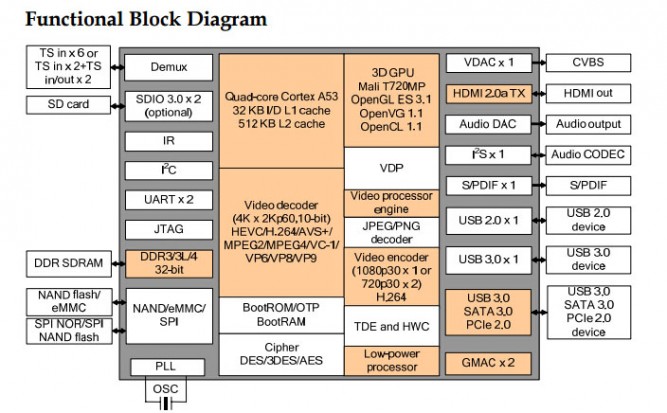 Hi3798C V200 is an unltra-HD high performance SoC supporting 4Kp60 fps decoding for the DVB and IPTV STB market. With an integrated quad-core 64-bit high-performance Cortex A53 processor and embedded NEON, Hi3798C V200 provides powerful CPU processing capabilities that meet differentiated service requirements. It creates the industry's best user experience in stream compatibility, smoothness and picture quality of live video playback, and STB performance.
To meet the growing requirements on multimedia playback, video communication, and multi-screen transcoding, Hi3798C V200 supports 4K x 2Kp60@10-bit ultra-HD video decoding in various formats (including H.265/HEVC, H.264/AVC, AVS+, MVC, MPEG2, MPEG4, VC-1, VP6, VP8, and VP9) and high-performance H.264 encoding. It also supports Dolby and DTS audio processing.
Hi3798C V200 provides a smooth man-machine interface and rich gaming experience with a high-performance multi-core 2D/3D acceleration engine. The chip also enables flexible connection schemes with multiple Ethernet ports, USB 2.0 ports, USB 3.0 ports, SATA/eSATA ports, PCIe 2.0 ports,and more peripheral interfaces.
High-Performance CPU
Quad-core 64-bit high-performance ARM Cortex A53,
15000 DMIPS
Integrated multimedia acceleration engine NEON
Hardware Java acceleration
Integrated hardware floating-point coprocessor
3D GPU
High-performance multi-core GPU Mali T720
OpenGL ES 3.1/3.0/2.0/1.1/1.0 OpenVG 1.1
OpenCL 1.1/1.2 Full Profile/RenderScipt
Microsoft DirectX 11 FL9_3
Adaptive scalable texture compression (ASTC)
Pixel fill rate greater than 2.7 Gpixel/s
Memory Control Interfaces
DDR3/3L/4 SDRAM interface, maximum 32-bit data width
SPI NOR flash interface
SPI NAND flash interface
NAND flash interface
− SLC/MLC flash memory
− Maximum 64-bit error-correcting code (ECC)
Video Decoding (HiVXE 2.0 Processing Engine)
H.265/HEVC Main/Main10 profile@level 5.1 high-tier,maximum 4K x 2K@60 fps and 1x1080p@30 fps simultaneous decoding
H.264/AVC BP/MP/HP@level 5.1; H.264/AVC MVC,maximum 4K x 2K@30 fps decoding
VP9, maximum 4K x 2K@60 fps decoding
VP6/8, maximum 1080p@60 fps decoding
MPEG1, maximum 1080p@60 fps decoding
MPEG2 SP@ML, MP@HL, maximum 1080p@60 fps decoding
MPEG4 SP@level 0−3, ASP@level 0−5, GMC, short
header format, maximum 1080p@60 fps decoding
AVS baseline profile@level 6.0, AVS-P16 (AVS+), maximum 1080p@60 fps decoding
VC-1 SP@ML, MP@HL, AP@level 0−3, maximum
1080p@60 fps decoding
Image Decoding
Full HD JPEG hardware decoding, maximum 64 megapixels
PNG hardware decoding, maximum 64 megapixels
Video and Image Encoding
H.264 BP/MP/HP@level 4.2 video encoding, maximum
1x1080p@30 fps or 2x720p@30 fps decoding
Variable bit rate (VBR) or constant bit rate (CBR) mode
Low-delay encoding
Encoding of multiple region of interests (ROIs)
Audio Encoding/Decoding
MPEG L1/L2
Dolby Digital/Dolby Digital Plus Decoder-Converter
Dolby True HD decoding
DTS HD and DTS M6 decoding
Dolby Digital/DTS transparent transmission
AAC-LC and HE AAC V1/V2 decoding
APE, FLAC, Ogg, AMR-NB, and AMR-WB decoding
G.711 (u/a) audio decoding
Dolby MS12 decoding and audio effect
G.711(u/a), AMR-NB, AMR-WB, and AAC-LC audioencoding
HE-AAC transcoding DD (AC3)
TS Demultiplexing/PVR
Maximum six TS inputs (optional)
Two TS outputs (multiplexed with two TS inputs)
DVB-CSA/AES/DES descrambling
Recording of scrambled and non-scrambled streams
Security Processing
Trusted execution environment (TEE)
Secure video path (SVP)
Secure boot
Secure storage
Secure upgrade
Protection for JTAG and other debugging port
One-time programmable (OTP)
Digital rights management (DRM)
Downloadable conditional access (CA) (DCAS) and other mainstream advanced CA
HDCP 2.2/1.4 protection for HDMI outputs
Graphics and Display Processing (Imprex 2.0Processing Engine)
HDR
Hardware overlaying of multi-channel graphics and videoinputs
Four OSD layers
Three video layers
Screen mirroring
Ultra-low-delay video processing
Super resolution extension technology (for improvingvideo playback over the network)
Video rotation
Letter box and PanScan
Full format 3D video processing and display
Multi-tap vertical and horizontal scaling of videos andgraphics; free scaling
Enhanced full-hardware two-dimensional engine (TDE)
Full-hardware anti-aliasing and anti-flicker
Color space conversion (CSC) with configurable coefficients
Image enhancement and denoising
Deinterlacing
Sharpening
Chrominance, luminance, contrast, and saturation adjustment
Video Db/Dr processing
Audio/Video Interfaces
PAL, NTSC, and SECAM standard output, and forcible standard conversion
Aspect ratio of 4:3 or 16:9, forcible aspect ratio conversion, and free scaling
4K x 2Kp60/4K x2Kp30/1080p60/1080p50/1080p30/1080p24/1080i60/108
0i50/720p/576p/576i/480p/480i output
HD and SD outputs from the same source
One HDMI 2.0a TX with HDCP 2.2 output, maximum 4Kx 2K@60 fps
Analog video interfaces
− One CVBS interface
− One embedded VDAC
− Rovi
− VBI
− Audio-left and audio-right interfaces
− S/PDIF interface
− One embedded ADAC
− One I2
S/PCM digital audio input/output
− HDMI audio output
Peripheral Interfaces
One USB 2.0 host port
Two USB 3.0 host ports, compatible with USB 2.0(optional)
One SATA 3.0 interfaces (optional)
One PCIe 2.0 interfaces (optional)
Two 10/100/1000 Mbit/s Ethernet ports
Two 4-bit SDIO 3.0 interfaces (optional)
Two UART interfaces
One smart card interface, supporting T0, T1, and T14protocols
One IR receiver
One LED and keypad control interface
Multiple I2C interfaces
Multiple general-purpose input/output (GPIO) interfaces
Others
Various boot modes
Boot program download and execution over a serial portor USB port
Integrated standby processor, supporting various
low-power modes and less than 30 mW standby power consumption
Low-power design such as adaptive voltage scaling (AVS) and dynamic voltage and frequency scaling (DVFS)
Ultra low-power design
Plastic ball grid array package (PBGA)