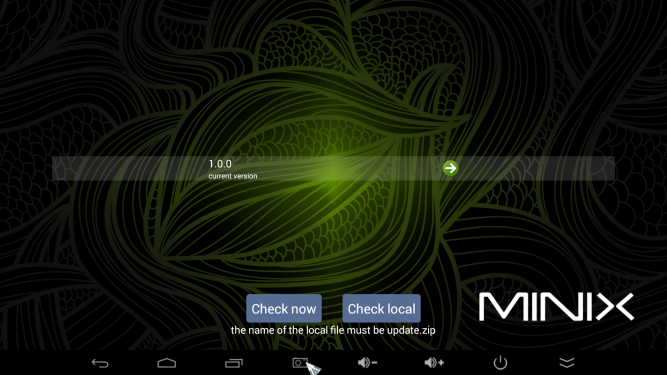 Minix release their new Intel base mini pc, model is Neo Z64. There are two versions for this model:
z64a for android version ( with android 4.4.4 kitkat os)
z64w for windows version (with windows 8.1 with bing os)
This instruction is just for the z64a android version.
The z64a built in FOTA (firmware over the air update technology), so usually you can get the latest firmware via OTA, and no need to update the firmware by yourself. Run Minix FOTA app and then you will see the following photo:
connect to internet, and choose " check now", it will go to search for the lastest firmware.
Also if you have problem to update via the ota, you also can flash the firmware via usb driver.
Here is a beta firmware which i get from Minix. ( it is not the official firmware release,you should wait for the official release from minix, this is just for test)
download link: http://pan.baidu.com/s/1mgvEhr6
step:
1 download firmware from above link,and make sure you rename the download file to update.zip. (do not decompress the download zip file)
2 copy the update.zip file to the usb driver and connect to neo z64a.
3 run the Minix fota update app, and click "check local" button,it will update automatically.
Any questions, feel free to leave comment below.
Thanks
Eric
GeekBuying