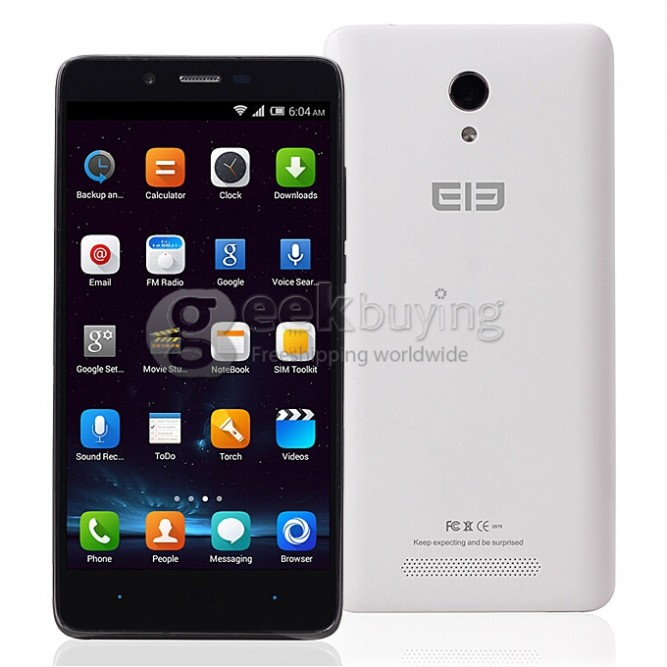 Bottom Line
Elephone P600 is a very well built 4G LTE budget (160US$) smartphone. It is a solid device all around with a 5″ HD screen and while it is currently on Kitkat, It is expected to be automatically upgraded to Android 5.0 Lollipop soon. Its only shortcomings are not-so-good camera and lack of complete global coverage.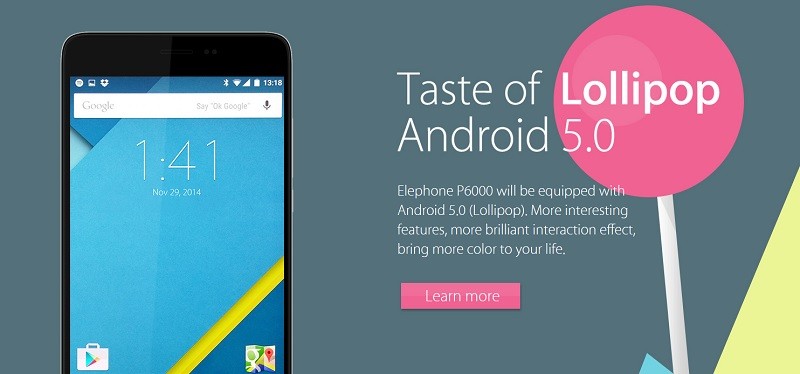 Intro
We got the P6000 from Geekbuying for testing. We had it for a 3 intensive days so far and we are testing it from head to toe. It is important to note that the operating system is temporary and the device will soom be updated to Lollipop so things may change for better or for worse.
Specs
Processor
Mediatek MTK6732 64Bit
back cam
8MP
GPU
Mali-760
front cam
2MP
memory
ROM: 16GB
RAM: 2GB
Frequencies
2G: 850,900,1800,1900
3G: 900, 2100
4G: 800,1800,2100,2600
display
5″ HD
720X1280
IPS OGS
measurments
9.6mm X 72mm X 144mm
172gr
TF card
up to 64GB
battery
2700mAh
removable
OS
Android 4.4.4
(Android 5.0 via OTA soon)
SIM
Dual Micro SIM
What's in the package
The package is very aesthetic, shaped like a small drawer with silver printing on the front. We don't really care about the packaging but it is nice to see that Elephone didn't neglect it.
Inside the package you will find the P6000 of course, an original USB charger with the right power plug according to your country and also a USB cable. There is also a small colorful user manual but that seems a little redundant for an android phone. On the other hand, we still see instructions for use on the back of shampoo bottles so I guess people love trivial instructions.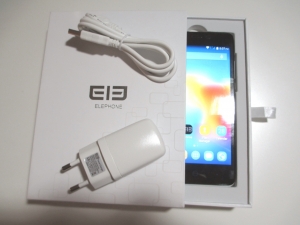 Build quality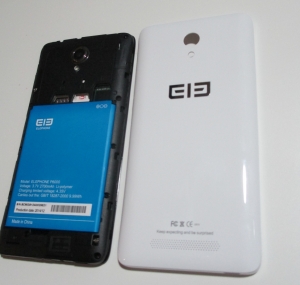 The build quality is very good! The P6000 feels very solid, it doesn't bend and there are no loose parts. It's nice to see a Chinese device of that quality, while it's not the only one, it is certainly way above the average device.
The back cover of the device almost covers the entire width of the phone. That is a smart move on Elephone's part because it means that the entire color verity is in a plastic back cover and the rest of the device is black. This way they can use a single manufacturing line for the phone and create the color verity very cheaply. It also means more availability for spare parts as they need to hold less verity of each part.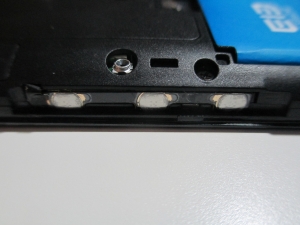 Forget about the Home,Back And Settings icons. The P6000 replaced them for a blue circle and to blue dots. It's actually quite nice, after getting used to it we don't need the icon anyway so why put it in the first place? This way the design is symmetric and nicer. The blue circle is the Home button, it blinks when you have notifications and it beats like a heart when charging.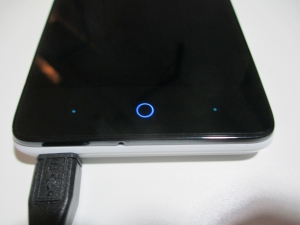 | | | |
| --- | --- | --- |
| Quality | | Very good! Still, it's no iPhone… |
The P6000 has 2 micro SIM slots, both can handle 2G3G4G the Frequencies are:Global Coverage
2G: 850,900,1800,1900
3G: 900, 2100
4G: 800,1800,2100,2600
You may want to verify with your cellular provider what frequencies they use, ideally you want the phone to support all the frequencies that you provider is using but it is enough to have even a single 3G freq. supported to ensure that you can make calls and get data access. alternatively, one 2G freq with one 4G freq will also suffice.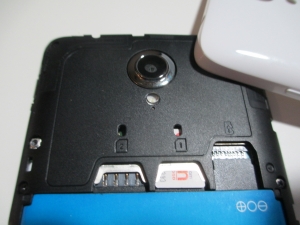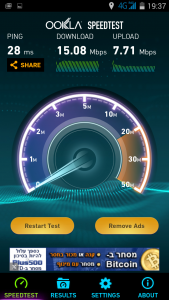 User experiance
The P6000 works as smooth as the strongest phone out there. It has a Mali 760 GPU which is just awesome! you can expect it to run all of the apps and games without any lags. The 2GB RAM also contributes to great multitasking and we should even see better performance when the Android 5.0 comes because it uses the 64bit functionally that is not being used in Kitkat.
The downsides are lack of (some) languages support and the compass is not working. We asked Geekbuiyng who asked Elephone about the languages issue and they promised all of them will be added in future OTA updates. In the meantime, you can use MoreLocale2 to add any language you want.
| | | |
| --- | --- | --- |
| User Experiance | | great! just fix a couple of bugs… |
Display and Touchscreen
The Display of the device is really great, it is sharp and very very bright. The IPS display is visible from any angle without color distortion. The color depth is not as impressive, colors seem a little faded when comparing against high end devices. But if we had a choice between brightness and color depth, we would always go with better brightness for outdoors use.
The Touchscreen is really great, the Bio-feedback on it is sharp and instantaneous.
| | | |
| --- | --- | --- |
| Display | | Looks great! Colors could be more vibrant.. |
Sound
We are very pleased with the quality of the sound, both in the earpiece and the speaker. Phone calls are loud and clear even in noisy surroundings. Having said that, The speaker is not suited to listen to music, at least not in high quality. If you want to listen to music, get a bluetooth speaker.
| | | |
| --- | --- | --- |
| Sound | | Excellent for phone calls |
Camera
The camera is a little disappointing, the specs says 13MP but it looks more like 8MP at best. It's not that the pictures are awful or anything, but we did expect much better. you can take a look over some pictures we took with it:
Hopefully the new android version will bring better results for the camera
GPS
Awesome GPS reception! This is a major issue with many Chinese phones, nut not here. We were very pleased to see excellent performance both with signal strength, tracking and navigation.
There seems to be a bug with the popular Waze app that causes some graphics to become distorted and we hope it will be resolved on Elephons side or on Waze's side.
I our GPS test we measured signal strength inside a car, parked under a tree on a heavily clouded day and the GPS still managed to get a good enough signal very fast
Performance
The device receives an excellent score on Antutu v5.6 just a little short of the monstrous LG G3 but with a fraction of the price. That means that every app will run very smooth, also HD movies are no problem at all for this phone.
Performance
The device receives an excellent score on Antutu v5.6 just a little short of the monstrous LG G3 but with a fraction of the price. That means that every app will run very smooth, also HD movies are no problem at all for this phone.
| | | |
| --- | --- | --- |
| Performance | | One of the best! |
Battery
The 2700mAh battery is enough for a full day's work on the device with above normal use.
Notes
The P6000 comes pre-Rooted and with SU installed. It is very rare to see a phone that comes pre-rooted and the reason is that Elephone is committed to bring Android 5.0 over the air (OTA). Installing a significantly different OS may require permissions that are not part of the conventional OTA update process. Rooting the device ensures that there are no limitations to what can be installed on the device. It is therefor safe to assume that the Root will be gone after the update to Lollipop as it is no longer needed.
Pros
Super Bright HD display
Awesome build quality
Great GPS
4G LTE
Cons
Underwhelming camera
Less than complete global coverage
Conclusion
The P6000 should be the first device you look at when searching for a new device – it may certainly be it! with a 160$ price tag it brings unprecedented value. Looking forward to the near future, The Android 5.0 will take advantage over the 64bit Soc that will bring better performance and better battery life. It is worth mentioning that LG G3, Galaxy S5, Nexus 5 all have an "antique" 32bit Soc only!
You can pick one up on Geekbuying today, They stand behind their customers with great service even months after the purchase has completed. and that is not a given today!
Thanks for the review of http://en.glouds.com/p6000/