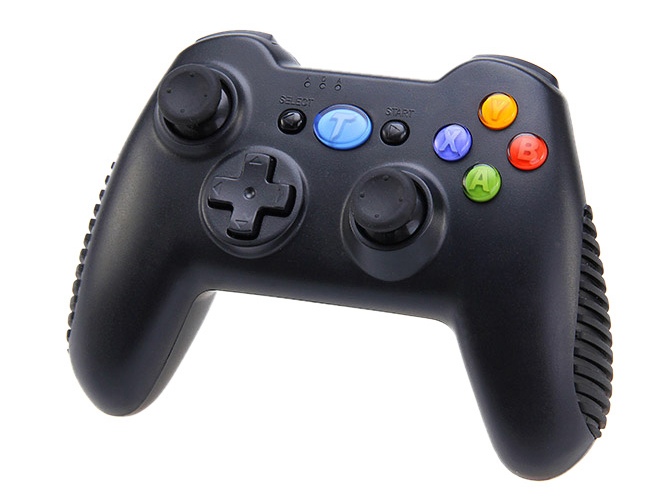 Q1: There is no power adapter containing in the accessories, how can I charge the Mars G01?
A: The 5V/500mA~1000mA power adapter is suitable for Tronsmart Mars G01.So the general cell phone power adapter, the Desktop PC can charge Mars G01 directly.
Q2. How Can I play games on Windows Systems PC?
A: On Win7/Win8/VISTA OS, the Windows OS already has the Driver, after inserting the 2.4G Nano Receiver PC and hold the T button, Tronsmart G01 can be detected directly.
If you PC with Win XP or lower OS, please download Driver from www.tronsmart.com
The D-input&X-input(When D/X LED power on is the right model ) is suitable for Joystick Games on PC
Q3: How can I play games on TV Box, Smartphone etc Android OS devices?
A3: On Android Devices, Android and X-input and are suggested for best results. We set the Tronsmart mars g01 to Android(A) mode before we ship, so you can play most of the HID games directly, such as shadow gun, Riptide GP etc. But if you want to play some gameloft games, like Modern Combat 4,You need to use X mode. Visit www.tronsmart .com to get more information about how to set your android device in X mode.
Q4: Tronsmart G01 is built-in Battery, how can I detect it lower power and the battery charged completely?
A: When you see indicator light begin to flash slowly, please connect the power adapter to charge. If battery charged completely, the indicator light will be on and remain solid.
Q5: How about the working time? How about Charging time?
A: The working time is up to 20 hours theoretically. (if the motor is used, the working time is up to 5 hours).
If charge Mars G01 with 50V/500mA power adapter, the charging time is about 1.5 hours;
Q6: How Can I power off the Tronsmart G01?
A: When there is no operation on Mars G01 for a while and it can be power off automatically. When you power on next time, the Mars G01 will remains the input mode that power off automatically.
Q7: Can Tronsmart Mars G01 support two people or more to play game at the same time?
A: Yes, Of course!