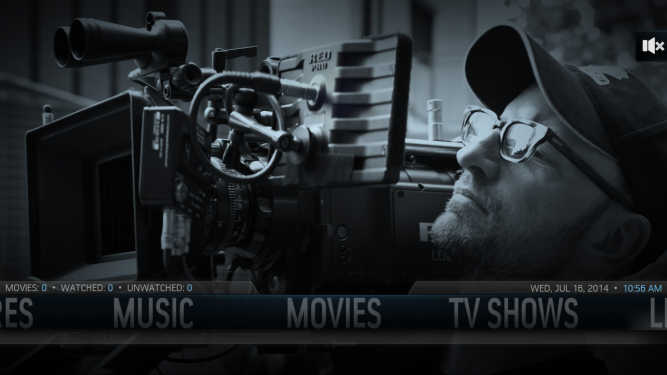 Hi Guys:
Today I will give you a short review for the following product:
http://www.geekbuying.com/item/CMX-AML8726-MX-Android-4-2-Dual-Core-Mini-TV-Box-HDMI-HDD-Player-1G-8G-Built-in-XBMC-1080P-RJ45-AV-Port-with-IR-Remote-Control—Black-330173.html
Oh, wait, I know, I know. After checking the link, You must have two questions for me:
1. Why i write reviews for an OLD dual core tv box, when everyone is looking for the quad core these days?
2. I've already seen a lot of people selling this TV box and they all sort of look the same, are they from the same factory?
Well, after selling a lot of Amlogic s802 Based TV BOX such as the Tronsmart Vega S89,Minix NEO X8-H, I have learned a lot about this Amlogic chip. Compared with the Rockchip devices, the Amlogic TV box devices really do a great job in the video playback and XBMC support. Until today, I find that a lot of people are just looking for a good media player which supports XBMC because they want to give that TV box to their parents or friends. Or, they haven't tried any other TV boxes yet and they want to give one a try without spending too much. For those customers, we recommend you to try this low-price android TV box, It will be worth for every penny you spend.
So, back to your question 2, it has the same appearance like you have seen in the China market, (if you already know the story of q7, cs918, mk918, t-r42 , you should not feel strange about this, this is the Chinese market, lol. One design method used by many devices) . Though the appearance is the basically identical, the CMX I recommend is coming from a big factory and they DO have good quality check and software support. This is the main difference for devices coming from China market. Everyone can produce an open design type of product (no trademark) but where you have it made and who you trust your quality with is the important key. Also almost as important for YOU is that they give a special price to Geekbuying customers.
I have tested and tested this device for the last few days before I write this review because I want to have answers for people that may have questions. The total performance is really, really awesome for an entry-level XBMC Media player.So here we go:
Specification for the CMX Android TV BOX:
Hardware Specifications
Chipset
AML8726-MX
GPU
Mali-400
FLASH
8GB NAND FLASH
SDRAM
1GB DDR3
Power Supply Specifications
Power Supply
DC 5V/2A
Power Indicator (LED)
Power ON :blue; Standby :Red
Main Features
OS
Android 4.2.2 Jelly Bean
3D
Hardward 3D graphics acceleration
Support Decoder format
HD MPEG1/2/4,H.264, HD AVC/VC-1,RM/RMVB,Xvid/DivX3/4/5/6 ,RealVideo8/9/10
Support Media format
Avi/Rm/Rmvb/Ts/Vob/Mkv/Mov/ISO/wmv/asf/flv/dat/mpg/mpeg
Support Music format
MP3/WMA/AAC/WAV/OGG/AC3/DDP/TrueHD/DTS/DTS/HD/FLAC/APE
Support Photo format
HD JPEG/BMP/GIF/PNG/TIFF
USB host
4 High speed USB 2.0,support U DISK and USB HDD
Card reader
SD/SDHC/MMC cards
HDD file system
FAT16/FAT32/NTFS
Support Subtitle
SRT/SMI/SUB/SSA/IDX+USB
High Difinition video output
SD/HD max.1920×1080 pixel
OSD type of languages
English/French/German/Spanish/Italian/ etc multilateral languages
LAN
Ethernet:10/100M, standard RJ-45
Wireless
Built in WiFi
Mouse/ Keyboard
Support mouse and keyboard via USB;Support 2.4GHz wireless mouse and keyboard via 2.4GHz USB dongle
HDMI
HDMI 1.4 up to 1080p
AV
Support
3G
Support
SPDIF/IEC958
Coaxial
So basically, it is a dual core Android TV box, with Android 4.2 Jelly bean OS, you just need to connect it with your, "dumb TV". Once you do this, you will change that TV into a, "Smart TV" instantly.
Also it has all of the ports you might need for every possible use.
See this:
used to power off and power on the CMX TV box. I have reviewed soooo many powerful TV box, often times they do not support this, however, this little box can do it. It's just amazing for the cost!
Now, lets power on the device, connect the HDMI cable, switch your TV to the correct HDMI mode, and soon you will find this on your screen: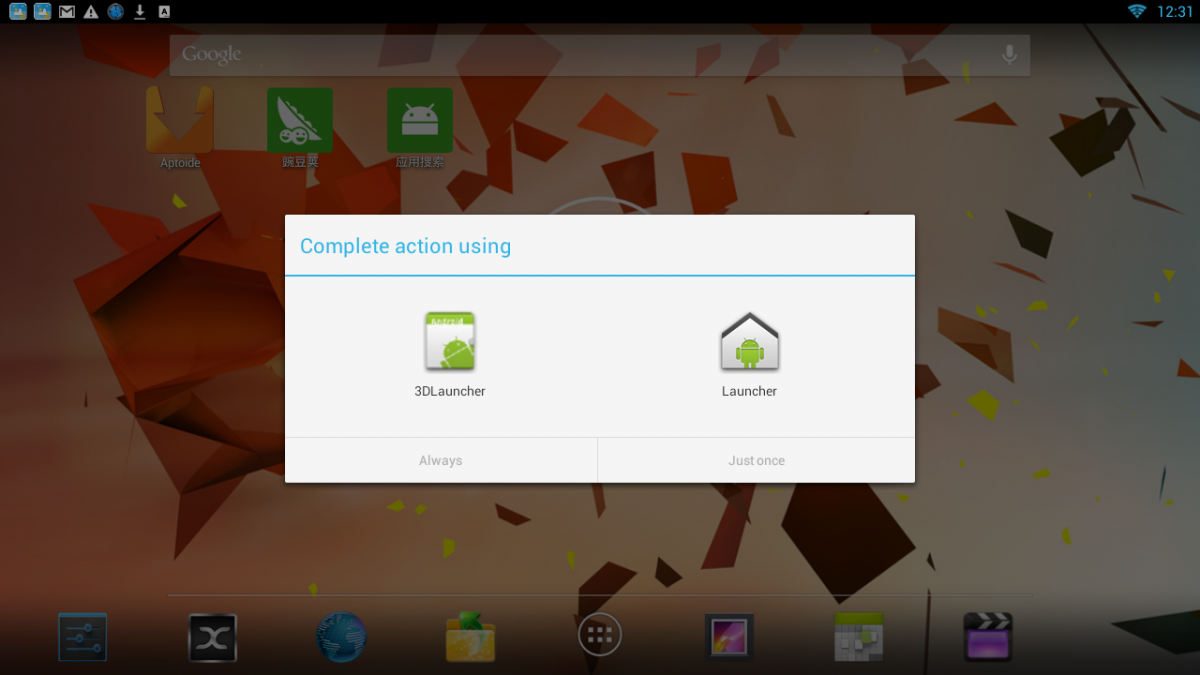 CMX Android TV box gives you two launcher to choose, the 3D launcher and the regular android launcher, I prefer the original Android , so the following review is based on this. **The 3D launcher will have slightly different methods: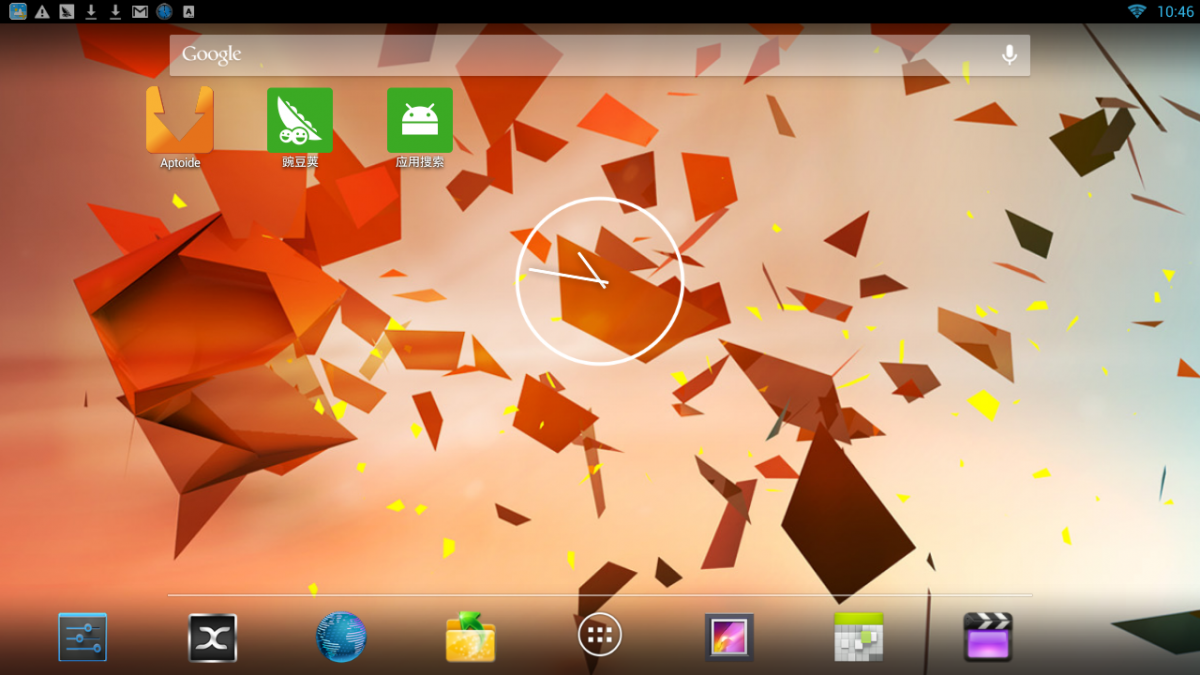 A clean Android desktop on my big TV. OK, I love this so much, it never gets old !!! lol
The CMX Android TV Box already has some useful apps built in, like:
Google Play store, Gmail, Youtube, Netflix, Facebook, Google maps, browser, Chrome browser, Flash player, file browser, app installer and the most important; XBMC.
So, even your parents don't know how to download apps, they still can directly access and watch videos without any problem.
After they are a little more familiar with android, they can download the apps from the Google Play store, and have access to thousands of even more interesting or enjoyable apps that they choose.
The built in Media center app provides DLNA and Airplay so that you can push your smartphone/ tablet photos and videos to your big screen TV.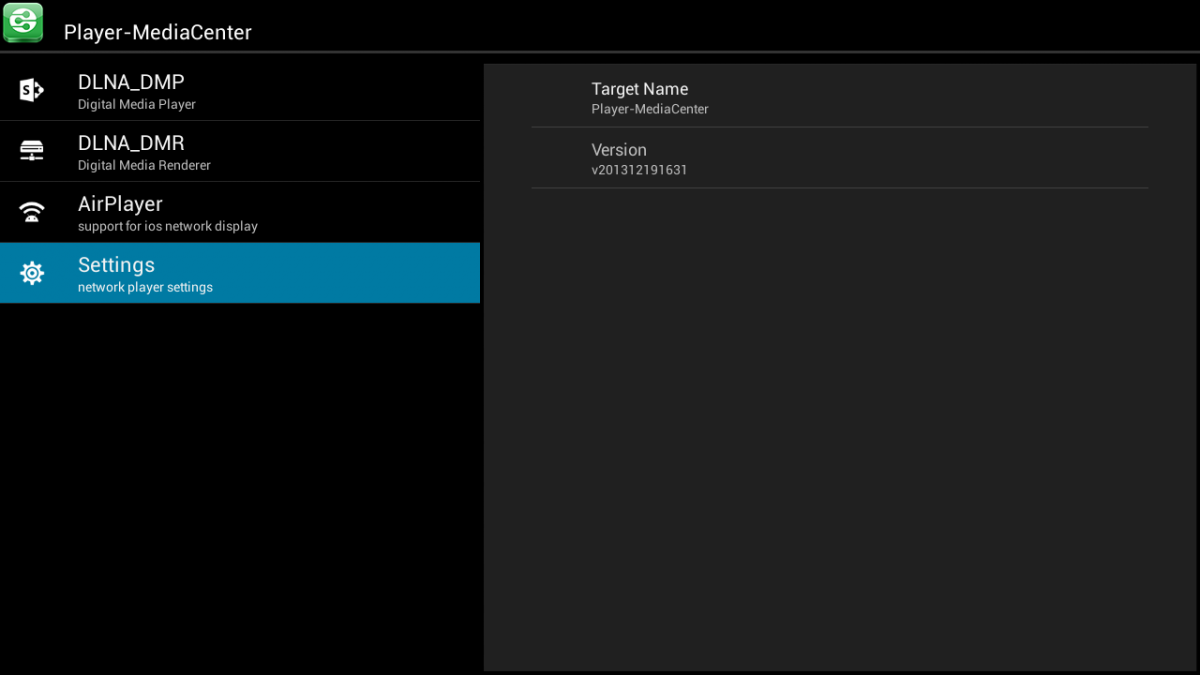 CMX also as another built in settings app. Click the setting mbox app, and you will see this: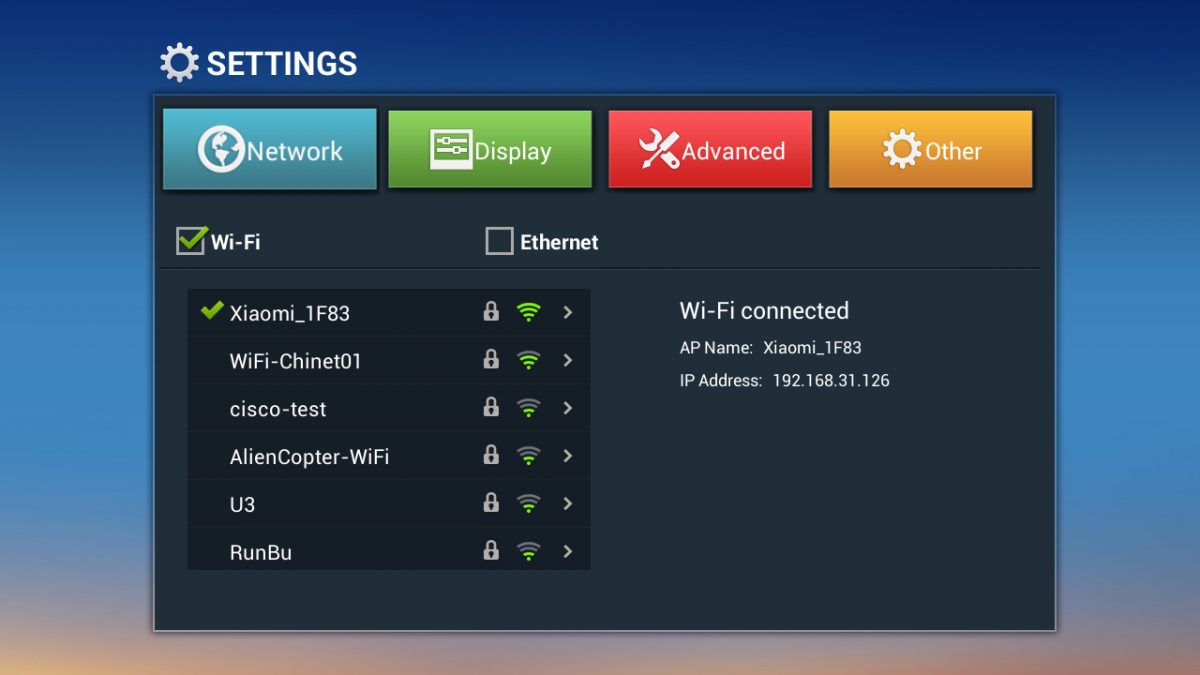 Here you can set the internet connection type, either Wifi or Ethernet mode. Display settings allow you to change the HDMI output resolution ( up to 1080p 60hz), modify the screen size, and hide status bars.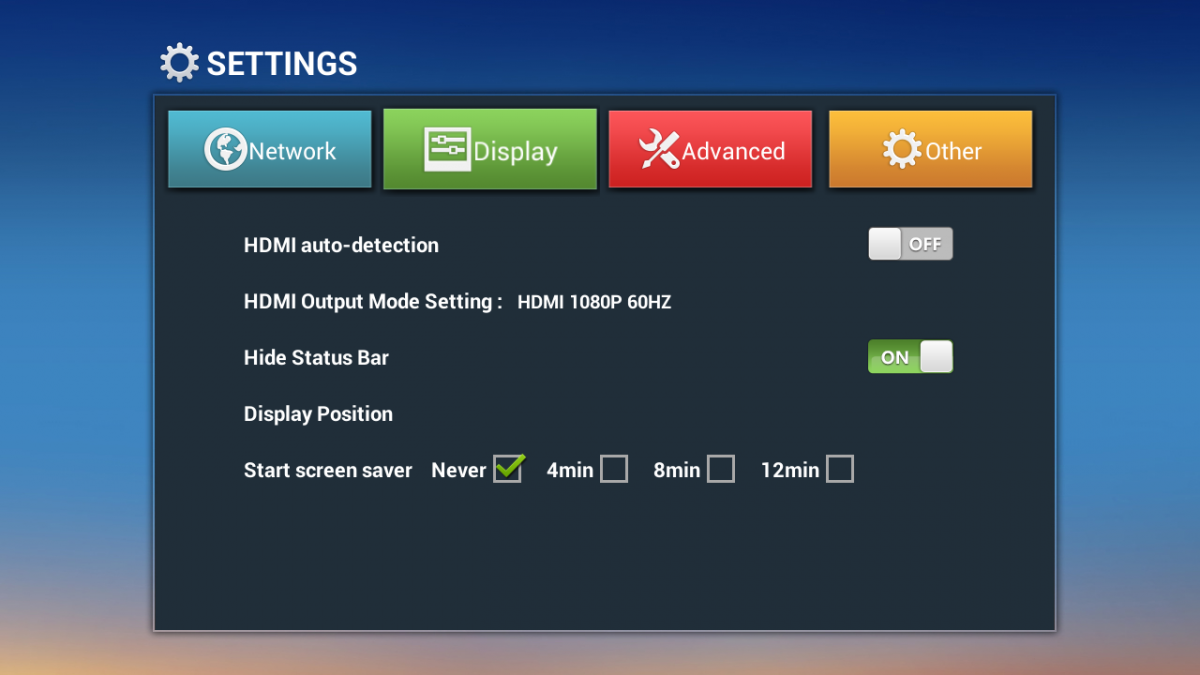 In the advanced settings menu, you can open the smartphone control function, CEC control, and change the audio output (PCM, HDMI pass-through, and SPDIF pass-through).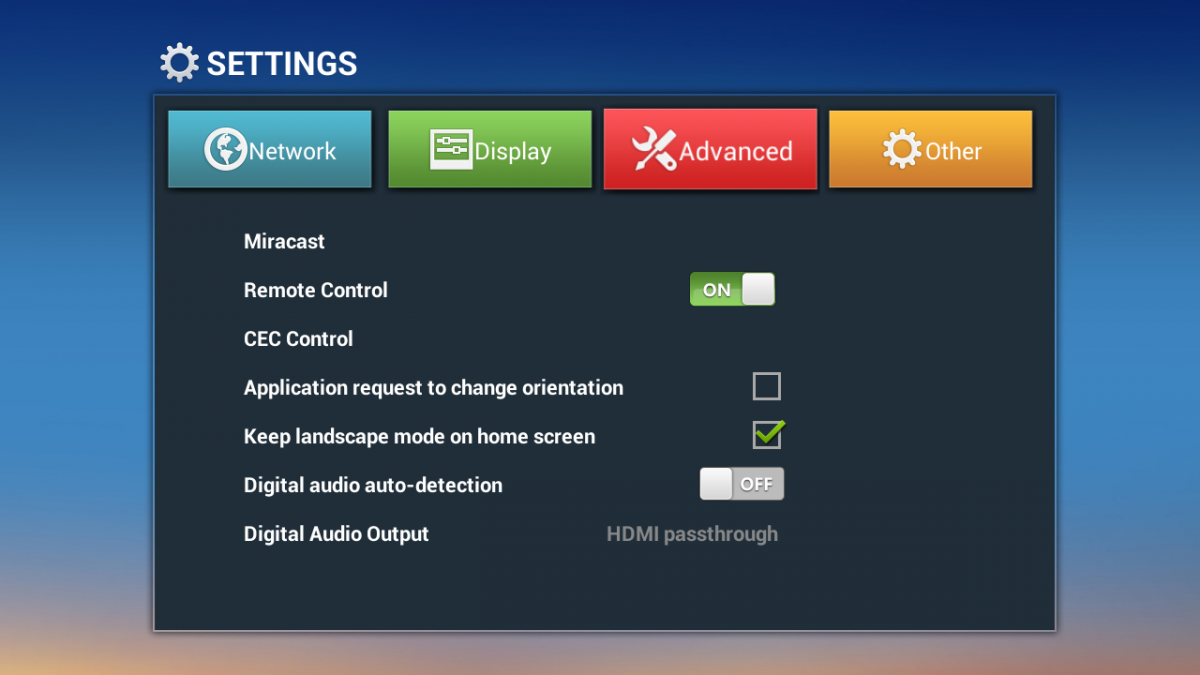 Since I have mentioned the smartphone control in the above review, here is the short instruction for how to make it work.
First, it currently only supports Android smartphones / tablets.
Second, download and install the following "Remote IME" app to your smartphone/tablet.
http://www.mediafire.com/download/fmmpv61v5ew60bz/RemoteIME.apk
Third, make sure your CMX Android TV box and smartphone are on the same wireless signal,
open the remote control in mbox settings, and then run the Remote IME app on your smartphone, search for the device, and then click and connect.
After that, you can control the CMX Android TV box via your smartphone!
In the end, let's review the most important part for most users these days, XBMC performance.
The CMX TV box has the Gotham 13.0 version XBMC built in. Using the IR remote in the package, you can easily control the XBMC menu.
First, I test some Video add-ons, I installed a LOT of video add-ons, and each of them can run well.
Then, I want to use XBMC to play my videos on the PC through the Windows SMB. (The reason why I want to test the SMB is that some RK3188 TV box have a big buffer size when they play videos via SMB. The CMX TV box uses the Realtek RTL8188ETV chip, the max speed for this chip is 150Mbps, for sheer speed alone, it is better than the AP6210 and AP6330 modules used in other devices).
I tried the following videos:
mountainbike-cyberlink_1080p.mp4– This is demo video from Dolby's official site, working without problem, both audio and video.
hd_other_samsung_sound_demo.m2ts–samsung demo video,1080p, video and audio all ok.
h264_1080p_hp_4.1_10mbps_dts_unstyled_subs_monsters.mkv – 1080p demo video wih dts, video and audio all ok.
1080P MKV file—- video and audio all ok.
Sintel-Bluray.iso– video and audio ok;
And then I try to connect my 1TB hard drive to the CMX box and test the same videos, the result is the same.
If you want me to test other formats, please leave a relevant comment below and I will try to do this for you and post the results.
Then I test the HDMI pass-through. To open the HDMI pass-through in the mbox setting menu, and then play videos in XBMC, and click enable pass-through.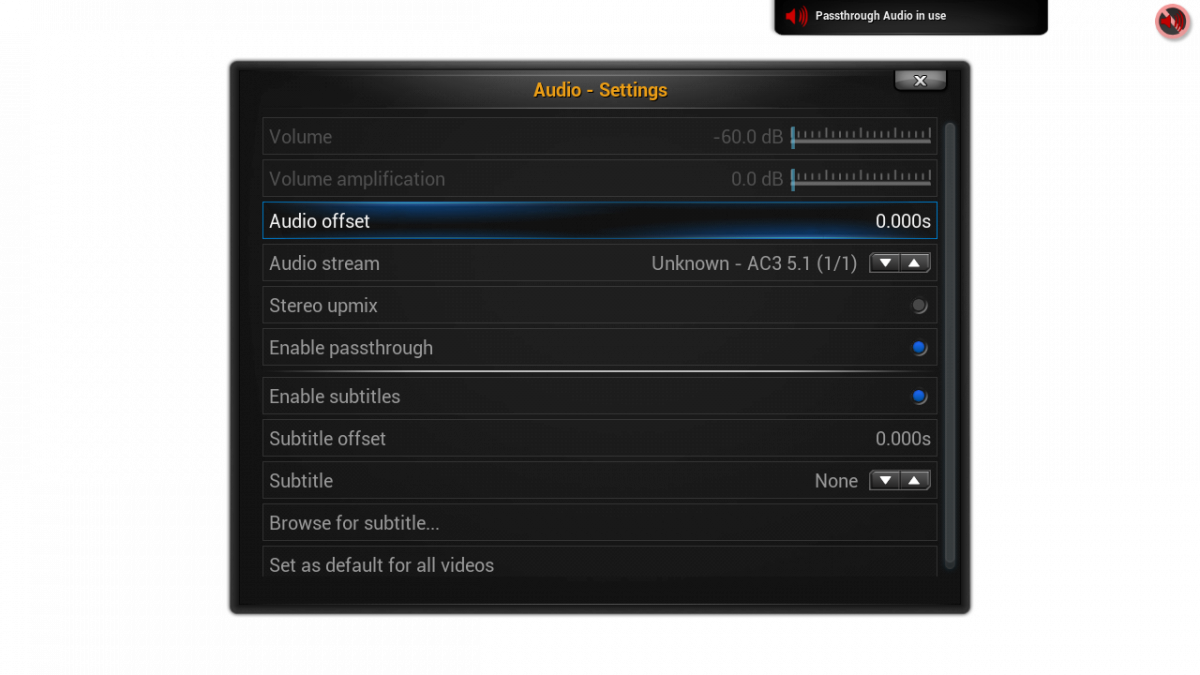 The Dolby DTS HDMI pass-through is no problem.
In the end, I try to change to other skins just to test. The most popular is the Aeon NOX skin and it looks good I think too.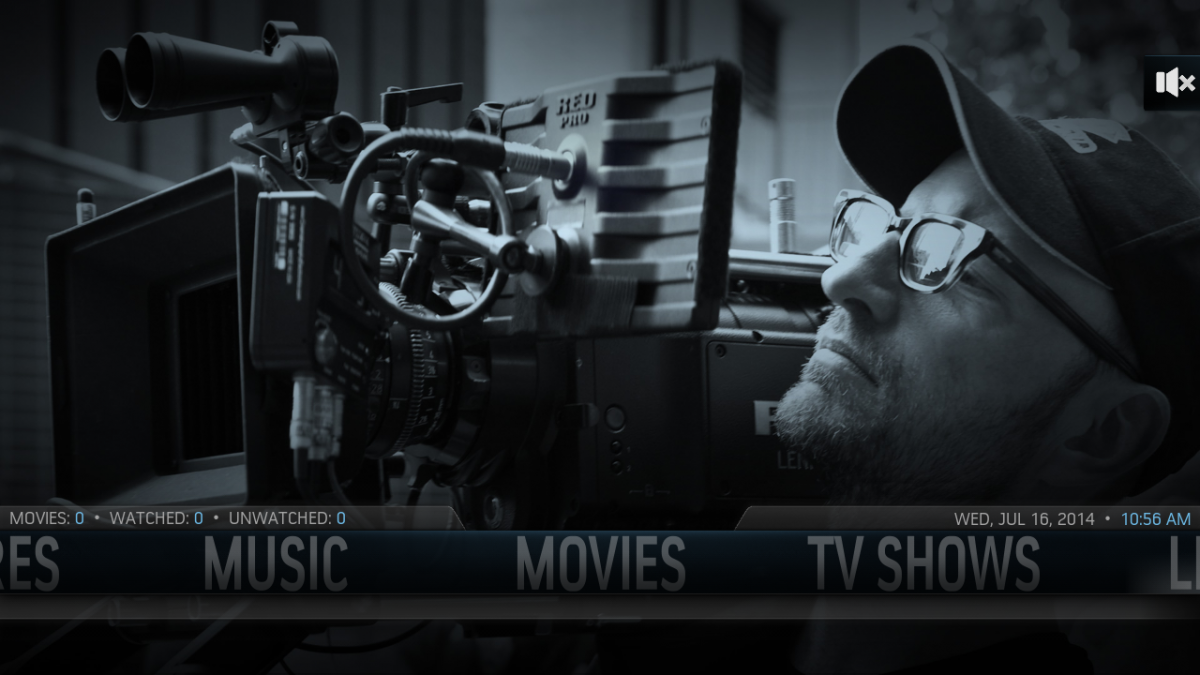 Above it is the full XBMC review for CMX TV box. If you want me to review others, still leave comments.
So after reading my whole review, you must feel all of them are positive, for a honest review, I also need to talk some weakness. Because even the best device have some weak areas of course so let us discuss these now.
First this is just an entry-level Android TV box, the antutu score is around 12000, it is not that powerful like the quad core S802 model, like Tronsmart Vega S89, but this score is still a good score for what is required.
Second, It don't support Dolby DTS hardware decoding with the stock media player, you will need to use XBMC to have sound and there is no way around this for now. The good news about this is that most people feel XBMC is great anyways so it makes sense. But, if you just want to use XBMC as the default media player, you can make XBMC automatically start. The instruction is here:
https://blog.geekbuying.com/index.php/2014/07/15/how-to-automatically-start-xbmc-in-android-tv-box/
Third, after a long time running, you may feel hot when you touch the case, it should be normal. There is a built in heatsink inside, and this media player should pass the heat from the inside PCBA away to the external case and ambient air. It is not a serious concern or even hazard, but it will be warm if playing high definition video for 2 hours straight so people should expect this. The same will be true with your normal cable box. 🙂
These are the primary issues to be aware of but even with those listed, I think it will be worth every dollar you spend. It instantly changes your dumb TV to a much more capable Smart TV in one second, it comes pre-rooted with the necessary media software, and it supports smartphone control which is a major plus to many users of these kinds of device. It has XBMC Gotham built in for you which is the standard when it comes to XBMC builds.
CMX should be the best choice for the entry-level XBMC TV Box buyer.
We have always thought this, which is why we fight so hard to get the factory to work with us on a deal to bring to the market. After working through all the details and pushing this deal, we have an agreement in place and can now offer it to our customers worldwide.
Eric
Geekbuying