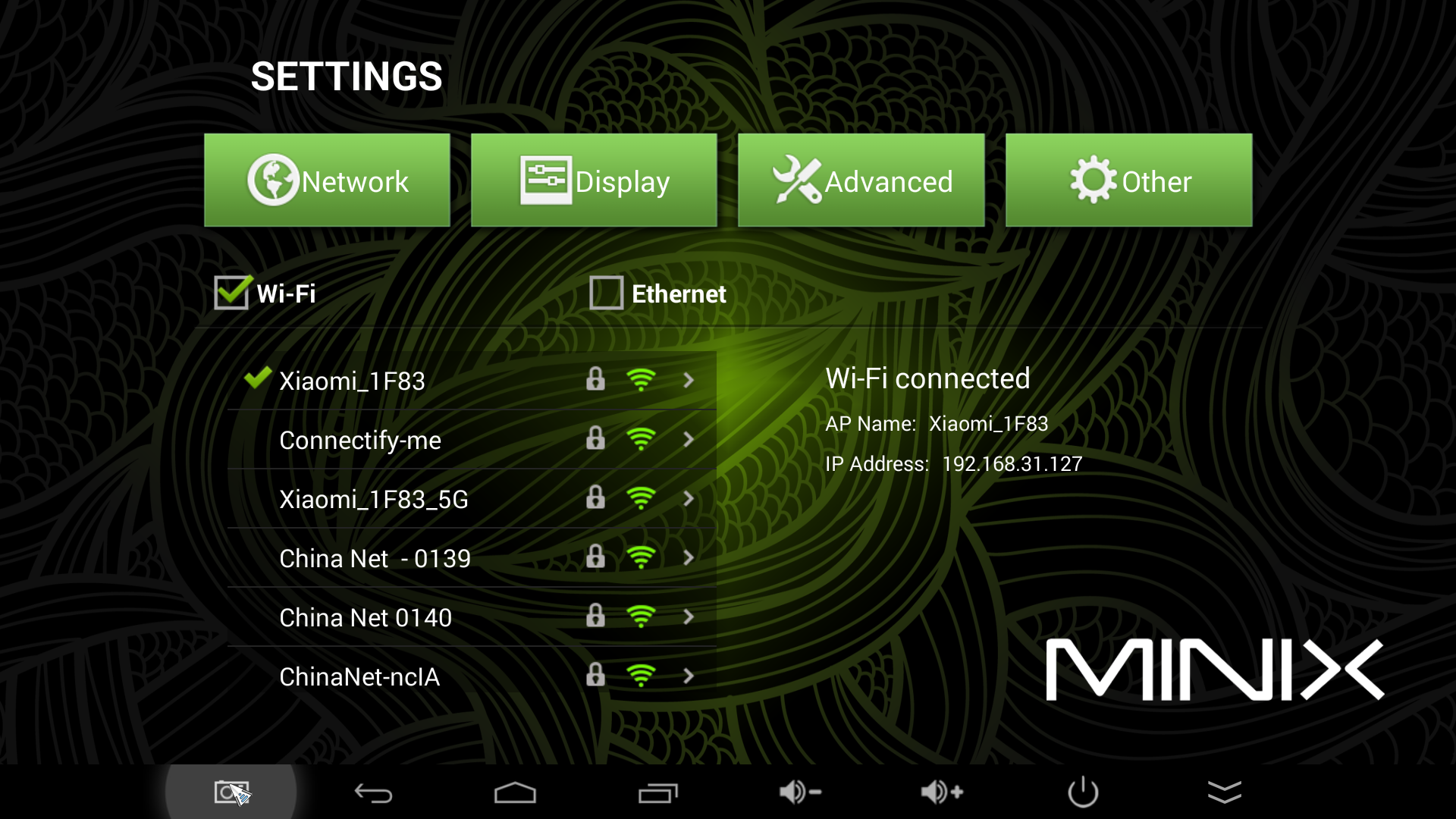 After a long time waiting, Minix has finally released their next generation TV BOX. The Models are NEO X8 and NEO X8-H, both of which are based on Amlogic's Quad Core SOC. The sample in my hands and the first bulk patch will be the NEO X8-H, so that is the one currently being reviewed. For easier reading, this review is divided into different parts, so you can skip to the one of your choosing:
Part 1 : Specification and Highlight of Neo X8-H
Part 2: Appearance Review
Part 3: Neo M1 Air Mouse review
Part 4: System Review
Part 5: Application Review
Part 6: Benchmark Review
Part 7: Game Performance Review(still need time to finish, now it's blank)
Now, Let's check NEO X8-H review first:
Specification for NEO X8-H
| | |
| --- | --- |
| Processor | Quad Core Cortex A9r4 Processor |
| GPU | Octo Core Mali-450 GPU |
| Memory | 2GB DDR3 |
| Internal Storage | 16GB eMMC |
| Wireless Connectivity | 802.11n Dual Band Wi-Fi (2.4GHz/5.8GHz), Bluetooth 4.0 |
| OS | Android KitKat 4.4 |
| Video Output | HDMI 1.4b, up to @ 30fps |
| Audio Output | via HDMI 1.4b, 3.5mm stereo jack, optical SPDIF |
| Peripheral Interface | RJ-45 Ethernet Jack (10/100Mbps) – Supports hotsport sharing via Wi-Fi |
| | SD/MMC card reader (SD 3.0, MMC V4.41), Support HDMI-CEC |
| | USD 2.0 port x 3, OTG port x 1 |
| | Microphone Jack, Headphone Jack, IR receiver (remote included) |
| Power | DC 5V, 3A adapter included (CE, FCC, CCC Certified) |
| Supported Video Format | DAT/MPEG/MPE/MPG/TS/TP/VOB/ISO/AVI/MP4/MOV/3GP/FLV/ |
| | MKV/M2TS/MTS/M4V/WMV/ASF/RM/RMVB |
| Supported Audio Format | DD/DD+/DTS/MP2/MP3/WMA/WAV/OGG/OGA/FLAC/ALAC/APE/AAC |
These are some of the best specifications to date on a Android TV Box. Let's be a bit more thorough on them:
Andriod 4.4.2 Kitkat
The NEO X8-H comes pre-installed with Android™ 4.4 KitKat, offering an array of upgrades and features not available on previous Android™ OS versions. The NEO X8-H takes full advantage of the improved memory management of Android™ 4.4, with smoother multi-tasking as users switch between applications with ease.
Quad-Core Cortex A9r4 Processor
The NEO X8-H comes equipped with a Quad-Core ARM Cortex-A9r4 processor, delivering exceptional levels of performance and power efficiency. It is the first 4K Media Hub for Android™ designed to be plugged in and left on stand-by mode when not in use. There is no need to power-off the NEO X8-H, with the Quad-Core ARM CPU's exceptional built-in thermal control management system protecting against any heat issues, giving customers peace of mind they can leave their device on 24/7/365.
Octo-Core Mali-450 GPU
The Octo-Core Mali-450 GPU takes graphic performance on the NEO X8-H to new levels, offering double the performance of its predecessor, the Mali-400. The GPU is focused on maximizing processing efficiency, ensuring the NEO X8-H delivers superior image quality and a great graphics experience. The NEO X8-H can handle all the latest Android™ games titles with ease, and truly is the perfect solution for any keen Android™ gamers.
Dual-Band Wi-Fi 802.11n
Unlike conventional single-band antennas, the NEO X8-H's unique external antenna offers the use of both 2.4GHz and 5.8GHz frequency ranges. The 5.8GHz frequency is less prone to interference, and therefore offers far superior reliability and stability, perfect for those wishing to stream Full HD media content onto their NEO X8-H.
16GB eMMC
Whilst previous MINIX Media Hubs have offered NAND Flash, the NEO X8-H utilizes eMMC "embedded Multi-Media Controller' memory. The utilization of eMMC memory offers an array of benefits in terms of performance, security and reliability, ultimately delivering a richer end-user experience. You can be rest assured that your media content is safely stored on the NEO X8-H, with its built-in power management system and flash memory controller.
Appearance review
If you've ever played with a NEO X7 before and liked it, then you will feel right at home with the NEO X8-H's appearance as they are nearly identical. The only significant change can be found below:
For the untrained eye, it appears to be nothing special but MINIX has added four foot pads on each corner of the NEO X8-H, adding stability to it.
For the size curious and conscious amongst you, here are dimensions and weight:
length: 12.8cm
width: 12.8cm
height:1.9cm
Weight (without package / accessories): 292g
Total weight with package/accessories: 846g
Now let's turn it around and have a look at the ports it brings.
The Neo X8-H has all the ports one should require of a TV Box, these include:
physical power button for power on the device;
Microphone Jack, Headphone Jack;
Three USB 2.0 Port;
SD/MMC card slot for storage expanded;
OTG port for connecting with PC;
Recover pinhole for firmware updates;
HDMI port
Optical Audio port to connect to your AV Reciver;
RJ-45 Ethernet Jack (10/100Mbps) – Supports Internet sharing via Wi-Fi hotspot;
DC-IN Port
The MINIX NEO X8-H comes with a detachable SMA antenna, which you can find in the package. The Wifi signal signal strength is better than any of the TV Boxes i have ever tested before.
Accessories:
There are a lot of accessories packed with the NEO X8-H, these include:
1 x HDMI cable
1 x USB male to Micro USB cable
1 x 5V/3000MA power adapter (We have AU, UK,US and EU adapters available, and will ship you the correct one based on your shipping address );
1 x IR Remote controller ( with USB IR Receiver)
1 x user manual (in English/Deutsch/Chinese)
1 x OTG cable
1 X WIFI Antenna
The box has a nice design on the outside, and the material is quite solid. There shouldn't be any worries that the contents will be damaged in a rough shipping scenario.

In the end, let's check out NEO M1 air mouse
One lucky guy will get it for free during the promotion period. It is a great complement to the NEO X8-H and it is leaps and bounds ahead of the experience with the IR Remote Control.
The NEO M1 is a 2.4Ghz Wireless Air mouse, complete with Six-Axis and a built in Gyroscope. It sports a simple design, but one that works magnificently.
Let's get some detail on the buttons:
1—- use it to lock the pointer on screen;
2—–A multi-purpose Power button. A quick press will bring the NEO X8-H to sleep, and in this state another press will wake it up. If you hold the button the following menu will appear: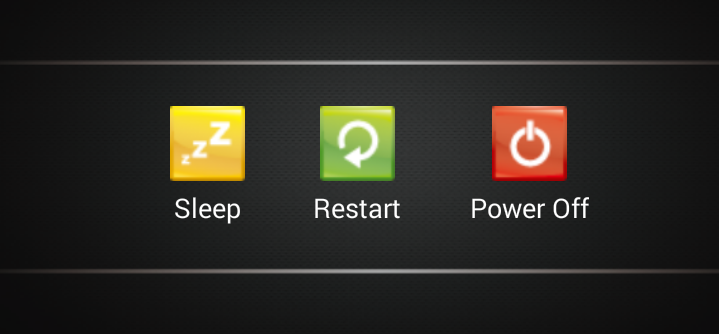 Now you can use the direction button and choose the mode you need.If you choose "Power Off", it will completely turn the NEO X8-H off, not just sleep. In this mode you'll need to hit the power button on the device itself to turn it back on;
3—-meun button, press this button to call the menu in each app;
4—-direction button,and enter button, when you lock the pointer,you will love this direction buttons:)
5—back button, which becomes the Home button when held;
6—play/pause button, useful in XBMC or other media player app;
7—volum control button
So, place your order quickly and get this Free Gift promotion before it disappears.
System Review:
When you first launch the X8-H, you'll be greeted with a simple setup page, with options for
internet connection, Language and screen size. After that is done you'll find a Home Launcher
selection: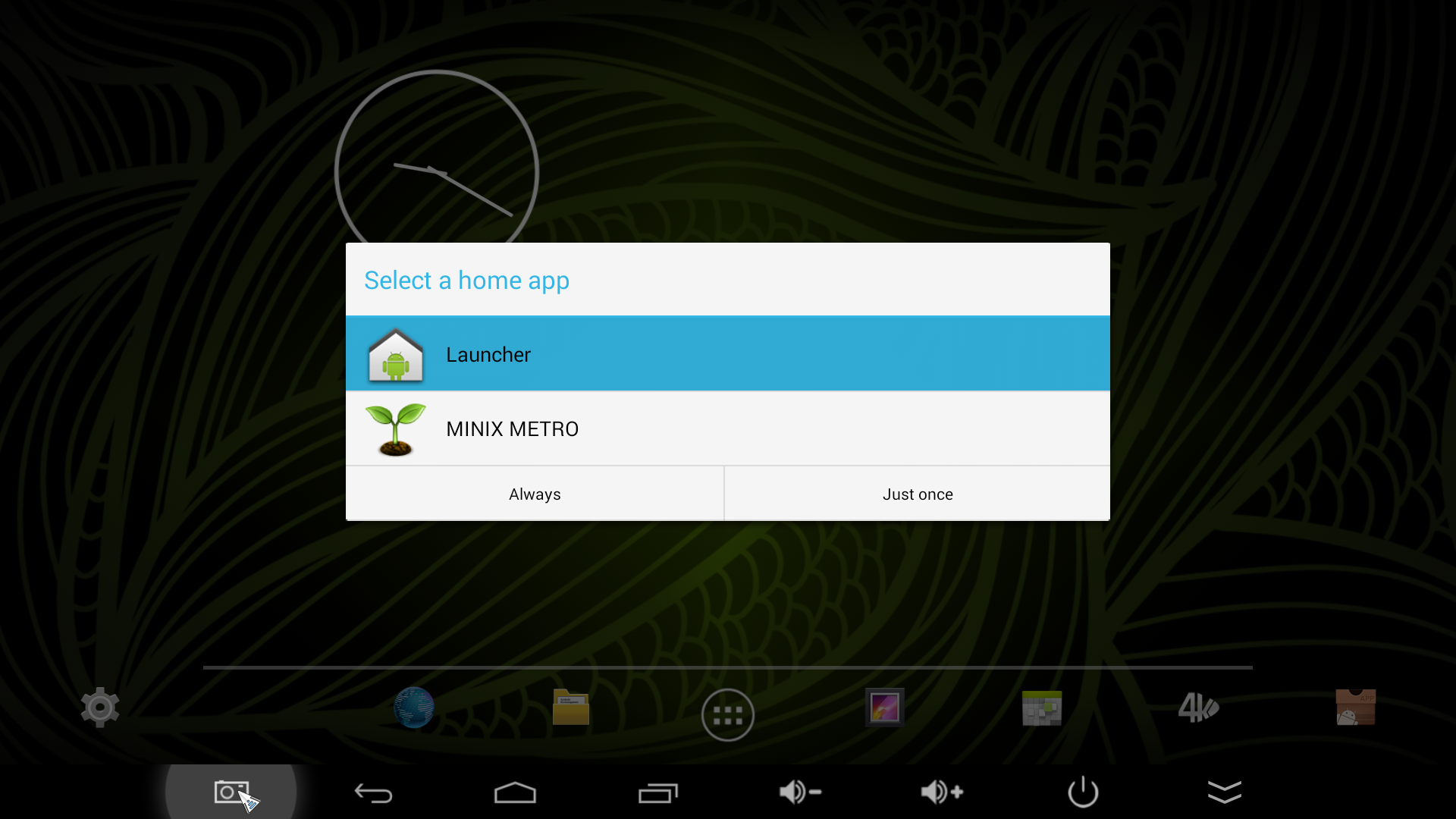 The NEO X8-H comes with 2 different launchers out of the box. One is the Android Original Launcher whose features are the same and shouldn't come as a surprise to anyone, so the one we'll be focusing on now is the MINIX UI.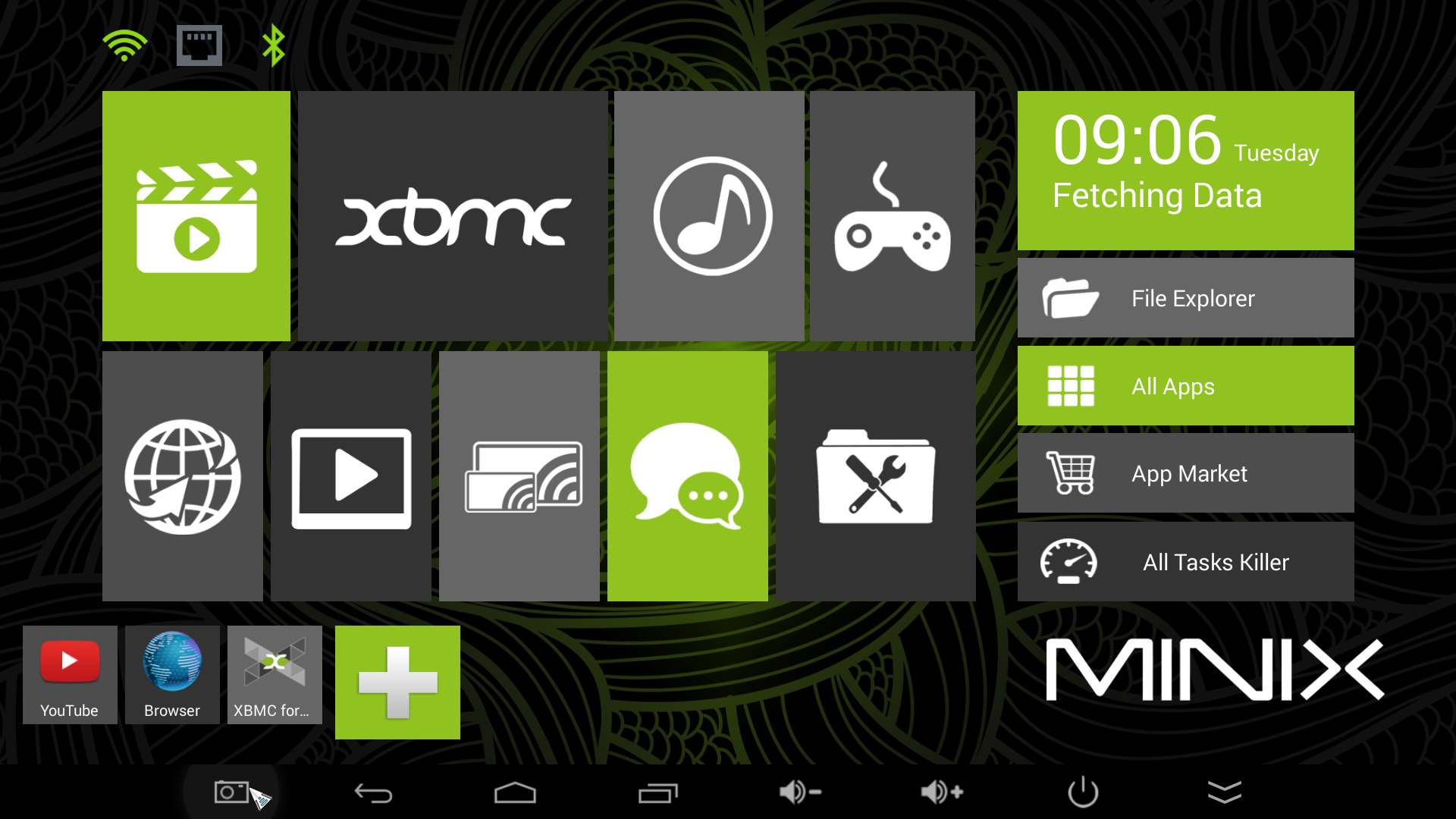 It is a very TV-friendly UI, with big buttons and easy readability from your couch. Your favourite apps can be easily added to the Desktop, and the Task Killer is great to keep your system snappy. Look down a bit and you will find a Screenshot function and a soft Power Button
tucked away in the Statusbar. You also have an arrow to hide it if you choose.
Clicking ALL APPS will open the custom App Drawer: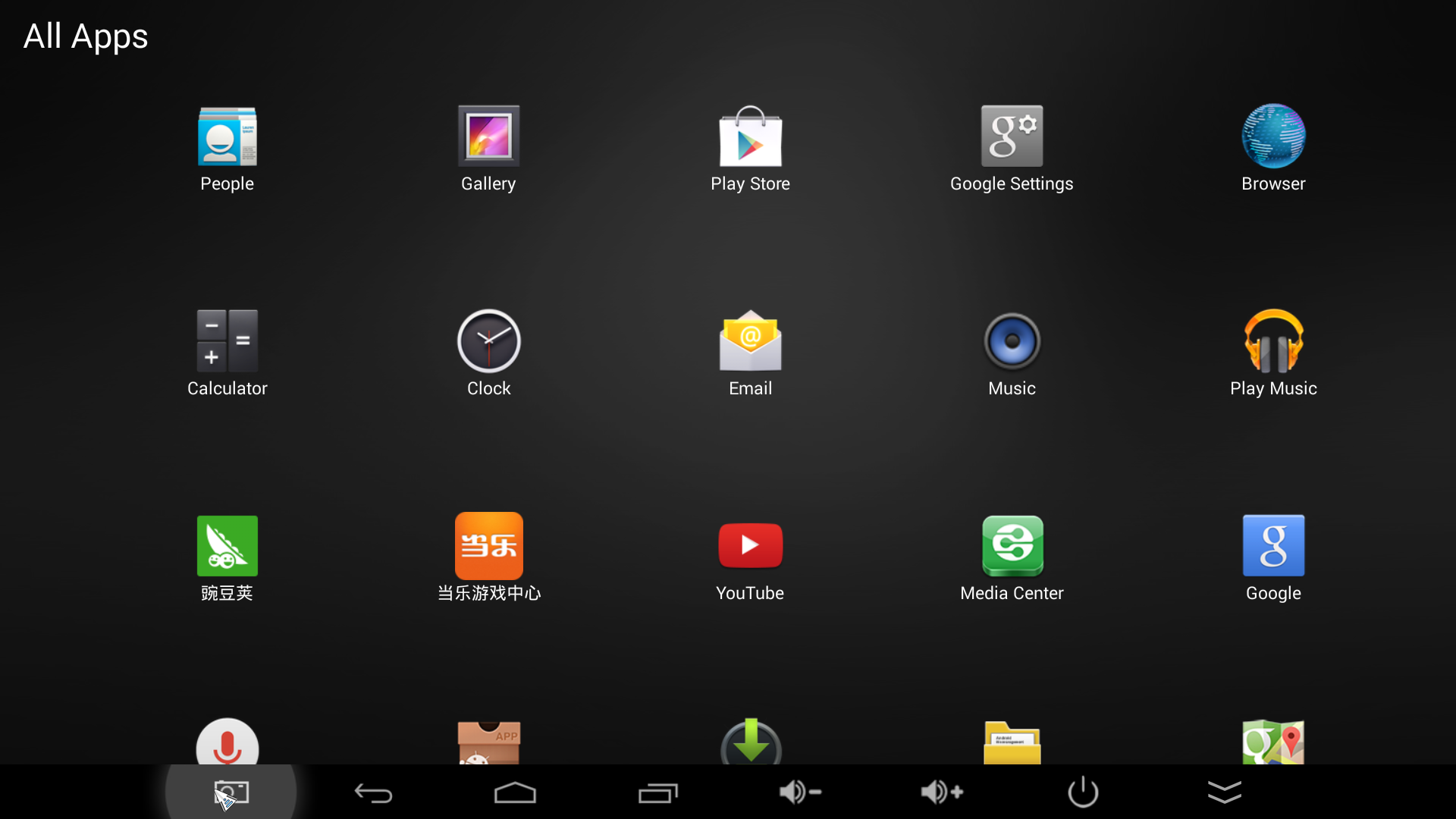 Apps like the Google Play Store, Netflix and Skype are already built-in, and the experience with them is detailed a bit further below.
Now let's check the Settings menu on the MINIX UI. On the Network tab you can check and pick your Internet connection settings and if you'll be using a wired or wireless connection. You can see on the screenshot the NEO X8-H connected to our Xiaomi router's 5G network, confirming that it works without a hitch on Dual Band networks.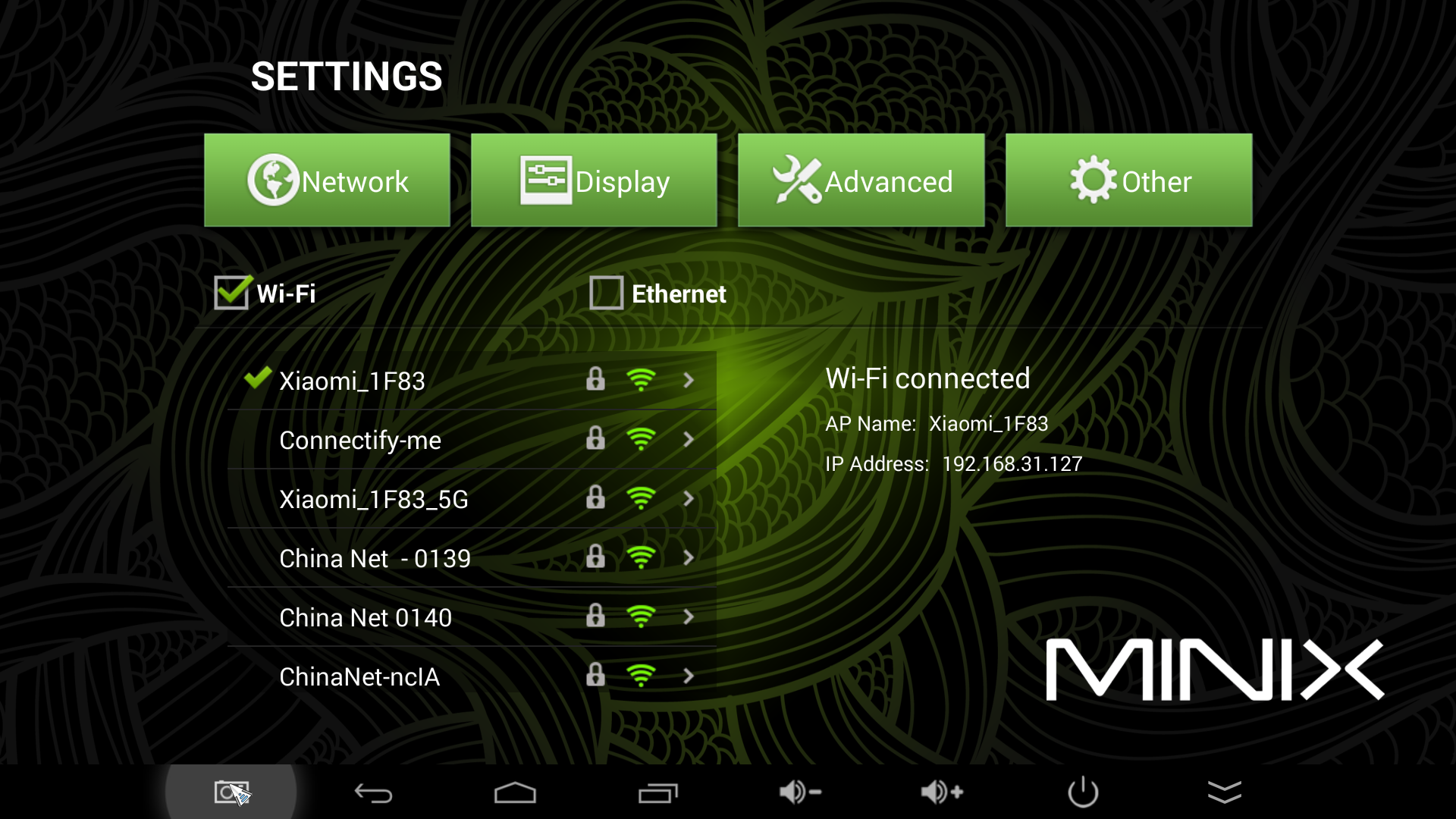 Display Setting:
Going to the Display Tab we can set the HDMI resolution, toggle the Statusbar visibility and pick the Screen Saver settings. If HDMI auto-detection is enabled, then the NEO X8-H will follow true to the settings name and give the appropriate screen output for your screen.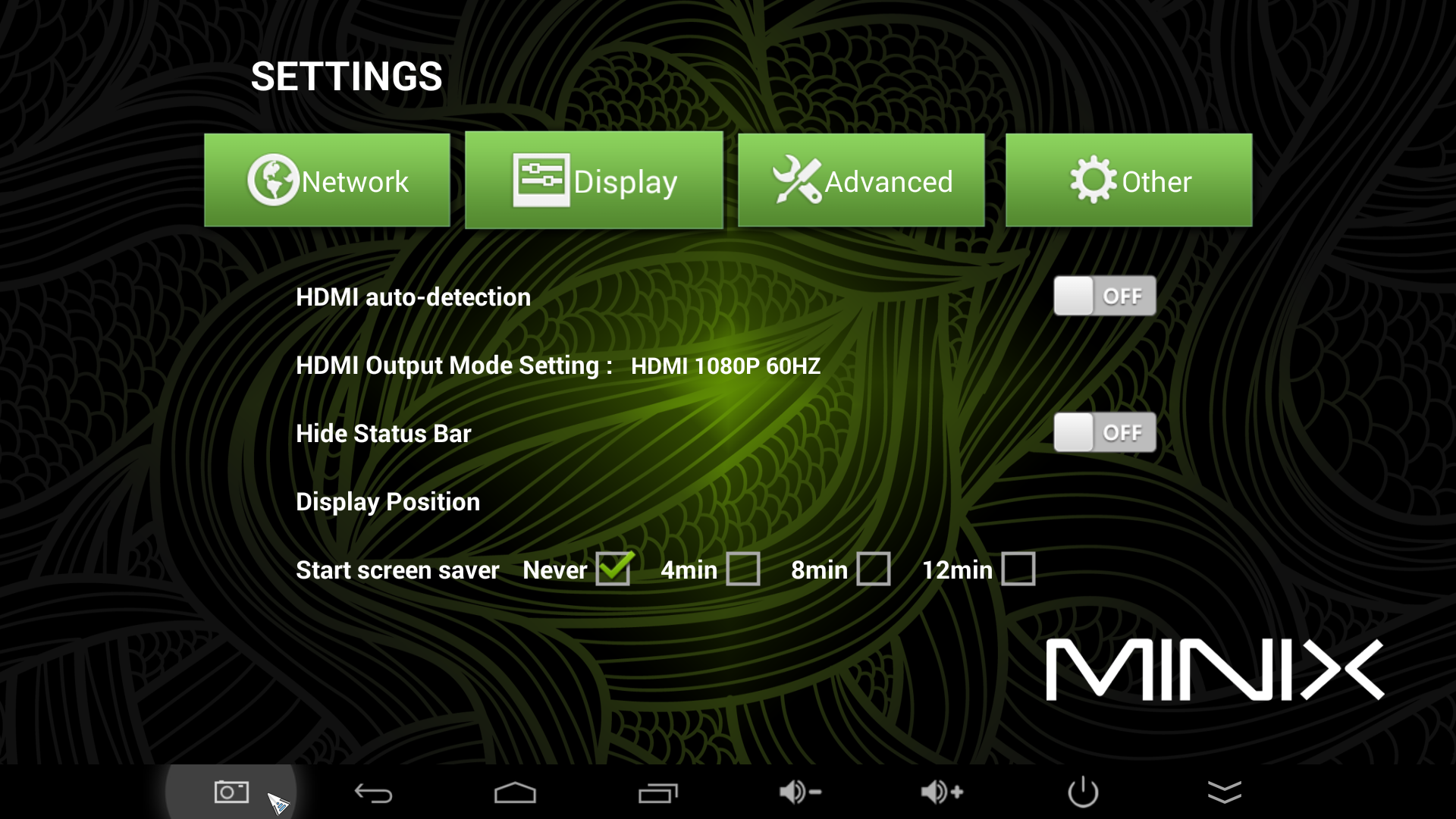 The X8-H supports a top 4K UHD resolution output. The full list of resolutions is 480I, 480P,576I, 576P, 720P 50HZ,720P 60HZ, 1080I 60HZ,1080P 60HZ,4K 24HZ,4K 25HZ,4K SMPTE.
The Display Position option will allow you to modify the screen size, to fix Overscan issues.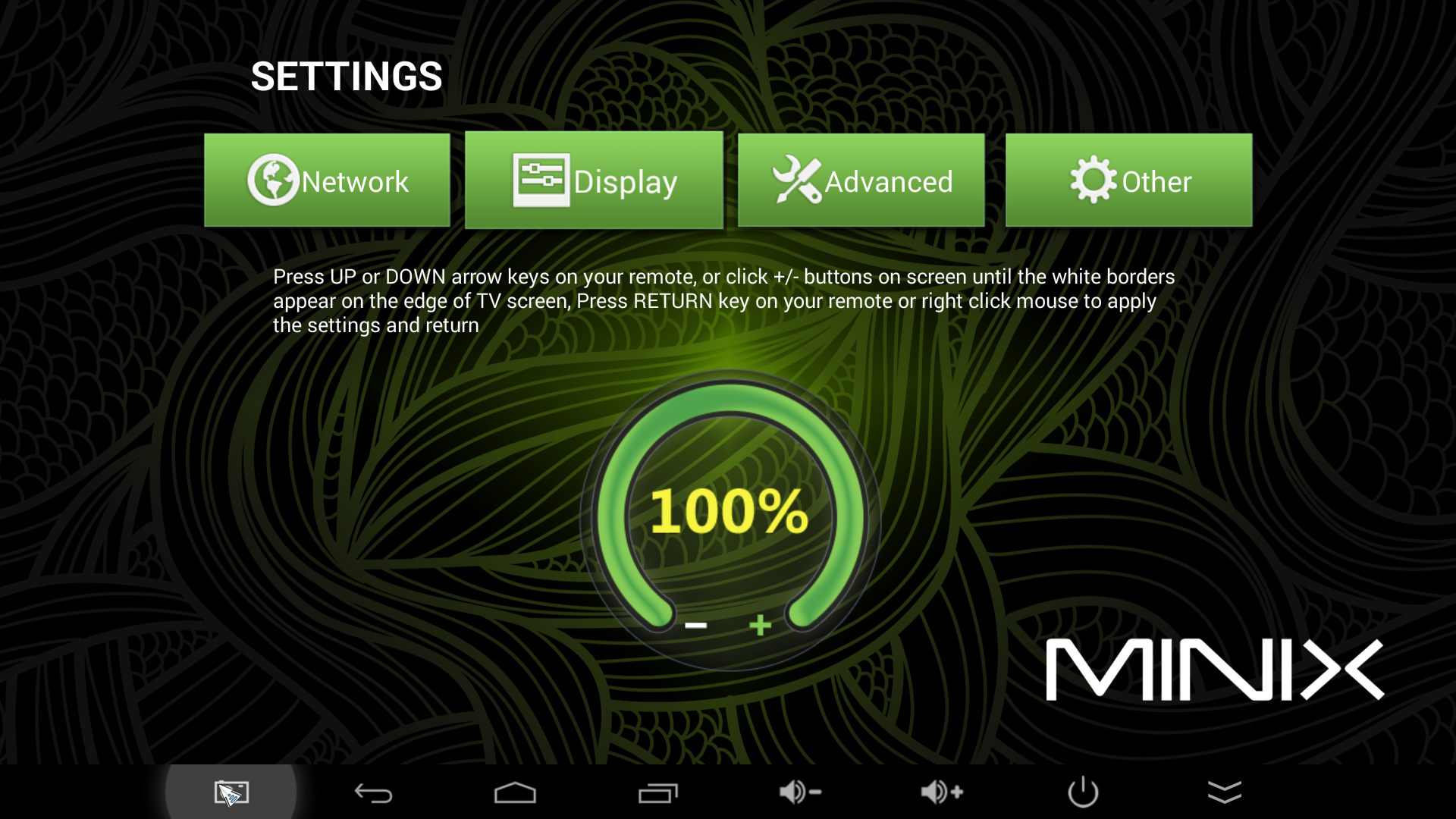 Going to the Advanced tab, we have quite a useful number of options: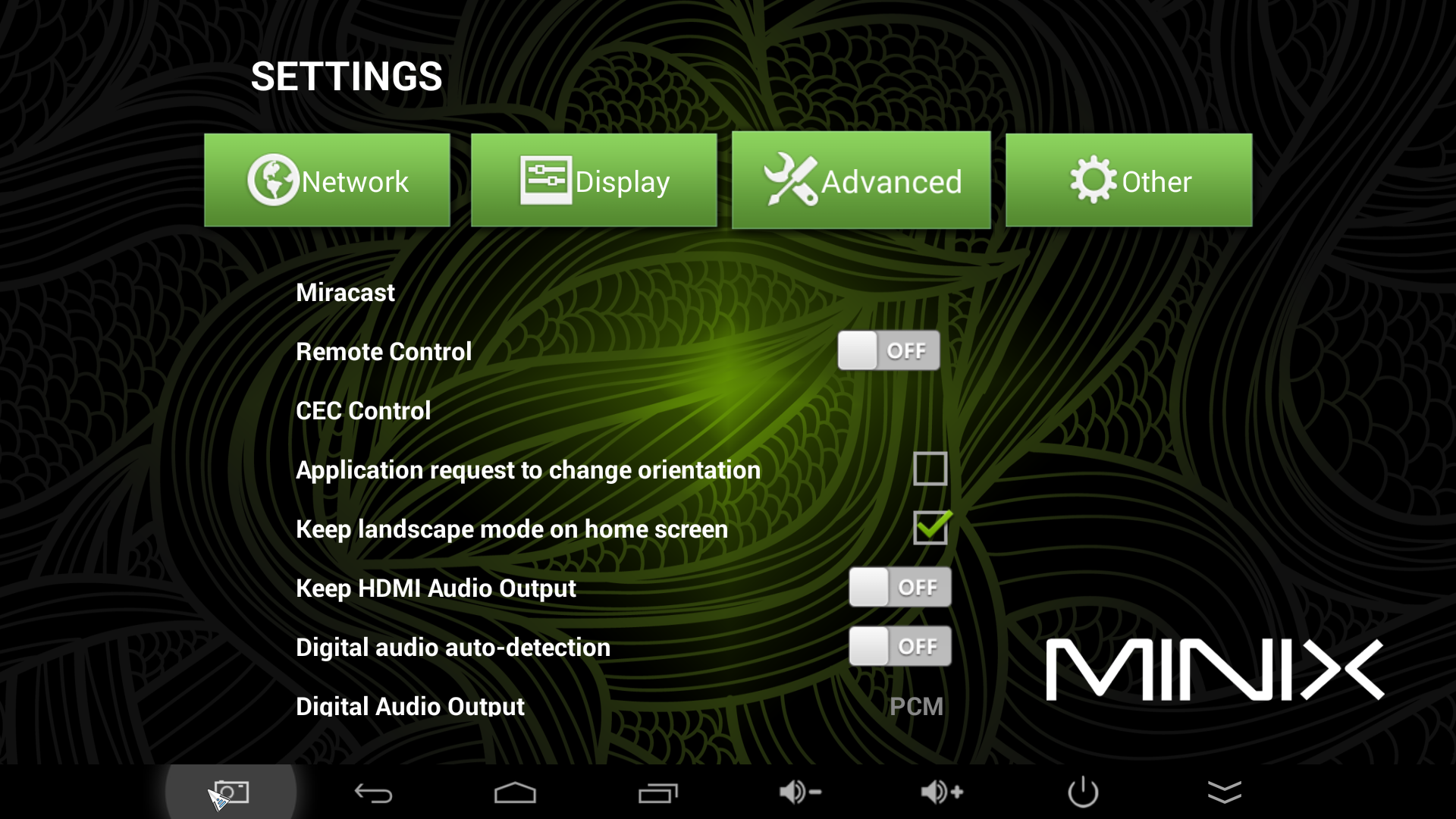 Miracast – You can use this to mirror your Phone / Tablet's screen to your big TV.
However Samsung, Sony and HTC devices are not supported due to HDCP compatibility issues. Click here to read the instruction for how to use this function.
Remote Control– NEO X8-H also can be controlled by your android smartphone. Turn on this function,and click here for the instruction. also just support android smartphone right now;
CEC Control—- Also known as HDMI-CEC, in short it allows you to use your TV or AV Receiver remote to control the NEO X8-H through the HDMI connection. For this to work you'll need to check that said TV or Receiver do support this protocol.
CEC can also be used to switch your TV (or receiver, you know the drill) on and off when the same is done to the connected device, and vice-versa.
Another useful setting is Digital Audio output, click this , it will give you following setting: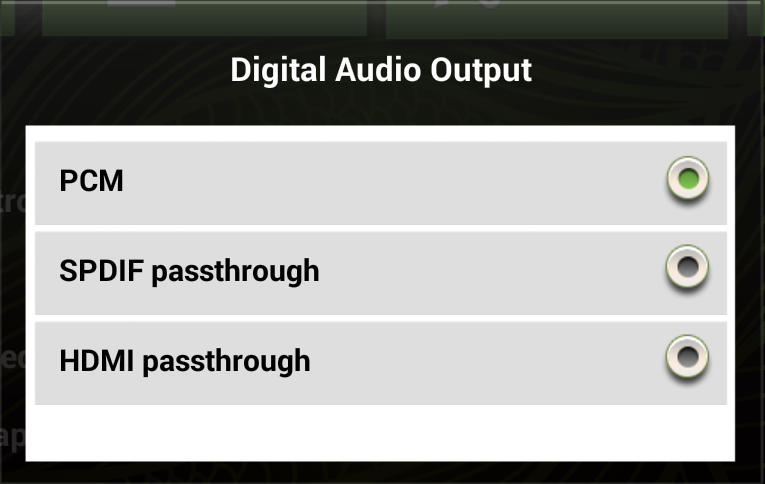 when you connect NEO X8-h with your receiver, you should make the change here, spdif or hdmi passthrough is all ok. click here to read the passthrough review of NEO X8-H.
In the end, let's check the other setting: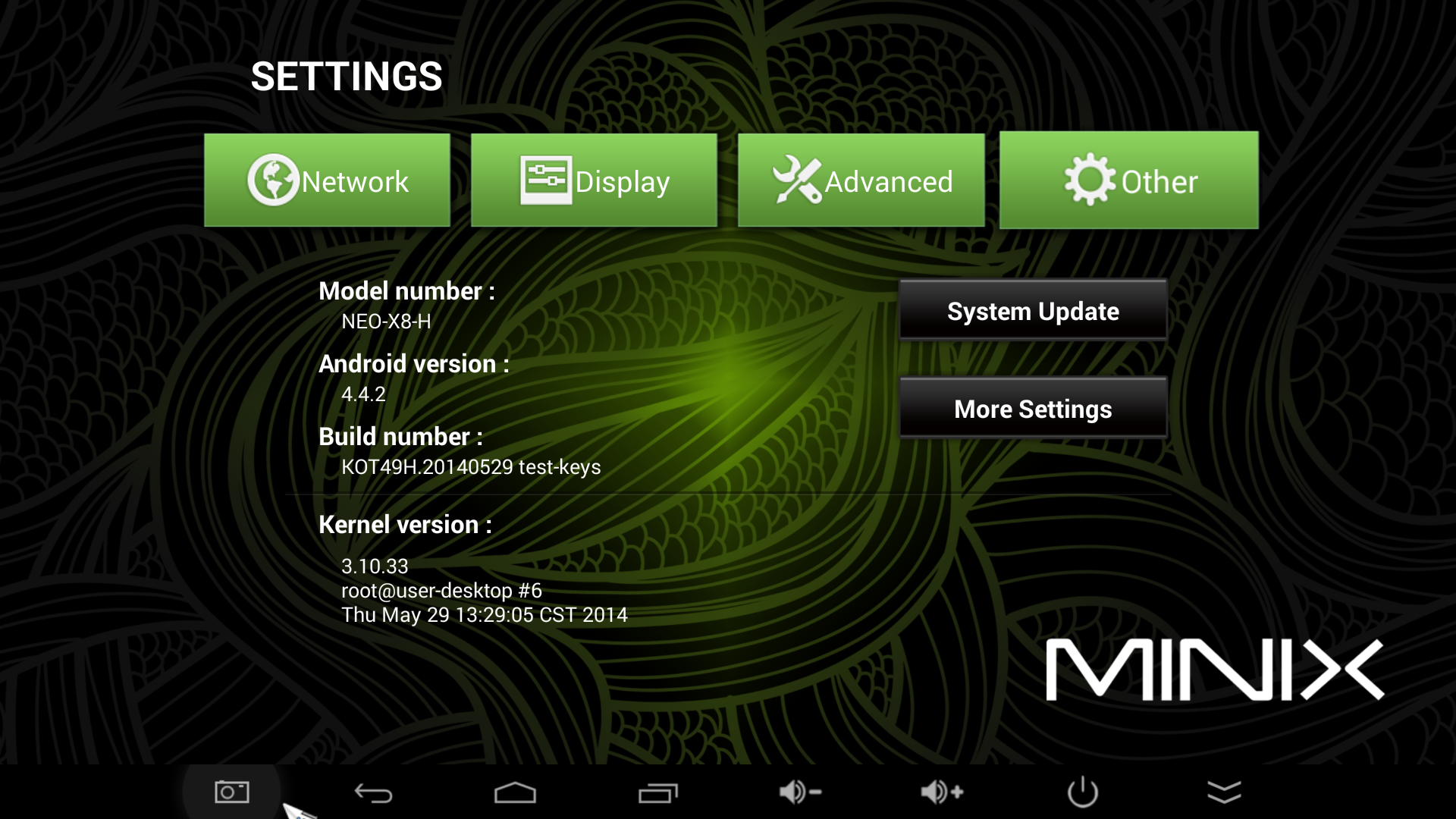 Here you can find the build number and kernel version, so where is the original android settings? don't worry, click More setting in this page, and everything is back: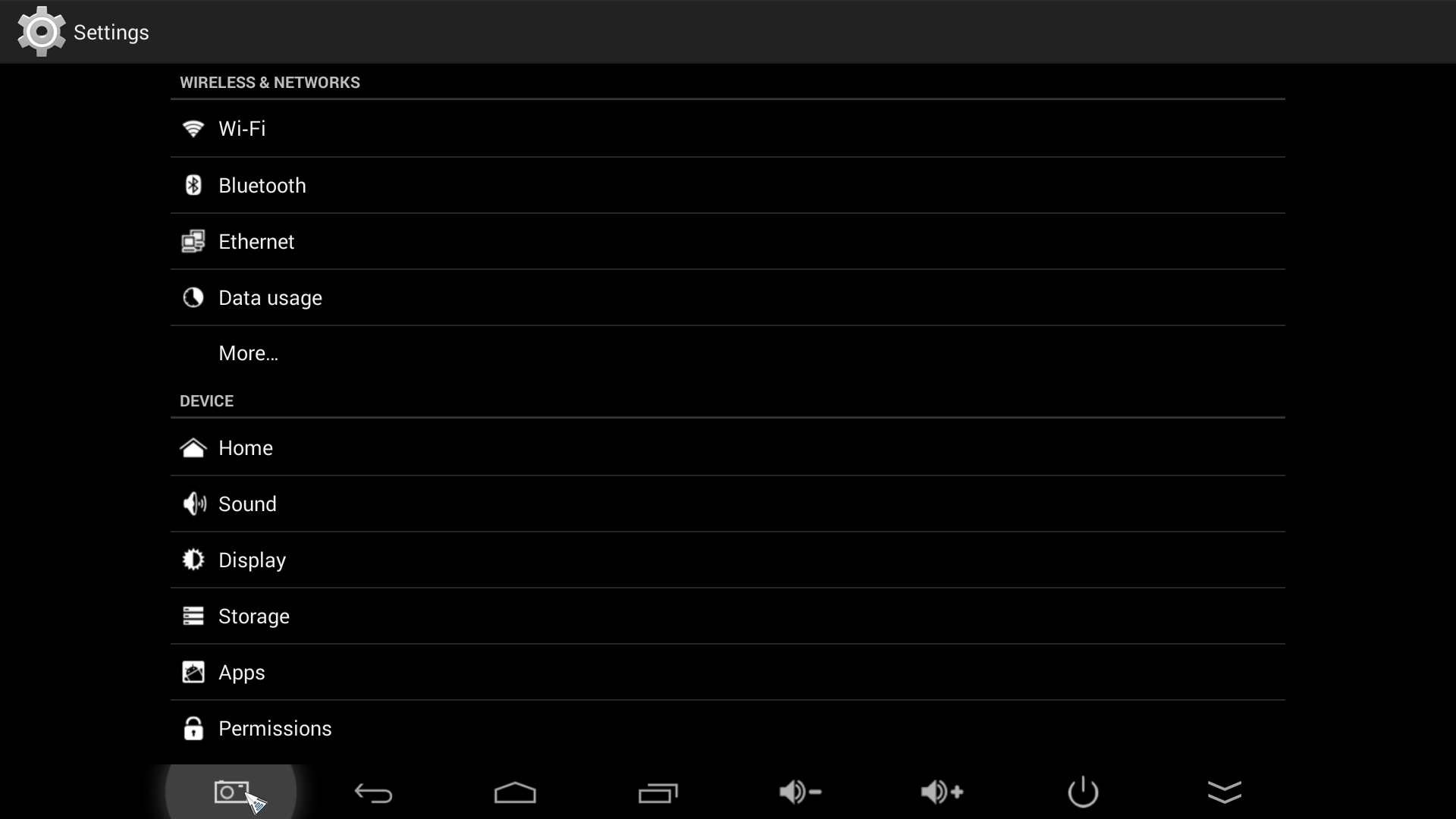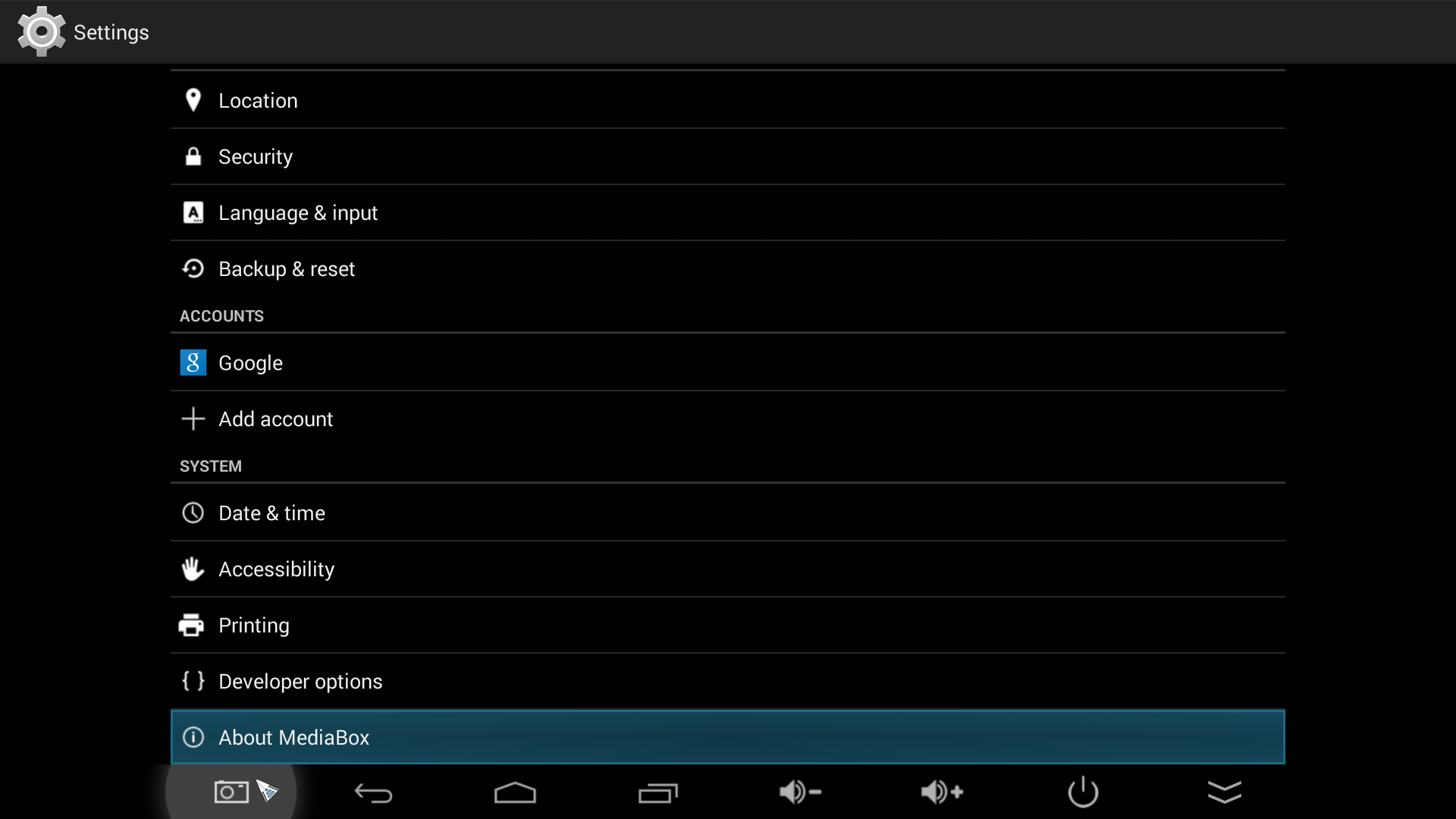 If you can't find the Develop options in your settings, go to "about mediabox" and click" build number" for 5-7 times, and then it will inform you that you are a developer 😀
So it's the regular android setting menu, i will show you the following: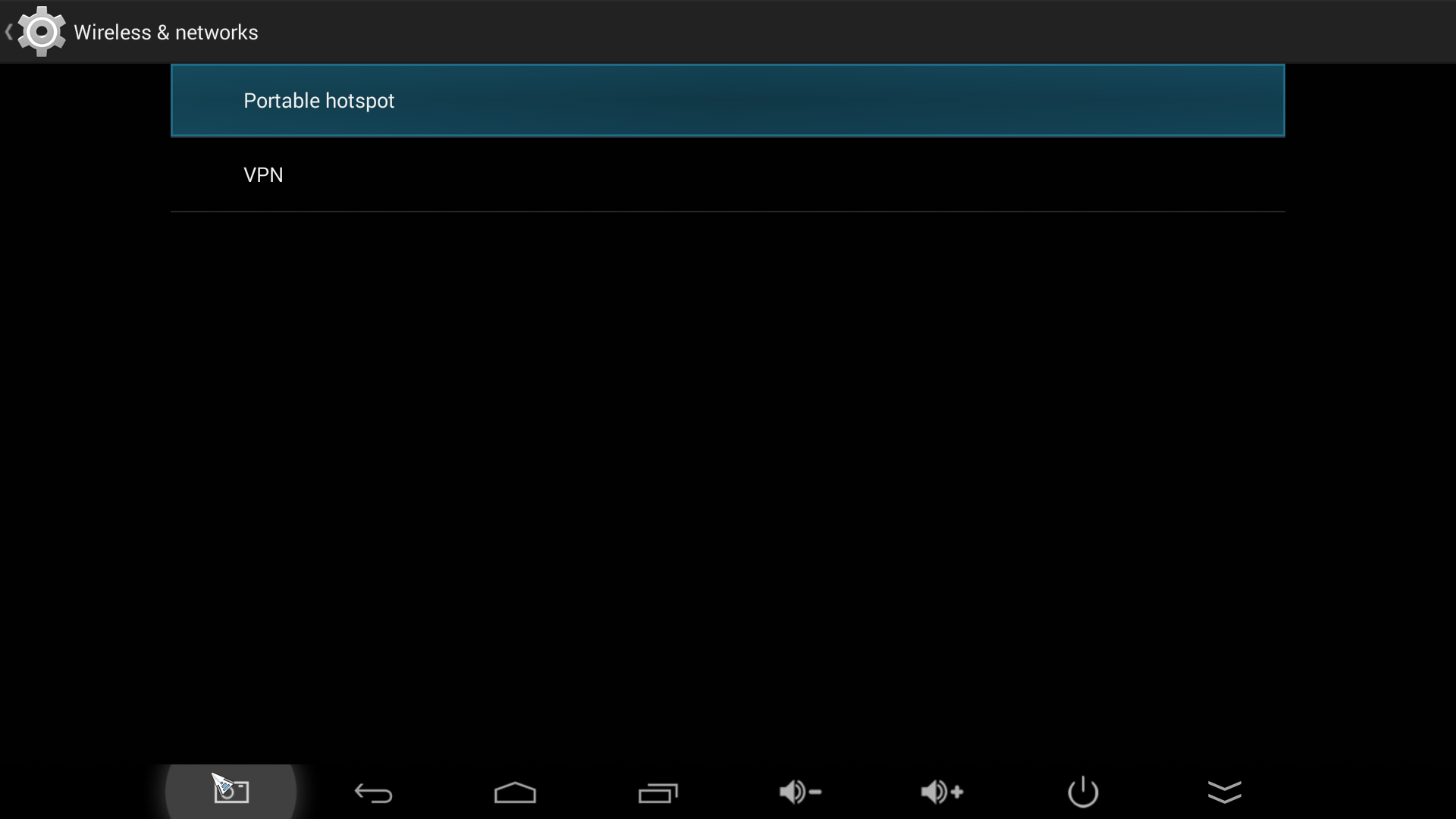 You can use NEO X8-h to set hotspot, function working .also VPN is also working if you know how to set here.
Now let's check the home setting: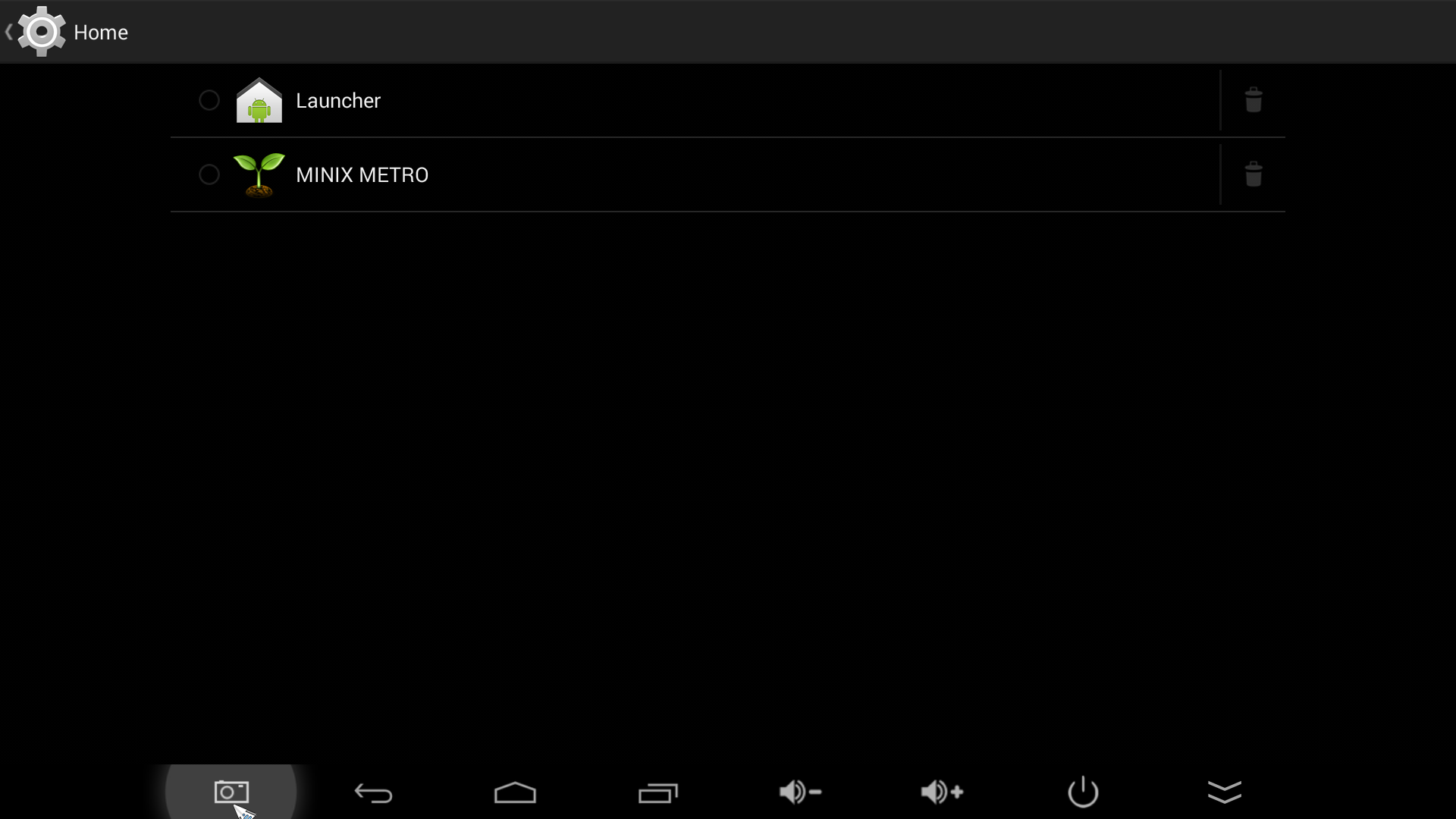 If you want to change the default launcher, change the setting here.
next let's check the storage: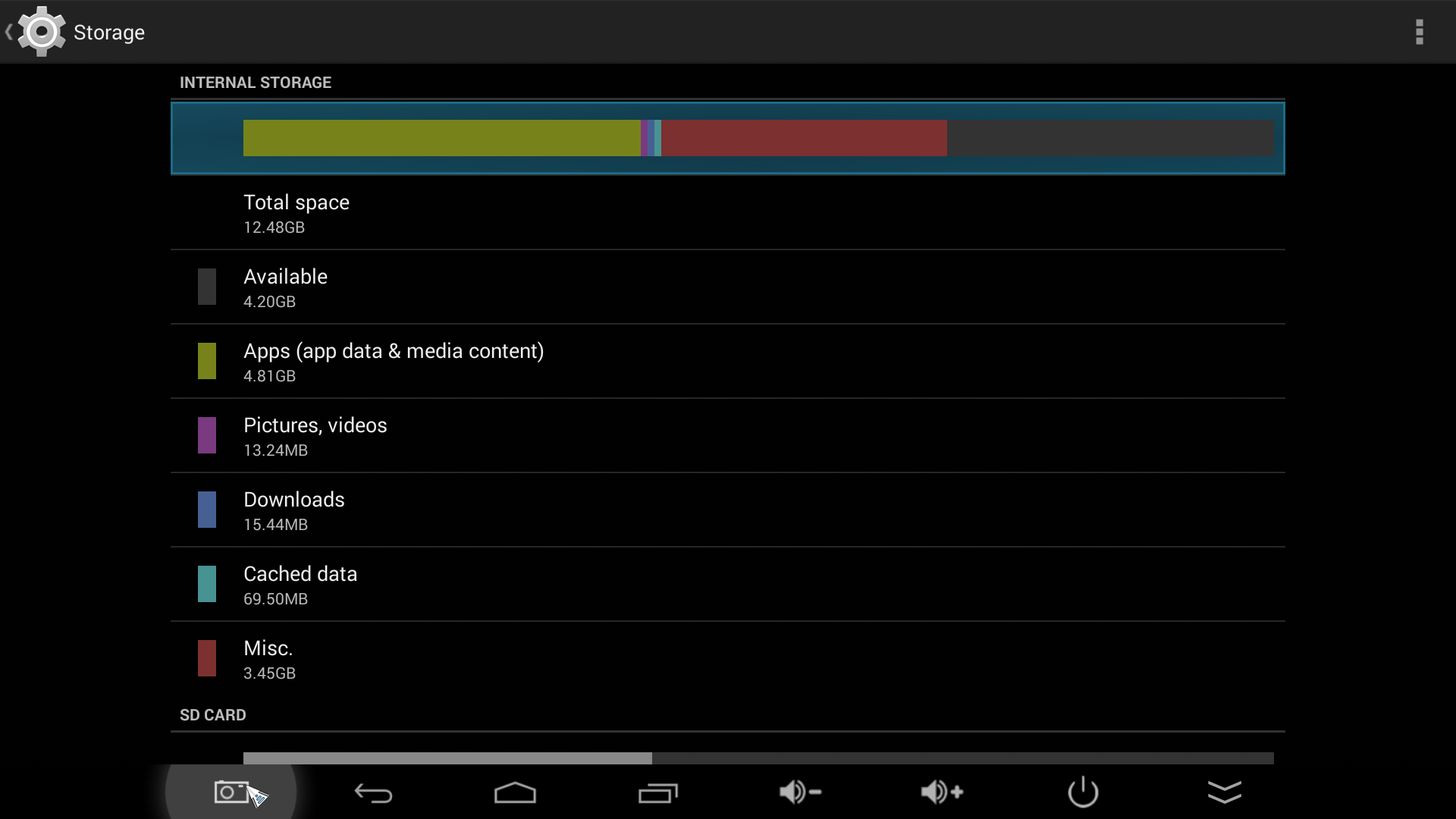 Total is 16GB, and system,and preinstalled apps take some storage, so everything is fine.
Well this is the full system review, if you are familiar with android OS, then everything will be easy, it just trun your big TV to a big android phone 🙂
In the end let's check the regular android launcher, a lot of android fans love this 🙂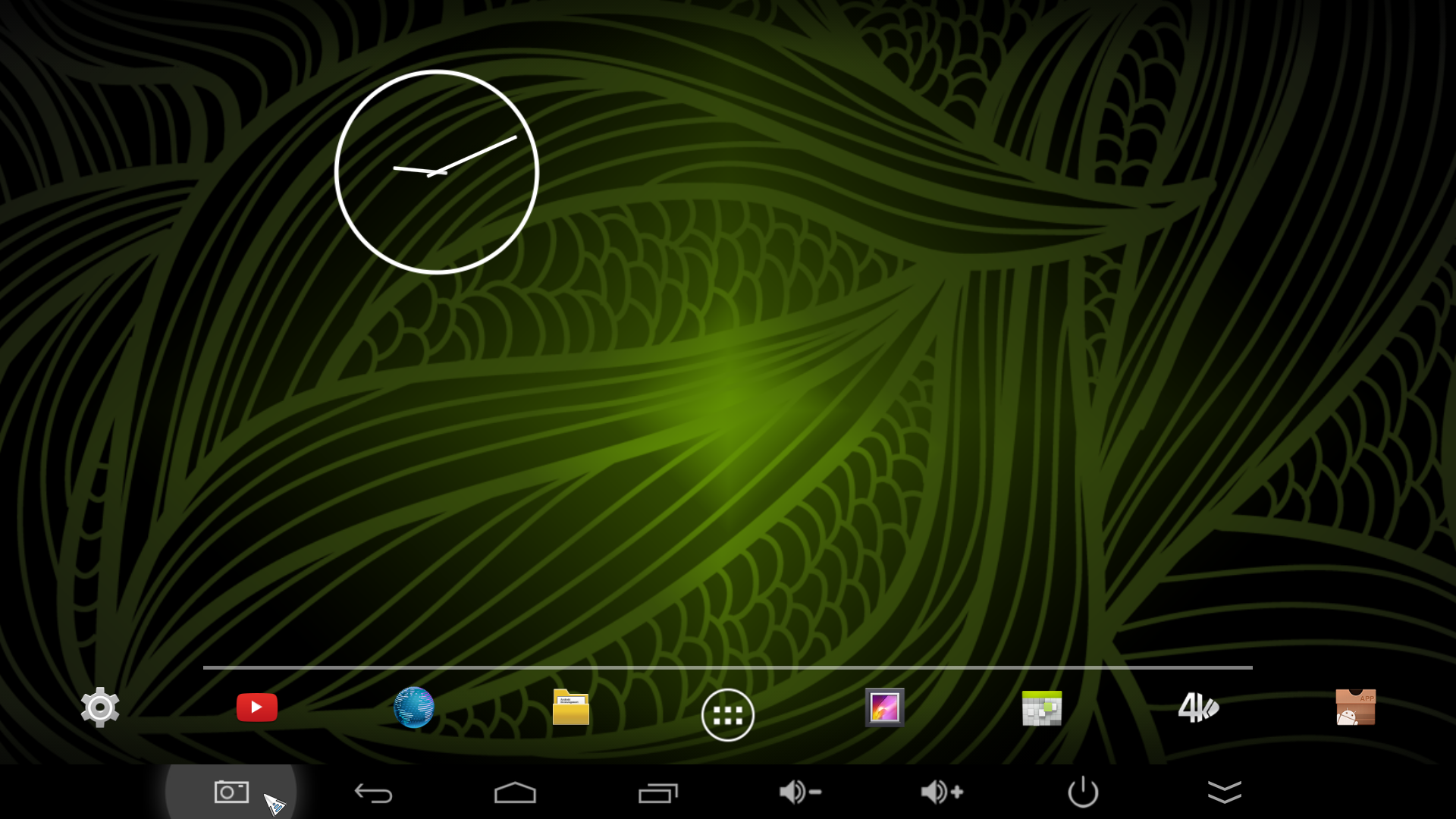 1 Google Play Store:
If you always follow the amlogic s802 tv box, you should know the first bulk amlogic s802 tv box have the google play store paid app download problem, Tronsmart already fix it in their last update, for MINIX, of course, they also fix it. so Google Play store is built in and working without any problem: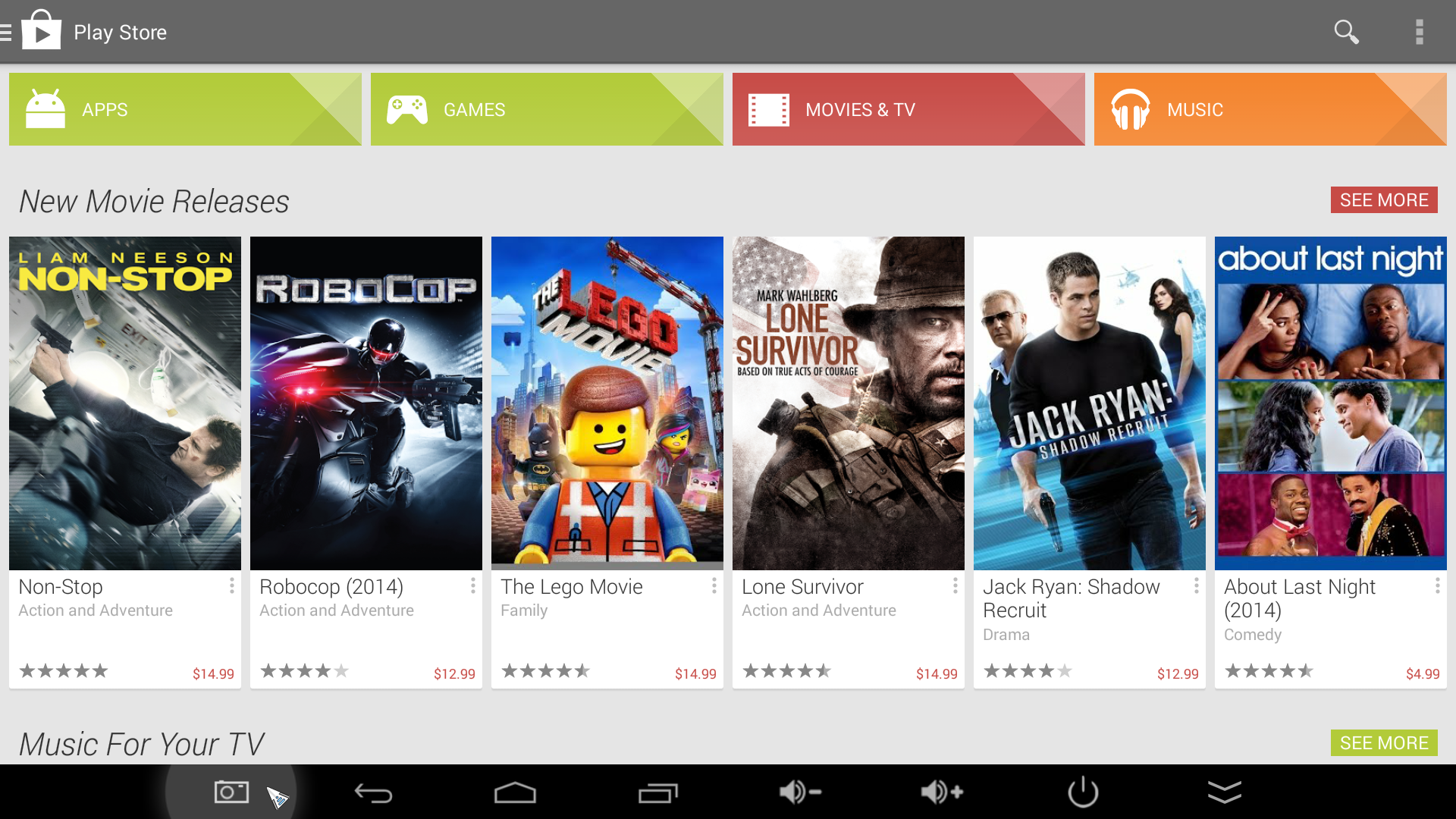 2 Browser:
MINIX NEO X8-H built in the android original browser, but if you like, you also can install chrome, firefox and other browser from google play store. but please note, the flash player don't work with neo x8-h, it's not the problem of neo x8-h, Adobe flash just don't support the android 4.2 or above device, it's a little sucks. but there is still method to make it work, check here:
https://blog.geekbuying.com/index.php/2013/12/16/how-to-use-adobe-flash-player-with-android-4-4-kitkat/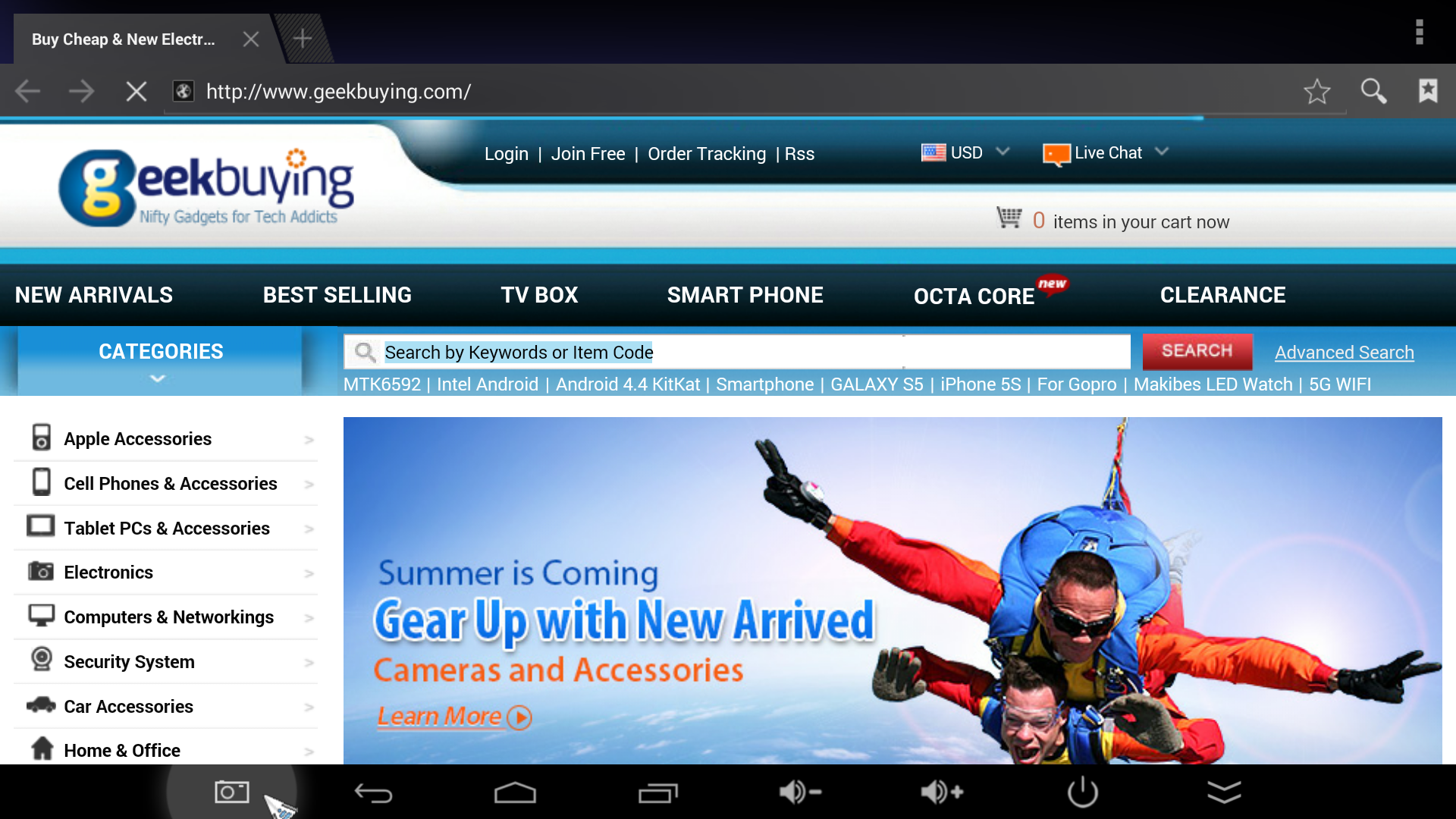 3 Mediacenter
This app will make your NEO X8-H support DLNA and Airplay. but since NEO X8-H also pre-installed the airpin(pro), so this app is almost useless 😀
4 4K media player
This is the NEO X8-H built-in media player. Because NEO X8-H use the amlogic s802-h chip, so it should be able to hardware decode the Dolby and DTS video, so i tested with a lot of different format full hd dolby dts file, all working good with hardware decoding. while for NEO X8, i think you just can use XBMC to do the software decoding,and play those files.
5 Update&Backup
This is a very important app in the system, future OTA update, and data backup are all base on this apps.
6 Skype
We've tested the Video Chat, and all worked as expected. The tested cameras were Logitech's C170 and C270.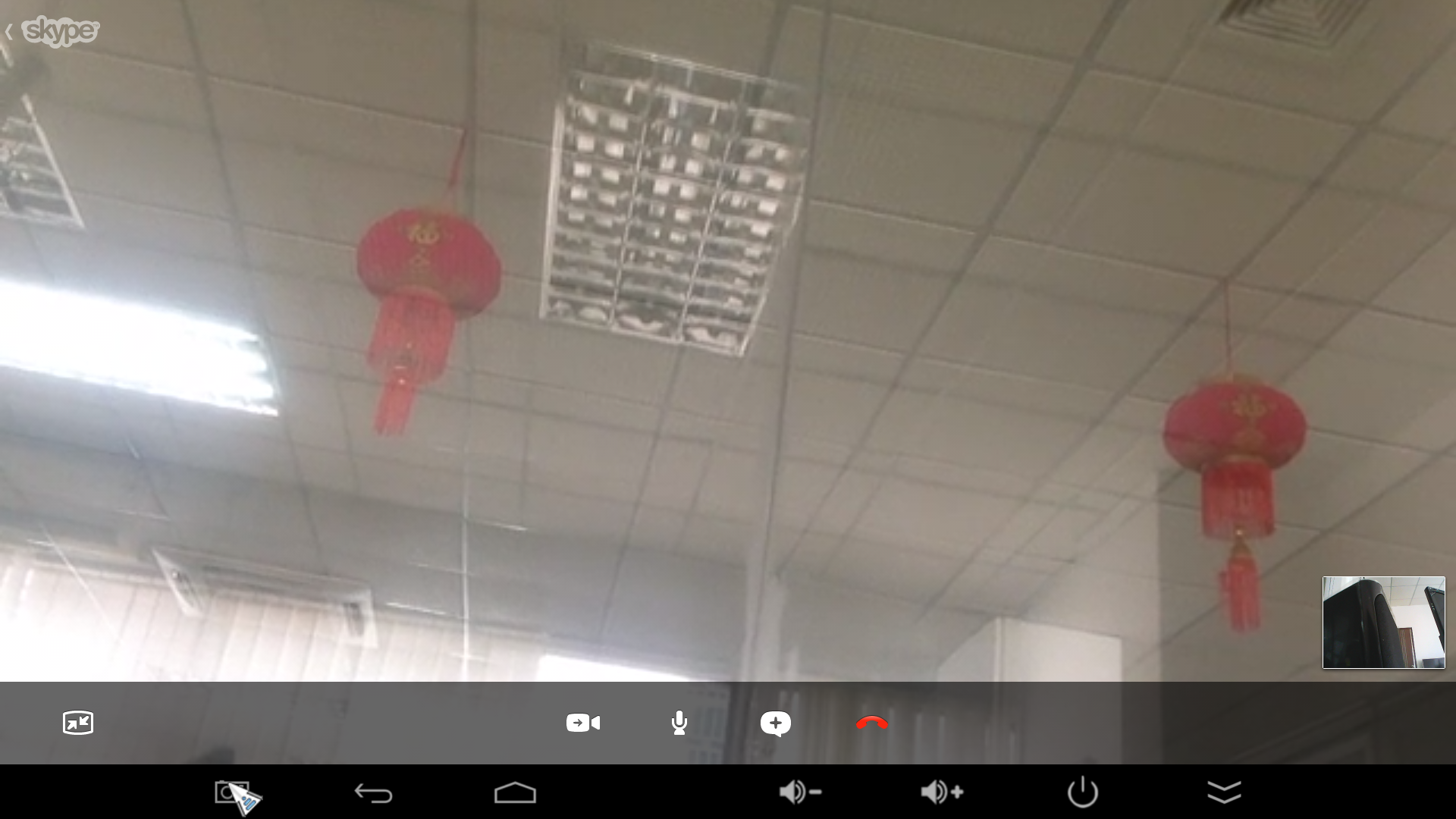 7 Netflix
We were unable to test the HD version of Netflix, so this experience is of the "regular" version. Making a connection through a VPN, the streaming worked as intended with nothing of note.
We were also questioned if 5.1 passthrough was working on Netflix, but as we couldn't find a video for the test it was skipped at the time. Get back to us with one such content and we will update this area of the review with the results.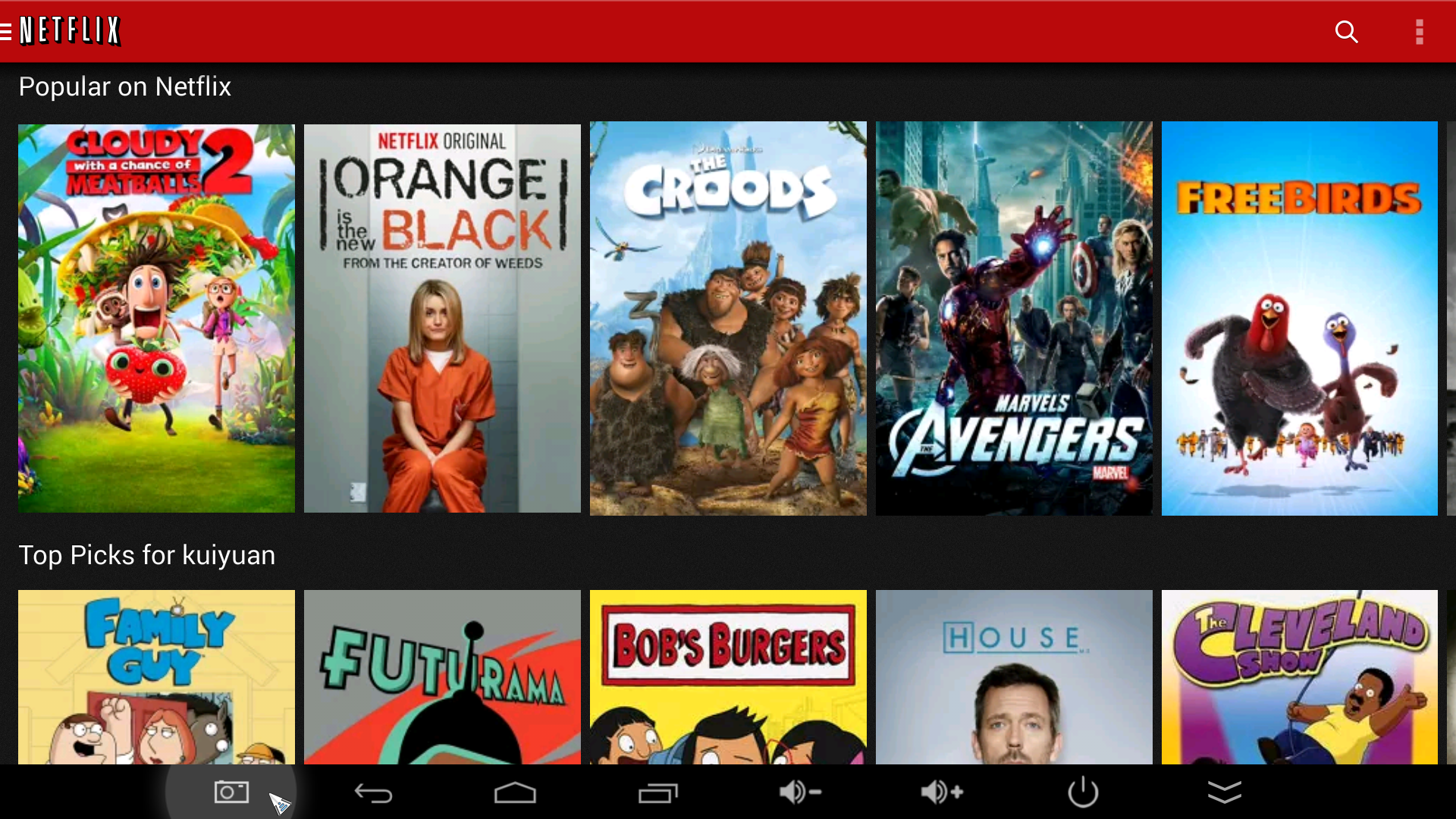 8 Youtube
YouTube works without any problems, and the interface makes it very easy to be used from the couch.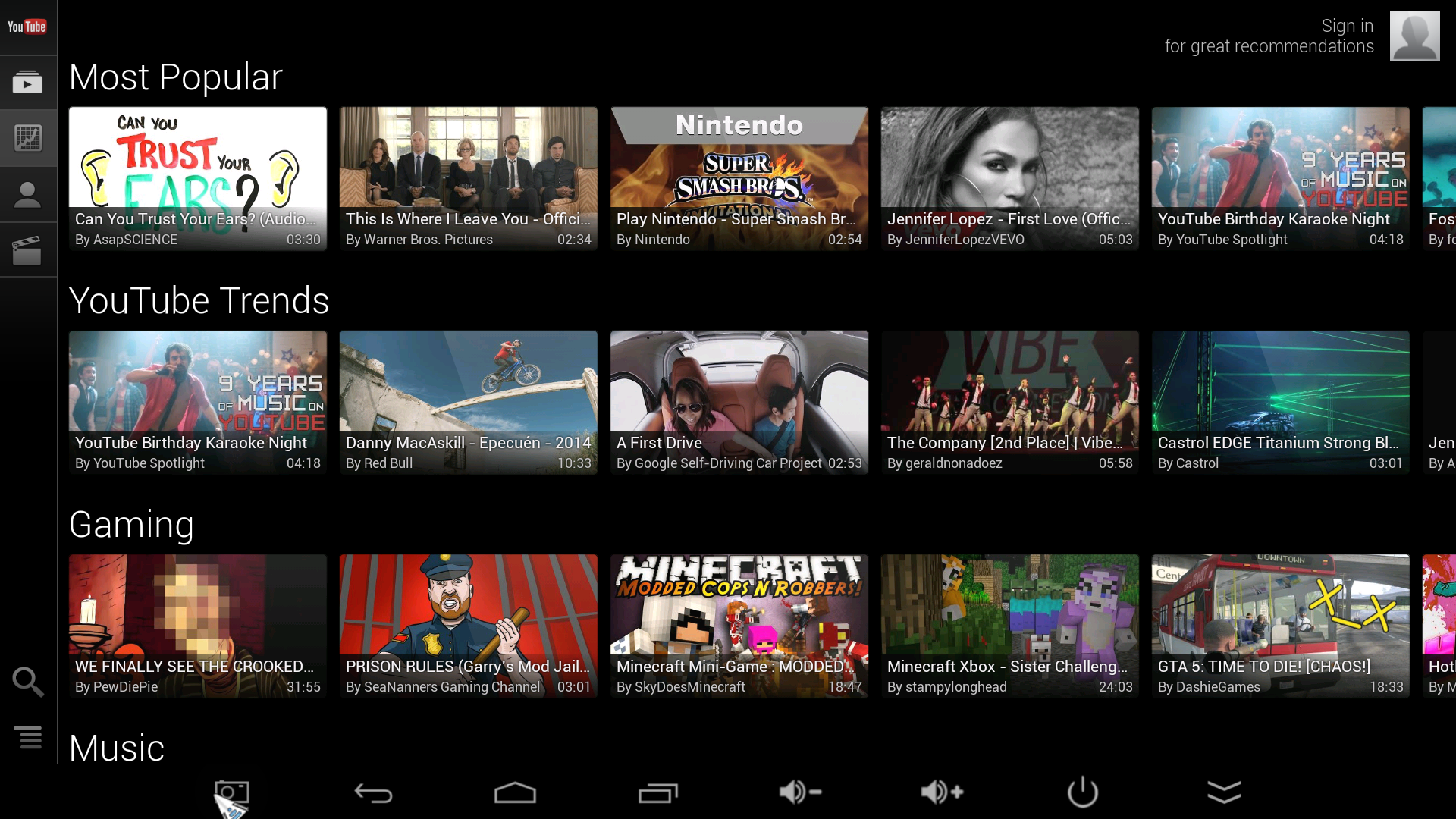 9 File Browser:
This is where you'll come when you want to interact with your connected External Drives or cards. We've tested the filesystem compatibility with a 2.5" Seagate 1TB external drive and a 32GB Sandisk SD Card, with the following results:
FAT32: Read and Write worked OK
NTFS: Read OK, but failed to write. It appears to be a common problem with this Amlogic device, and we are in talks with the developer to see if there will be a fix or workaround.
The Sandisk card had the same results on both scenarios. For greater compatibility, ensure that your External HDD's have a separate power supply, as the USB doors of the X8-H may not supply then with sufficient power.
10 XBMC
NEO X8-H build in XBMC, this XBMC is special for NEO X8-H, and base xbmc 13.1, MINIX team should add somthing special on this, so you can enjoy 1080P, 4K,RMVB video with hardware decoding: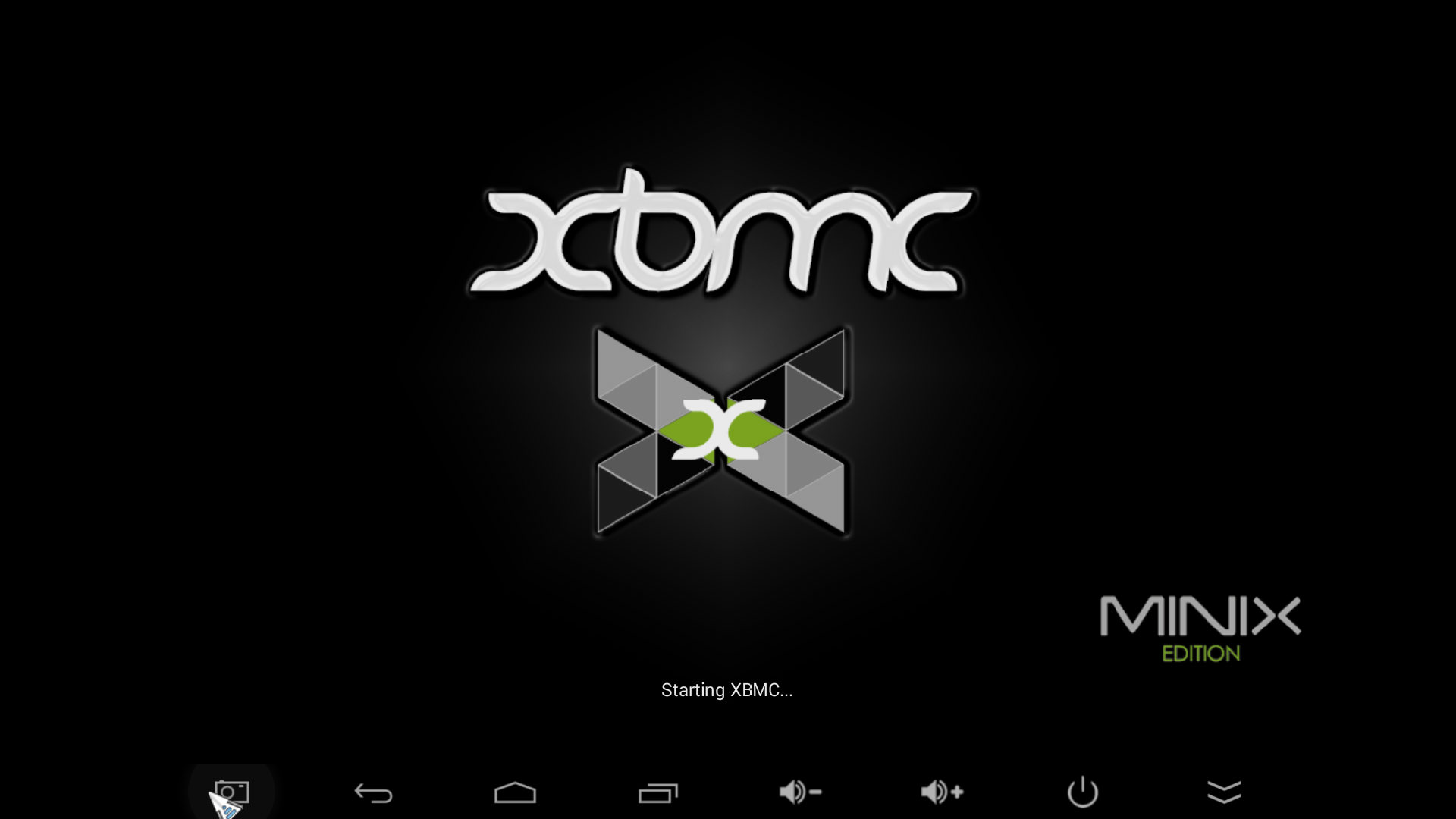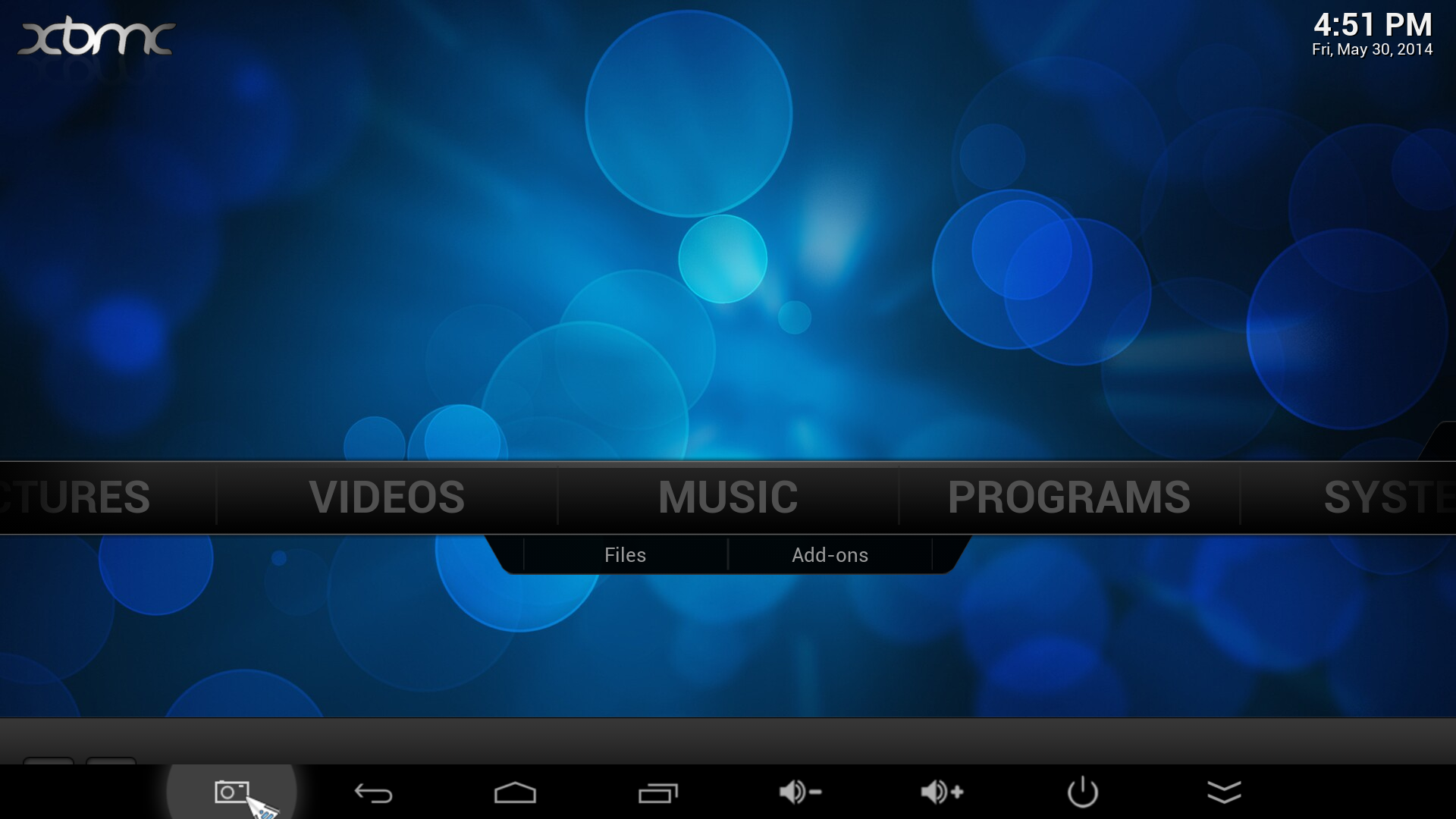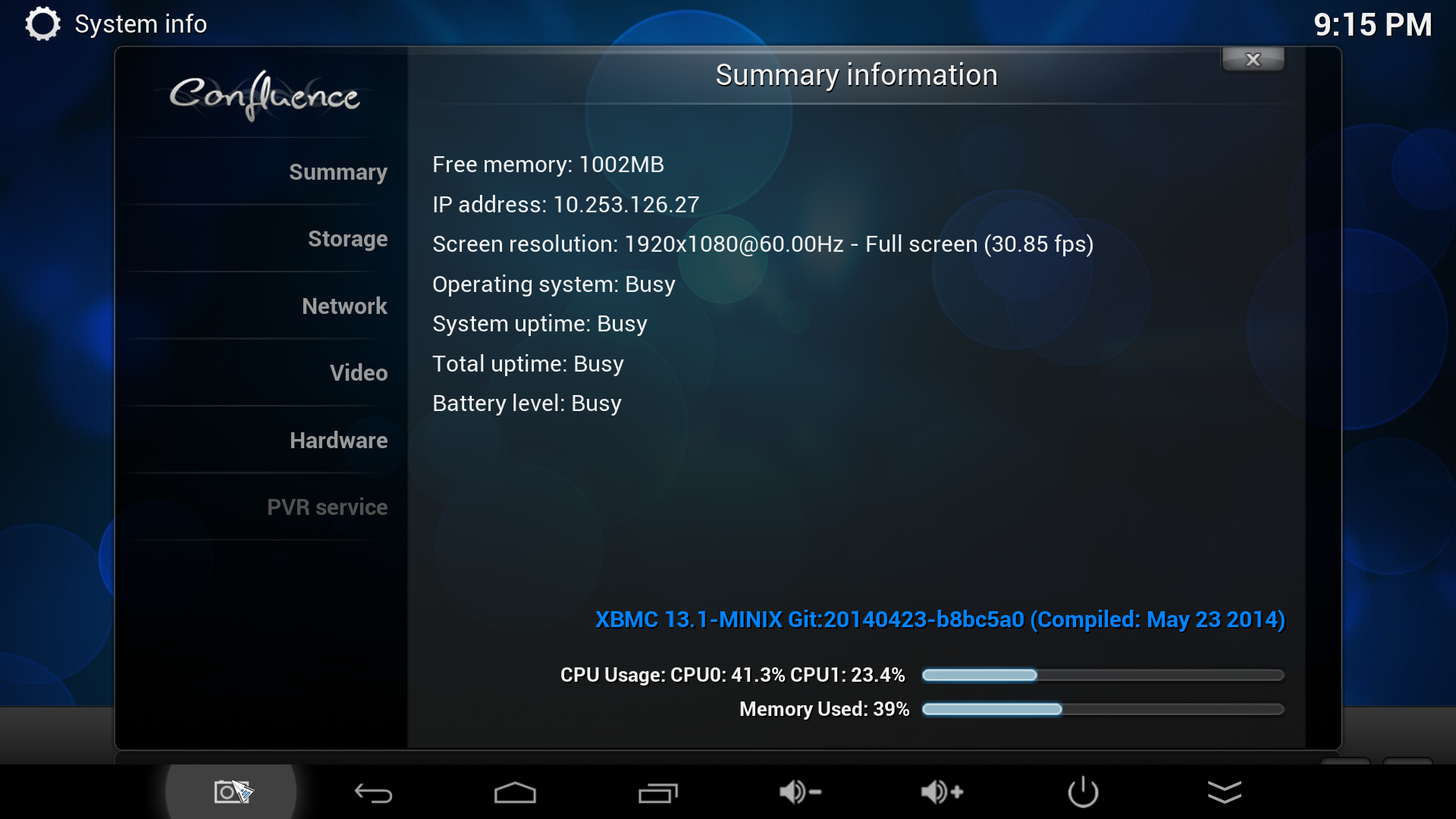 Frankly speaking ,this is the best xbmc media player i have ever reviewed,fully hardware decoding, even 4K and RMVB formate video. optical passthrough and HDMI passthrough are all working great, i haven't got time to test the adds-on and local SMB file playback, but play files from my USB HDD is really perfect, no A/V sync problem. I give some screenshot in case some customers don't know how to enable the passthrough in XBMC: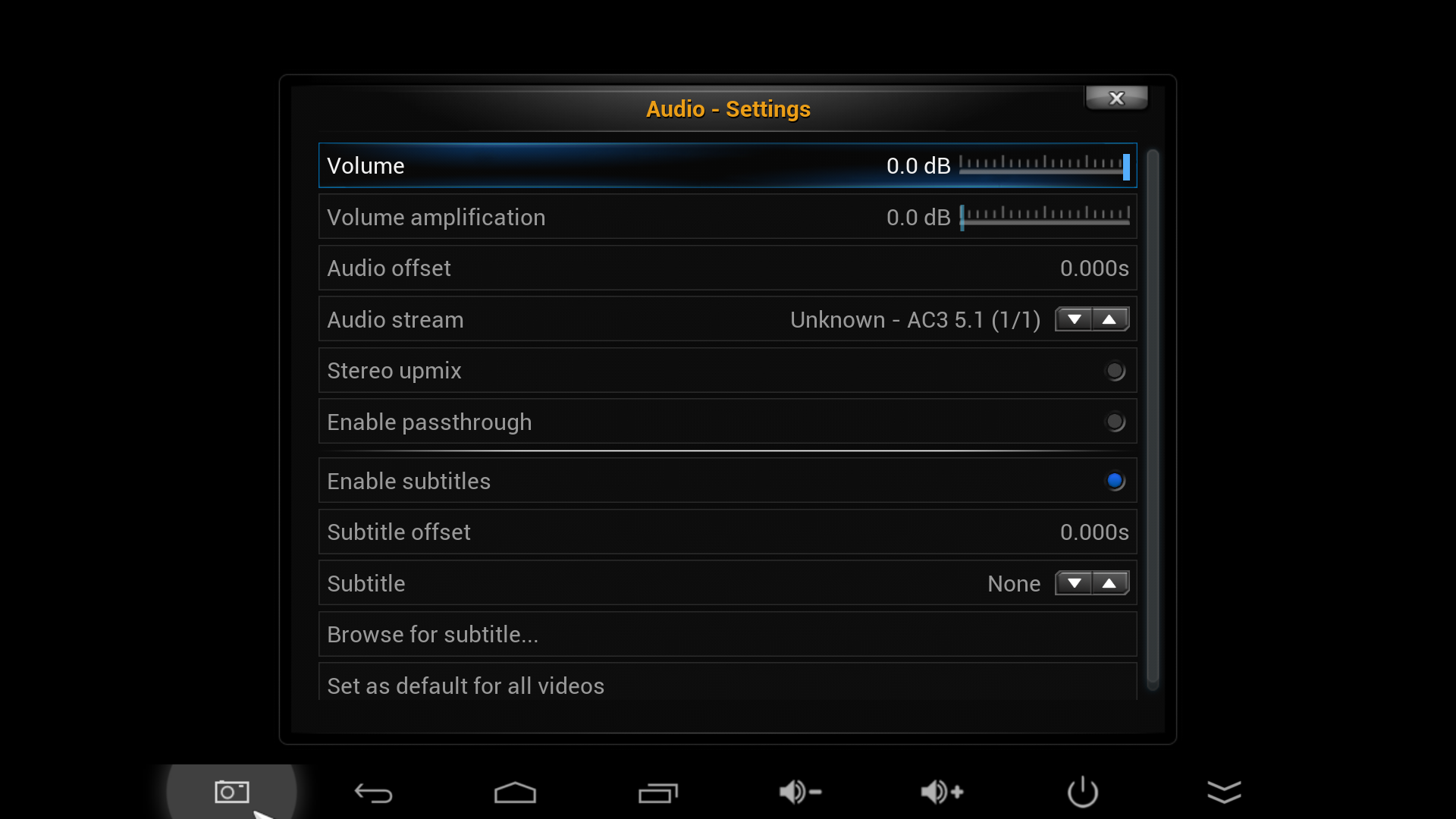 or you can enable in settings: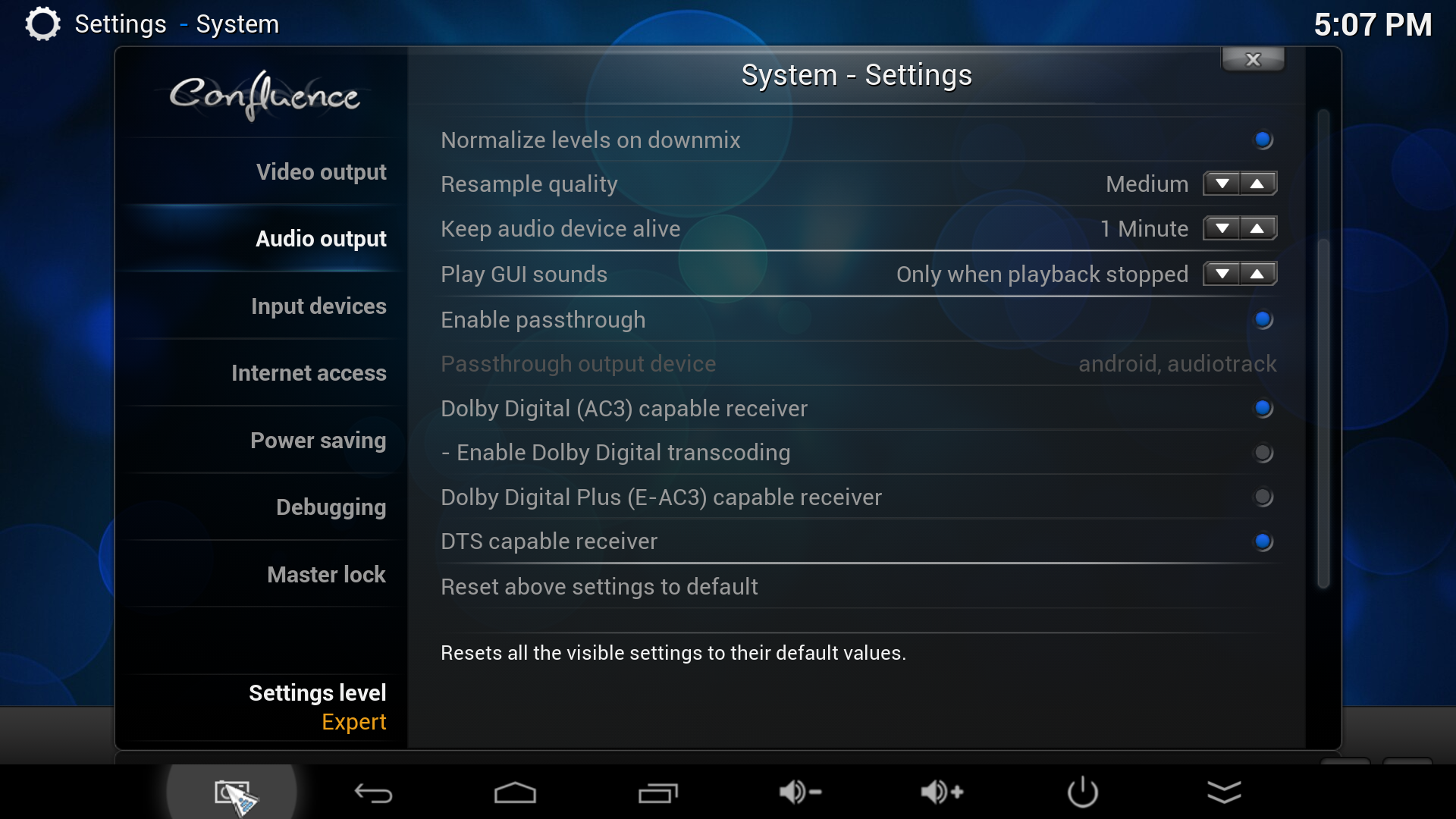 here is hdmi the passthrough test result:
1 Dolby (AC3) 5.1 HDMI passthrough ——–OK
2 DTS 5.1 HDMI passthrough——-OK
3 DTS-HD HRA 5.1HDMI passthrough—–OK
4 DTS-HD MA 5.1 HDMI passthrough—OK
here is the optical passthrough test result:
1 Dolby (AC3) 5.1 optical passthrough ——–OK, but with noise.
2 DTS 5.1 optical passthrough——–OK, but with noise.
3 DTS-HD HRA 5.optical passthrough——OK, but with noise.
4 DTS-HD MA 5.1 optical passthrough—-OK, but with noise.
The method to stop the noise is to simply mute your TV. This is a common issue in other Amlogic devices, and while an official solution isn't available, this workaround does the trick perfectly.
I just run antutu benchmark in the NEO X8-H ,if you need other benchmark, please leave message, i will test and update the review: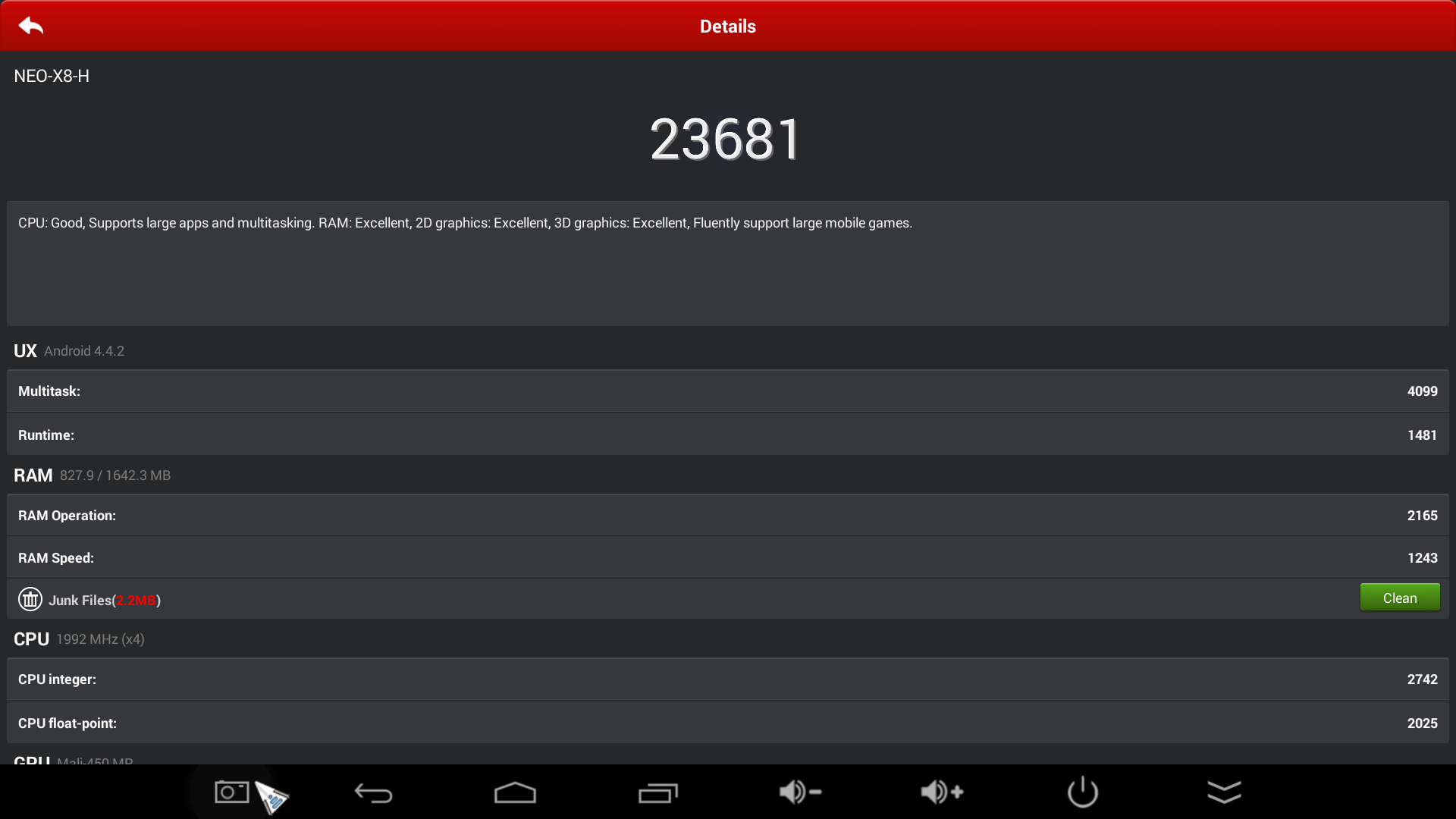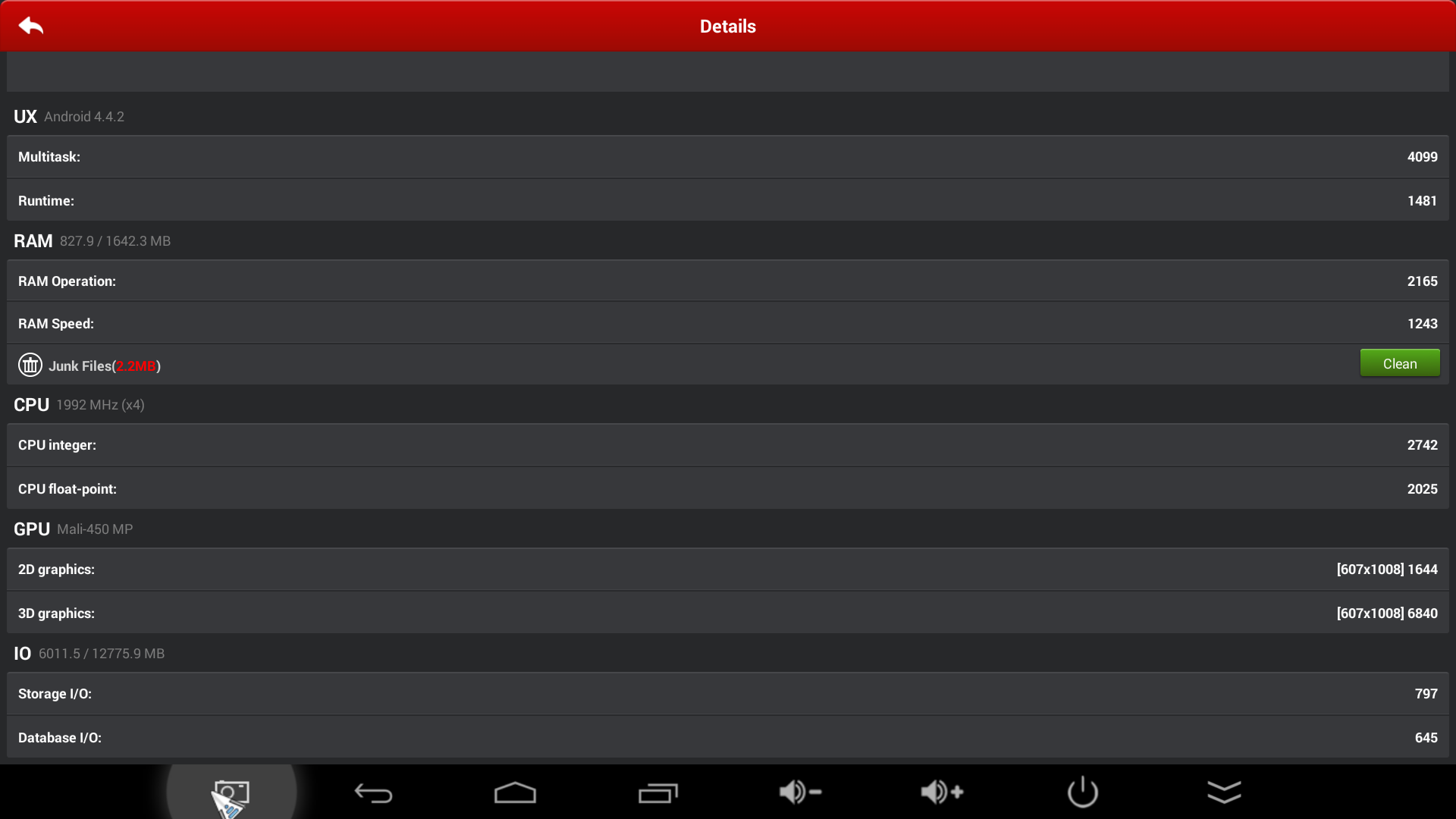 Antutu detect device information: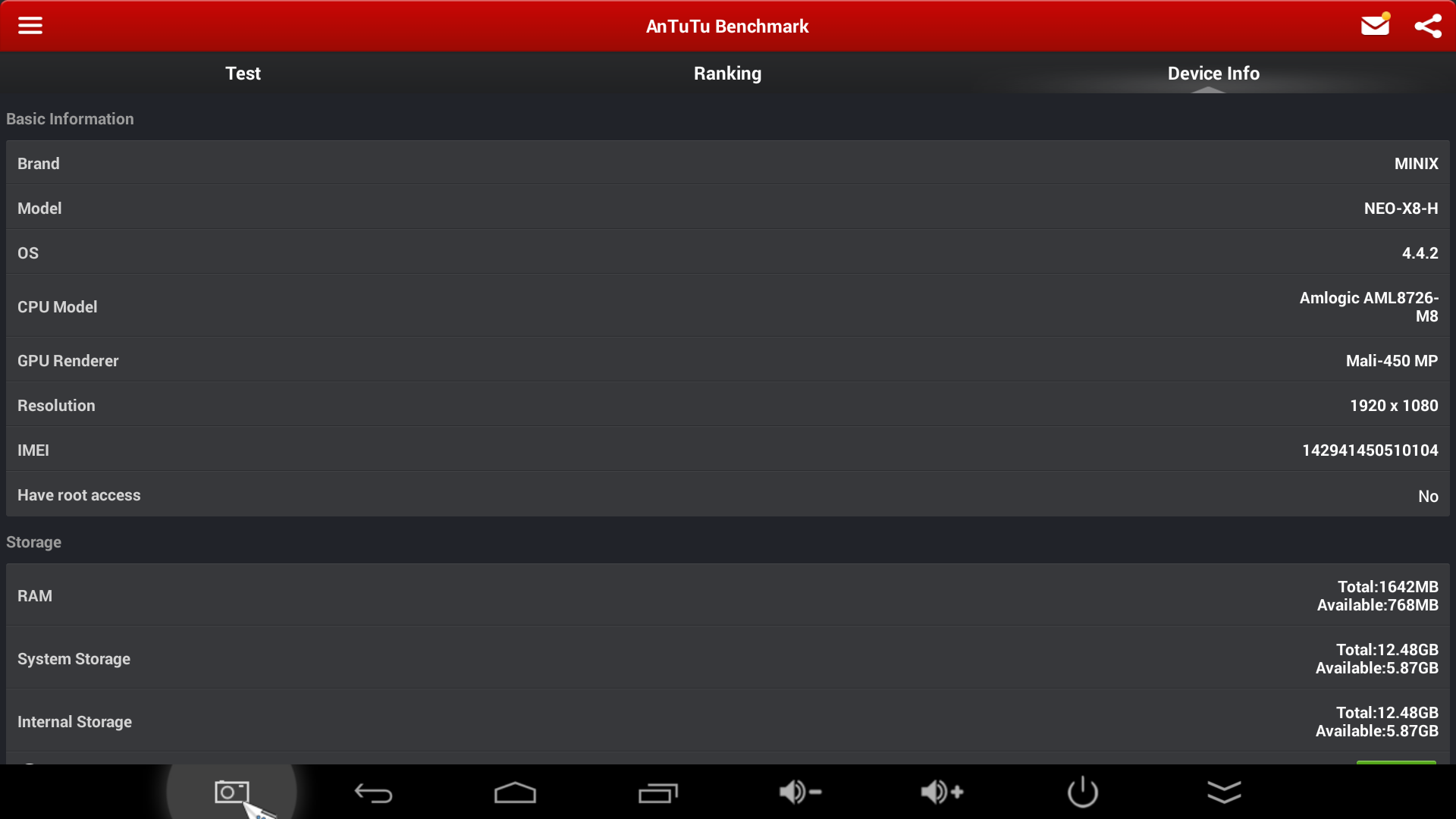 Don't ask me why the antutu score is not 30000 , MINIX tell me the amlogic s802 chip should get 23000-24000. I don't know why. but for me, the score is useless for me, performance is really important than that.
Sorry to make you guys wait so long time to see the game performance review.
I am always waiting for a good game controller for the neo x8-h. before i test the G910 bluetooth game controller, however, the set up is a little hard for regular customers, and then tronsmart inform me that they release this tronsmart mars g01 game controller, a 2.4ghz wireless game controller, which support plug and play. Compare with G910, The set up is really super easy.
I have finished the video for playing games on neo x8-h with tronsmart mars g01. here it is:
http://www.youtube.com/watch?v=X46NnEq_5X0
It also support two player together.
So compare with the rk3188 chip, the neo x8-h features the amlogic s802, and the GPU is Mali 450, better than then old Mali 400 GPU on RK3188. So the game performance seems a little better RK3188 device, but honestly,i don't find "huge" improve on games. The game loading speed seems faster than the other rk3188 device.
I guess i will have to wait to check the RK3288 device, and use the best Mali-760 GPU will bring huge improvement on the game performance.
Above is what i have testing today, I still download some games to test, but have no time to play and write reviews today, i will update this review tomorrow when i get a chance.
Here is the Video Review:
If you have anything want me to test, feel free to leave message.
OFFICIAL SHOPPING LINK FOR NEO X8-H IS HERE:
www.geekbuying.com/item/MINIX-NEO-X8-H-Amlogic-S802-H-Quad-Core-2-0Ghz-Android-TV-BOX-2G-16G-Dual-Band-WIFI-2-4G-5-8G-Bluetooth-4-0-XBMC-Dolby-DTS-328163.html
Eric
Geekbuying