Minix Neo X8 and X8-H is the newest products from MINIX brand. Both of them use Amlogic quad core chip. Neo x8 features the amlogic s802, while the Neo X8h features the S802-H chip which support Dolby DTS hardware decoding.
Though the hardware have a little difference betwen NEO X8 and NEO X8H, however, the firmware update method should be the same.
Usually you don't need to use the following methods to update your NEO X8 and NEO X8H, because MINIX already make the OTA working, so if there is any new firmware release, just hit the " update" app in the system, and get tne newest firmware download and update.
But if your device is bricked or can't power on, you should consider to use the following two method:
Method 1:USB Burning tool update method:
PS: if you are running windows 8.1 on your PC, then you may should skip this method, because the drivers on Windows 8.1 is a pain now. if you are using windows 7 or windows xp, then maybe, you can go ahead:
Download the usb buring tool here:
http://www.mediafire.com/download/jmob9aniob7u9py/amlogic_tools.rar
extract the file:USB_Burning_Tool_v2.0.0.140306_Alpha_x86.rar
and you will get an *.exe file, run it, and follow the instruction,it will help to install the burning tool on your pc.
and in order to make sure you don't have drivers problem, we suggest you to install this tool in your pc first:
http://www.moborobo.com/
Now run the usb burning tool, you will see this: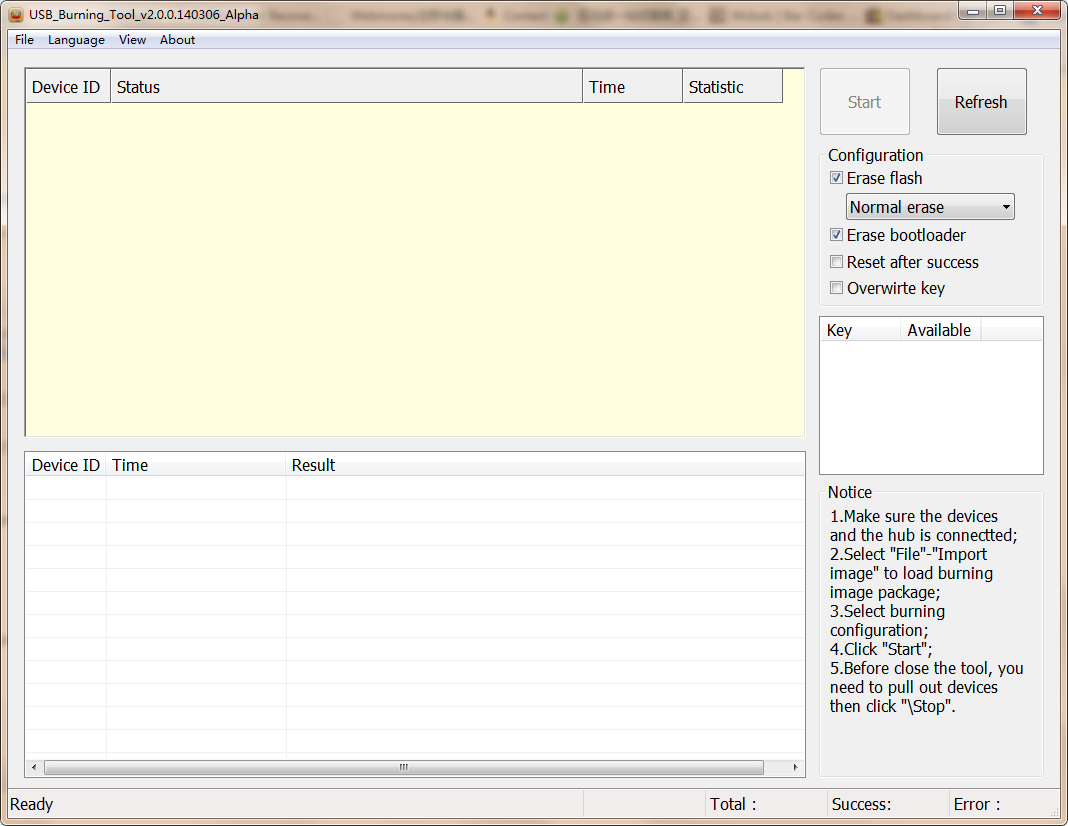 Click "file" and choose"import image", choose the .img file you have downloaded,
Now it's important step, Make sure your minix neo x8 or x8h device is power off, use the micro usb cable to connect neo x8/neo x8hs with PC. use the toothpick to press the recovery button, and at the same time, connect the power adapter with neo x8/x8h, press the power on button(keep press the update button during this time), and then the burning tool will find a new usb device: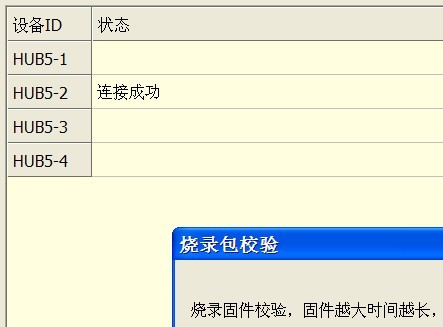 and then click start button to flash. It will take 5-8 mins to finish the flash.
Method 2:
If you don't want to use windows PC to flash, you may consider this update method,we call it SD card update( make sure you can get the correct firmware for this update)
Download the firmware, and you will usually get three files,:factory_update_param.aml recovery.img, and one firmware file (usually in ZIP formate).
– Copy all of the firmware file(factory_update_param.aml recovery.img, and the ZIP file) to one sd card;
– Make sure your device is powered off and power cable removed.
– Insert SD card with extracted files in root directory.
– Insert a match or a toothpick to recovery button
– Power on the neo x8/neo x8h box by inserting power cable, while holding the match in the reset hole.
– It will boot to recovery and start installing ROM. Good. It will restart when finished (you can connect with HDMI cable, so you can see the update process in your tv or monitor)
In the end,i hope you guys never brick your device, and you don't need to bother flash as my instructions:)
Any questions, feel free to contact me.
shopping link for minix neo x8 and neo x8-h is here:
http://www.geekbuying.com/item/MINIX-NEO-X8-Amlogic-S802-Quad-Core-2-0Ghz-Android-TV-BOX-2G-8G-Dual-Band-WIFI-2-4G-5-8G-Bluetooth-4-0-XBMC-328164.html
http://www.geekbuying.com/item/MINIX-NEO-X8-H-Amlogic-S802-H-Quad-Core-2-0Ghz-Android-TV-BOX-2G-16G-Dual-Band-WIFI-2-4G-5-8G-Bluetooth-4-0-XBMC-Dolby-DTS-328163.html
Eric
Geekbuying