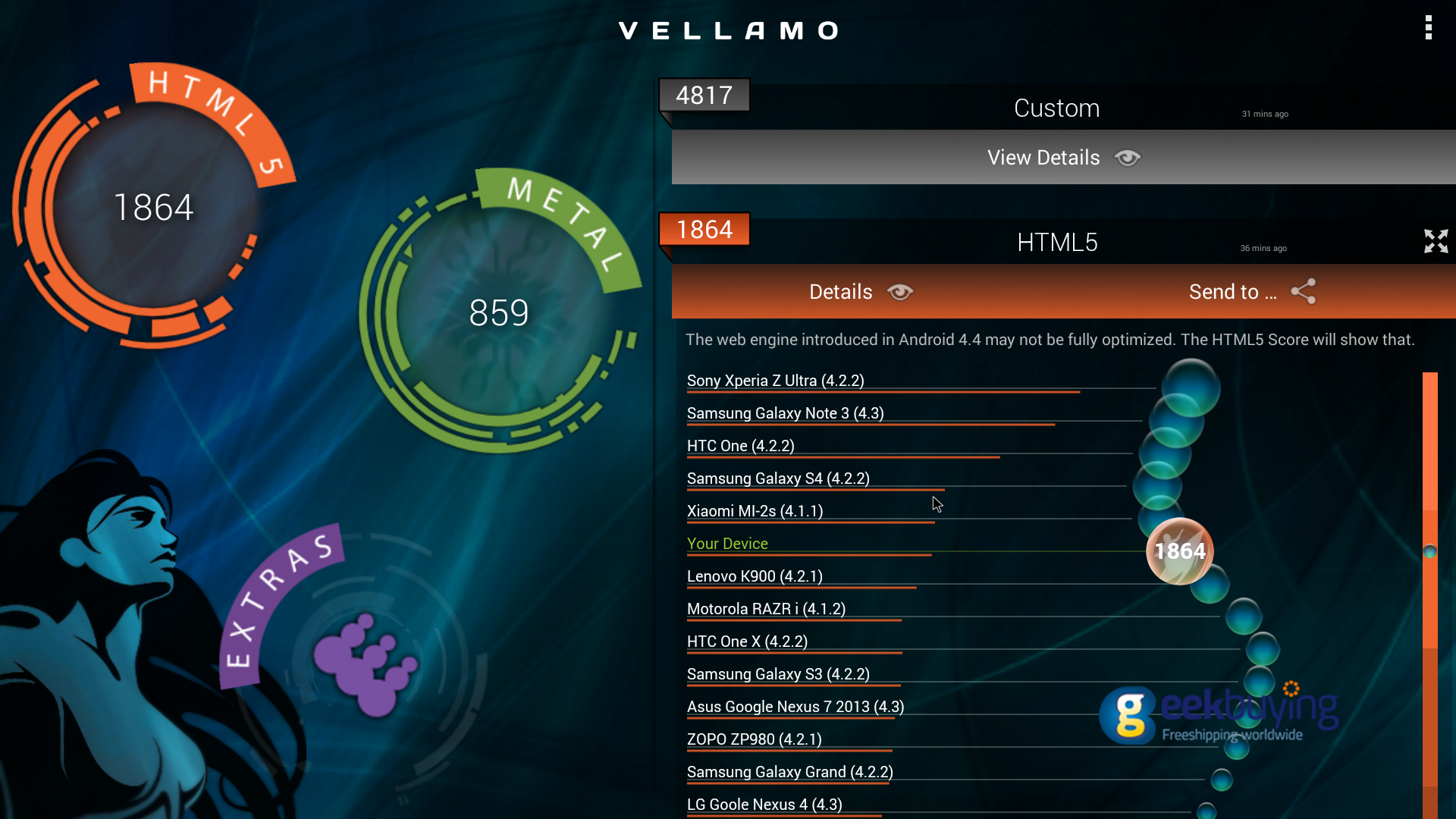 HI,guys:
I know you guys are really waiting loooooooooooooooong time for this review, i receive a lot of request to make this review, and finally finish it today!
In fact, i have got this tronsmart vega S89 sample for almost three weeks. ( only PCBA board, no case right now). but why do you need so long time to see this review?
The reason is the sample system i get is really unusable at first, I can't make reviews base on such a firmware, so i keep learning the amlogic chip,and submit feedback to tronsmart, push them to improve the firmware! Recently they release another stock firmware, and after test, i have to say, it still have bugs, however, i can finally make a review base on this, because they have solved the major problems about google play store, XBMC, etc.
Well here we go:
Tronsmart vega S89 have two different version.check this compare table:
| | | |
| --- | --- | --- |
| | Tronsmart Vega S89 | Tronsmart Vega S89 Elite |
| CPU | Amlogic S802 Quad Core 2.0Ghz | Amlogic S802 Quad Core 2.0Ghz |
| GPU | Mali 450MP4 | Mali 450MP4 |
| RAM | 2G | 2G |
| STORAGE | 16GB | 8GB |
| ANDROID OS | Android 4.4 Kitkat | Android 4.4 Kitkat |
| WIFI MODULE | broadcom AP6330,support dual-band(2.4Ghz/5Ghz)WIFI | broadcom AP6210 (only support 2.4Ghz WIFI) |
| Price | $120 Shipped | $105 Shipped |
Seems the Elite version is just a low-end version for Vega S89.
The sample i get is a "strange one", it use the broadcom AP6330, however, it just have 8GB storage, lol, so don't mis-understand in my following review. 🙂
Because tronsmart hasn't given me the finally sample with package, case, so for the appearance review, i just can use the photos on line.
The Tronsmart Vega S89 use a "bold" design, it don't use the square design, but with a round design. I guess not everyone like this design, but for me, the real performance is important than the design. 🙂
I have confimed with tronsmart, the tronsmart vega s89 will have the following port and accessories:
The Power adapter should use the 5V/3A , not the 5V/2A. and i have confirmed, the tronsmart vega S89 should use very good heatsink,similar like this, put on the CPU;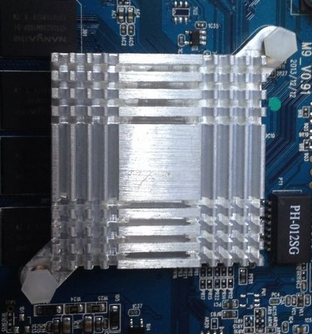 The upgrade button(use for upgrade the firmware or flash the stock rom) is hidding in the AV port, if you want to flash firmware, you should use a pin to insert to the AV port hole, and press the button.
The remote control in the package is just the regular IR remote control, not the air mouse, please note.
BOTH VERSION OF TRONSMART VEGA S89 will have the same port, and accessories.
I will update the review once i get the full package tronsmart vega s89. Now let's just connect the Tronsmart Vega S89 and review the system.
How to connect?
1) Use the power adapter in vega s89 package and power on the tronsmart vega s89;
2) Use the HDMI cable in the vega s89 package, and connect to your TV'S HDMI port;
3) Change your TV mode to HDMI, and then use the remote control to begin the review. lol
There are some animations when you press the power on button, it should last about 10-12 seconds, and then you will see the following on your TV: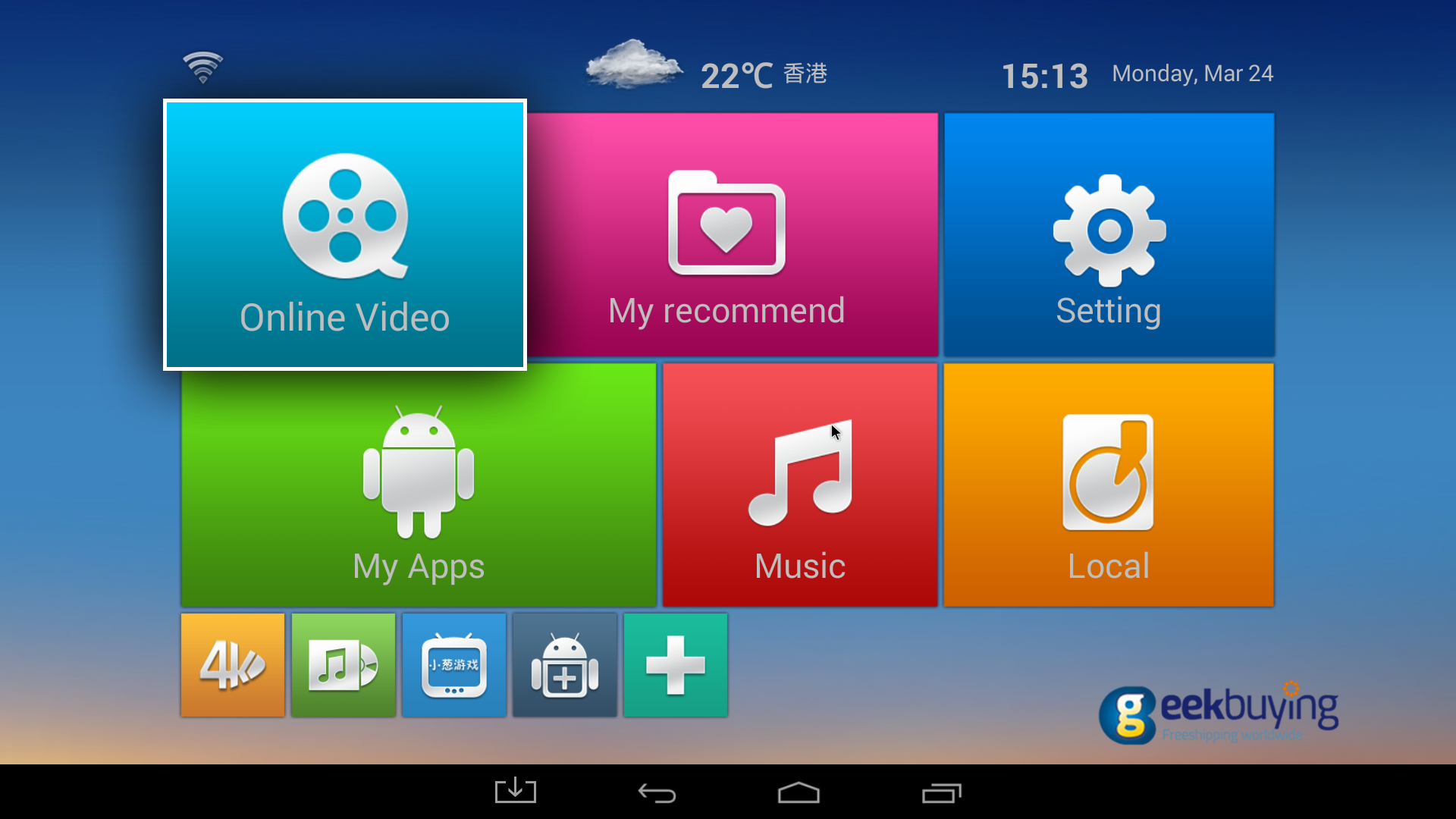 It's not a regular android menu like other rockchip device, Tronsmart should use a Metro style TV launcher on their vega s89 model. They already use this launcher before on their tronsmart promethues dual core model, so i am not surprised to see it on their quad core model, just a little annoying, it don't give you the choise to go back to the original android menu, i have talked with them, and hope they can add that in next release. so now i have to learn how to use this new launcher 🙂
There are mainly two part for this launcher, the top 6 ones(i mean the online videos,my recommened,setting,my app,music, local) can't be changed or modified, click each part, it will take you to different app folder, for example, you can click online videos, and then it will give you a menu to show the online video app, and you can add others app to this "folder".
Click my app, it will show you all of the app in this tv box. click setting, it will ask you to set your tv box wifi, display etc.
and now let's go back to the original menu, most of the customers want to add their favourite app on the desktop, this lanucher also give you this function, just click the + button, you will see the following menu: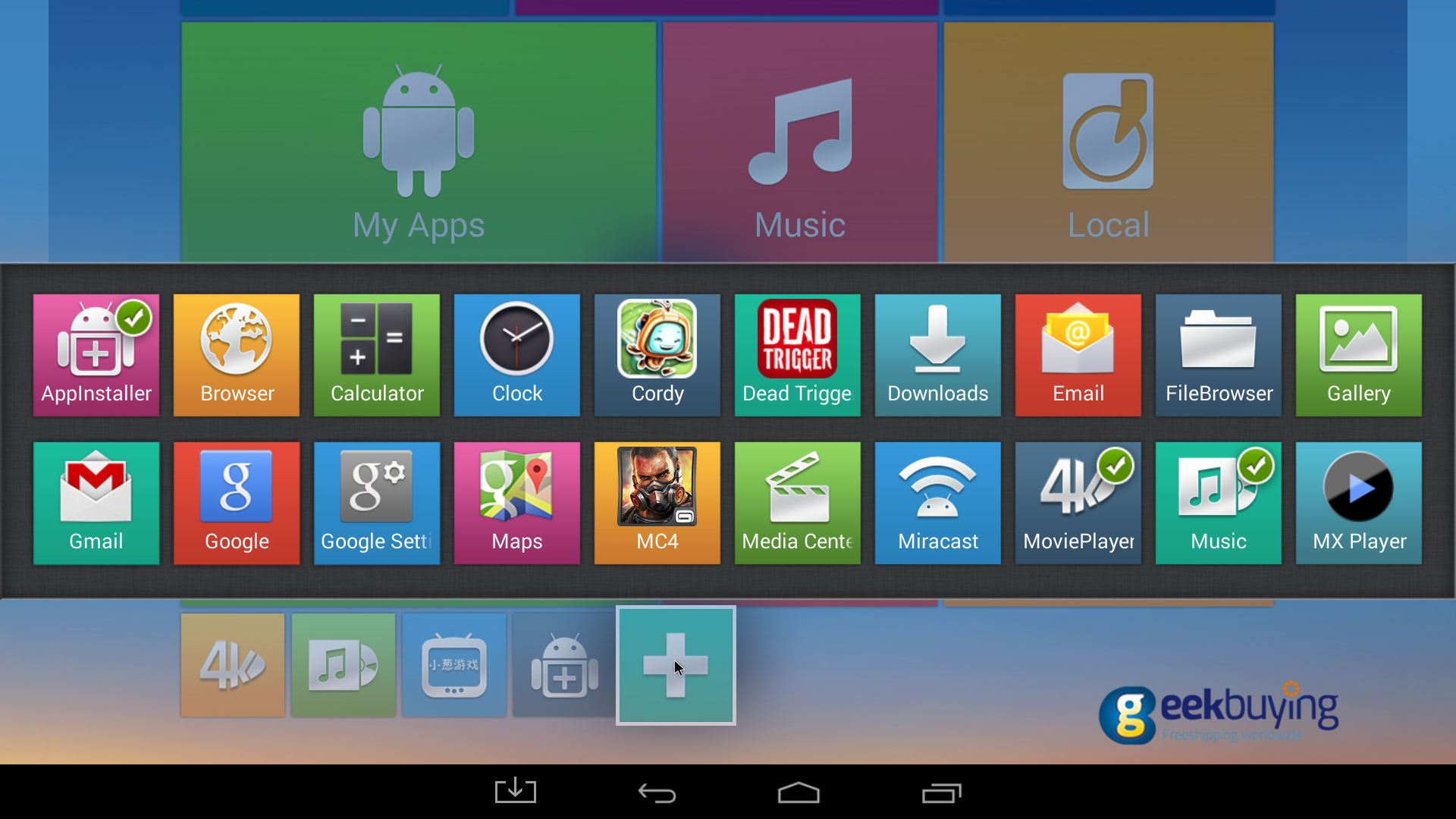 Just pick up the one you want to put on the desktop,and everything will be ok. easy, right?
Click MY App, and it will list all of the installed apps in this device: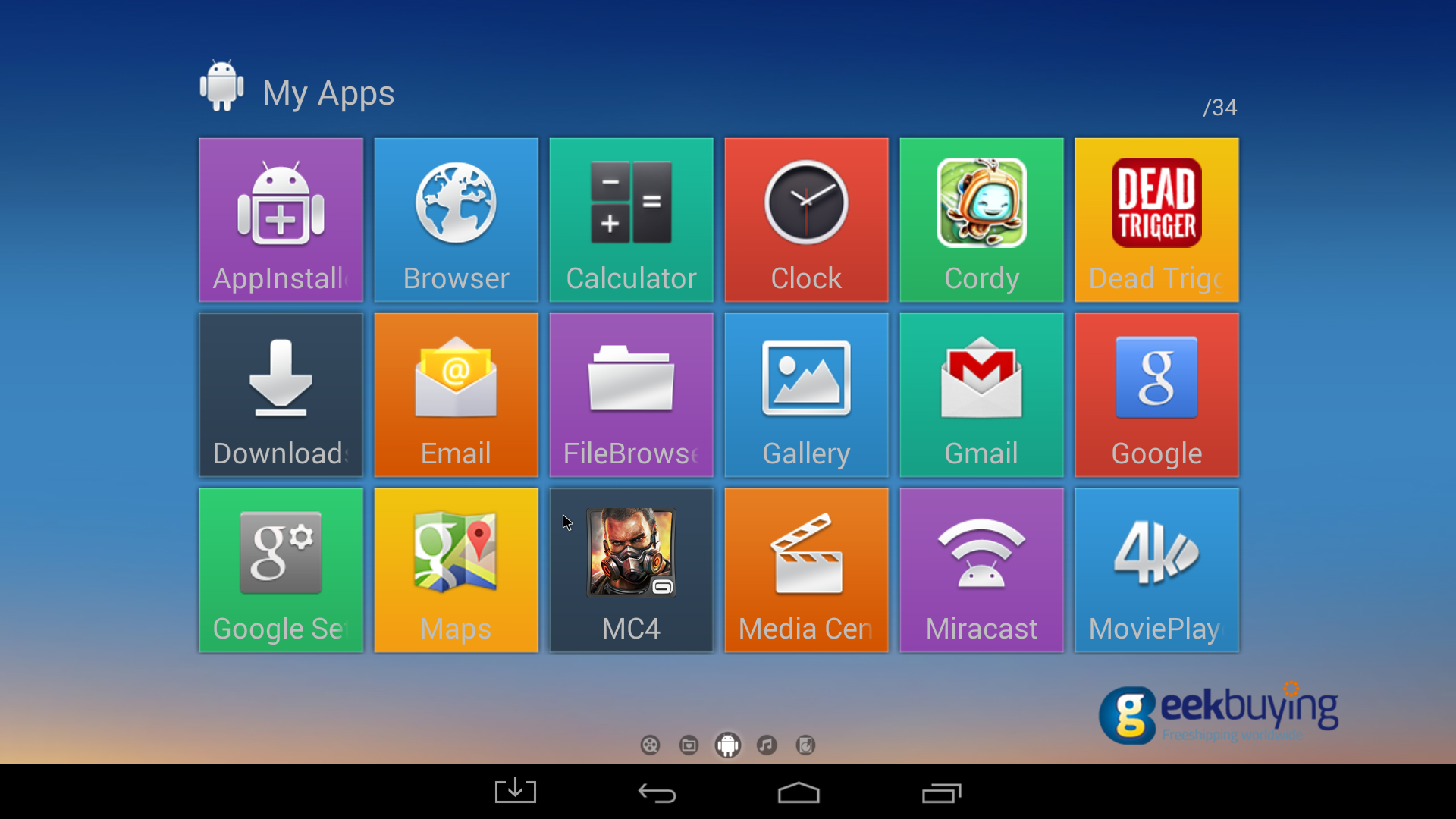 The IR Remote control will become really helpful in such launcher.
Click Setting,it will give you the following menu: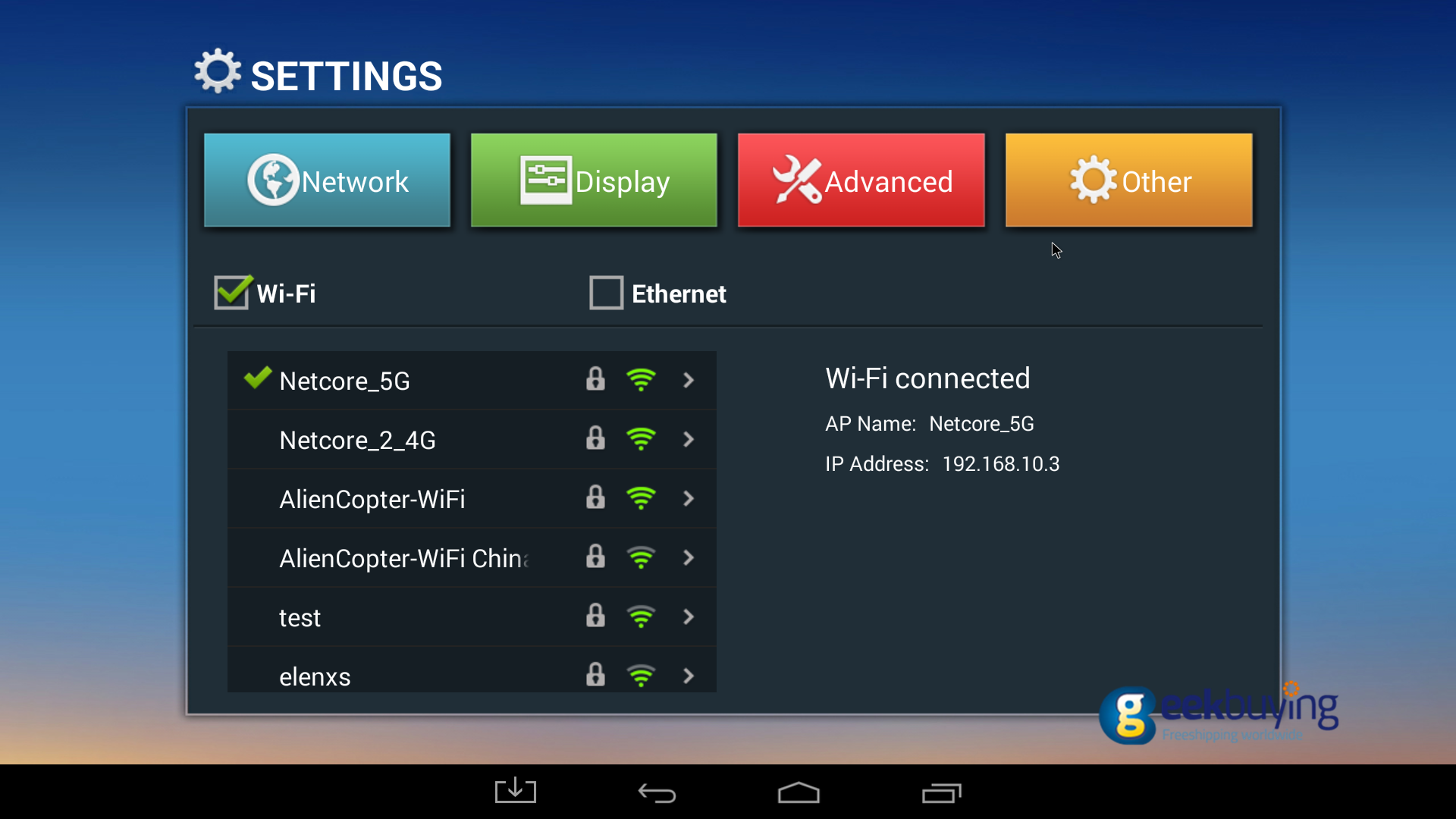 You can choose use WIFI or Ethernet on the network setting, because the sample i get support dual band wifi, so you can see, it really can pick up my netcore 5Ghz wifi router, and connect without problem; If you want to use ethernet, just connect the cable with your tronsmart vega S89, and change to ethernet here. Now let's check the next tab:Display: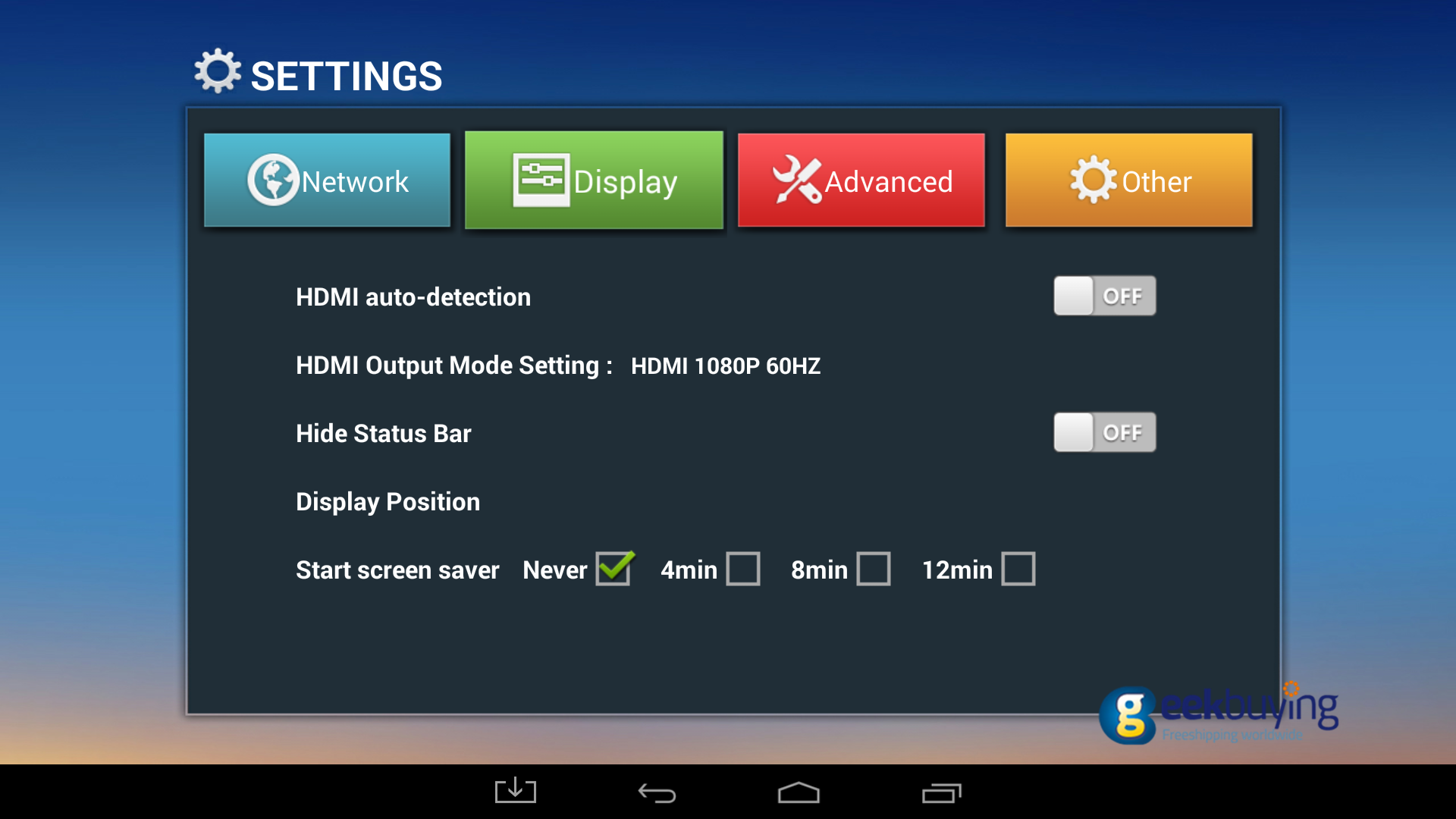 I will ask you guys to look this setting serious, because a lot of features you guys requesting are here:
1) HDMI resolution, the default setting is HDMI auto-detection, however, you can change the resolution by yourself.
The Tronsmart vega s89 support the real 4K*2K output, (of course, 1080p output is no problem). I have tested with the real 4K TV, and change the resolution to 4K*2K, and the TV also detect the resolution is 4K*2K. so, now you don't need to worry about the resolution, no more upscale, just the real 1080p and 4K output. of course,if you just have 720p TV, you also can set the resolution to 720P.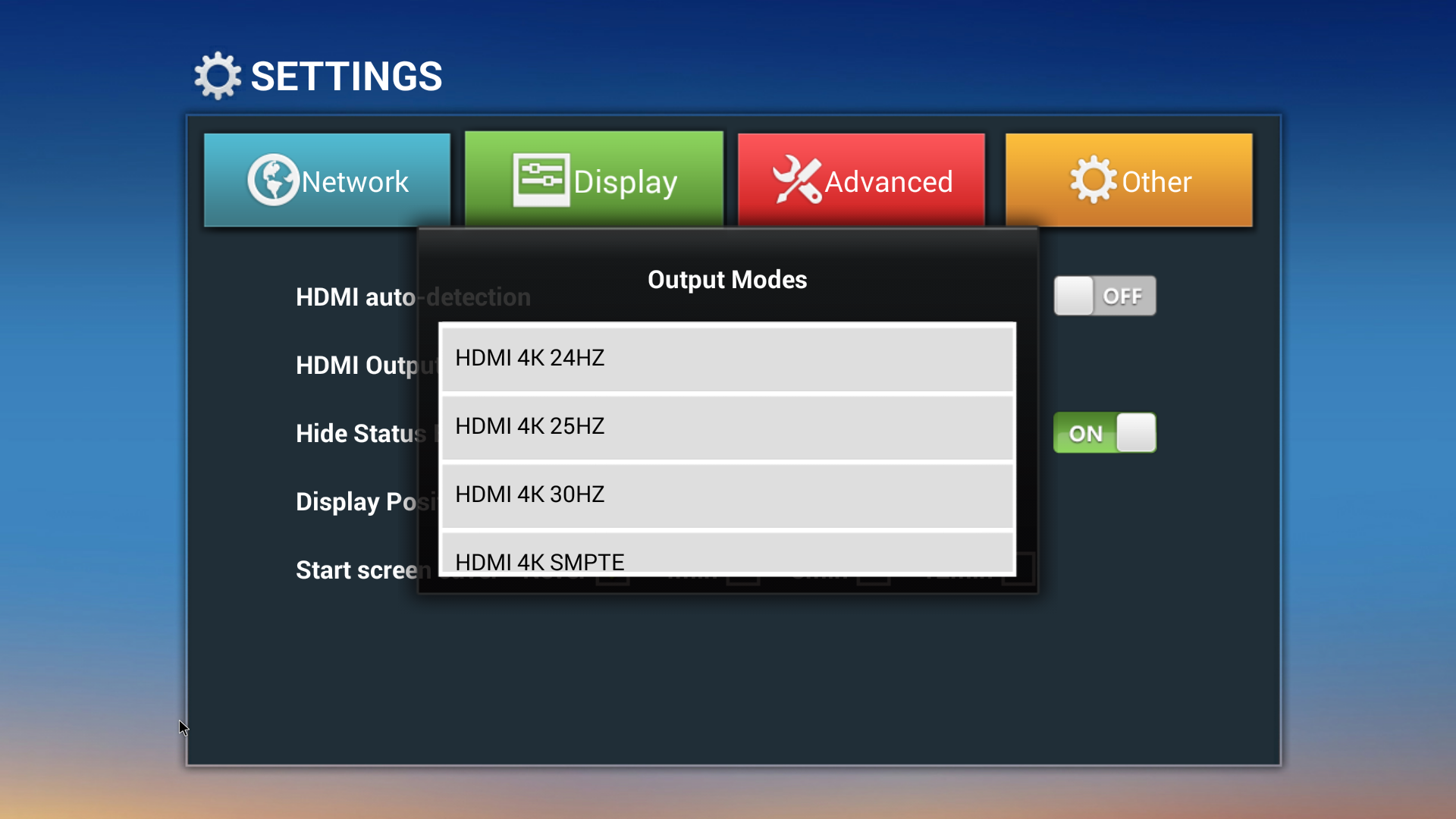 2) Hide Status Bar function, if you want the full screen, don't want to see the status bar, you can choose to hide it in this display setting. it's easy and convenience.
3) Display postion setting ask you to adjust the screen size.
4) You also can set the time to enter screensave mode.
So thanks to the amlogic powerful quad core chip, i don't need to answer the question about if this tv box support real 1080p output. lol
Now let's check the advance setting: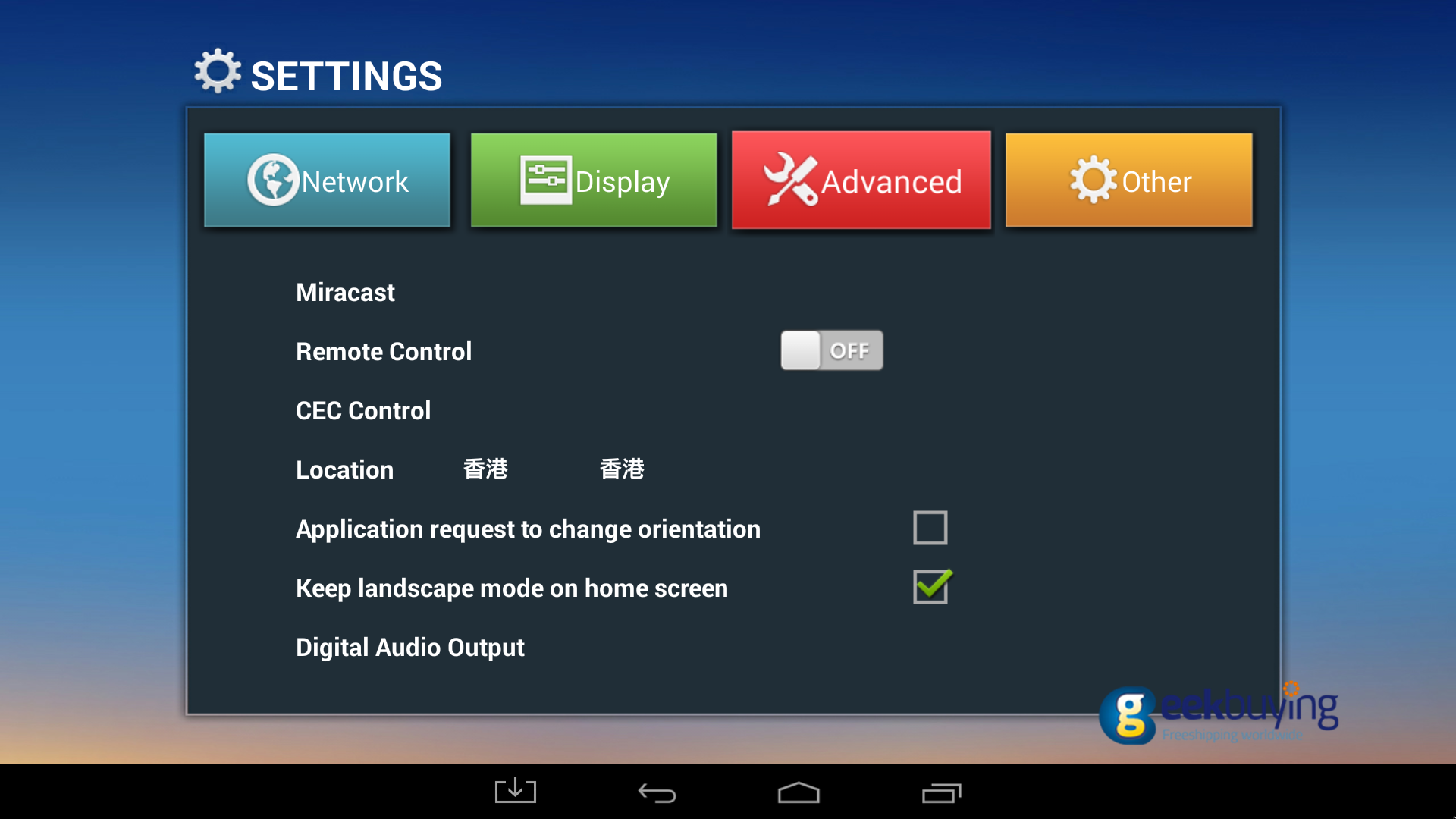 1) Miracast. or called wireless display, you can use the tronsmart vega s89 as a miracast receiver, and mirror your smartphone/tablet screen to your big TV. I test with the MTK6592 octa core smartphone, working without problem, but i haven't tested with the samsung device, but if you want a real miracast adatper, i recommend you consider the tronsmart t1000, which is making for miacast.
2) Remote control. Tronsmar Vega S89 support smartphone control. ( only support android smartphone), you just need to open the remote control function,and then install the remote control app, get the app here:
http://www.mediafire.com/download/fmmpv61v5ew60bz/RemoteIME.apk
Make sure your smartphone and tronsmart vega s89 are in same network, turn on the remote control function on tronsmart vega s89, and open the remote IME app in your smartphone, search the IP, and connect.
3)CEC control, sorry, i haven't understand what it is, i will learn more,and update review 🙂
4)Digital audio output: click and you will see this: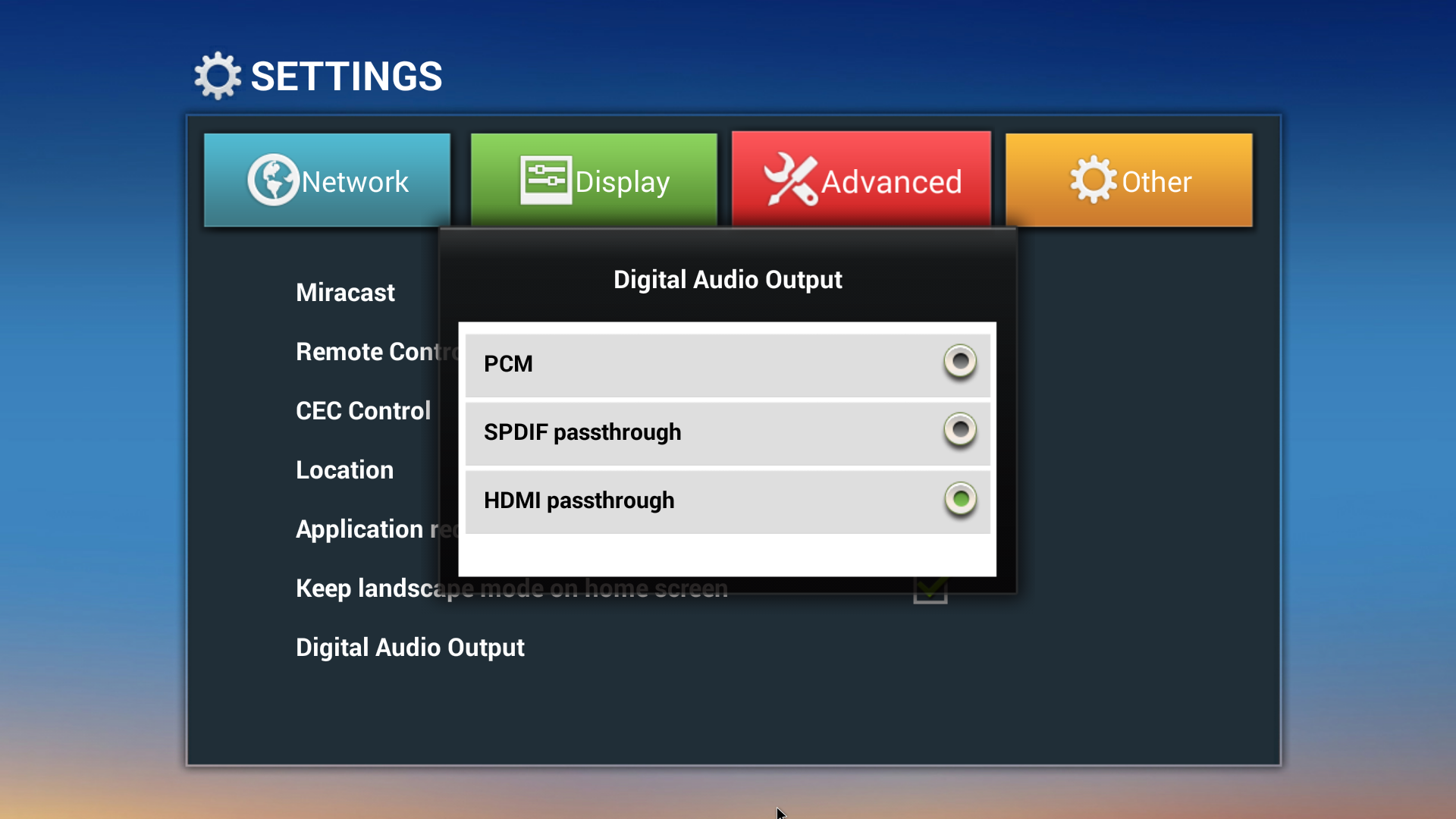 you can set the hdmi passthrough and spdif passthrough here,
I will explain this function in next review about how to connect tronsmart vega s89 with your receiver.
Ok, seems it give you a lot of different settings in this menu, but i still want to check the regular android setting menu, what should i do? no worry, just click "other" tab in this menu, and click "more setting", and then, binggo, you will see the regular android settings.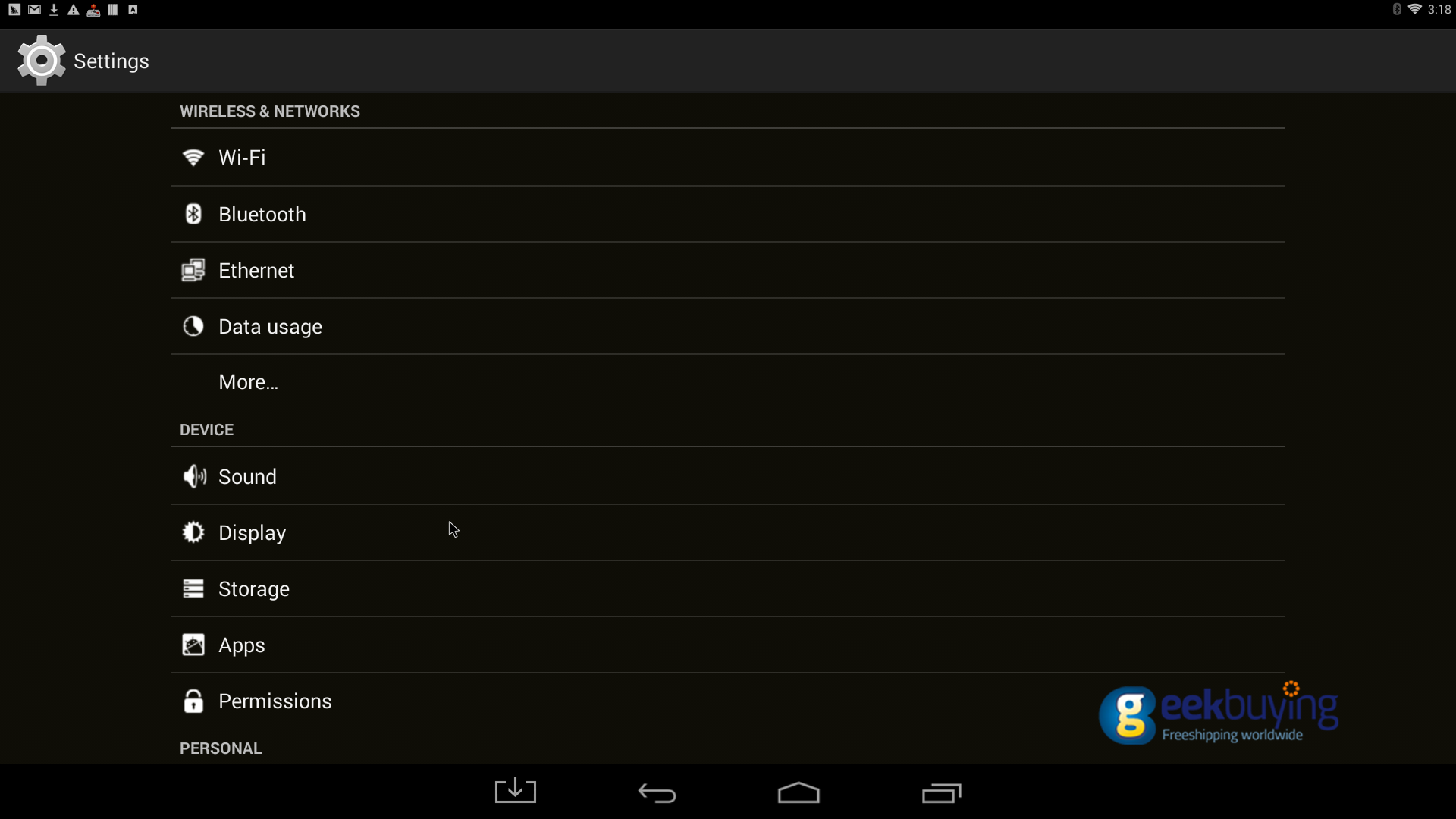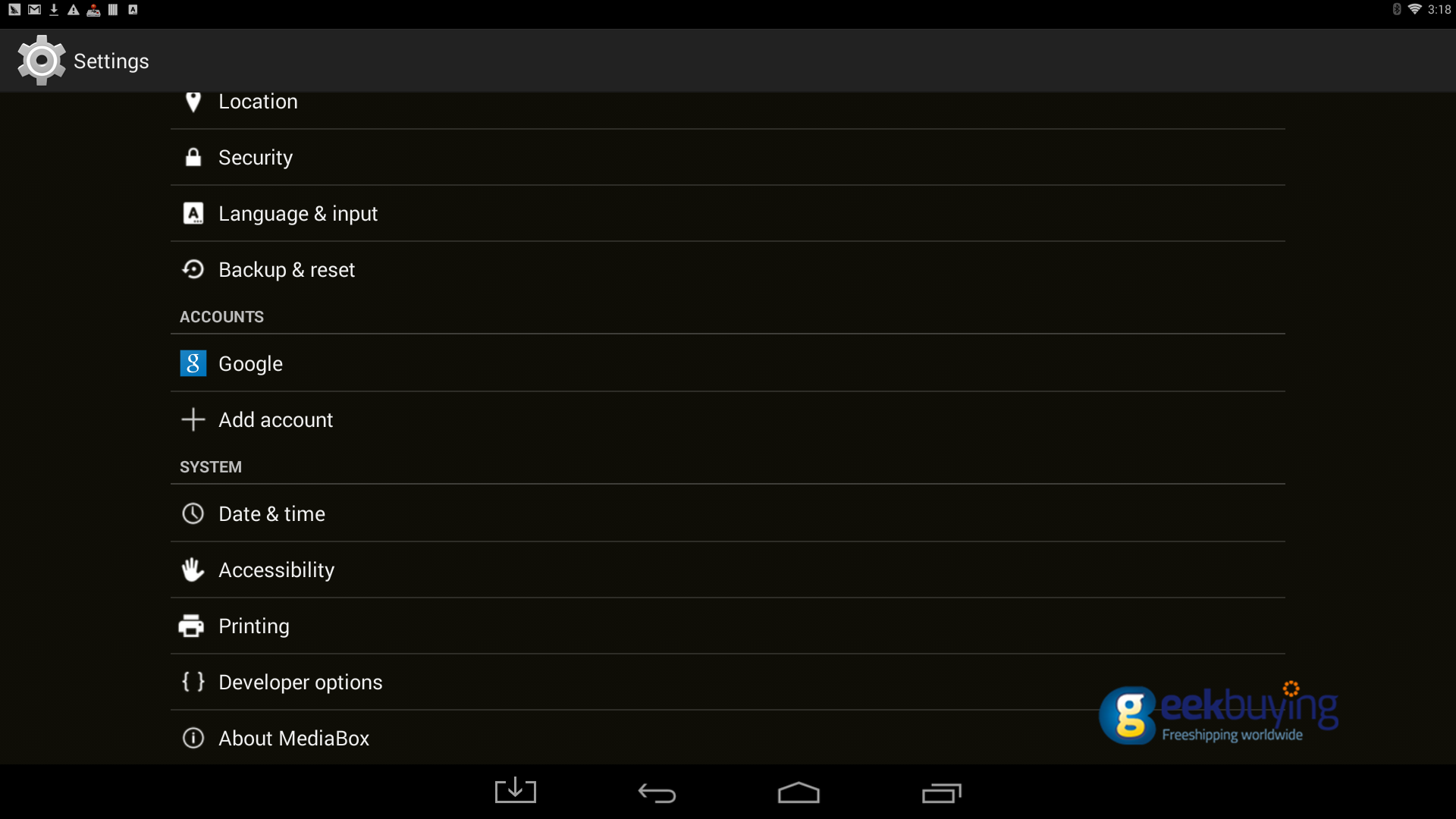 Tronsmart Vega S89 support Multi-language, VPN and hotspot function.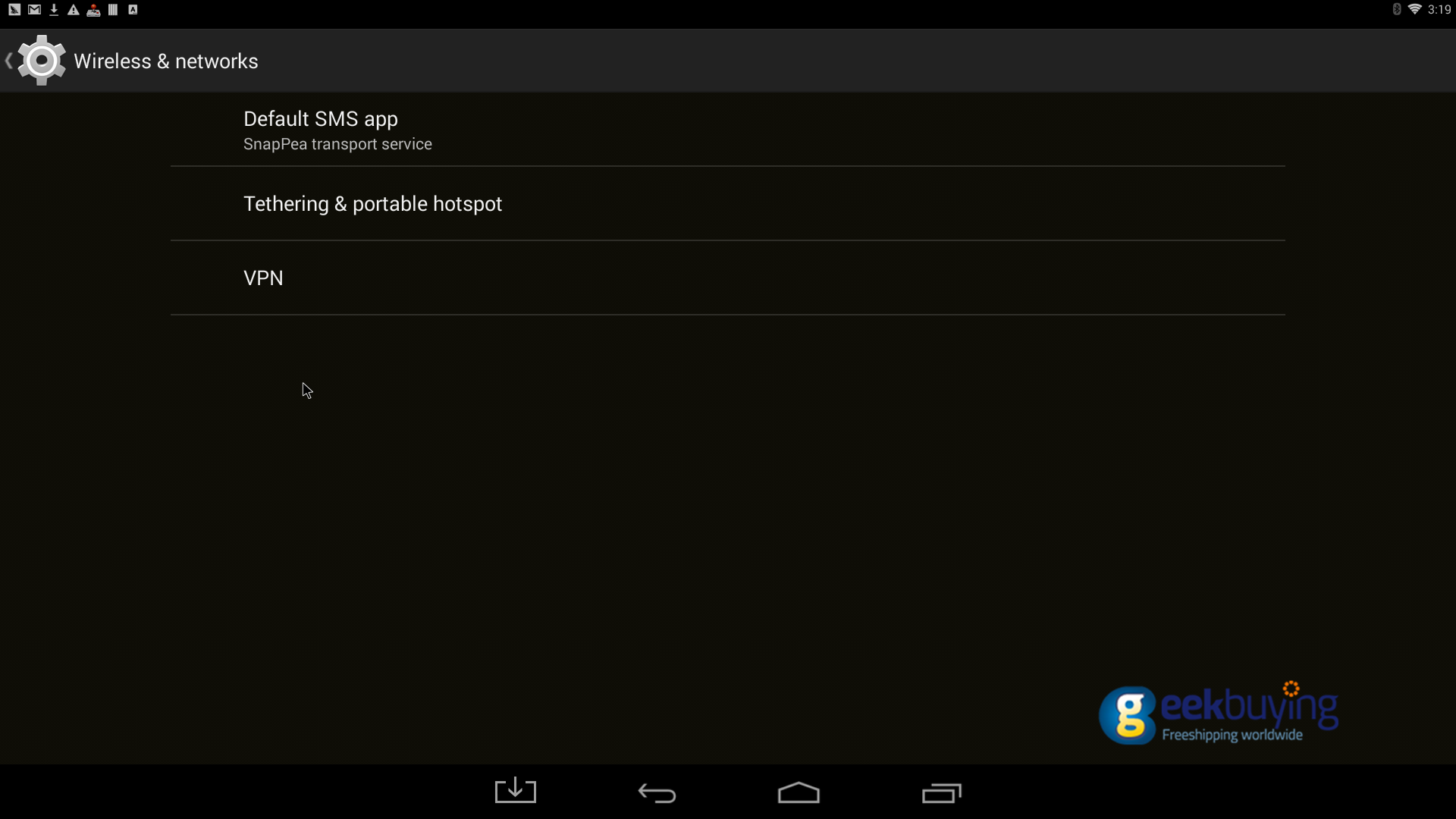 Benchmark:
1 Antutu Benchmark:
Antutu score is over 3000, similar like the onda v975m tablet pc; cpu running @2.0Ghz,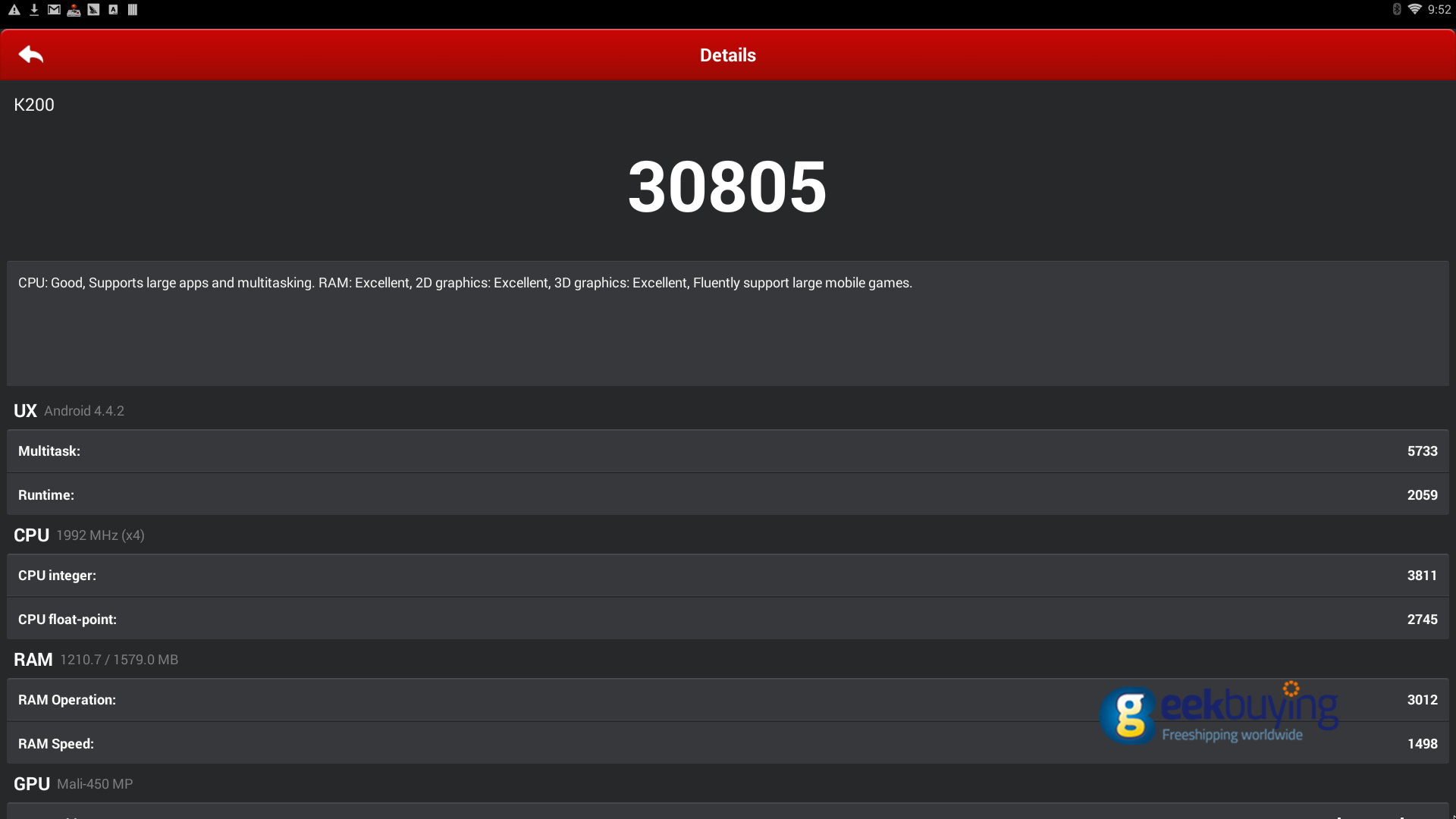 2 NenaMark 2 Benchmark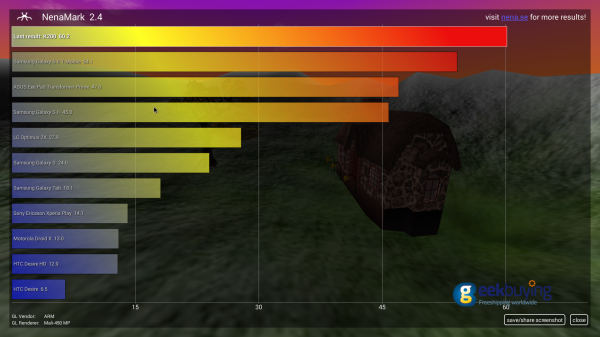 3 Vellamo Benchmark: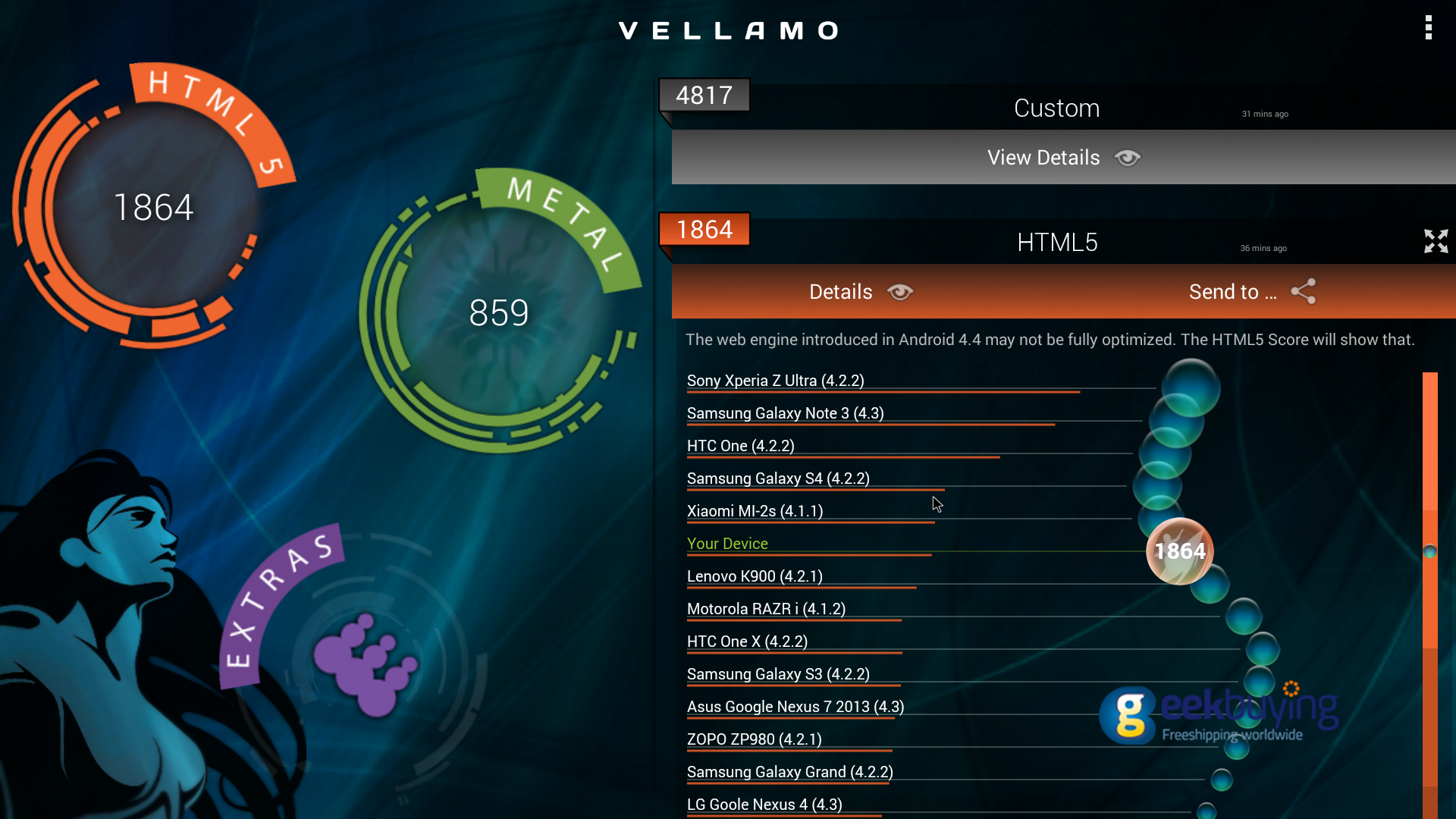 APP review:
1 Google Play Store:
Tronsmart Vega S89 with the lastest firmware have built in the google play store and Google frame service, however, before this update, they are not, this is also the reason why i don't write reviews, You guys won't buy this if google play store is not supported, till today, the M8 tv box is still staying on my desk because they haven't updated the firmware and it still lack of google play store right now. I have talked with the M8 factory, and hope they can fix this before they release the model to the market.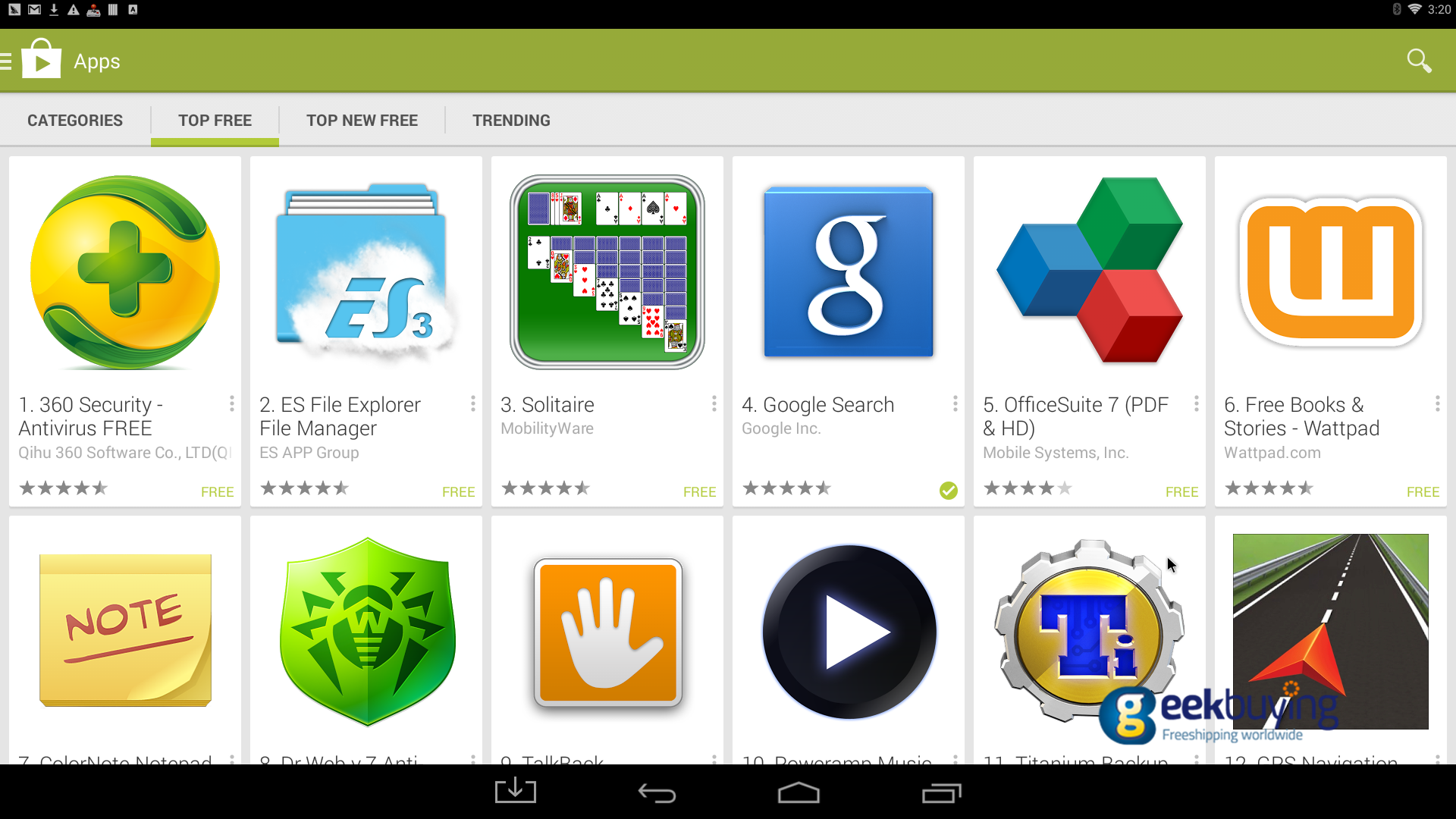 2 Web camera support:
Tronsmart vega S89 support USB webcamera, we test with logitech C170, just insert the C170 to vega s89 usb port, and you can find a web camera app.
3 External expansion Portable Driver
Tronsmart Vega S89 support the external hard driver, we test with the Seagate 1TB hard driver, both NTFS and FAT32 work great, and can directly play different formate videos without problem.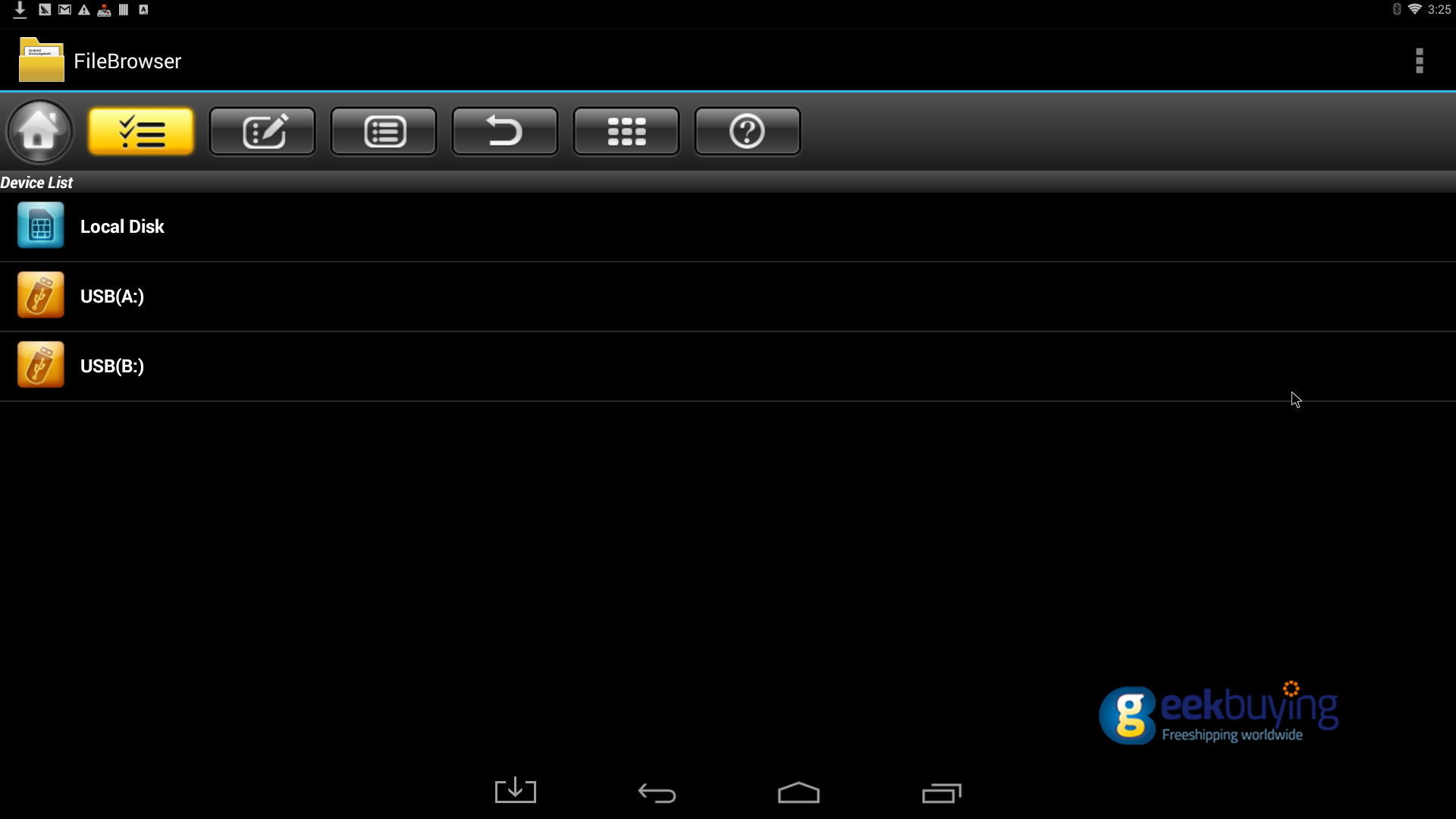 4 Support 64GB Mirco SD card, tested with the sandisk 64GB class 10 micro sd card.
5 WIFI test:
Tronsmart vega S89 don't come with external wifi antenna, so a lot of people will ask if the wifi signal strong enough, the answer is YES! here is a screenshot i made, test with wifi analyzer app: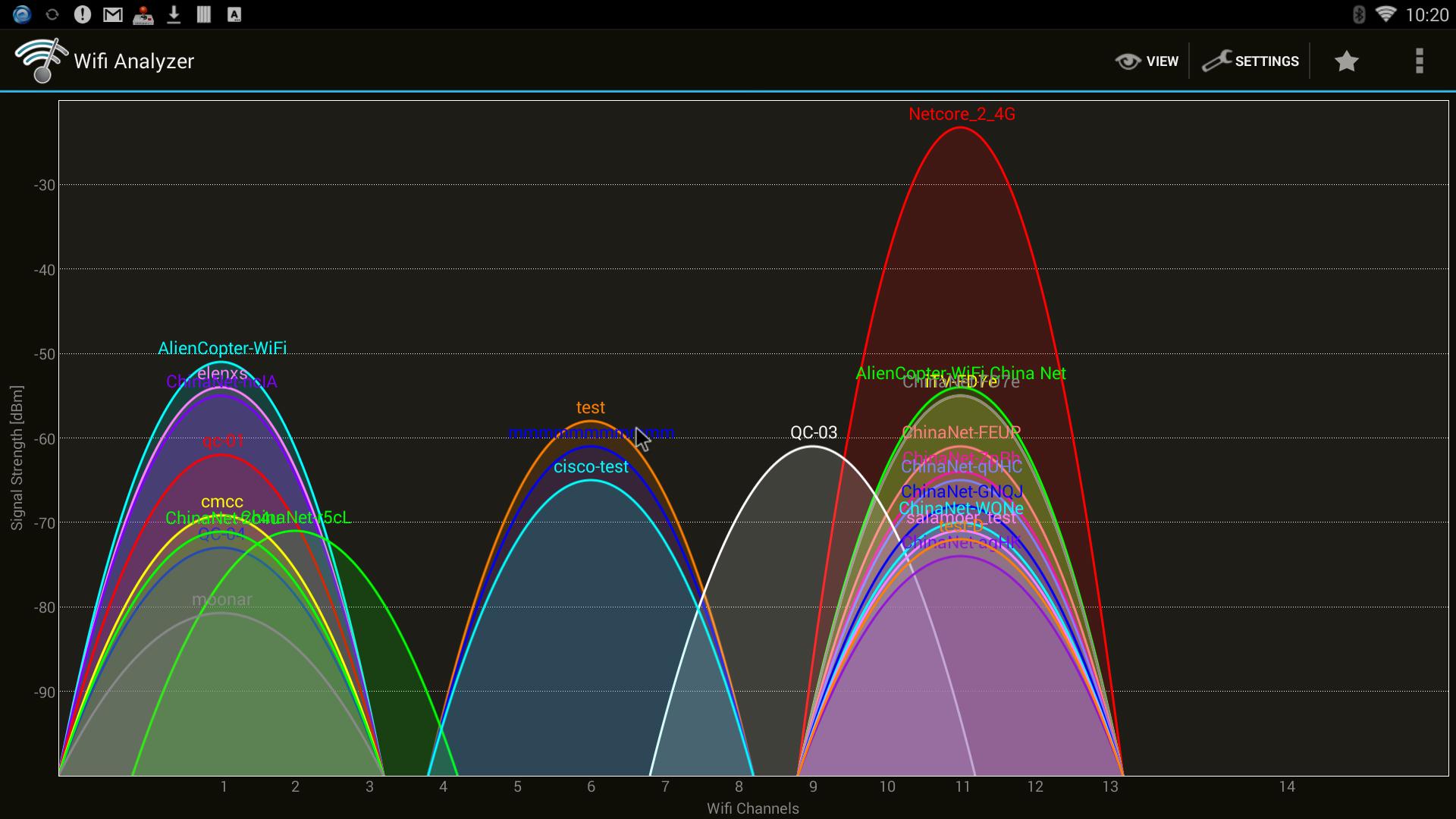 6 Youtube
Download the lastest youtube from Google Play Store, and run it without problem: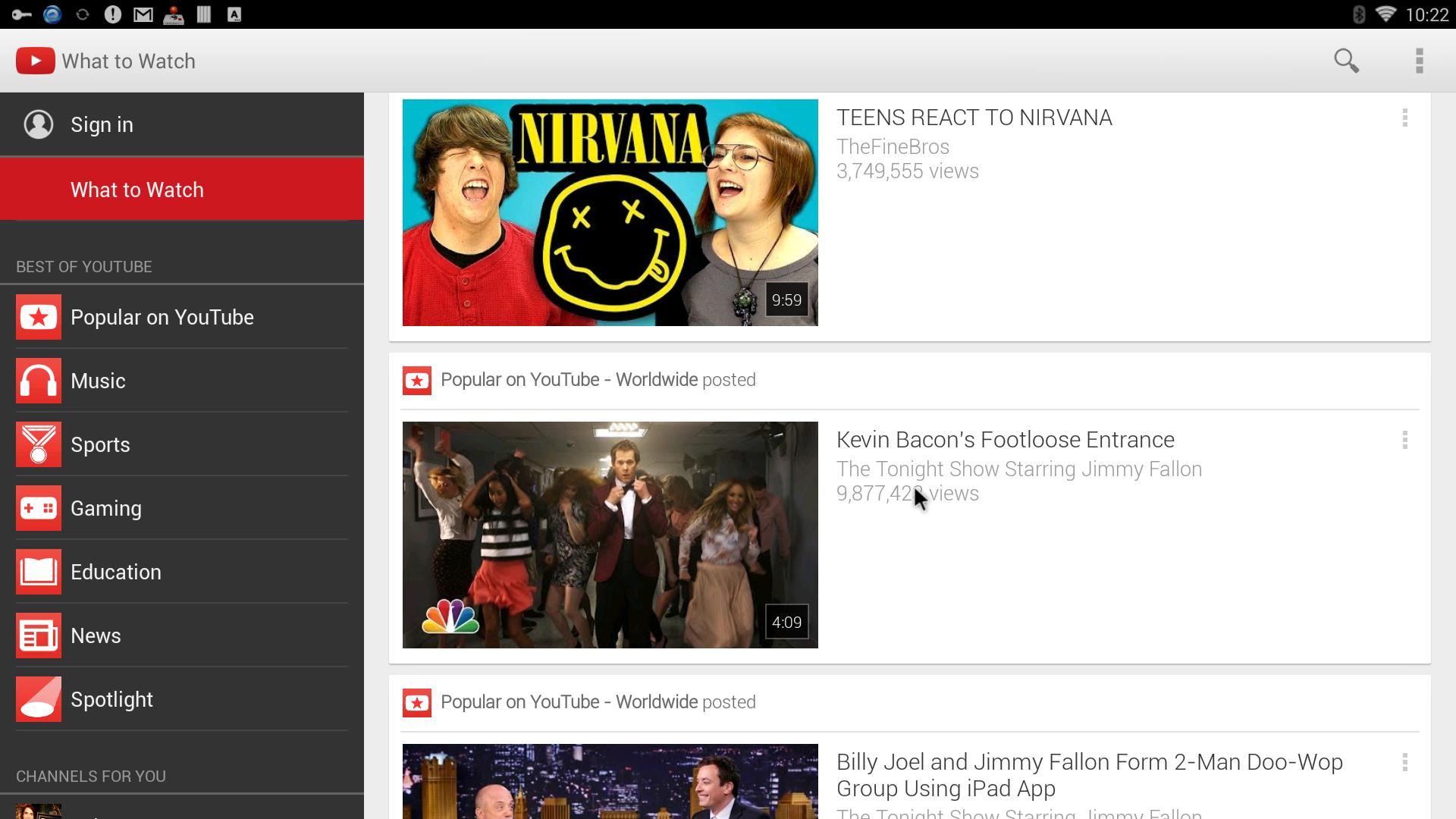 7 Web Brower
Tronsmart Vega S89 built in web browser, you can visit any site you want without problem, please note, the flash player don't support in the android 4.4 OS, if you want to use flash on the android 4.4 kitkat, read this instruction:
https://blog.geekbuying.com/index.php/2013/12/16/how-to-use-adobe-flash-player-with-android-4-4-kitkat/#.UzI-k4UVAdE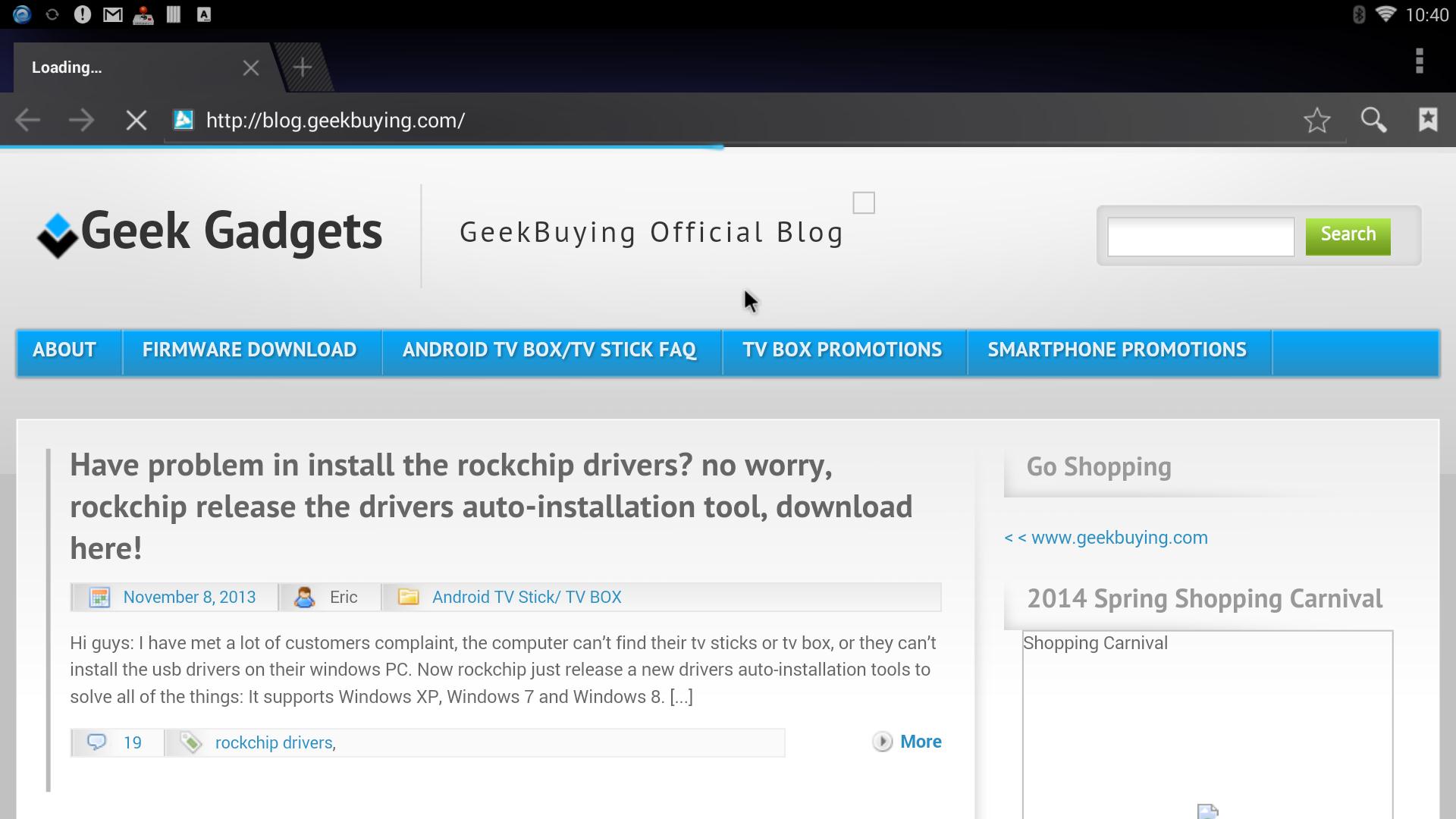 8 Game Test
Since the Tronsmart Vega S89 use the MALI 450 MP4 GPU, it is better than the Mali 400 which used on the rockchip rk3188, so the game performance should be better and the real test result is also good, I use our G910 Bluetooth game controller, and pair with tronsmart vega S89, test with some games, like dead triggle, Modern Combat4, all can play without problem. but please note. the pair process with G910 is not easy, i will try to write some instructions for this, but i also submit the problem to G910 factory, they will check how to make the connection easily with amlogic device. here is the screenshot when i play the Modern Combat4 with G910 and Tronsmart vega S89: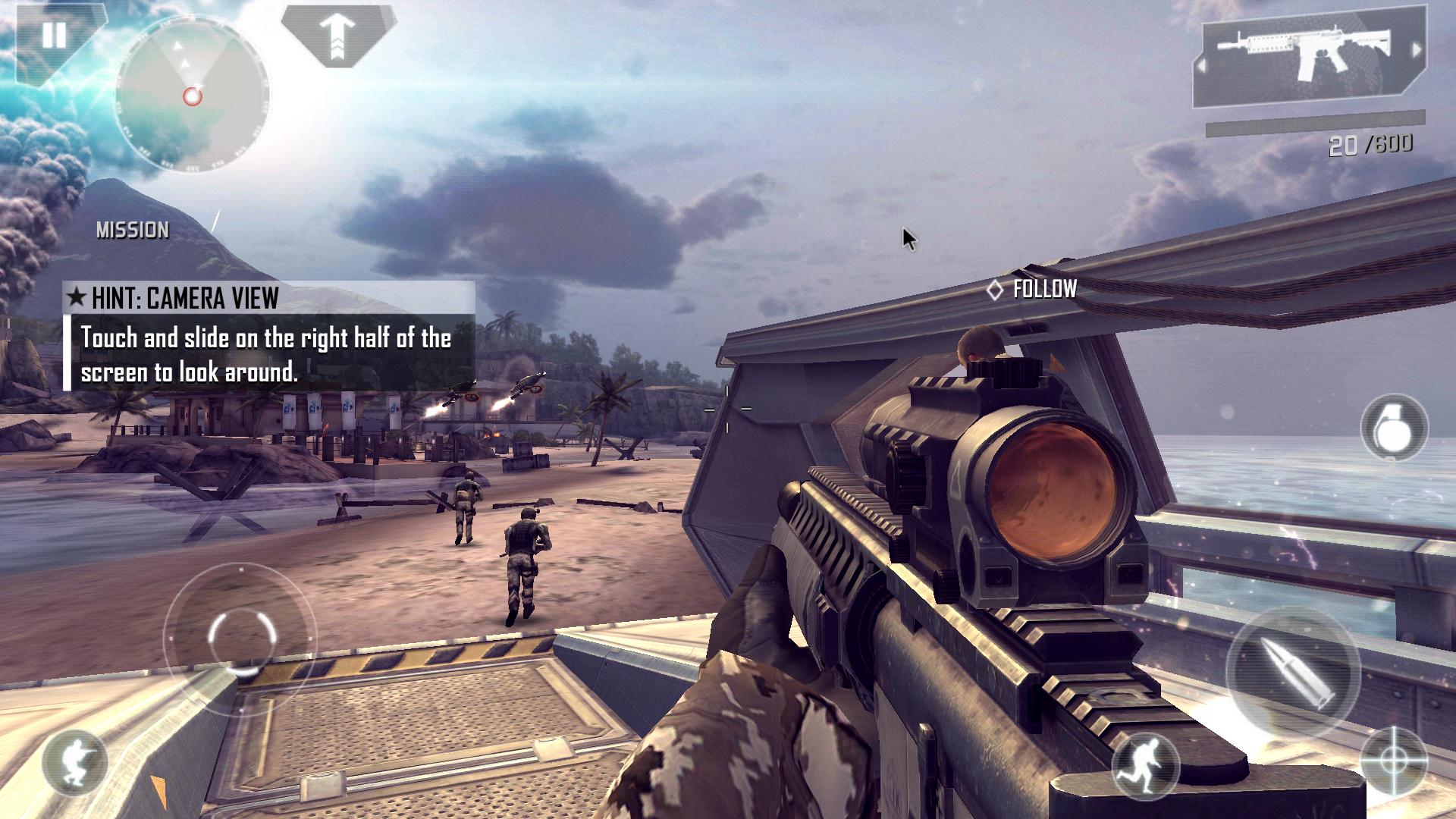 Above are some basic app and function test, if you need more app test result, just leave message here, i will test and report back. Now it's time to talk the most important part about the Dolby DTS Vido Playback performance.
If you always follow this amlogic s802 tv box information, you should find some topics about S802D, S802DD chip.I also learn a lot of things these days, talk with different factory or even amlogic staff. yes,i can confirm. the S802 chip have 3 different version, S802, s802d, s802dd. and i can confirm the first bulk amlogic quad core device are all use the S802, include the first bulk tronsmart vega s89 and the M8. the mainly difference between these three chip should be the support for DTS and Dolby. S802 DD chip should be the best with full support DTS and dolby, but the price of this chip will be very higher, and it is not ready for market right now.
so if the tv box which use the S802 chip is totally useless? At first, i think it is, because when i first get the sample device, i test some demo DTS and Dolby demo videos, the stock media player can't give any sound output, and i only can use MX player software decoding to watch those videos. and i tried different version XBMC, from 12.3 Frodo to XBMC 13.0 "Gotham", all of these xbmc have problem like i can hear the sound, but no image…. It really make me disappoint.
However, after the lastest firmware update on tronsmart vega S89, i change my mind, Here is the test rest with the lastest firmware:
Stock Media Player:Play video with DTS or Dolby, still just have image, but no sound.
The Built-in XBMC: Play 1080p Video with DTS or Dolby, image, and sound all ok with internal player. here is the screenshot for the built-in XBMC version: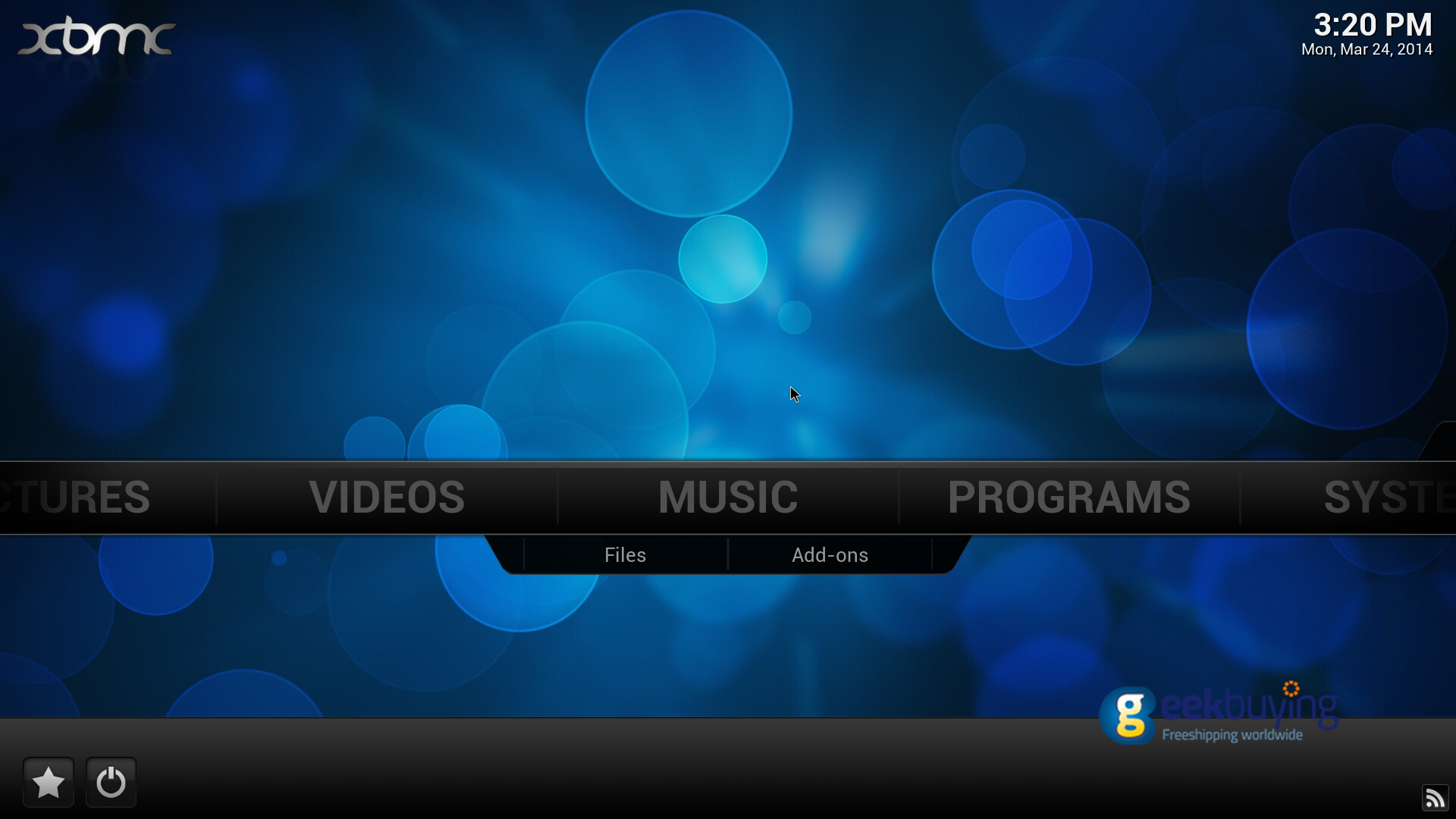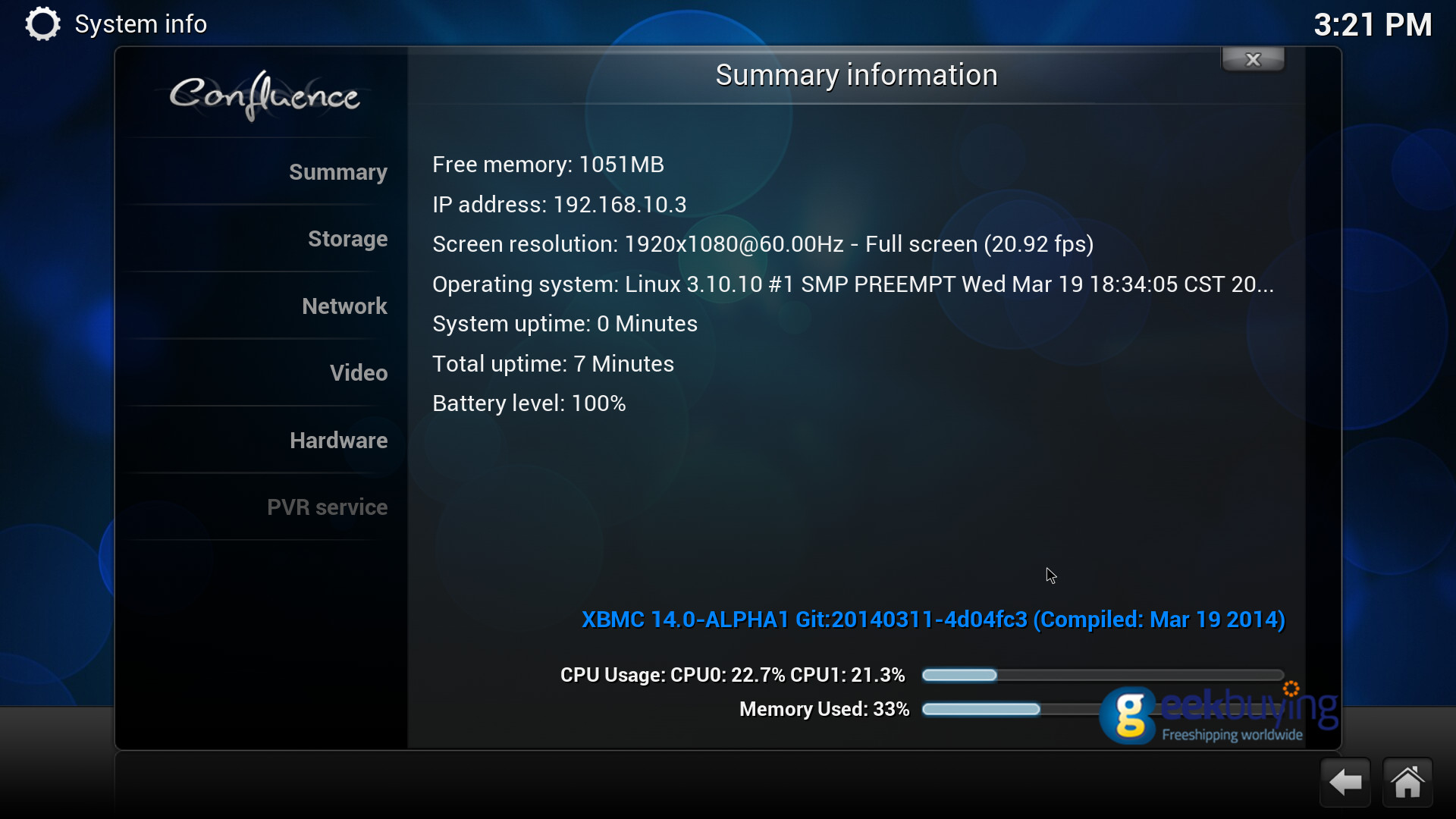 I never know there is such a xbmc version, maybe they modify by themselves, i just use XBMC to play the video in my external hard drivers, it can play every file i throw in.
Here is what i am testing:
1 1080p mkv video with DTS, use xbmc internal player, image, sound all ok. no lag;
(the test file name is "h264_1080p_hp_4.1_10mbps_dts_unstyled_subs_monsters.mkv")
2 1080p blue ray samsung demo video with Dolby, use xbmc internal player, video, sound all ok, no lag;( the test file name is" hd_other_blue_ray_samsung_sound_demo.m2ts")
3 1080p mp4 demo video, image, sound all ok with xbmc internal player;
4 1080p flv demo video, image, sound all ok with xbmc internal player;
5 1080P RMVB demo video, this xbmc version just call the external player (mx player), can play smooth;
6 4K*2K demo video. this xbmc version just call the external player (mx player), can play smooth;
so seems, they make some change on xbmc, for the video format which can decord by xbmc, they use the internal player, for the one which xbmc can't decord, they call the external player.
About the passthrough, i still need more time to test, but what i can confirm is:
I use this "hd_other_blue_ray_samsung_sound_demo.m2ts" to test, choose HDMI passthrough in tronsmart vega S89, and enable passthrough in this XBMC version, My 5.1 receiver and speaker can work! All of the five speaker can hear sound! The receiver is Yamaha RX-V375 and speaker is Yamaha NS-P40. but the demo video h264_1080p_hp_4.1_10mbps_dts_unstyled_subs_monsters.mkv, i make the same setting, only 2 speaker can hear sound. I am still learning about the passthrough, if you have any questions, please just leave message here.
update on 3th April, i make a review for the hdmi and optical passthrough , check it here:
https://blog.geekbuying.com/index.php/2014/04/03/product-review-tronsmart-vega-s89-hdmi-and-optical-passthrough-test/
also i make a simple video review, and set up on youtube channel,please check here:
About ROOT:
Tronsmart Vega S89 is easily to get root, here is the instruction:
https://blog.geekbuying.com/index.php/2014/03/26/how-to-root-tronsmart-vega-s89-and-vega-s89-elite-quad-core-tv-box/#.UzJjV4UVAdE
About Firmware Update:
I will write other post for the firmware update insturction.
That's the whole test i made in these two days, i will test more in next few days, and push factory to solve the other bugs i find.
In the end, after long time waitting, amlogic finally use a great chip to enter this tv box business, with the lastest update, the total performance about the tronsmart vega s89 is making me happy.
I thought after future update, this tronsmart vega s89 model will get better.
I will keep you updated, and from the news i get, the tronsmart should have this device ready at the end of this month, no need to wait another month. We will see.
Eric
Geekbuying