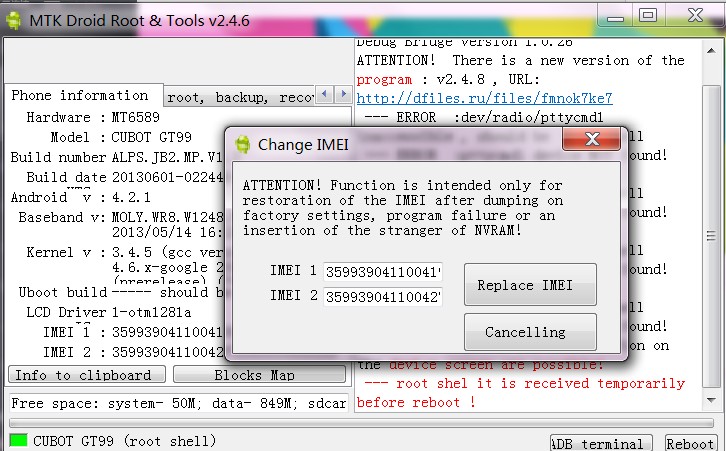 MTK Droid Tools v2.4.8
Download address:
http://www.mediafire.com/download/d5xah0sf65w83e0/MtkDroidTools_v248.exe
You can use MTK Droid Tools to root many Mediatek (MTK) chipset based phones and tablets, make backups, create scatter.txt file or change IMEI number(s) of your phone. You can also change build prop of your device to be able to download previously incompatible apps and games from Google Play Store. It can do some other things as well.
You need to install MTK USB driver if not already installed. You can follow the procedure here. You also need to enable USB debugging options from Settings > Developer options menu.
Run the program and then connect your phone. It will recognize your device and give related information on it's screen.
How to change the emei?
1. connact the usb driver on your pc when connect the phone with PC
2. root your phone. (pls check in our blog, the same method as rooting TS7)
3. open the MTKdroidtools, make sure your have turned on the USB Debugging, it will read the infor of your phone.
4. click replace emei to change the imei.