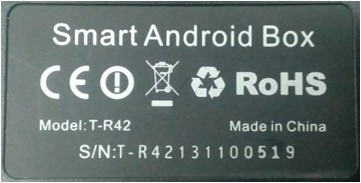 HI Guys:
This ROM is just for the T-R42 B351_V2.0 pcba board, please don't flash in other models.
How to know you are having the T-R42 B351_V2.0 pcba board.
first you should buy the T-R42 here:
http://www.geekbuying.com/item/T-R42-Quad-Core-Google-Android-4-2-2-RK3188-28nm-Cortex-A9-1-6-GHz-Mini-TV-BOX-HDMI-HDD-Player-2G-8G-BT-RJ45-External-Wifi-Antenna-with-IR-Remote-Controller-Black-317424.html
and check the label of your back cover, it should show this: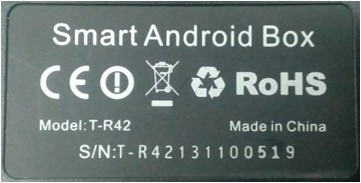 and you should open the case, and check the pcba board version, you should find this
B351_V2.0
print on the PCBA board.
The factory has changed the pcba board from B351_V1.0 to V2.0 for a while, so if you got this T-R42 recently from us, you should have the B351_V2.0 board.
The ROM IS made by our developer lukas, so all credit to him, thank you,man!
Firmware Changelog:
changelog:
-based on latest stock firmware
-debloated (striped down to minimum, all deleted orig apps are in downloaded package if anyone need them)
-rooted
-new wallpaper
-"x" bootanimation
-replaced hidebar and power button on systembar
-spoofed as galaxy s3
-some wifi and streaming fixes in build.prop
-kernel choice 720p or 1080p (default 720p)
-720p freq changed (516Mhz-1600) + vsync fix
-1080p freq changed (1008Mhz-1600) + vsync fix
-new option in settings "advanced"
-resolution switch in settings< advanced
-update option under settings< advanced
-init.d supprot (nfs,smb,static mac scripts under etc/init.d "just edit and set permisions as 755)
-nfs support
-new folders under /mnt/
*NFS_1
*NFS_2
*SMB_1
*SMB_2
-new modules added:
*nfsx4
*md4
*virtualtouch
*tun
-"new app" youtube for google tv 1.7.3 (realy hard to get)
-"new app" es file explorer
-new webcam driver (better support for logitech webcams)
-gameloft fix
password:
geekbuying.com
Here is the OC kernels pack:
Make sure that you flashing 720p kernel in 720p mode and 1080p kernel in 1080p mode.
Screenshot:
Enjoy!
Eric
Geekbuying