Hi guys:
Here is the instruction for how to use the Tronsmart T1000 with your android device,( smartphone or tablet).
Please Note, if you want to use the miracast function,please make sure your smartphone or tablet support miracast (samsung device called Allshare cast).
ok, here we go:
Step 1
you should connect your Tronsmart T1000 with your PC; and power it on. then you will see the following menu in your TV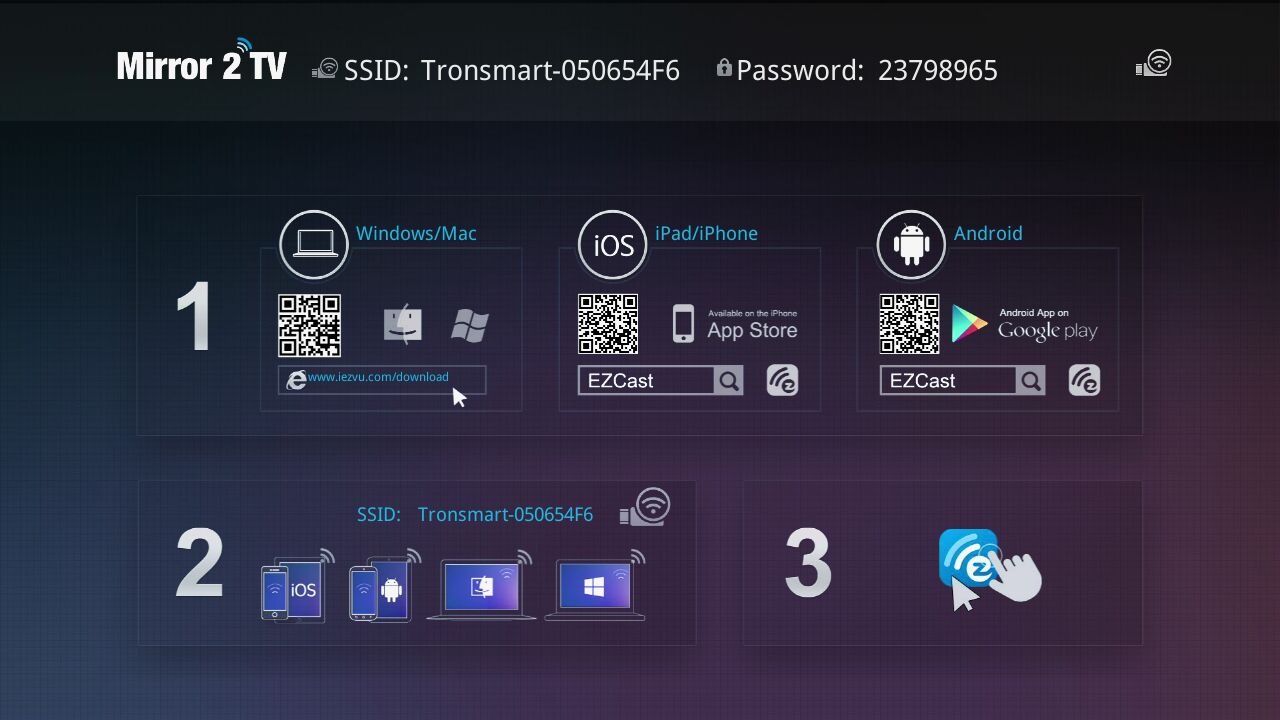 Step 2
Download the EZCast App from Google Play Store, just search" EZcast", and download the app. now the latest version is V1.1.88. After downloaded, just install the app.
Step 3:
Connect your android device wifi to Tronsmart T1000, the Tronsmart T1000 SSID should show on your TV, it is like Tronsmart-XXXXXX, and the password is also in your TV screen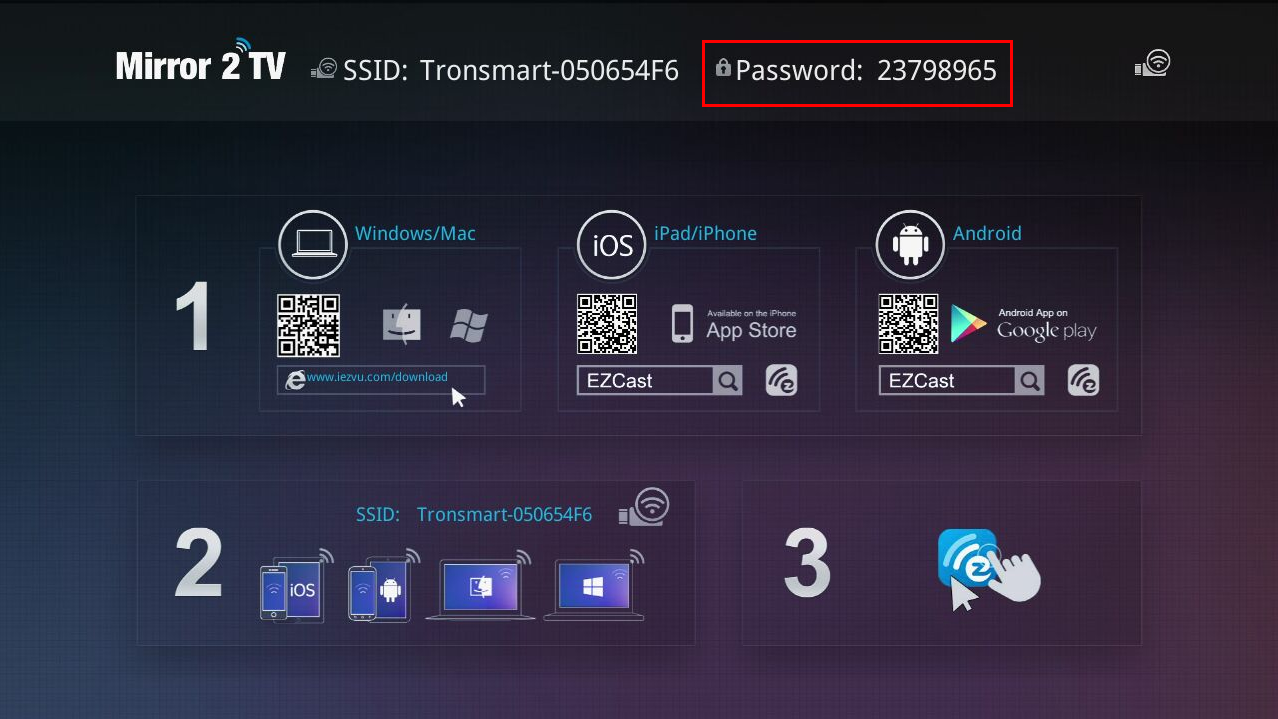 Step 4, Now you can go to open the EZcast app on your android device, you will see the following menu on your smartphone or tablet: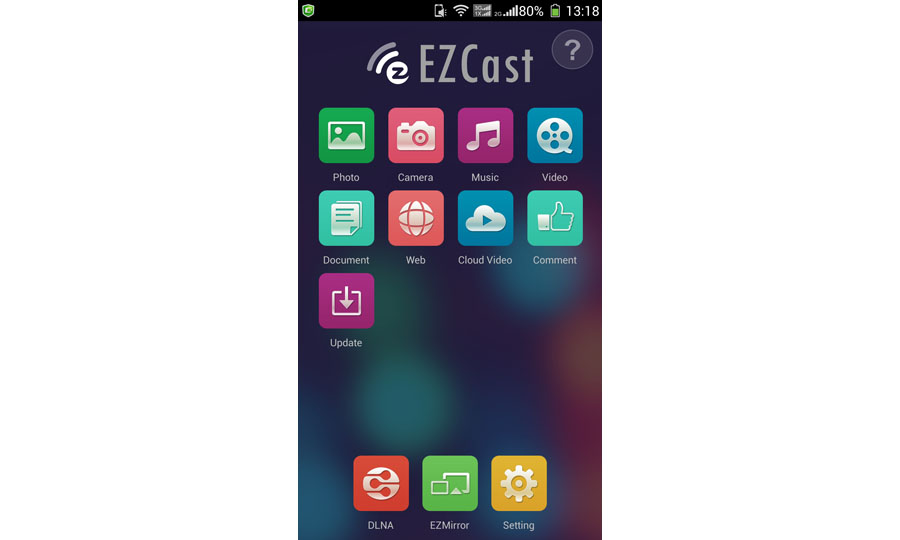 and then you should click "setting" and use your android smartphone or tablet as remote control for Tronsmart T1000 . so , after you click setting, you will see the following in your TV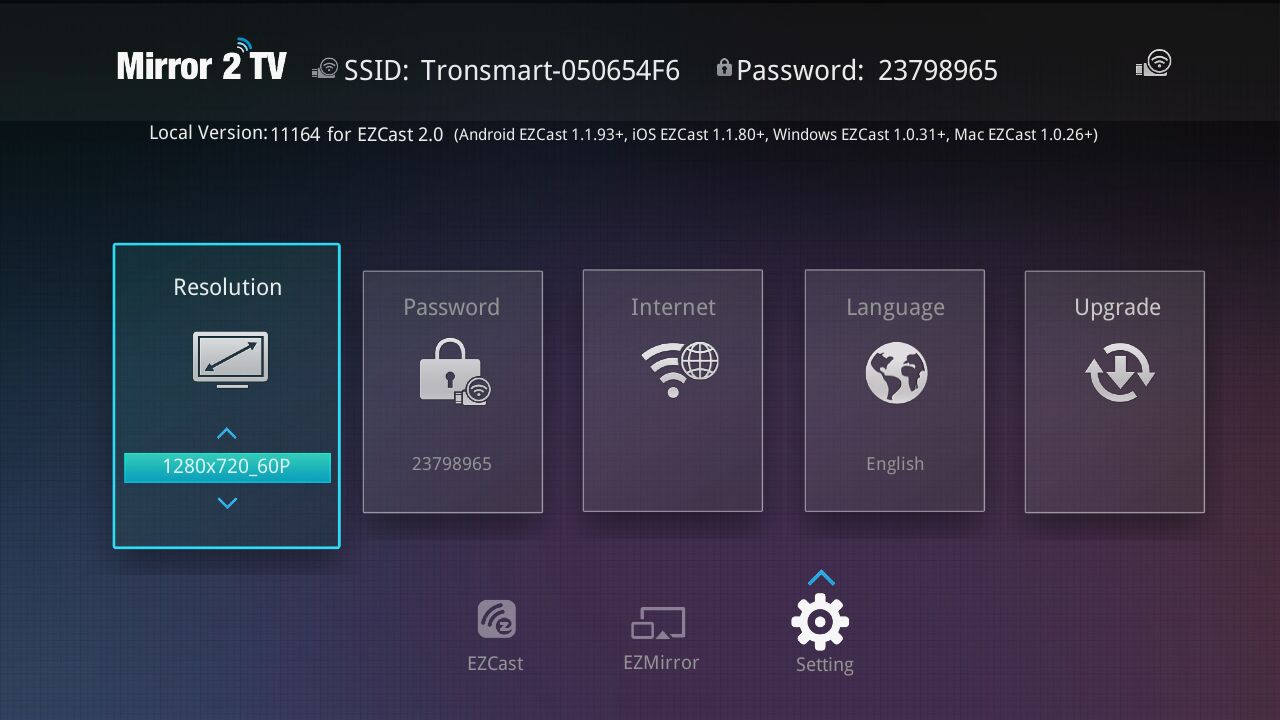 at the same time, you will see the following in your android smartphone or tablet: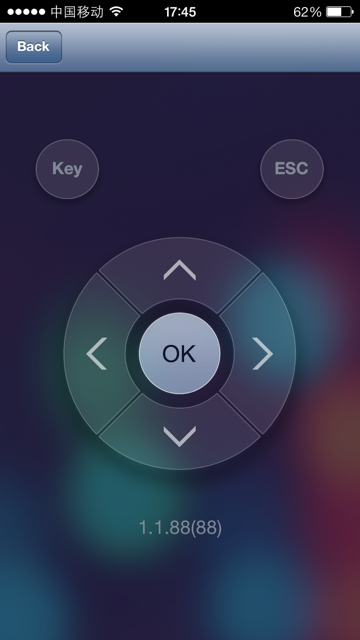 Use the arrow to control the menu on TV, you should make your Tronsmart T1000 to connect to internet, move the menu to Internet, and choose from the AP list, enter the password.
You also can set the screen resolution, and language setting on this menu, also the OTA update is also in this setting.
Step 5 : After finish the set up, you can press the back button on your android device, now you are ready to use.
On Android device, Tronsmart T1000 offer three mode to you:
1 Ezcast Mode;
2 DLNA Mode
3 EZMirror Mode ( it is the miracast mode)
Let's check one by one:
1 Ezcast Mode. this is a great mode for send your local files including Photos, Music, Videos, word, pdf,excel, ppt to your big TV. It has better performance than DLNA when play different video format. Let's check it now.
Once the connection is successful, EZCast function turns on and you can see several useful features shown in your Android device.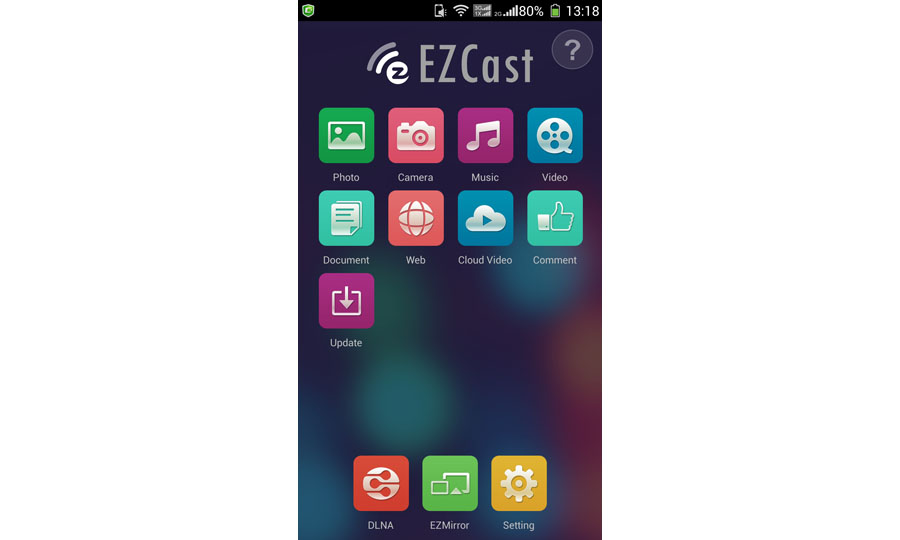 Photo function, through it, you can mirror your photos in your Android device wirelessly to the display(i.e.TV) by clicking the thumbnails.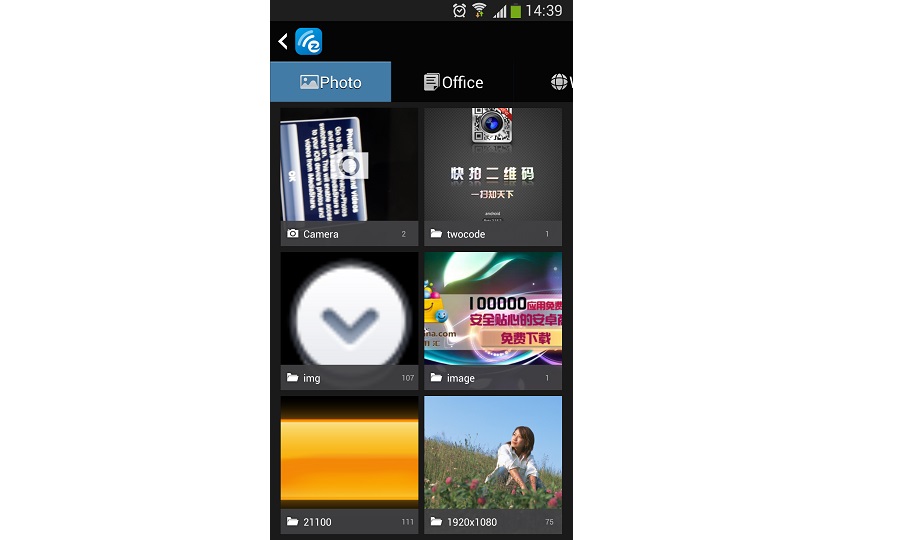 In addition, you can use the paint icon to sketch the photo and use the save icon to save the result.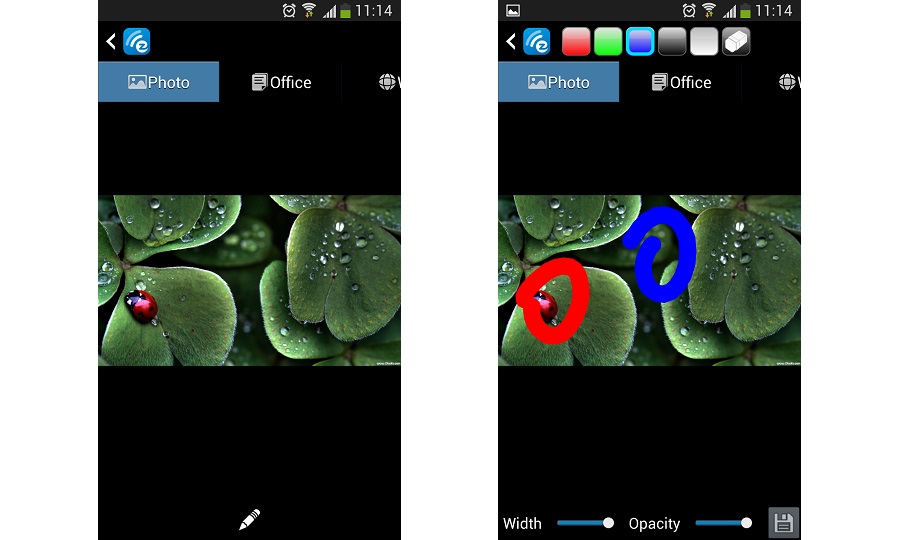 Document,through it, you can present the document in your Android device wirelessly onto the display(i.e.TV).EZCast App supports PDF,DOC,PPT,and EXCEL format by direct clicking the document name.The Sketch function also works for document presentation.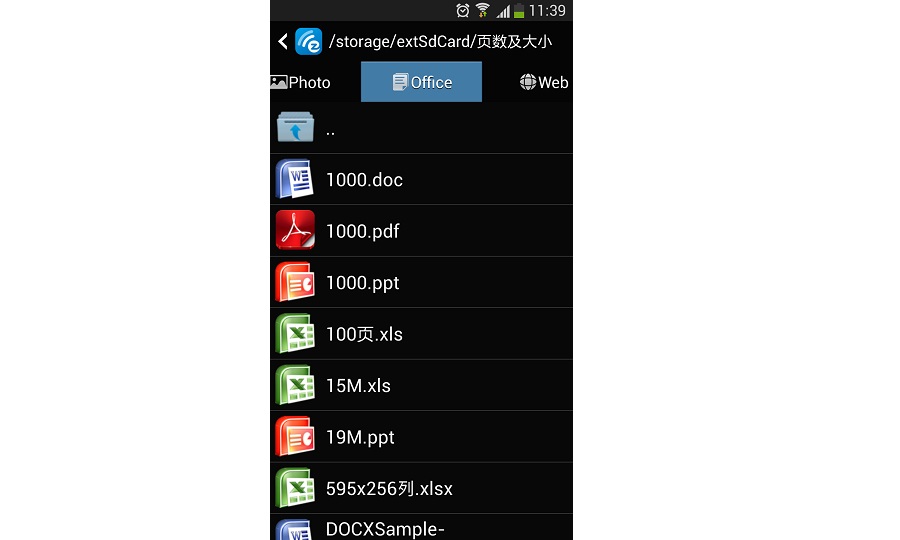 In addition, you can use the paint icon to sketch the photo and use the save icon to save the result.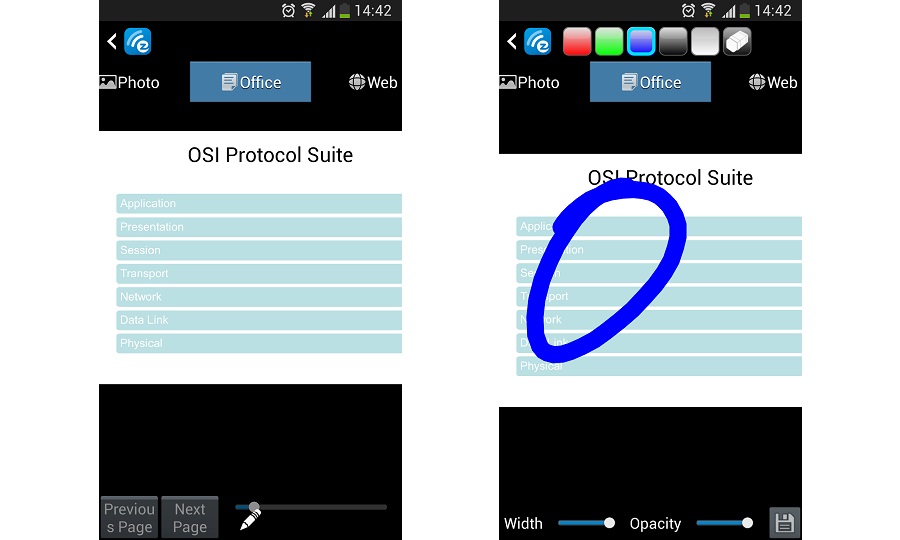 Web, through it, you can surf the internet and mirror the web pages onto the display(i.e.TV) wirelessly. You can also fling the news to the display by clicking web news.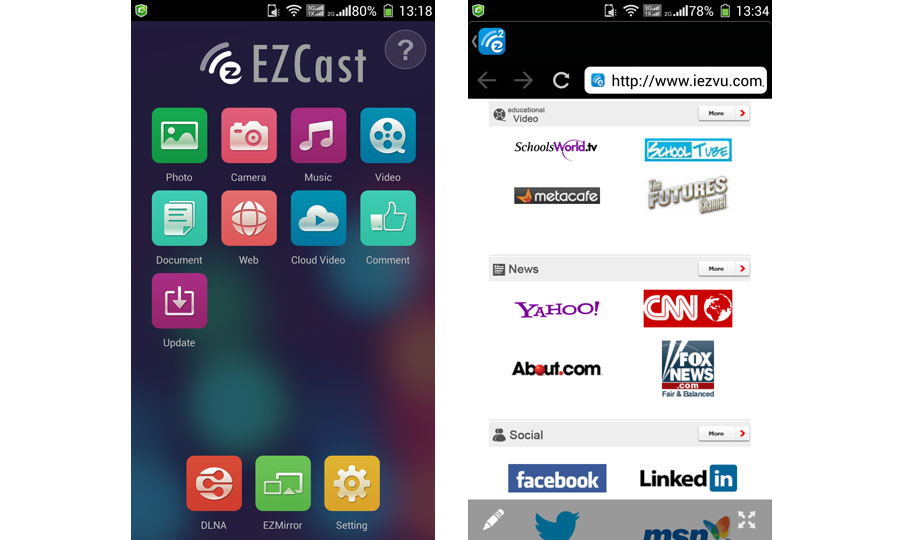 You can use the paint to sketch the web news and save.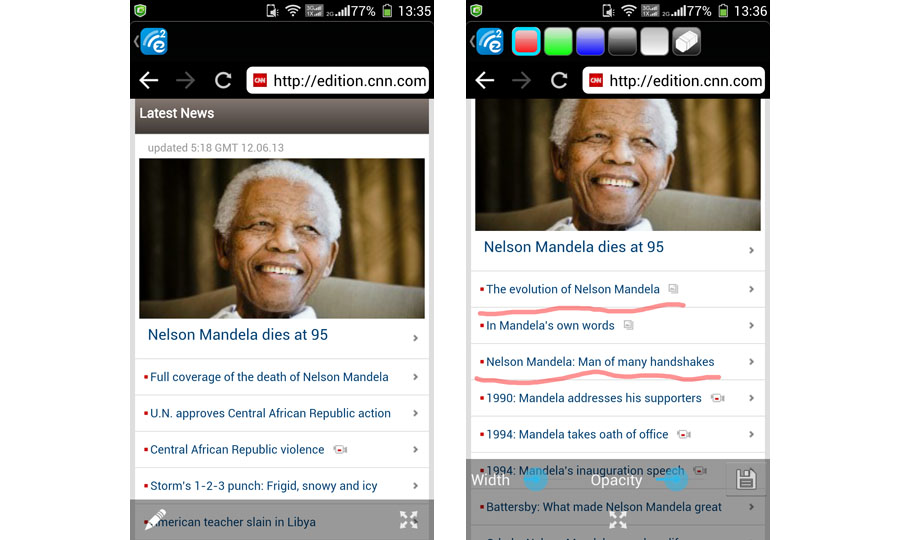 Cloud Video. You can flinging the video to the display directly by clicking the web video.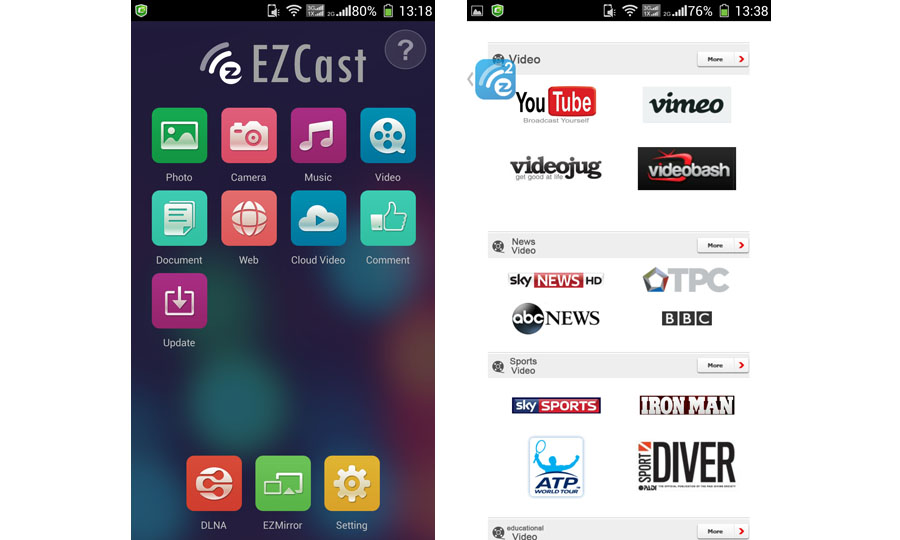 Browse youtube video and display directly onto the display device(i.e.TV).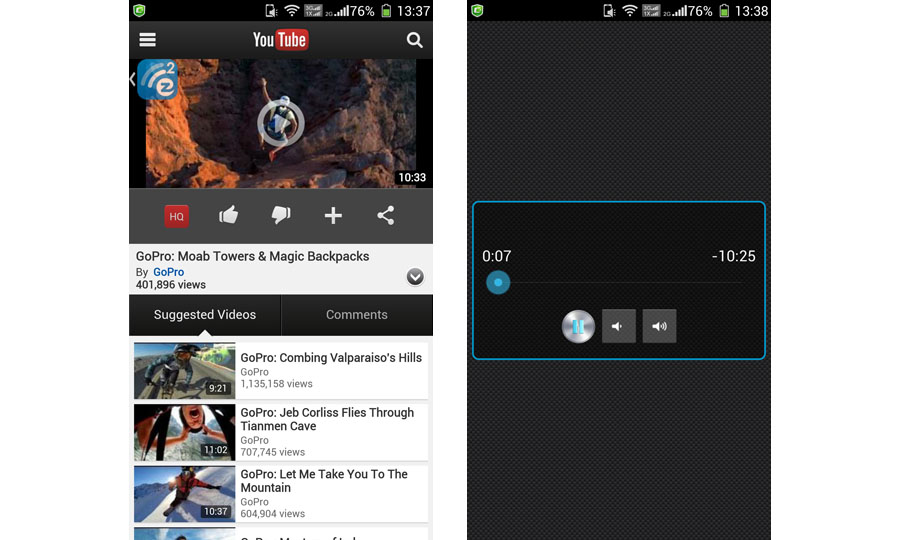 Camera, through it, you can mirror the camera photographing onto the display (i.e. TV) and you can change the "Quality" setting by clicking"Quality" and switching the front and back camera by clicking. snapshots and you can use the sketch pen to add note onto the result.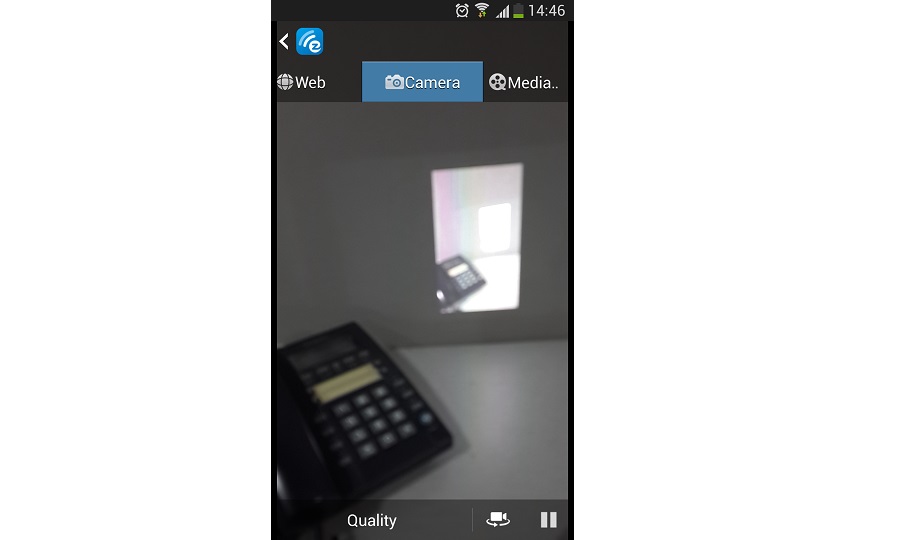 Music/Video Streaming, through them, you can stream your own music and video wirelessly to the display (i.e. TV). You can select the music and video via your favorite video browsing App.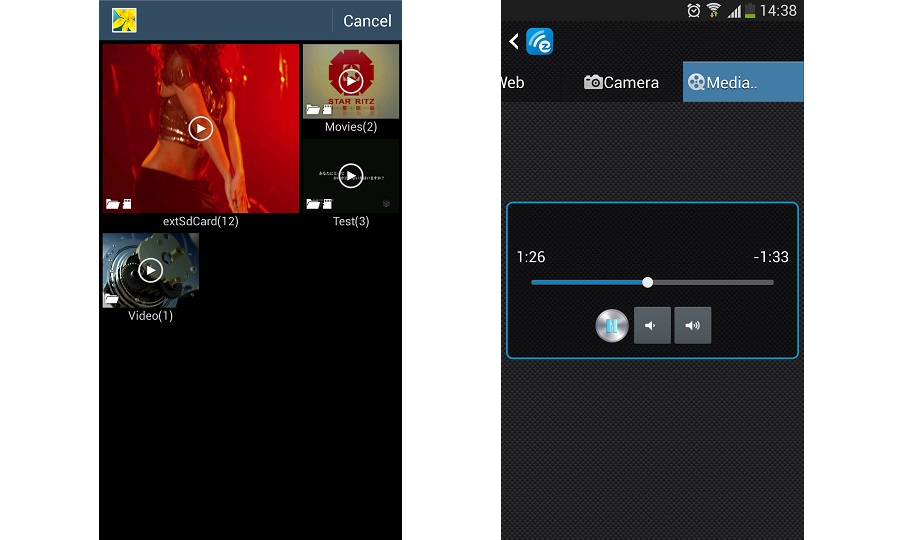 Above all is how EZcast Mode working. We recommend to use this mode when you just want to cast local file or videos to TV.
Now let's check how DLNA mode work.

Tronsmart T1000 Miracast Dongle integrates DLNA DMR (Digital Media Reader) for DLNA Application. When you select DLNA function on EZCast APP, EZCast App will automatically search all DLNA related Apps in your Android device and pop up them as a support list,launch them for selection.
It is noted that you should click

to submit photo/music/video to EZCast on the selected Apps.
Here are some DLNA apps we recommend to use:
WiTV 2.0
Smart TV Remote Control + DLNA
Shortbeam TV Media Player
PlayTo AppleTV Roku GTV & DLNA
PlayOn TV DLNA/UPNP
Panasonic Music Streaming
mconnect player free
KX Player (Full DLNA)
DlnaPlayer
DK UPnP
Denon Cocoon
ArkMC LITE UPNP
Skifta
BubbleuPnP
SamSung galaxy Link
In the end, let's check the Miracast Mode, most of the guys get this device for miracast, yes, mirror everything to your TV is an amazing things, however, we have to say, the miracast performance is also effected by the surroundings, if there are a lot of 2.4Ghz signal recivers or sender (such as a lot of computers or routers, pcs ) near the Tronsmart 1000, the performance will not good, but if you use in your home, there should be no problem.
Miracast Mode mirrors the screen onto the display (i.e. TV). Tronsmart T1000 also integrates Miracast functionality for the smartphone and tablet supporting Miracast. After you turn "ON" miracast, EZCast App will direct connect Tronsmart T1000 if your Android device is recognized. Otherwise,Tronsmart T1000 will wait for your Miracast connection for 60 seconds. If there is no connection in 60 seconds, EZCast will set back to normal wifi configuration, that is, AP mode with SSID and password.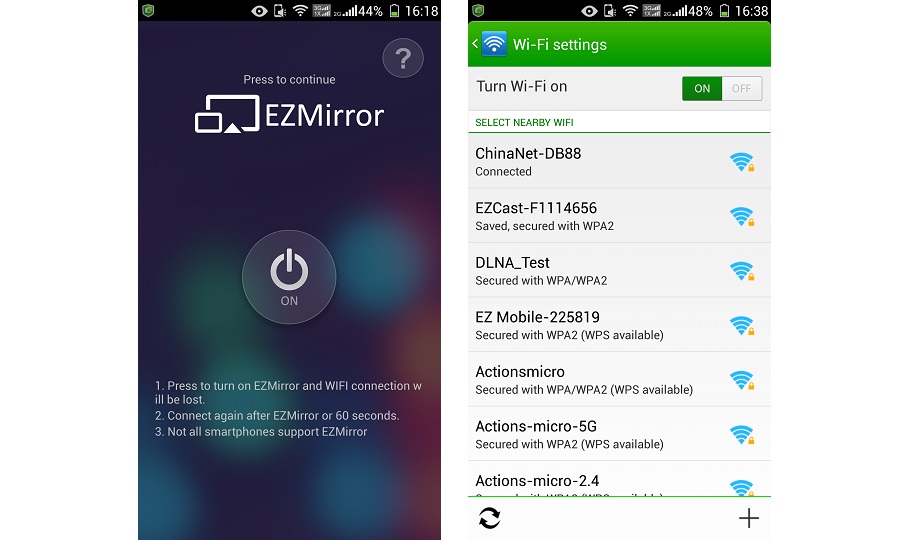 Display device(i.e.TV) will display how to connect miracast.
Usually you can open the miracast function in your android device like this:
GO TO settings, check "Display" menu, and then you will find "Wireless Display",(this means miracast) choose "on" and make the miracast function work.
We have taken a video to show how miracast working, check it here:
http://www.youtube.com/watch?v=PRc7GIIkX_E
So Now we have showed how the Tronsmart T1000 miracast dongle working with your android device.
Compare with Chromecast, the Tronsmart T1000 can mirror the whole screen to TV, and support lots of DLNA apps.
If you have any questions, feel free to contact us.
shopping link for Tronsmart T1000 is
http://www.geekbuying.com/item/Tronsmart-T1000-Mirror2TV-Wireless-Display-HDMI-Adapter-Support-Miracast-DLNA-EZCAST-AirPlay-323228.html
Eric
Geekbuying