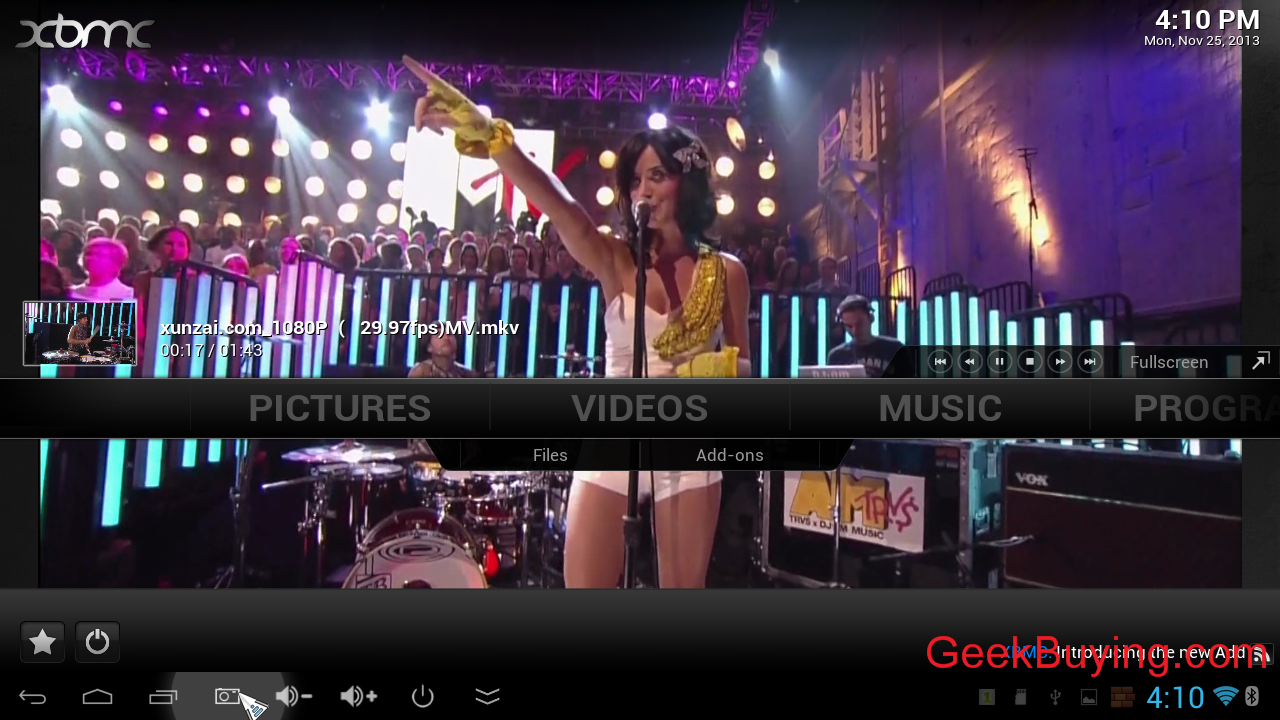 Sorry for being busy recenlty, and haven't got a time to write some real reviews.
Now i am back again with the tv box reviews, today i will show you the TV01 RK3188 Quad Core TV BOX.
TV01 also some site call it as CS968 or CR11S, they are all from same factory. and use the same hardware, you can flash the same firmware, and use the same root method.
It should be the lastest model in my opinion, it has quad core cpu, external wifi antenna, built in webcam and Mic, Come with ethernet port, optical port, AV port,micro sd card slot, four usb 2.0 port. almost all in one. 🙂
Here are some photos:
You will notice there is no otg port in this model, how you can connect it with your PC? i also doubt when i first check, and then, i know, they use the following USB port as OTG port: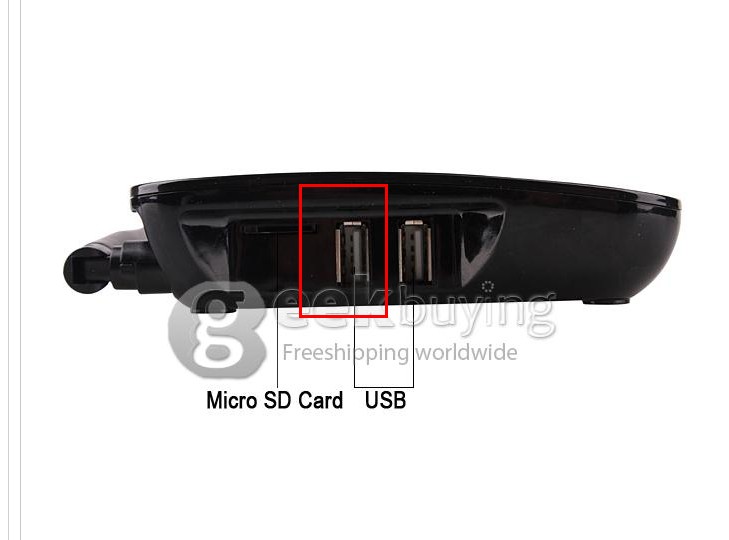 and this factory put a Male to Male USB cable in the package, and make sure you can use it to connect with your PC.
Full accessories, coming with the IR remote,(without battery for safe shipping), and about the charge, please don't worry, we will ship the correct adatper according to your shipping address.
How to connect TV01 with your PC?
I think the following photo can show you the detail: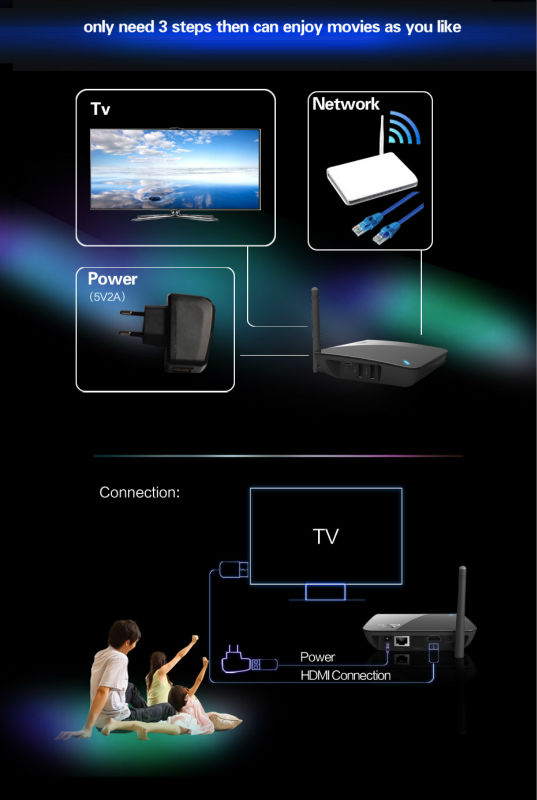 Just Three Step:
① Power on the TV01 quad core tv box,we recommend to use the power adapter in the package;
②Connect the TV01 to your TV via the HDMI cable in the package, and set your TV to HDMI mode;
③Connect your TV01 with your local wireless network, and enjoy.
How to operate the TV01 quad core tv box?
You can use the IR remote to do the basic operation, and if you think that is not convenient, you can try to connect your wireless mouse or wire mouse with TV01 and operate. and If you get the best operation, we recommend you try our Tronsmart TSM01 Air mouse, it is the best bundle for those android tv boxes.
Now after you finish all of the setting, you should see the following in your TV:
The basic regular android menu. from this menu,we can see, there is soft power off button on the tool bar, means you can power off your device when you press this button.
However, in order to have a better experience, we suggest you to install this App:
and after you install this apk, run it, you will get the following menu: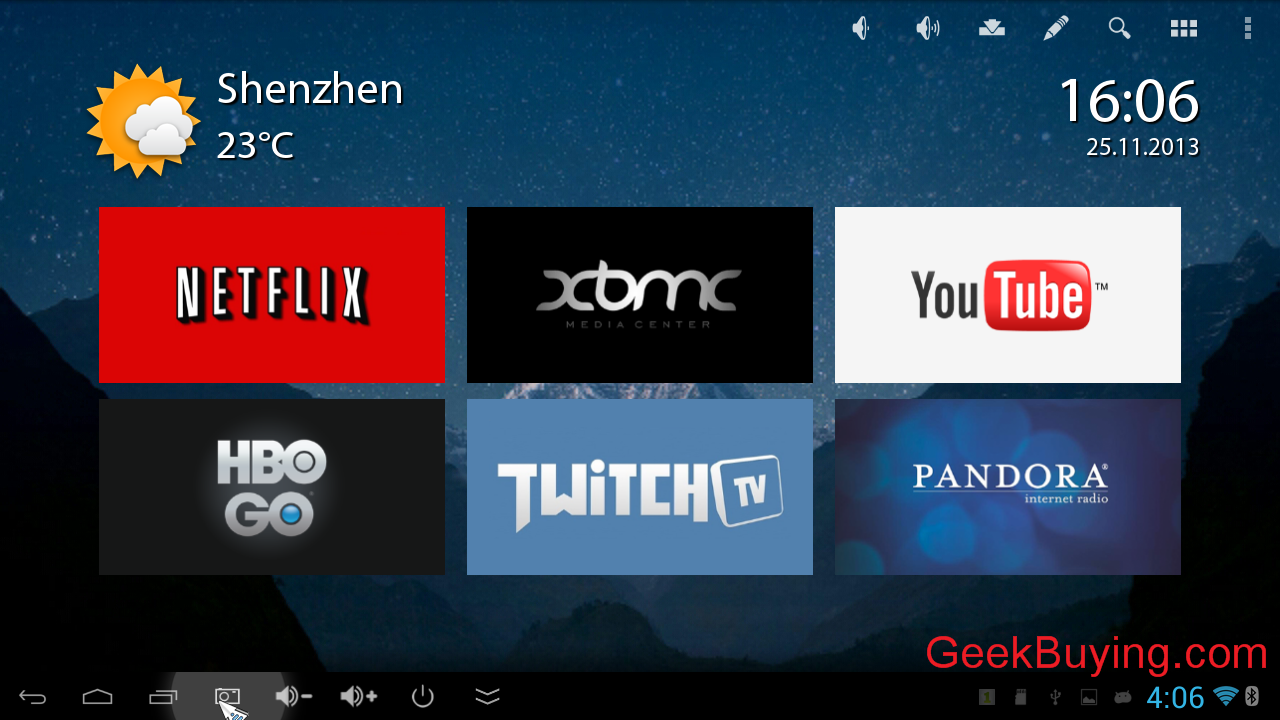 It is much better than the original android UI in my opinion.
First i run the Antutu Benchmark, here is the result:
TV01 specification test from Antutu:
The Screen resolution is reported as 1280*672, and most of customers should ask why it don't output the real 1080p, yes, it don't. we have answered the same questions a lot of times. now all of the china android tv box stock rom are all based in 720p output, because in 720p, the system can run most steady, and CPU create less heat. however, most of the android TV BOX can get real 1080p output with custom rom supported, we are already working with developers, and will release the 1080p custom rom support to our customers.
Second, i run the wifi analyzer to test the wifi signal on TV01, the external wifi antenna really help a lot in this tv box. it can find a lot of wireless signals near my office, and can get very good signals for my router.
And Then, here is the screenshot for the setting menu: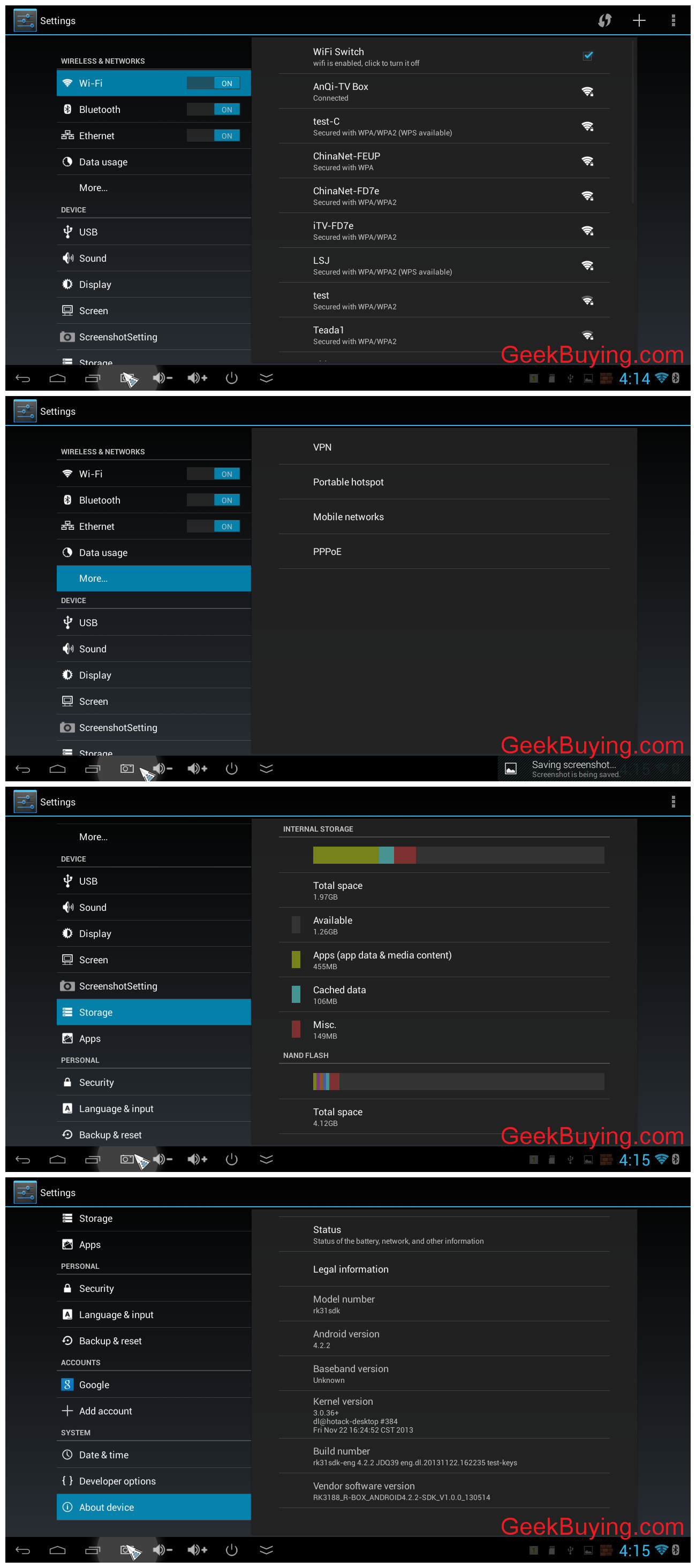 From the above photo,you can see, the TV01 quad core tv box support VPN,wifi hotspot,Ethernet, and it also divide 1.97G storage to the system use. here we always met some customer complaint why your ad said it is 2G ram and 8GB ROM, however, in the setting menu, i check,it is not . here is the reason:
https://blog.geekbuying.com/index.php/2013/07/18/ram-and-rom-information-is-not-the-same-as-description-please-see-this-post/#.UpRXaeJbJu4
Then next, I test some built in app in TV01 quad core TV BOX:
Google Play Store is built in, so you can just login in with your google account, and download apps, some customers may met the error about"sorry, your device is incompatible with the app, don't worry, here is the solution:
http://www.howtogeek.com/138500/the-ultimate-guide-to-installing-incompatible-android-apps-from-google-play/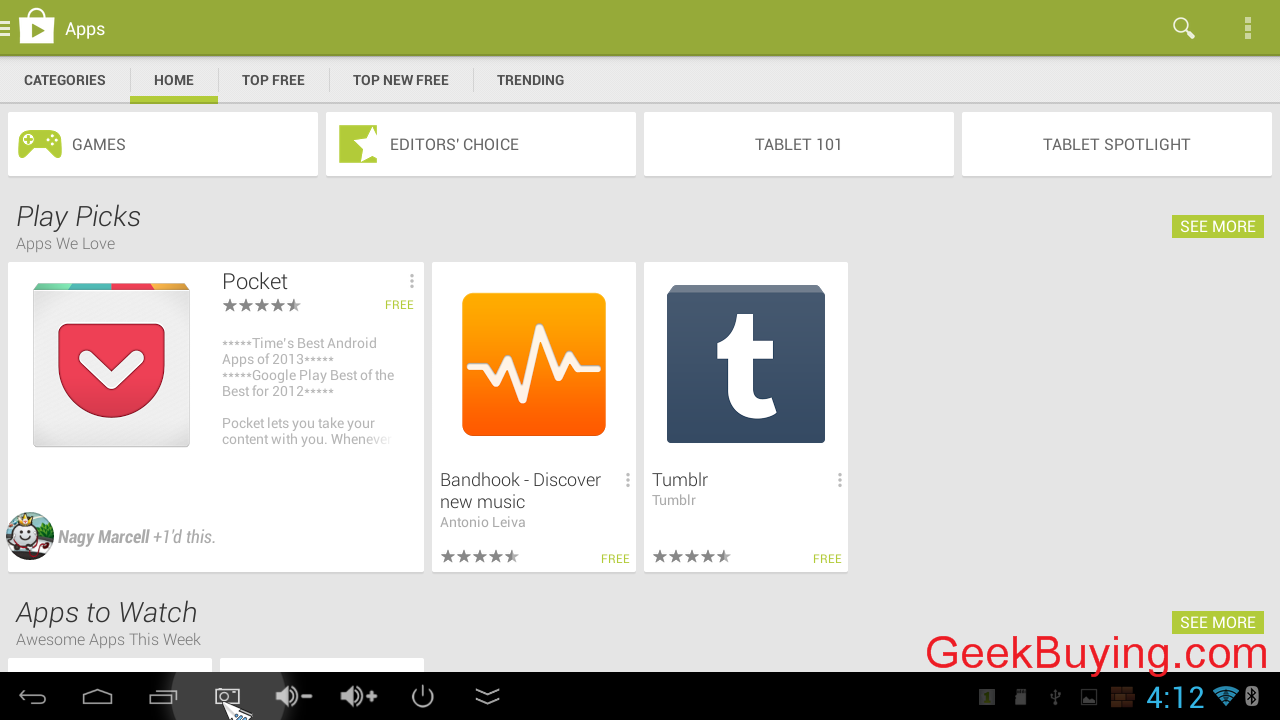 Chrome is also built in the system, I can visit our site without any problem.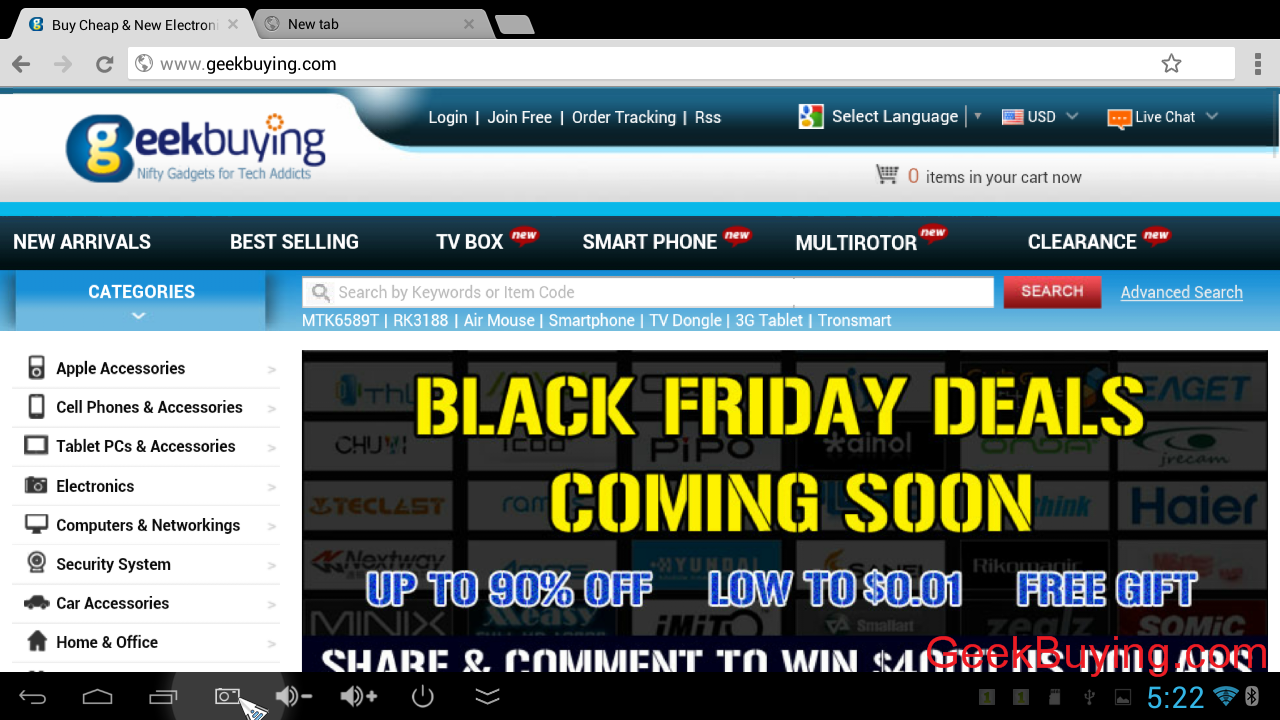 Wifi Display app is also built in this model, how to use it, check here:
https://blog.laptopmag.com/miracast-android-mini-pc
Please notice, the miracast on those rockchip device is incomplete, it just can support few models, such as nexus 4, nexus 5, and nexus 7 2013. As customer reported, the Samsung S3 and S4 is not supported. if you own samsung mobile, and want to use this android tv box as miracast adapter, you will be disappoint.
There are also other basic built in app, i can't review them all, discover them by yourself 🙂
Now it's time to test some important app for you guys:
1 Youtube:
Downloaded the latest youtube from Google Play store, and run it on TV01 quad core tv box without any problem, you can get full screen.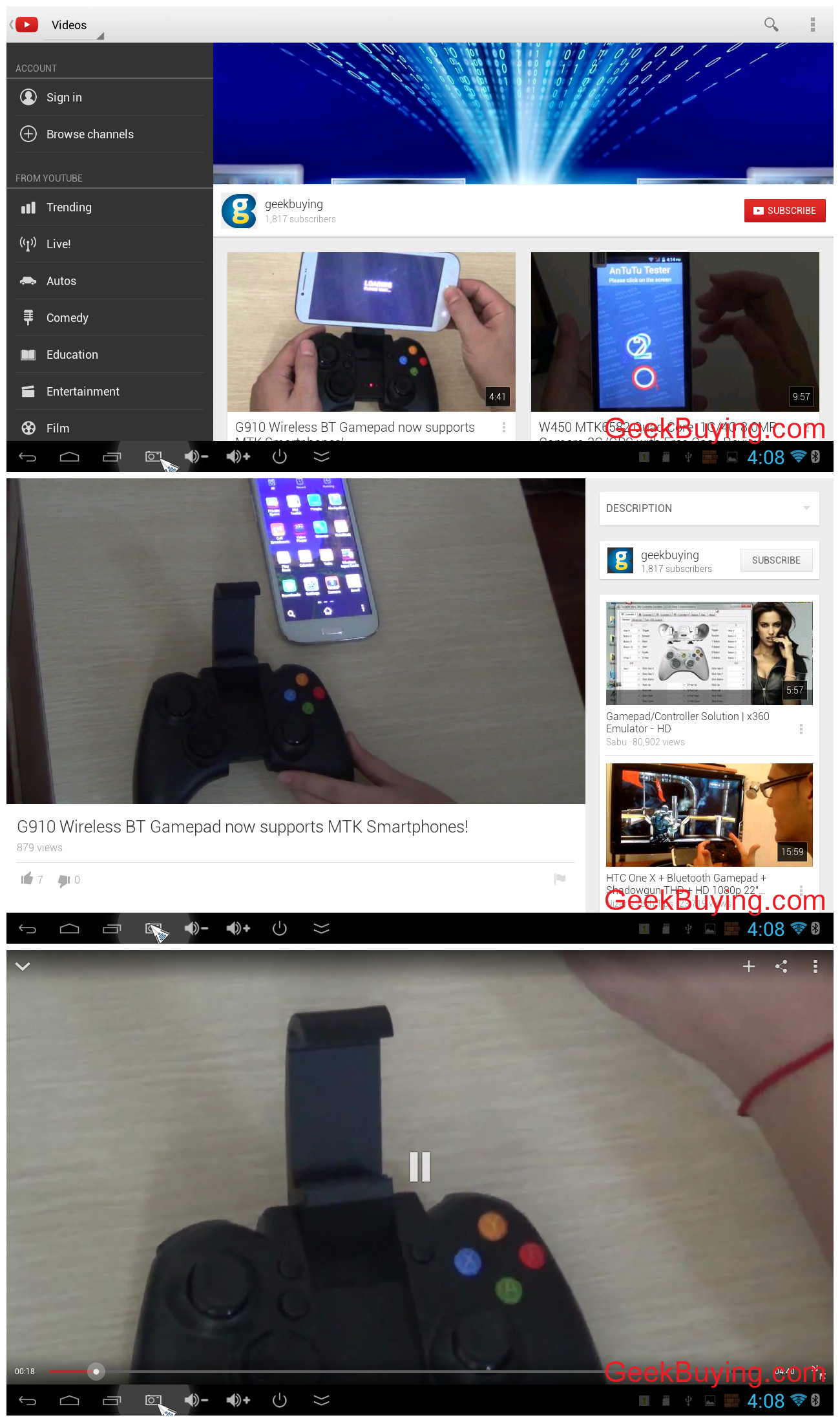 2 Netflix,if you are live in netflix unsuppoted country, you should use VPN to make Netflix work!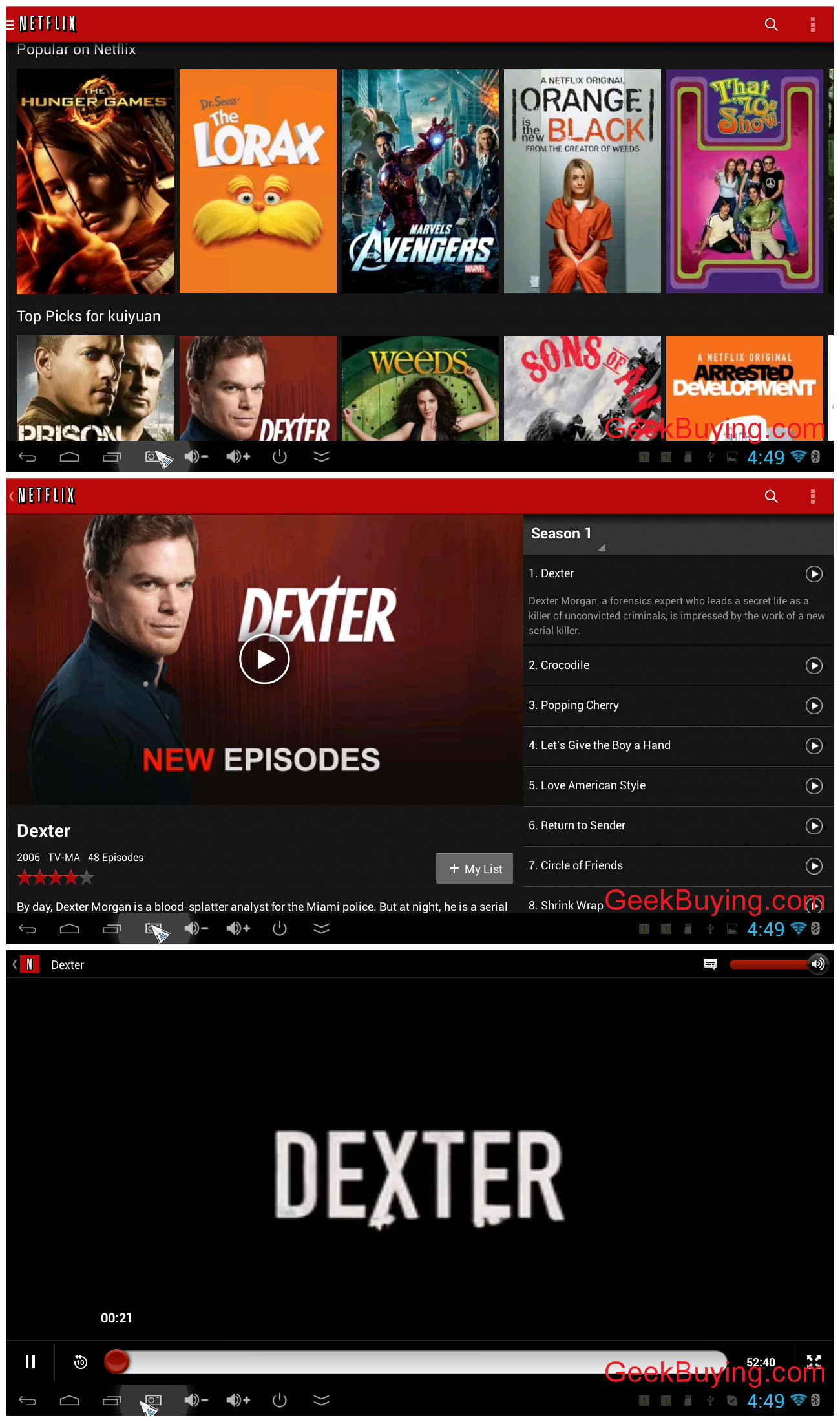 3 Pandora,working!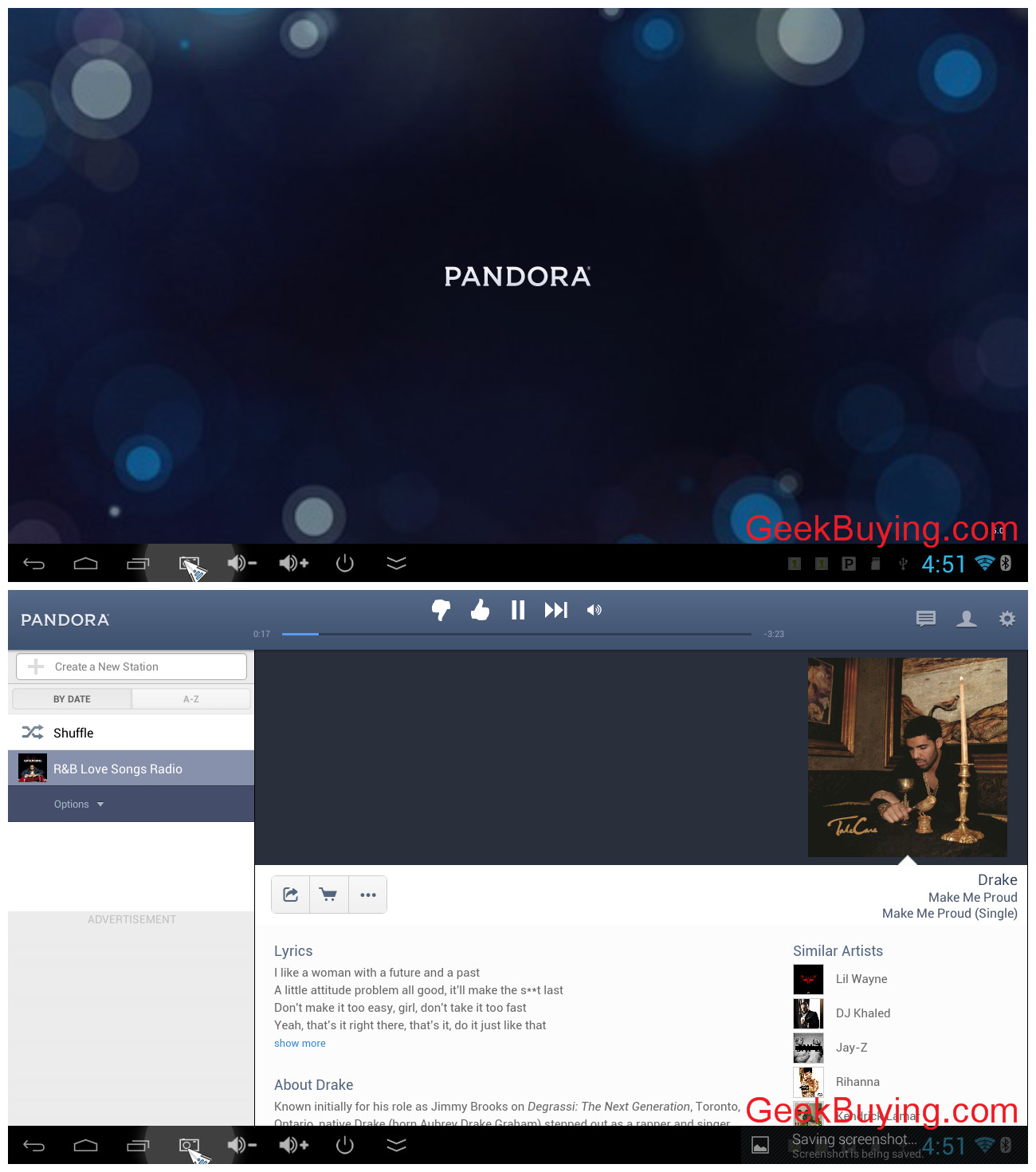 4 HBO GO, working!
5 Crackle,working!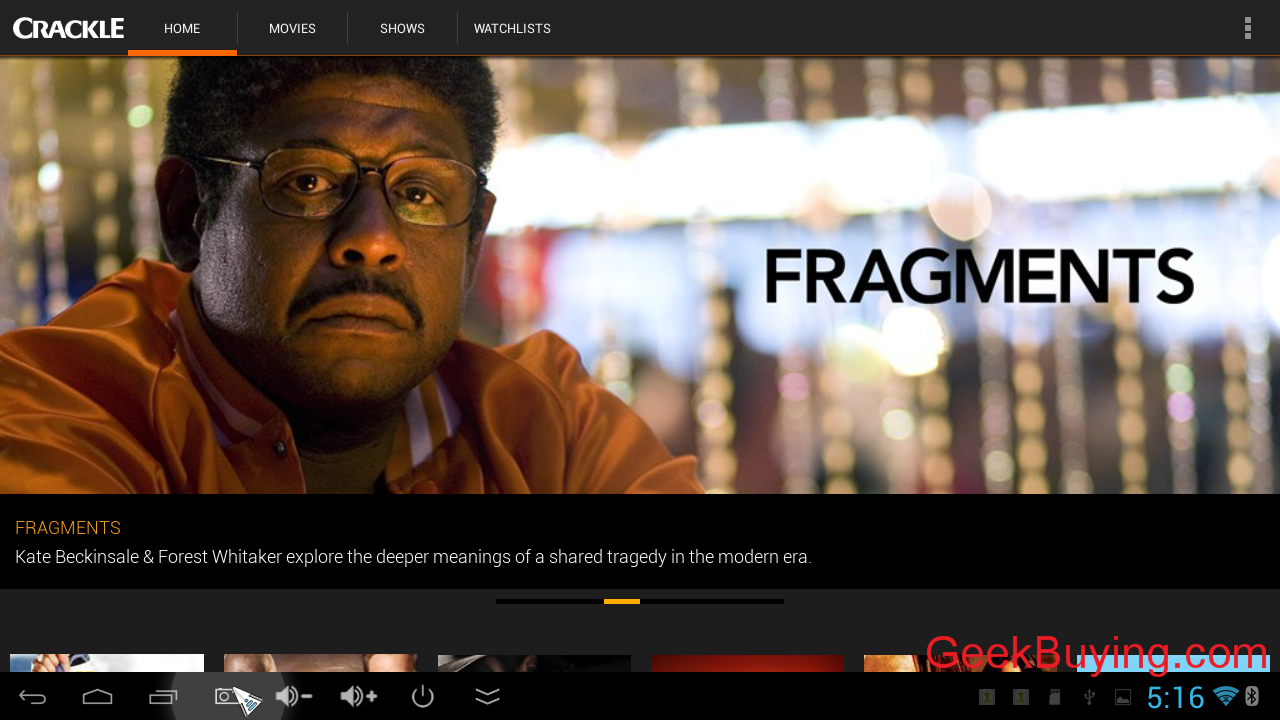 6 Skype, i think most people choose this model, because it built in 2.0MP camera, so you can do skype video chat in your living rom. and this device also do his job, skype working like charm: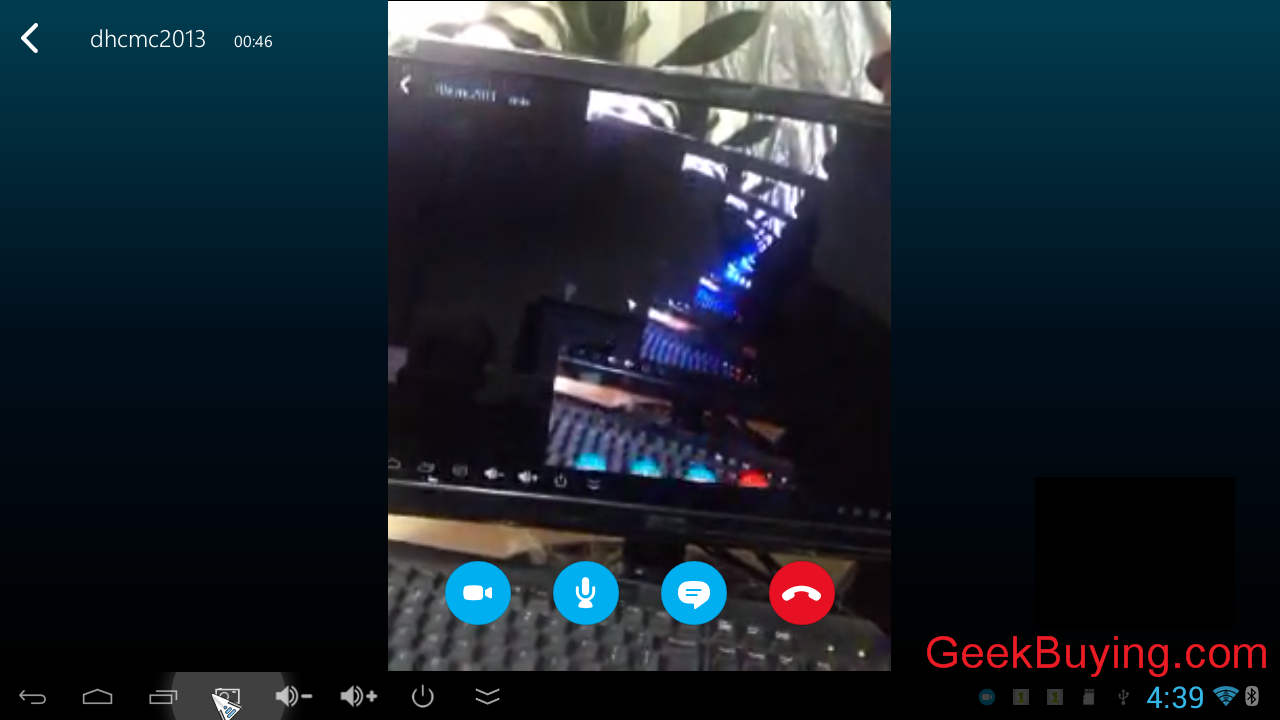 7 XBMC, XBMC is really a nice media center app, and a lot of customers get the android tv boxes to run this app, however, we have to admit, now XBMC on android is not perfect, and especially on Rockchip platform, because rockchip don't open source, so the hardware decording is almost impossible in those android tv boxes. However, the XBMC developer is also trying their best to make the XBMC app working great on this rockchip tv boxes. now you have the following choice:
1 install the XBMC XAF version, it use the external player.
http://www.xbmcandroid.com/2013/05/04/finally-a-stable-release-of-our-end-user-friendly-xaf-custom-build-of-xbmc-for-android-is-out/
2 try the lasted alpha version for XBMC for android, it has added some codes, and make the 720p video can suppot hardware decoding, :
http://mirrors.xbmc.org/nightlies/android/arm/
In the end, i want to talk about the games in TV01, i haven't got a time to download a lot of games to test, however, like the other quad core tv boxes, the TV01 can handle most of the 3D games without any problem,if you want to learn how to play games on those android TV BOXES, you can read here:
Ok, till now, i have fnished my review, most tested the app for you guys, so you can buy with confidence.
Now Christmas is coming, the TV01 quad core tv boxes should be a great gift idea for your parents, for your husband and for your kids.
Grad the TV01 quad core TV BOXES here:
http://www.geekbuying.com/item/TV01-RK3188-Quad-Core-Google-Android-4-2-OS-Cortex-A9-1-6GHz-Mini-TV-BOX-2G-8G-BT-Mic-Camera-RJ45-External-Wifi-Antenna—Black-320161.html
We have stock in our warehouse, and ready for ship!
Enjoy.
Eric
Geekbuying