Hi guys:
I have prepared for this post for a long time. We (Geekbuying) have been becoming popular and professional for the android tv box business for quite a while, and we work hard trying to keep developing the functionality for these android tv boxes and share them with our customers.
For most of the people, they bought this android tv boxes for media player, such as XBMC, Netflix, Hulu, Youtube etc. Most of the Android TV Boxes can run those app well, However, the media player is just one of the function for those android tv boxes. Today, we will tell you how to use your android tv boxes as a great game console, and enjoy the amazing game experience in your living rom with the BIG TV.
What do you need?
1 One Dual Core or Quad Core Android TV Box, must support bluetooth, We recommend the Rockchip cpu device, because rockchip use Mali 400 GPU,and there is a huge game list for mali 400 gpu; some model we recommend:
TV BOX: NEO X7;
TV Sticks:Tronsmart MK908II
2 One Game Controller. Please notice, not every game controller can work. we know some guys have used their ps3 or XBOX 360 game controller to work, however, most of the stock rom for android tv boxes don't support that, if you need your PS3 or XBOX 360 controller work, you must flash some custom roms. The game controller we recommend is G910 Bluetooth Game controller, special design for our android device.
http://www.geekbuying.com/item/NEW-Wireless-Bluetooth-Gamepad-for-Android—iOS-Cell-Phone–Tablet-PC–Mini-PC–TV-BOX-318373.html?utm_source=inpromo&utm_medium=blog-right-banner&utm_campaign=G9100906
3 One TV or Monitor with HDMI port
What you should do now?
Step 1: Connect your Android TV BOX with your TV. usually you should connect the android tv box power adapter first, and then use the HDMI cable to connect the android TV BOX and TV.
Step 2: You should root your device, because the next app we recommend will requir the root access for your device. if you don't know to root, just search on our blog, we put a lot of root method for different device sold by geekbuying.
Here is some unverisal method for root rk3066 dual core tv box:
http://www.cnx-software.com/2012/08/28/how-to-root-ug802-rockchip-rk3066-mini-pc/
and here is the unverisal method for root rk3188 quad core tv box:
https://blog.geekbuying.com/index.php/2013/03/14/how-to-root-rockchip-rk3188-quad-core-device-like-cube-u30gt-2-pipo-m9/#.Uom8PeJbJLw
Step 3: Install the following app to your Android TV BOX
http://www.mediafire.com/download/d6a08uplene7kk8/BitGamesClientTV_ENG_v1.2.2.apk
you should download this app first, and then transfer this app to your android tv box;
Step 4: run this "Game Launcher" app, click "My Joystick" button,,it will ask you to install the one app called" OpenPad Union", with this app, you can make your G910 connect with your TV BOX or smartphone easily. like the following photos: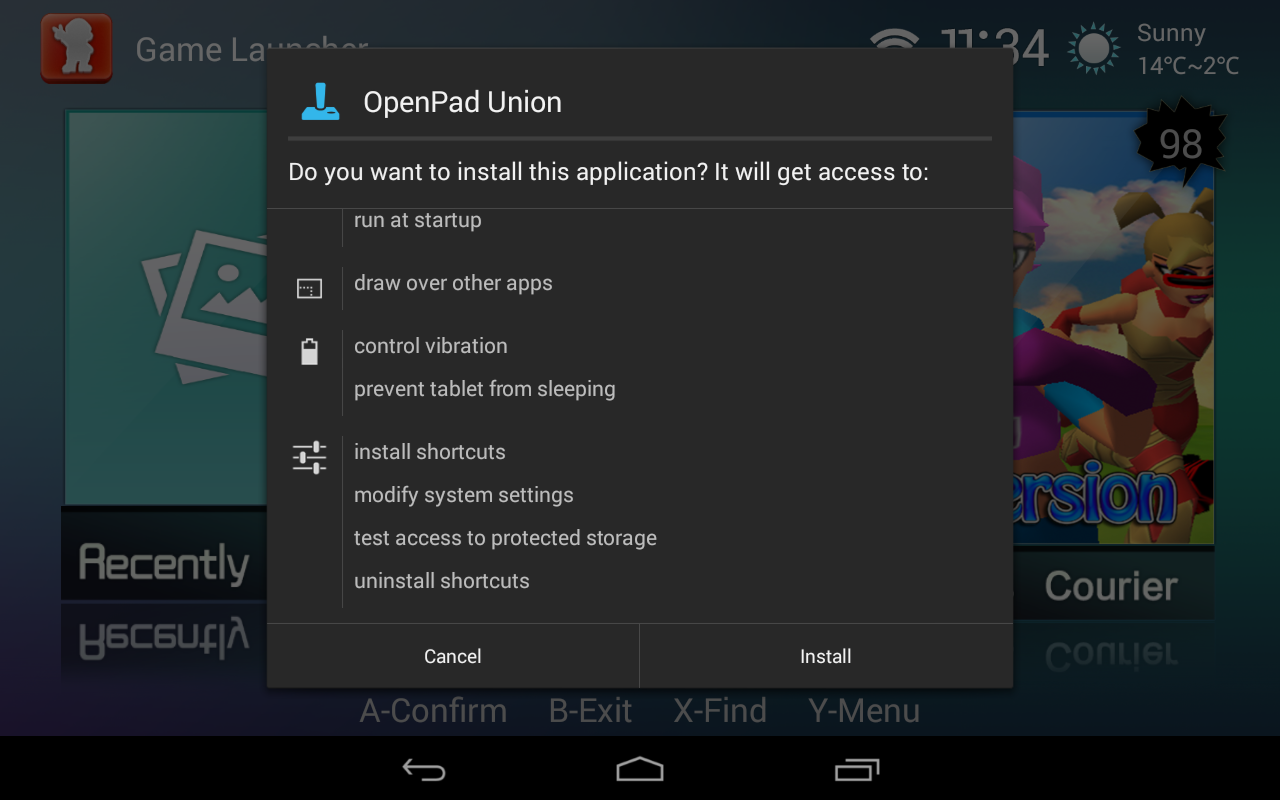 Here is the screenshot for the OpenPad Union App, Turn bluetooth on your TV BOX, and then press Y+Home Button on G910, (notice, you should press the Y first, and then press the Home button) and then click the PLUS button in the following photo,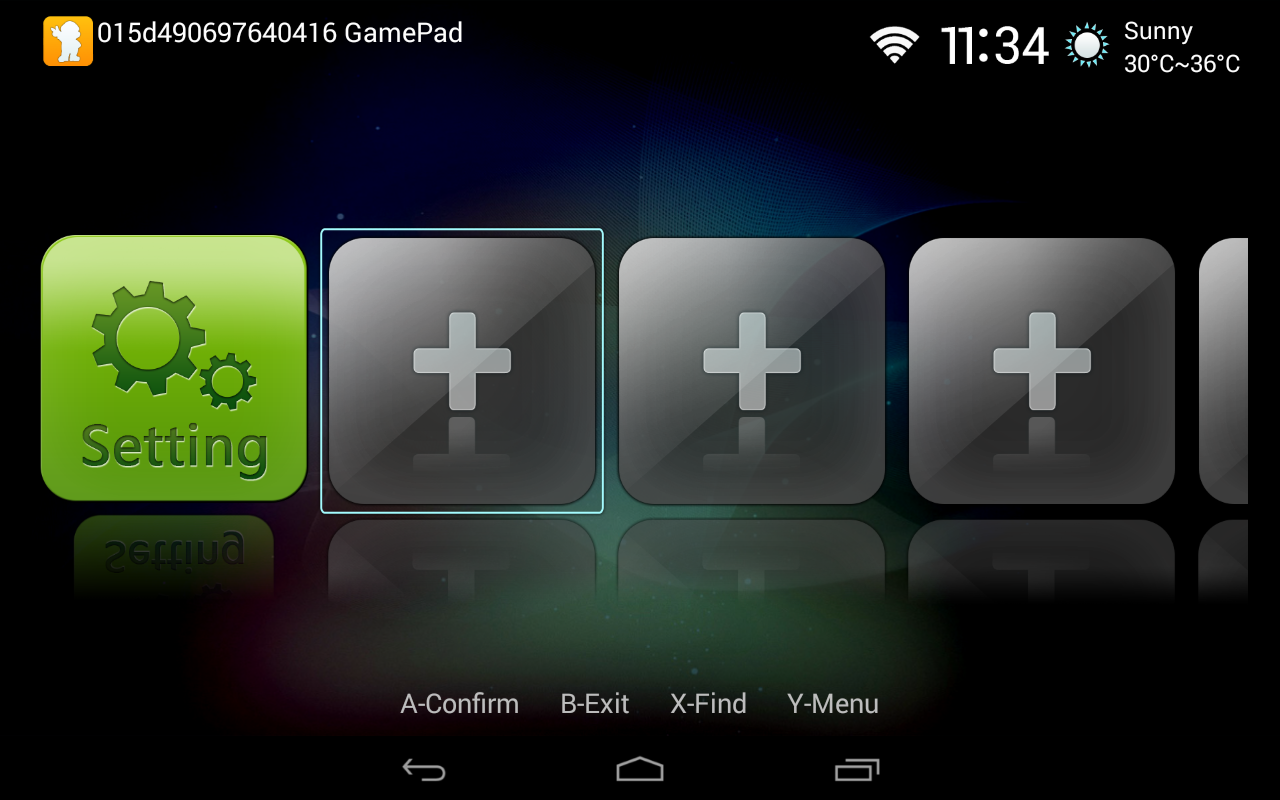 the app will help to search for the G910 game controller, once find it, you just need to click it, and then it will help to match with G910 game controller. after connect, you will see the following on your TV BOX or smartphones.and on your G910, you will just only the third led is light.
Step 5: Now you have successfully connect your G910 and your TV BOX, now you just need to open the Game launcher app: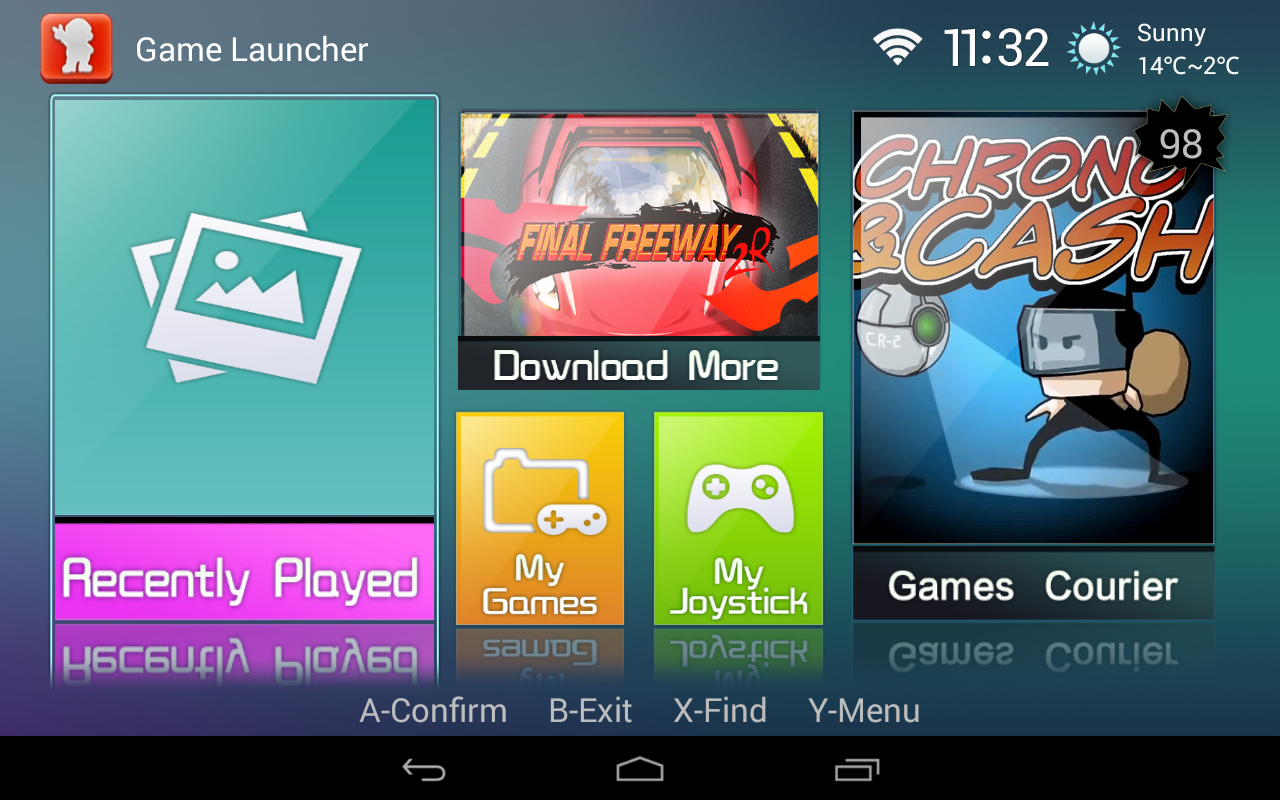 and you can find the game list in "download more" and Games Courier"
If you already have some game installed in your tv box, you can just click MY Games and then this app will find the pre-installed game in your tv box, just click the one you want to play. and enjoy. You don't need to do any key map if you follow this instruction, you just open the game, and the app will tell you how to use the controller.
Please notice, you must open this game launcher first before you run any games!
HERE IS the supported game list:
So now, you can PLAY GAMES ON YOUR BIG TV!
PS: some customers also ask me why they don't choose ouya console if they need a game console, well, i also own an ouya, ouya is using the custom made android OS, while our android tv box is pure android os, with google play store pre-installed, in ouya, there is no google play store, you have to download games from their ouya store, however, most of the popular games hasn't launcher in ouya store.
second, with this bundle ( android tv box and game controller), you also can install xbmc, netflix, hulu plus etc easily,and enjoy with your family.
the thrid, if you choose some tv sticks and game controller bundle, the price is also cheaper than ouya.
so what is your choice?
Eric
Geekbuying