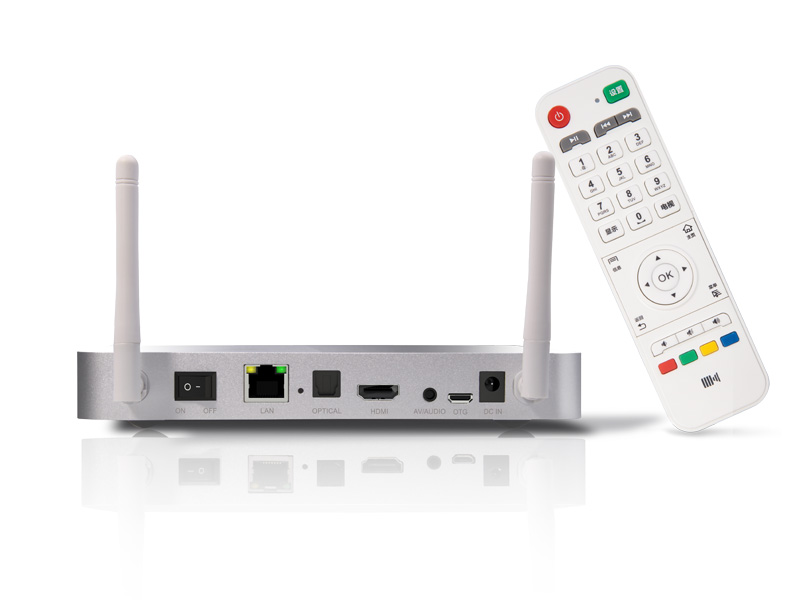 We have read the news about kaiboer Bor F4 some days ago, but recently, Ugoos contact us, and said they have worked with Kaiboer, and will release that model to market.
They rename it as Ugoos UT1,we have got the first sample to test, so here we go:
Ugoos UT1(Kaiboer Bor F4) is another RK3188 base quad core TV BOX, compare with others, this tv box get dual wifi antennas, and come with the full aluminium case. the design and quality seems better than the other tv box i have seen.
Appearance Review:
Ugoos UT1(Kaiboer Bor F4) size is about 187mm*128mm*24mm,come with dual wifi antennas, you don't need to worry about the wifi slow problem anymore.There is LED indicator on the front, near the led, you can find the IR Remote reciver(please notice that is not a camera 🙂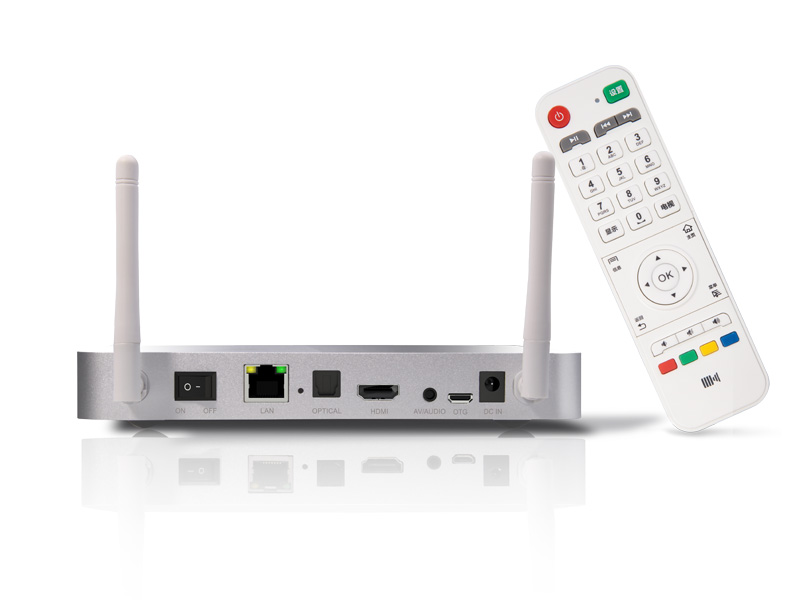 One of the reasons for people love TV BOX is there are different ports built-in, It is the same in Ugoos UT1(Kaiboer Bor F4), you can find the following ports on it( from left to right)
Power button,Ethernet port, Optical port, Mini HDMI port, AV port, OTG port,DC port;
You also can find two usb 2.0 port, and one SD Card slot on the side of this tv box;
On the back of this TV BOX, you will find lots of ventilation hole.
Accesories includes: IR Remote Control,AV Cable, HDMI Cable,Power adapter.
The Remote control quality is very good, and very easy to use, you can control this Ugoos UT1(Kaiboer Bor F4) TV BOX easily, we will show you a video later to see that.
Inside of this TV BOX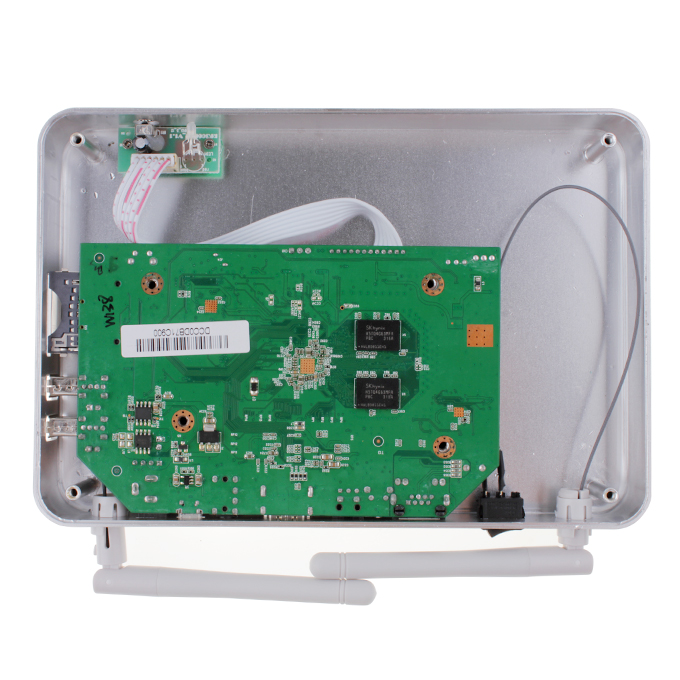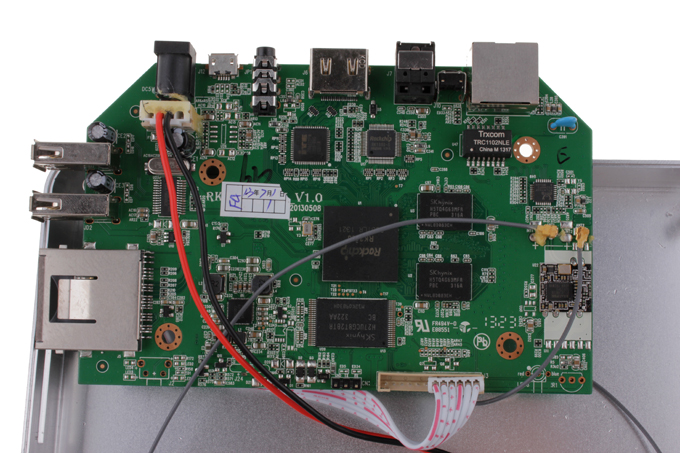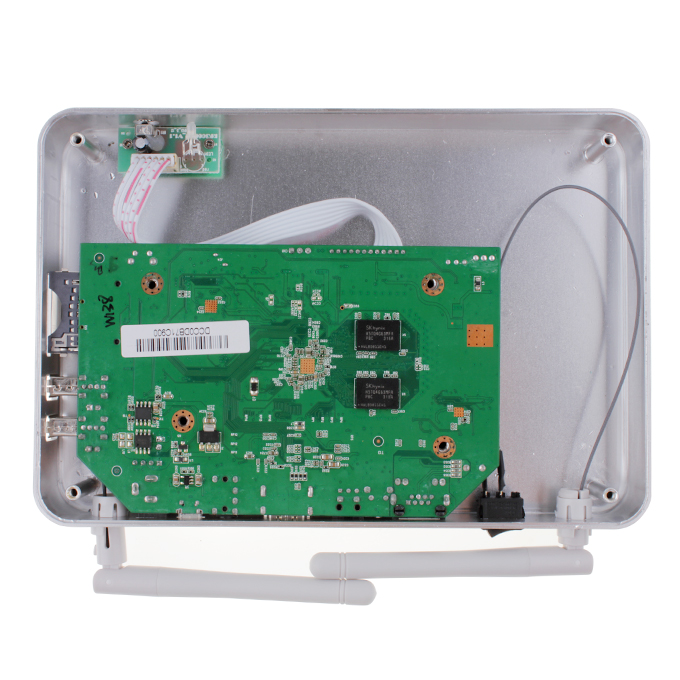 System Review:
Ugoos UT1(Kaiboer Bor F4) use the custom-made UI, and it is design for Android TV BOX , you can use the remote control in the package to finish most of the operations.
All of the apps and icons on the destop can be setted by yourself, you can put your favouriate apps on the desktop easily;
Ugoos UT1(Kaiboer Bor F4) Setting Menu, in this menu,you can do the wifi, ethernet setting easily, also it offer you the choice to change the sound and display settings.because we don't have device to test the SPDIF, so we can't confirm if it can passthrough via HDMI well, however, it do offer this settings to make you change the sound.
about HDMI Resolution, still upscale from 720p, but once we get the stock rom, we will work with our developer friends, and make the 1080p firmware.
Here is a very sweety design, As we all know, the Rockchip base tv box offer you the smartphone control function, you can use your smartphone to control tv box, however, lots of customers don't know where to find the correct apk for smartphone, this tv box just put the apk here, just scan the QR Code,the apk will install to your smartphone directly, sweety design!

You can enter to your folders easily here;
The sample firmware is Android 4.2.2, and it use the SDK V1.0.0_130514, SO Netflix has no problem to work on this device, we will show it in later reviews;
Benchmark:
Antutu Benchmark:
Nenamark:
Vellamo benchmark:
Wifi test:
App test:
Google Play Store is built-in, no problem to open and download,install apps;
Wireless Display app:
working, tested with XiaoMi smartphone;
The sample i get have the XBMC built-in, i haven't confirmed with factory if the real shipping device will also make XBMC Built-in. but it is very smooth to run in xbmc, i install some adds-on,and play some online videos, no problem to play them. but still no hardware decoding support because rockchip don't open source:(
Like i said before, this firmware solved the Netflix problem, i can watch netflix video without problems;
Build in Rockchip EhomeMediaCenter app, so you can contorl it with your smartphone;
Tested the Droidmote app, no problem to run ( please notice, you need to root your device to get droidmote work)
Play Shaowgun with droidmote app on the big TV, just cool….
The last test is Webcam support:
no problem to run "cameraics" app, we test with Logitech C170 webcamera;
That's all for now. If you want me to test others, please just leave your message.
Get this tv box here:
http://www.geekbuying.com/item/Ugoos-UT1-Rockchip-RK3188-quad-core-Cortex-A9—1-8Ghz-Google-Android-4-2-OS-Mini-TV-BOX-HDMI-HDD-Player-2G-8G-with-Double-External-Wifi-Antenna-RJ45-AV-Silver-317567.html