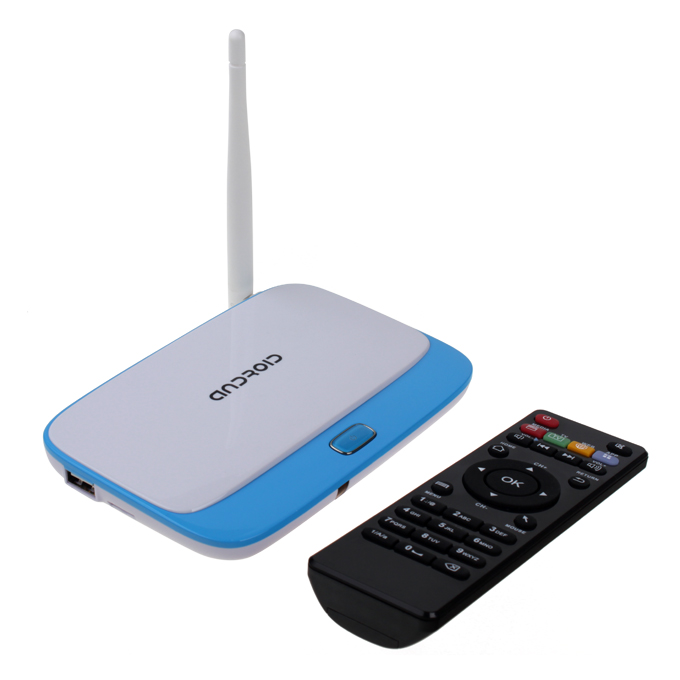 Hi, Guys:
After play so many quad core tv sticks, today we will introduce a new quad core TV BOX with Ethernet port, external wifi antenna;
Model is K-R42, Actually we have seen this model in our competitor's site before, but we don't hurry to list it for sale, because we want to test the performance, and we need to know what we are selling 🙂
So, here we go, let's check how good this first quad core tv box:
1 Specification:
Hardware Spec:

Operation System
Android 4.2.2 Jelly Bean
Language
Multi-Language support
Chipset
RK3188 28nm Cortex-A9 Quad core.
GPU
Mali400 MP4
SDRAM
DDR3 2GB
Nand Flash
8GB Nand Flash.
Storage Extension
Support MicroSD(TF) ,

Up to 32GB

Network
2.4GHZ WiFi 802.11 b/g/n, LAN 10/100M Base-T
Power Supply
DC 5V/2A

Interface:

HDMI Out
1xHDMI(A type Male) Full HD 1920x1080P
USB Port
2XUSB Host
Data Output
1xSPDIF
AV Out
1×3.5mm Headphone Jack
Network
1xRJ45 LAN Port
Power Supply
1xDC Jack(2.1mm)
Antenna
External WiFi antenna

Media Parameter:

Audio Container:
Support MP1、MP2、MP3、WMA、WAV、OGG、OGA、APE、FLAC、AAC、M4A、3GPP…etc Audio formats.Muliti -EQ mode,Support Synchronized lyrics and full-page lyric display.
Audio Out
HDMI Data Output
Video Decoder
MPEG-1, MPEG-2, MPEG-4,H.263, H.264, AVS, VC-1,
RV, VP6/VP8, Sorenson Spark, MVC 1920x1080P 60FPS
Video Encoder
H.264,VP8,MVC(1080P)
Resolution
Full HD1080P@30fps
H.264 Data Rate:
Up to

60Mbps

Image browser
Support JPG、JPEG、BMP、GIF、PNG、JFIF…etc photo format.Maximum resolution up to 8192×8192.
Text-Reading
Support TXT、LRC、PDF、Html、Htm、EPUB…etc formats(Depends on APK install)。
Software Compatibility
Windows XP,Window 7, iOS,Android
Software Extension
Support Google Play & APK install。
DLNA,Wimo Protocol
Support DLNA,Wimo Protocol
Remote Control
Support Smart phone remote control、2.4GHZ wireless air mouse/Remote controller.
IM Software
Support Skype/QQ/MSN/GTALK (Depends on APK install

)

Offic Software
WORD/EXCEL/PDF(Depends on APK install)

Others Parameters

Operationg Temperature:
-10~40℃
Storage Temperature:
-20~50℃
Humidity environment
5%-90%(No condensation)
Certification
CCC,CE,EMC,FCC,Wi-Fi
Dimension
142x95x16mm
Net Weight
130g

Accessory List

1.Standard Package: 1xGift box、1xManual、1xAdapter(DC 5V/2A),1xHDMI Cable 1x IR Remote Controller
This specification is coming from factory directly, and we can see some highlights for this K-R42 TV BOX:
1 Coming with Android 4.2.2 Jelly bean OS directly;
2 Coming with external wifi antenna (we will put some test for wifi in following reviews)
3 Coming with multi-port, such as Ethernet port,SPDIF port, headphone jack, and usb ports.
4 Coming with a extrea remote control, and easy to use! you also can power off your device with the remote!
5 Coming with physical power on/off button, you never need to worry how to power off my android tv box 🙂
Now let's begin the review:
Part 1: Appearance Review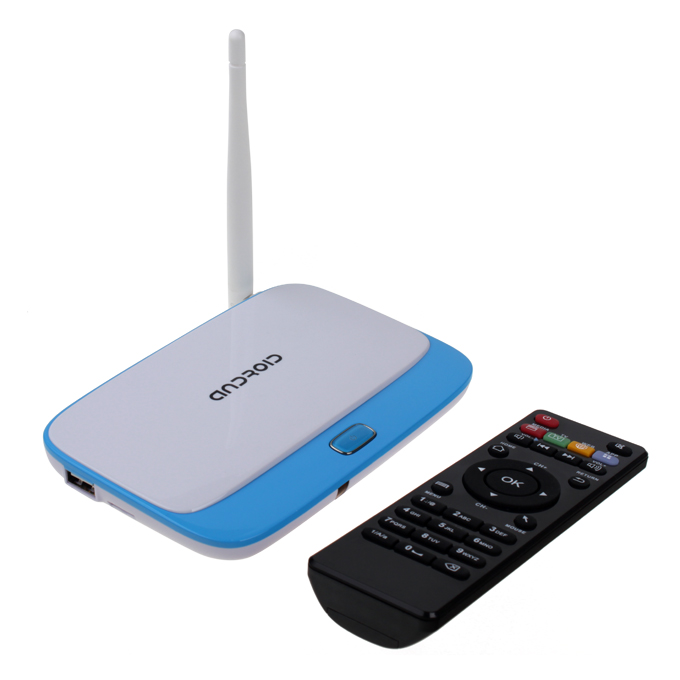 The first bulk is only light blue colour, no other colour now, please notice when you place order. The physical power on/off button is on the front of K-R42. The remote control is using 2pcs AAA battery, factory don't product battery in the package, it is safe for the shipping and custom, so when you get this K-R42, you should install the battery in remote first;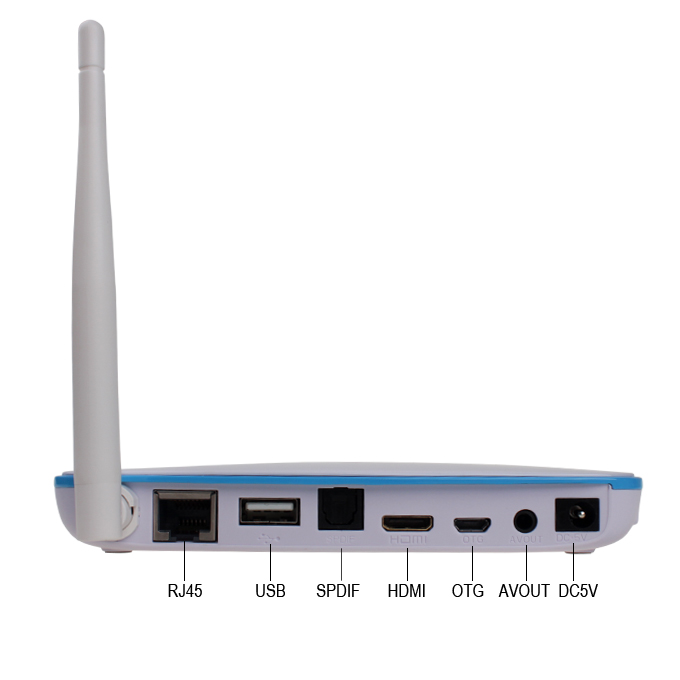 Now let's check the ports on K-R42, from left to right:
External wifi antenna;
RJ45 port for Ethernet;
USB 2.0 port for keyboard/mice or usb disk/hard driver;
SPDIF for audio output;
HDMI port
OTG port for connecting with PC;
AV port;
DC port;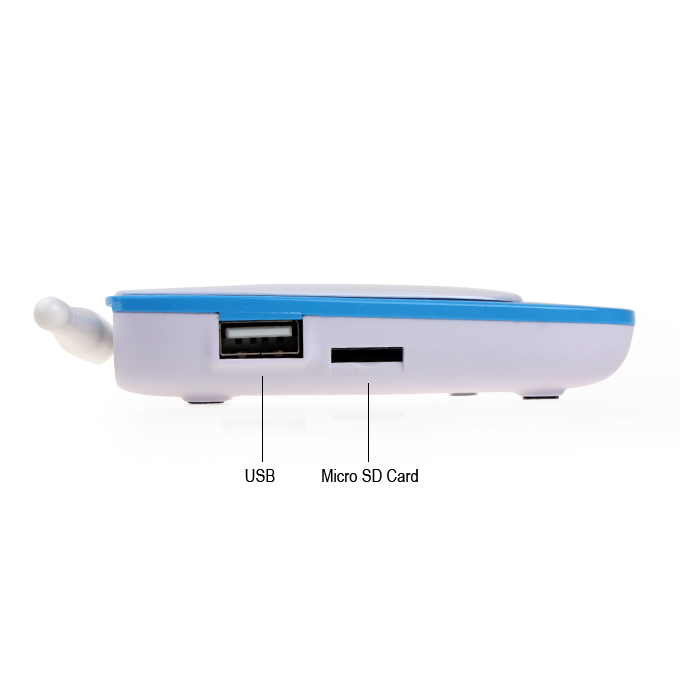 There is still one usb 2.0 port and one micro sd card slot on the side;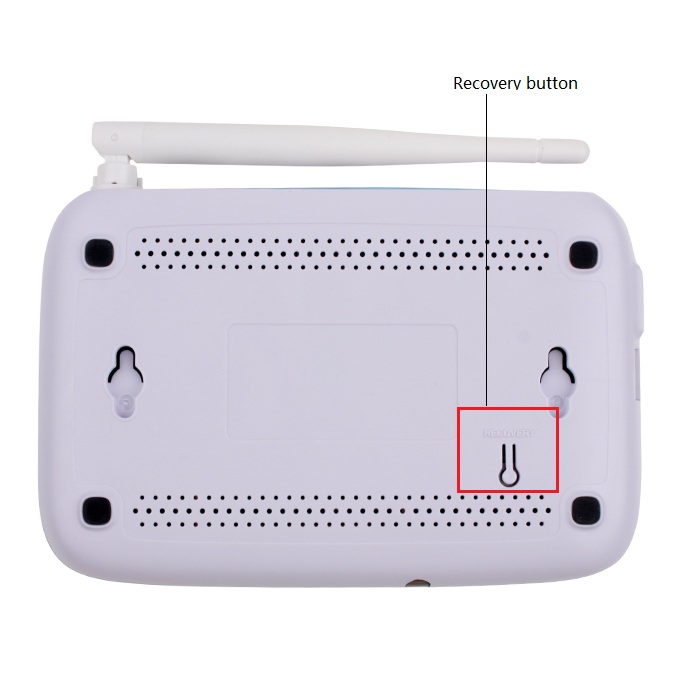 Here is the bottom of K-R42, and the recovery button is here, you can use it for firmware upgrade;
Remote Reivew: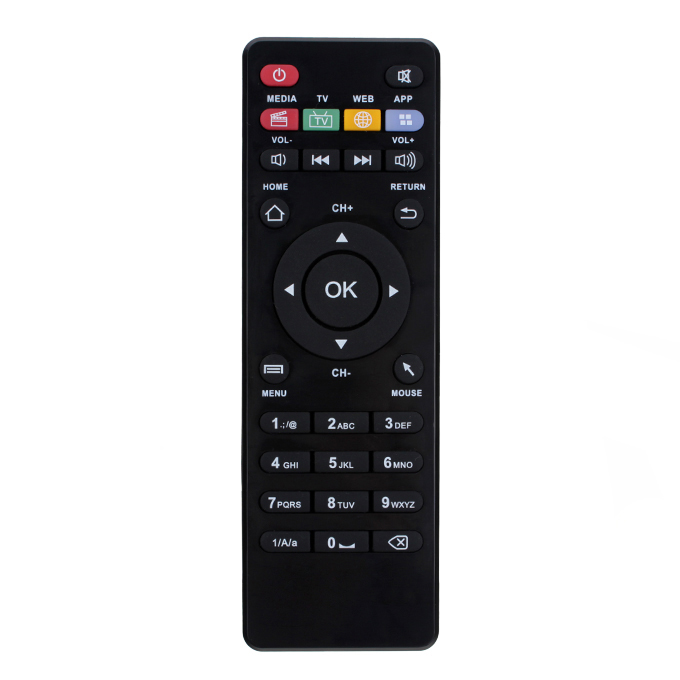 You can power on/off the K-R42 with the botton on remote. Please notice this remote don't have Gyro, so it just like a keyboard/mice, i tested with the XBMC,it's good to use.
After change to Mouse mode, you can press the direction key to control the mouse on your TV.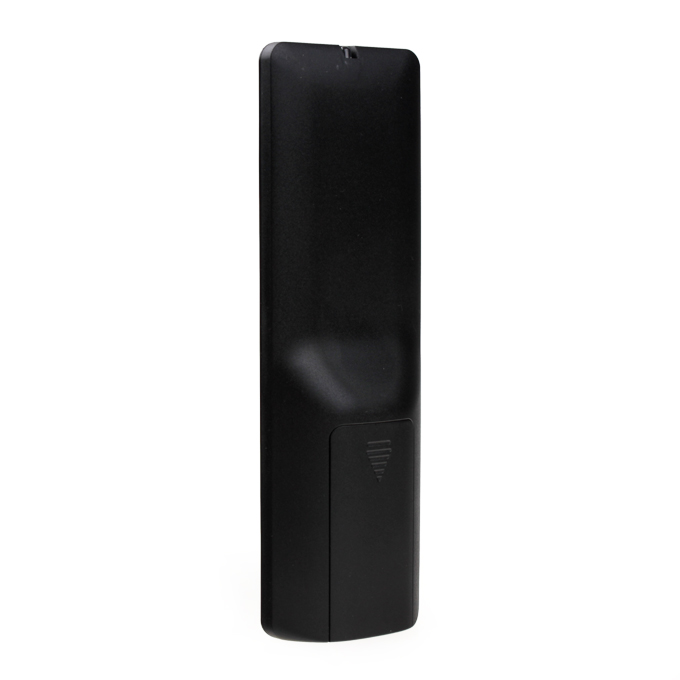 Inside of K-R42: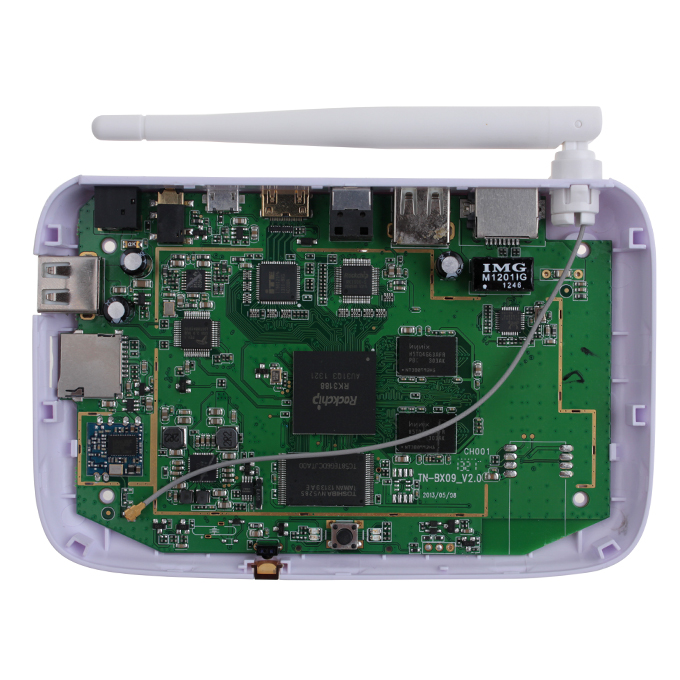 Part 2 System Review:
Classic Android 4.2 OS, and no other chinese app built-in, the cleanest rom i have seen ever:) build in google play store.
Also build in the latest Rockchip smartphone control app, install the following app in your smartphone,
http://www.mediafire.com/download/9ettekulsbk5g82/RKRemoteV2.0.2.rar
and put this tv box and your smarphont in same network, you can enjoy to control this tv box with your smartphone;
Here is the system information, you can find the kernel version and build number here;
About wifi, the external wifi antenna made K-R42 has amazing wifi signals, i will do a compare with other mini pc in later review, but from this photo, we can see, the link speed is 150MBPS, and i already confirm with factory, the K-R42 use the realtek 8188 wifi chipset;
Screen resolution,i have to say, this tv box is still coming with 720p upscale to 1080p. and the real 1080p firmware will coming later;
Benchmark Reivew:
1 Antutu Benchmark: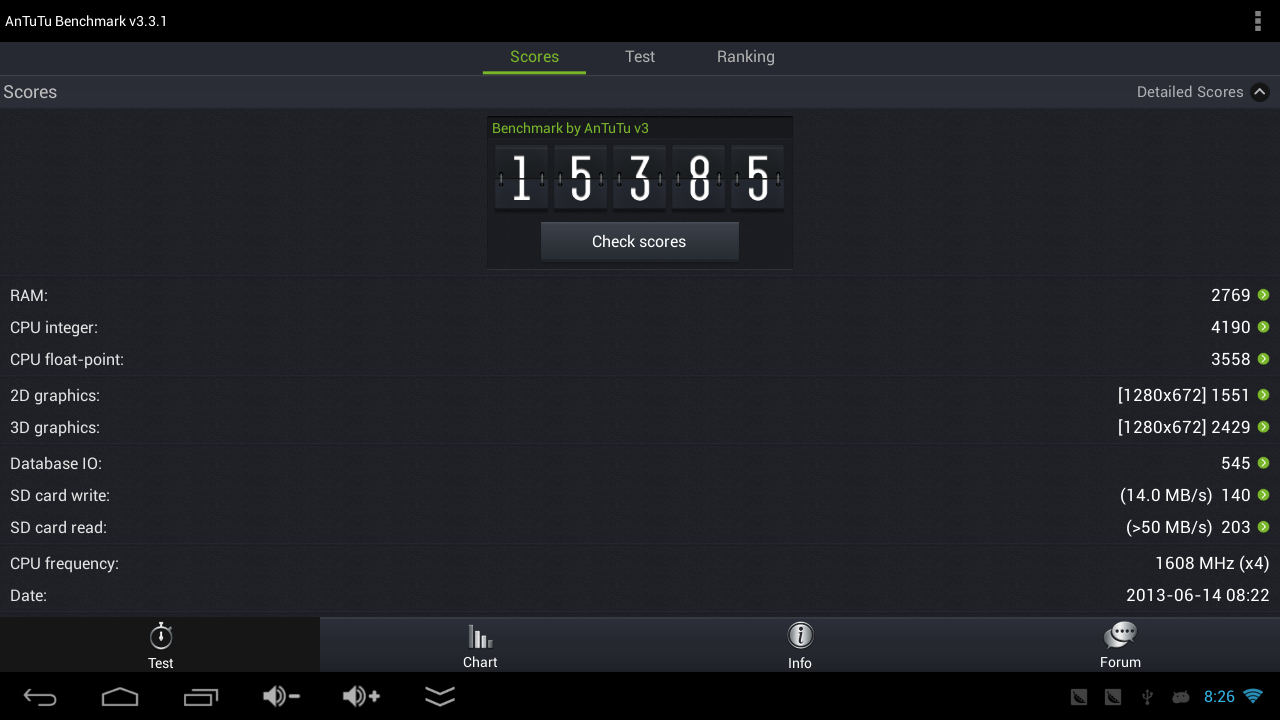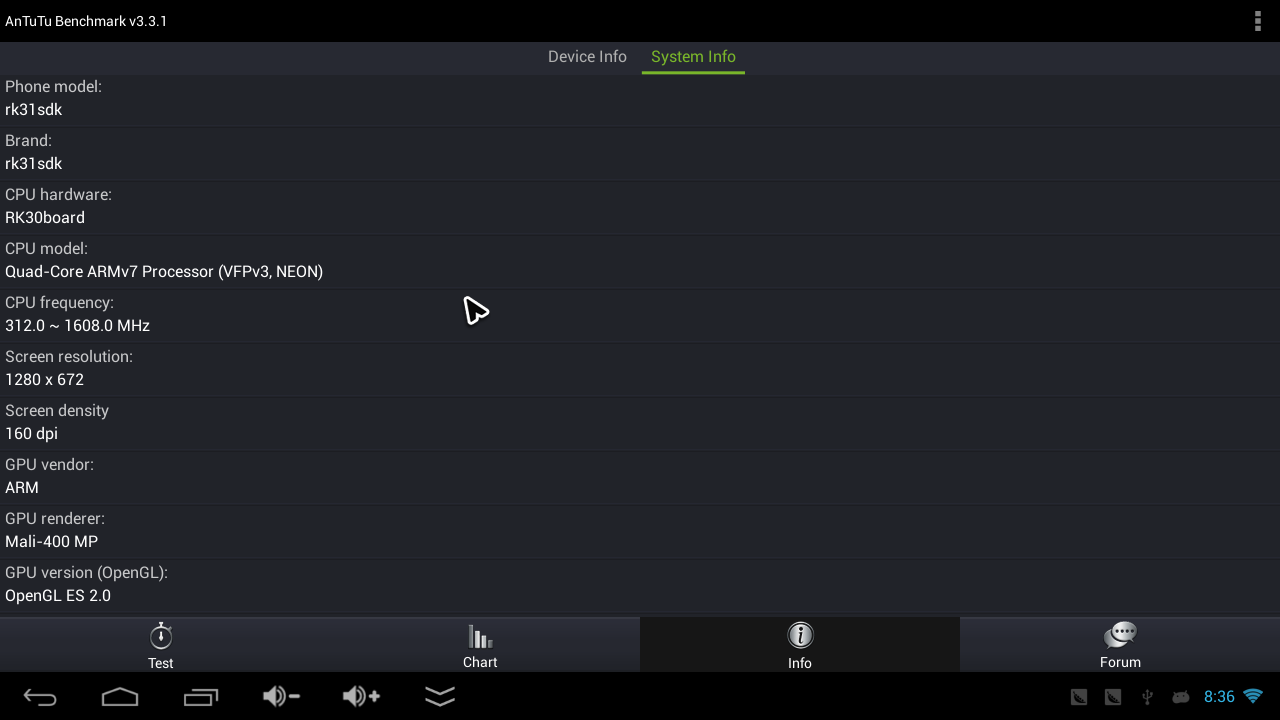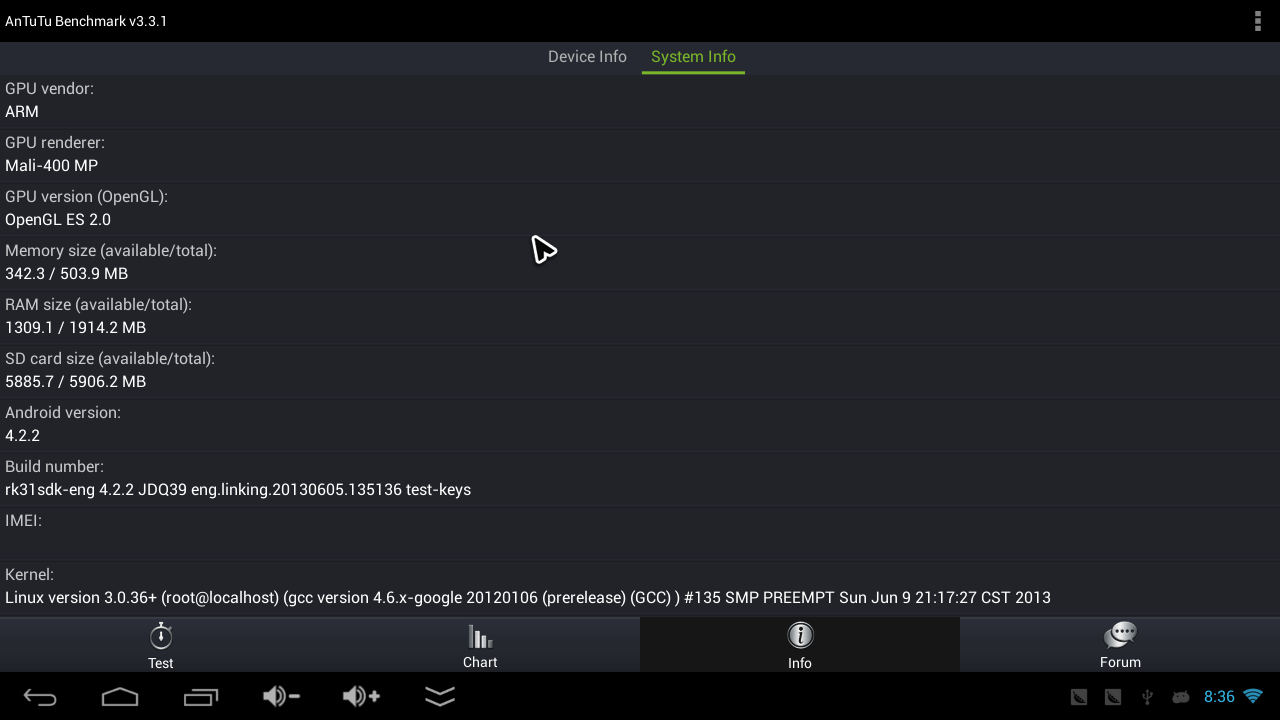 2 NenaMark Benchmark: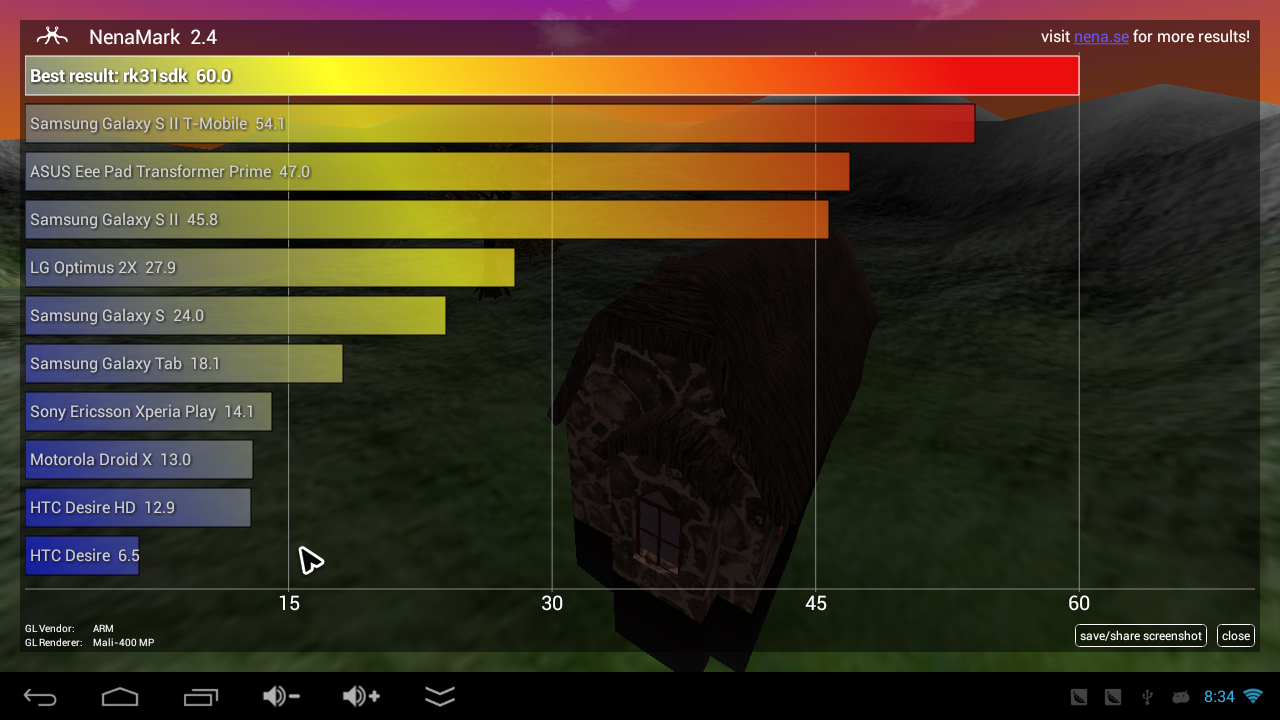 3 Vellamo Benmark: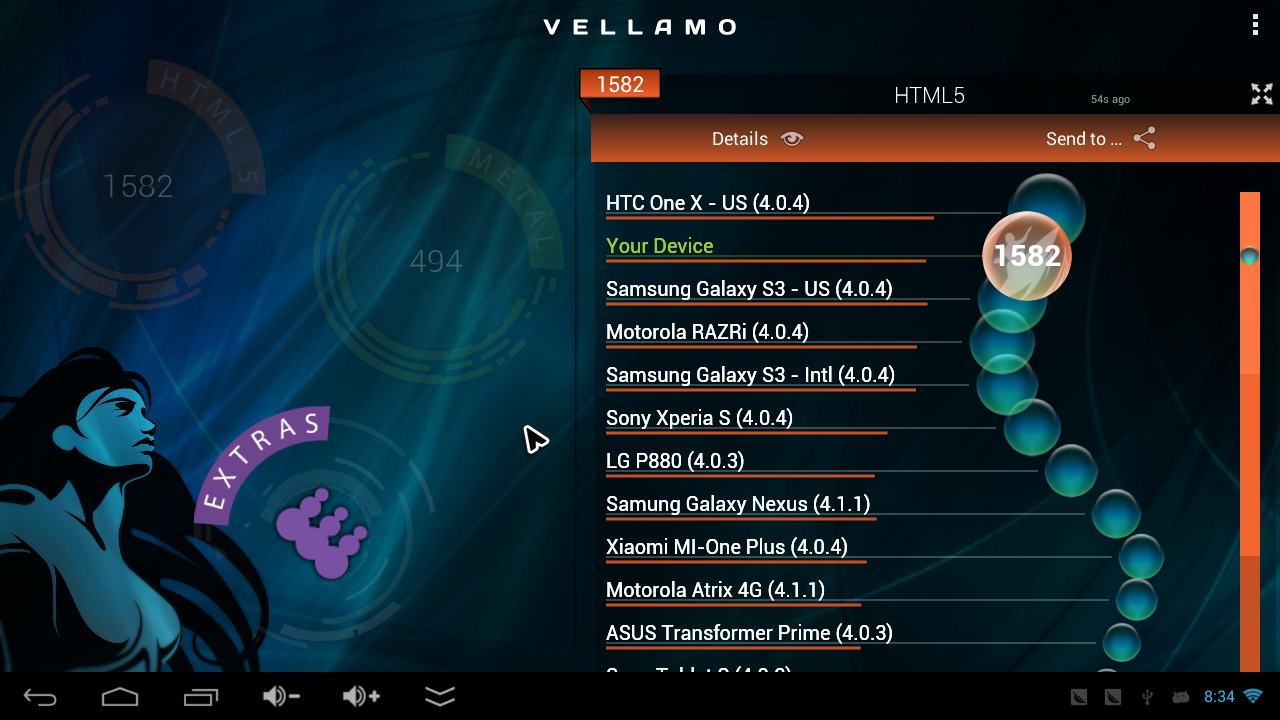 APP Review
Google Play Store: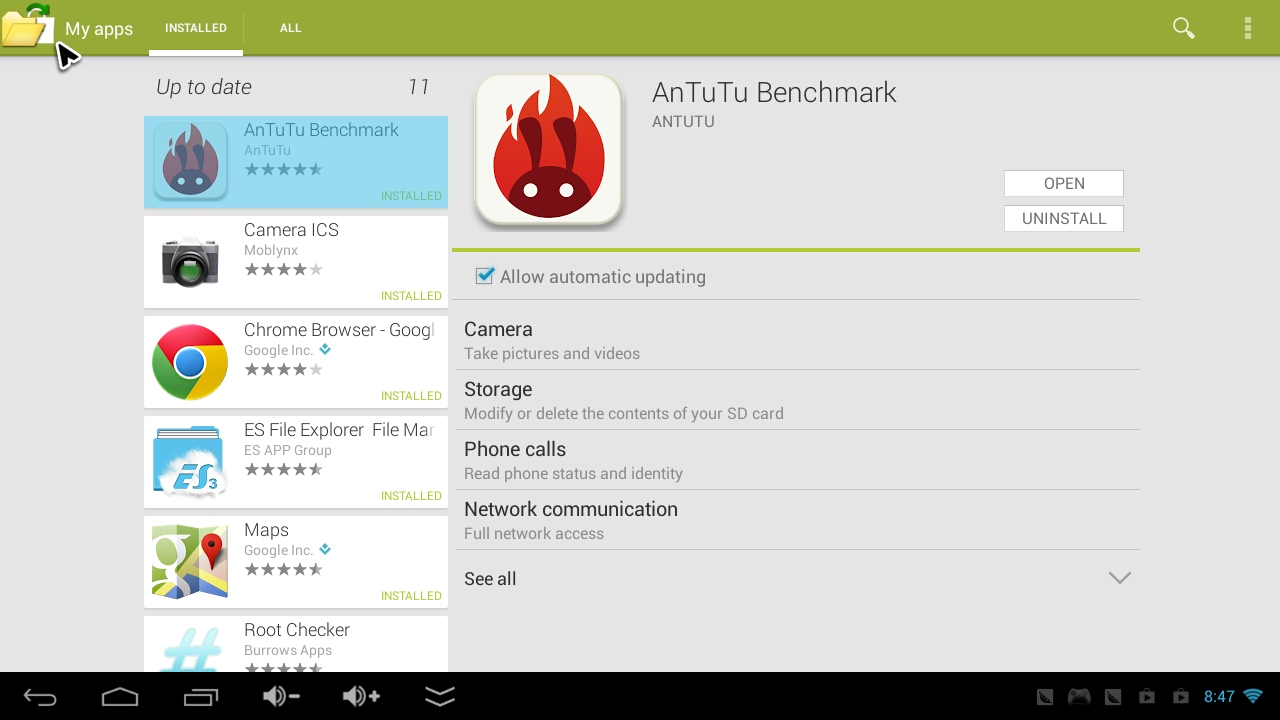 Google Play store is built-in, but not coming with the latest version, you can update by yourself easily, and If you met problem about some apps is incompatible with your device, you can see this instruction:
http://www.andromint.com/install-incompatible-android-apps-from-google-play/
or
http://forum.xda-developers.com/showthread.php?t=2143039
Youtube
running the latest Youtube app which is got from google play store, no problem in play HD videos;
Web Browser
Build-in Adobe Flash Player
Skype
Skype video chat is working on K-R42, We tested with Logitech C170 Webcam, audio and video all ok.
Netflix
Ok, i have to tell you bad news about Netflix, the K-R42 sample we tested still have scrambled problemed, i have reported this problem to factory,and wait for a new update. but as we all know, All of other android 4.2 tv sticks have those problem before, but rockchip has fixed the problem, so i think the K-R42 just need a update to fix the problem.
RKgameController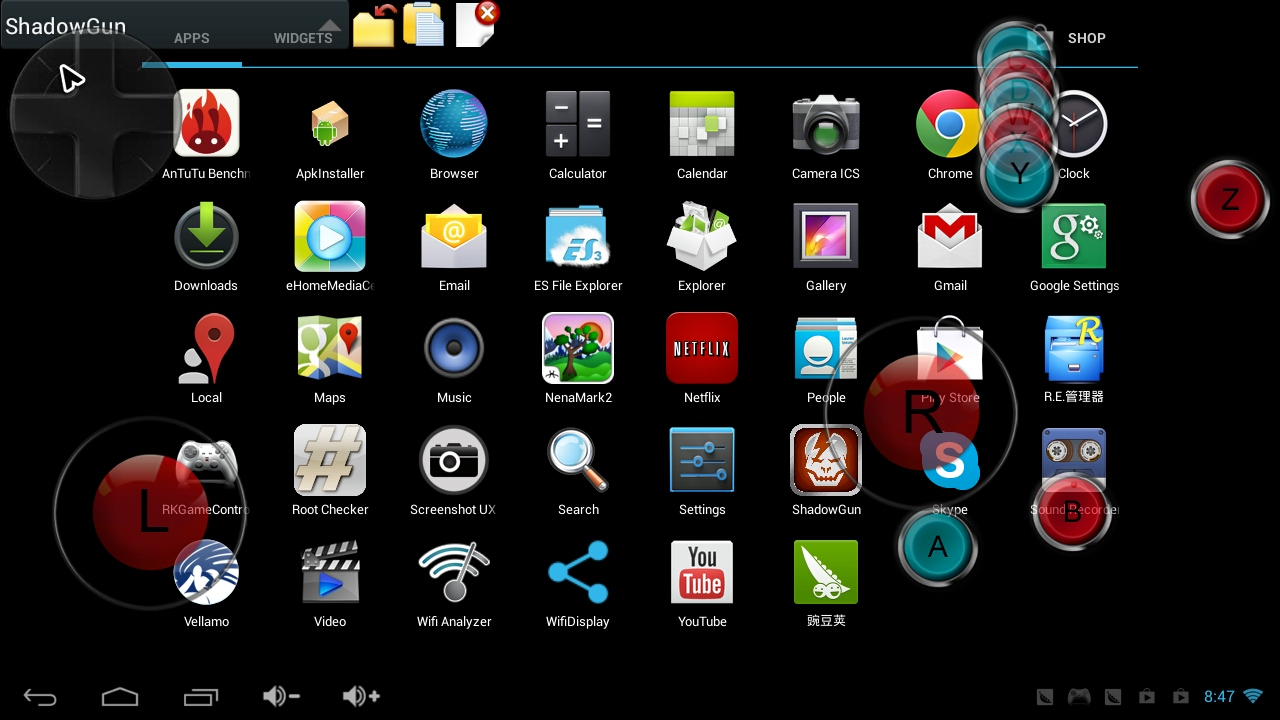 RKGameControlSetting is an Android application that will help you define the regions on the screen used in a game and the corresponding buttons to map these regions to. I have tested with an allwinner a31 tablet, it just works great, i don't feel any lags.
Please make sure your smartphone or tablet is in the same network with your TV BOX, and you should install the latest smartphone controller app in your smartphone or tablet.
For more information, see here:
https://blog.geekbuying.com/index.php/2013/05/21/some-useful-information-for-rockchip-base-android-tv-stick/
Wireless Display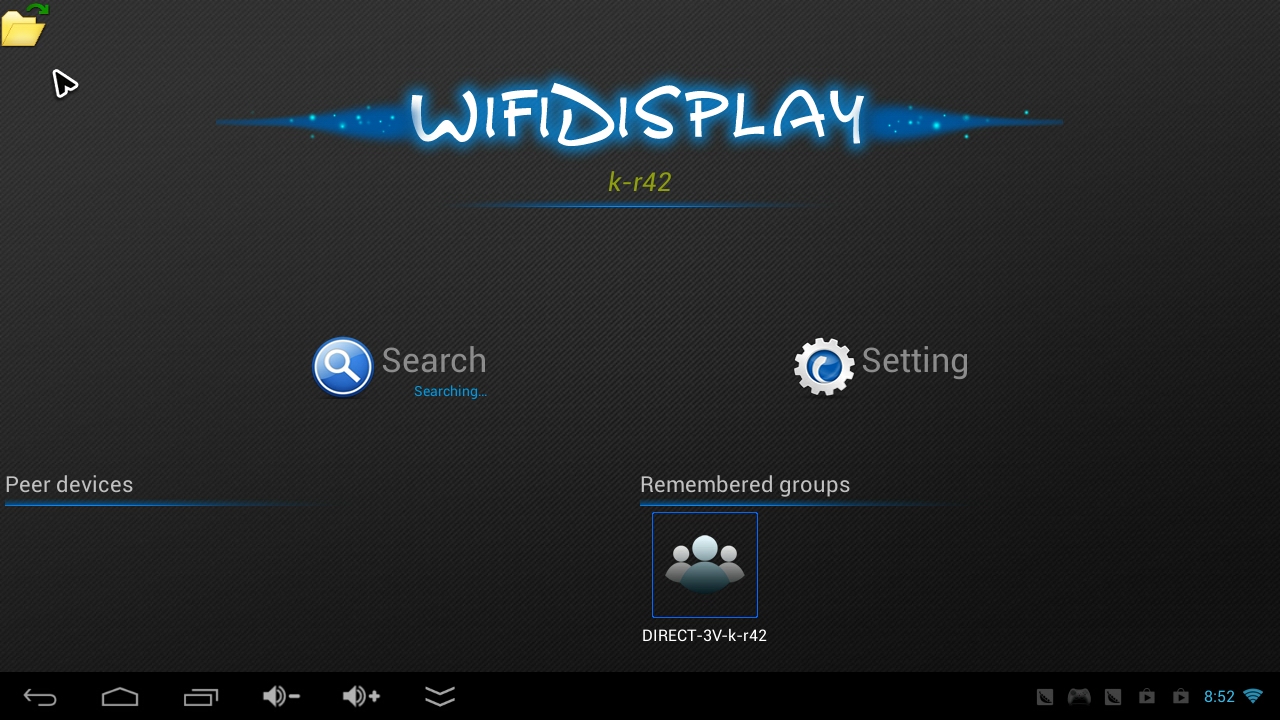 Wireless Display is the newest tech which allow you to mirror your smartphone to your TV, K-R42 is built in the wireless display app, if you want to use this function, run this app first, and then open the wireless display function in your smartphone or tablet, choose K-R42 to pair, and connect. We have tested with google nexus smartphone and xiaoMi 2 smartphone, all work. but as far as i know, the Samsung smartphone don't work with this now.
XBMC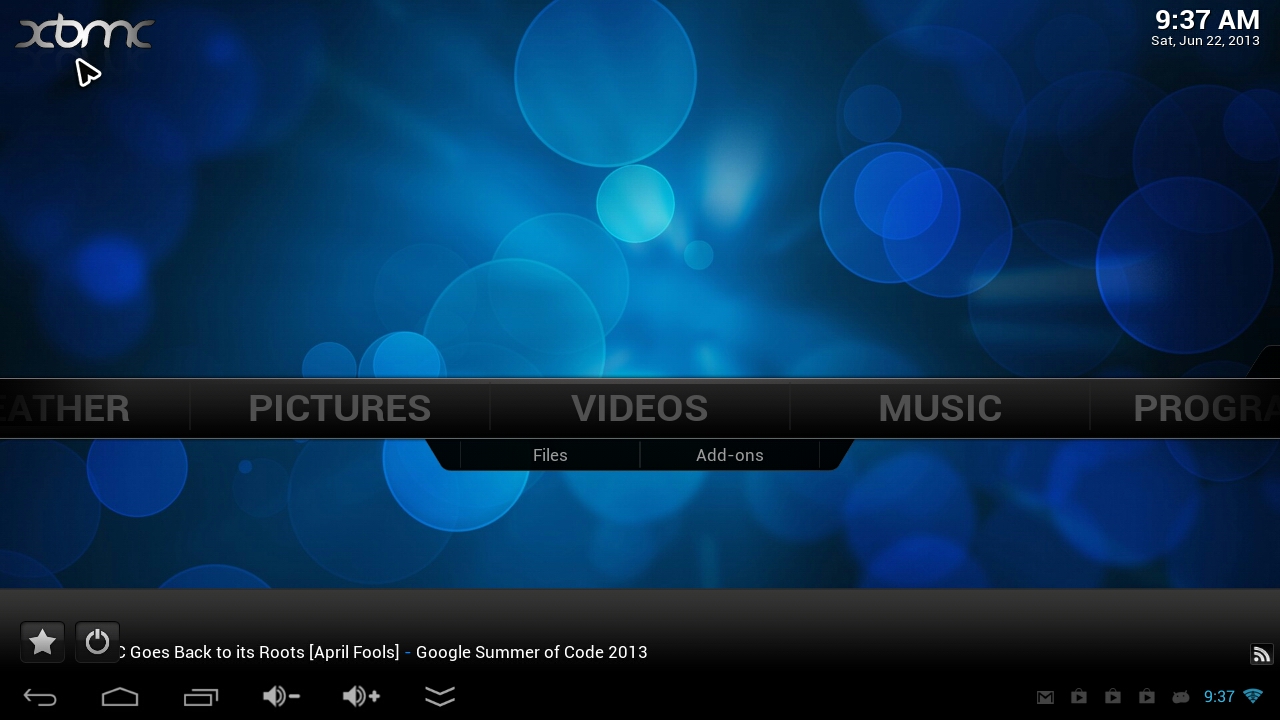 Because K-R42 is still base on rockchip rk3188 chip, so still no hardware decoding on this device, but you still can run this XBMC version in your K-R42. however, if you want to play 1080p movie smoothly, you should use the external video player, see instruction here
https://blog.geekbuying.com/index.php/2013/05/09/how-to-use-xbmc-play-1080p-file-with-external-player-in-rk3188-tv-sticksuch-as-tronsmart-mk908-and-tronsmart-t428/#.UcVxPPlWb_I
File explorer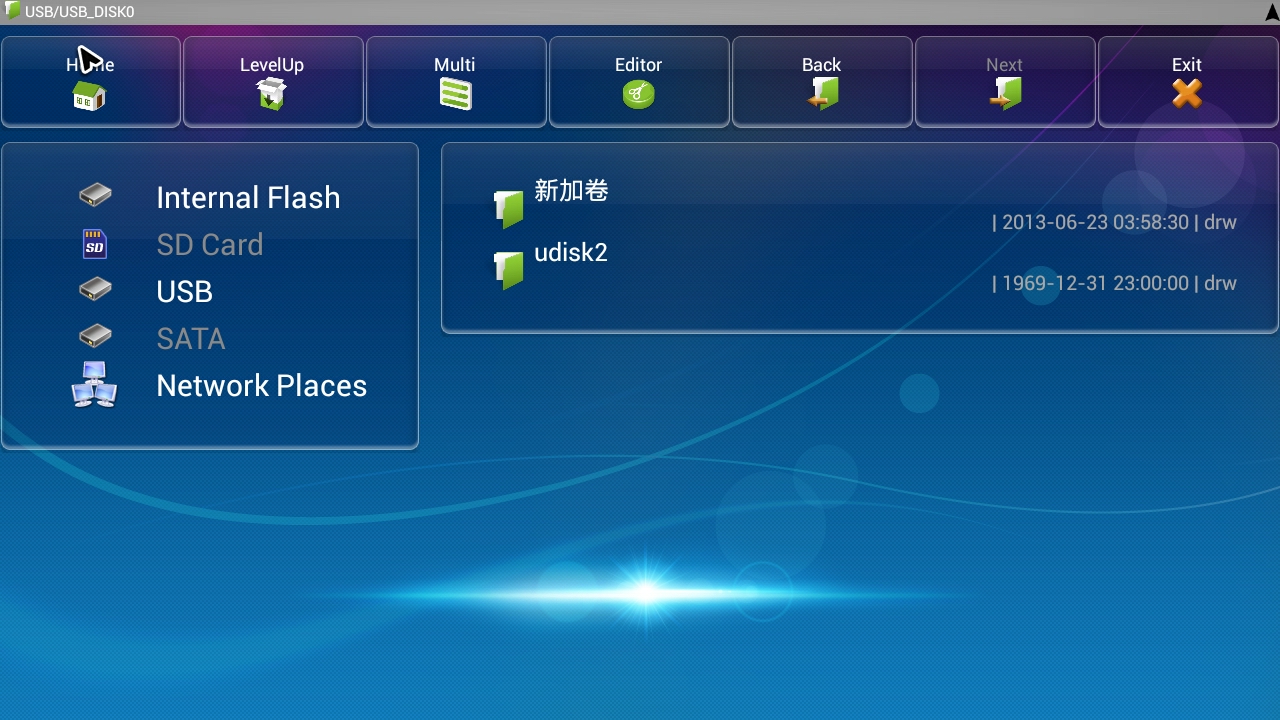 Tested with 1TB USB HARD DRIVERS, and try to play the 1080p file through the hard drivers, all working!
WIFI test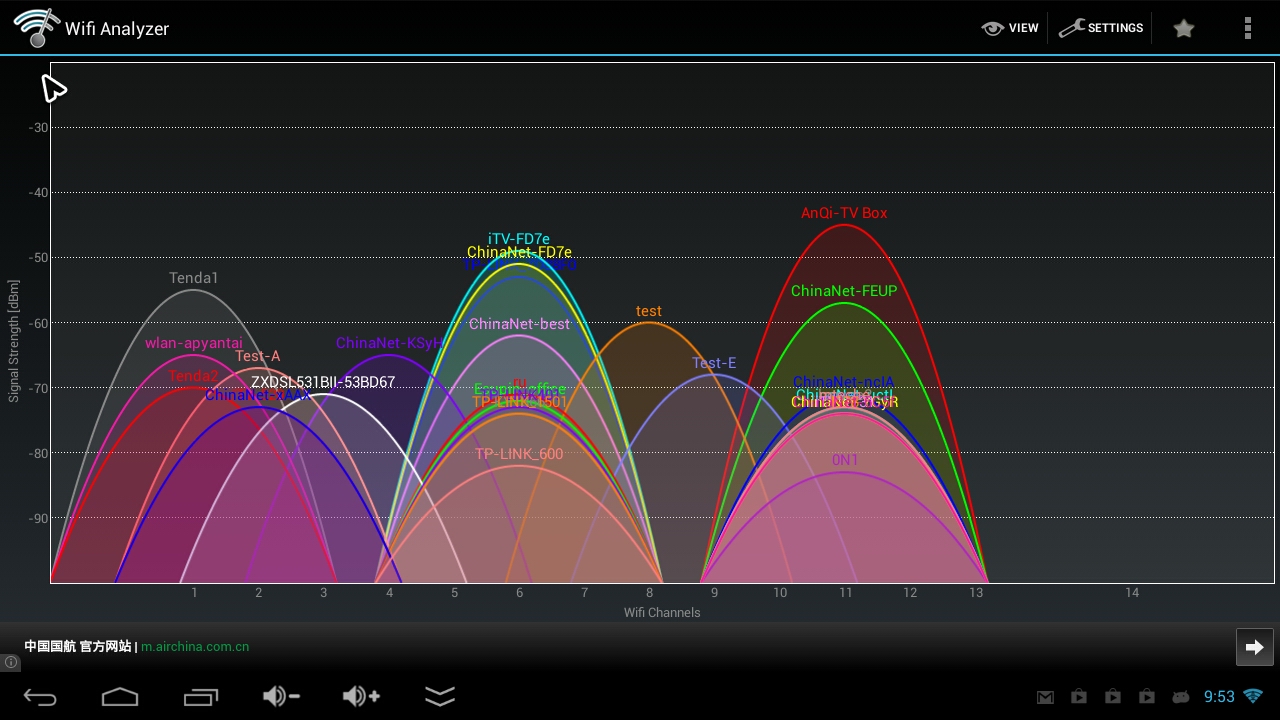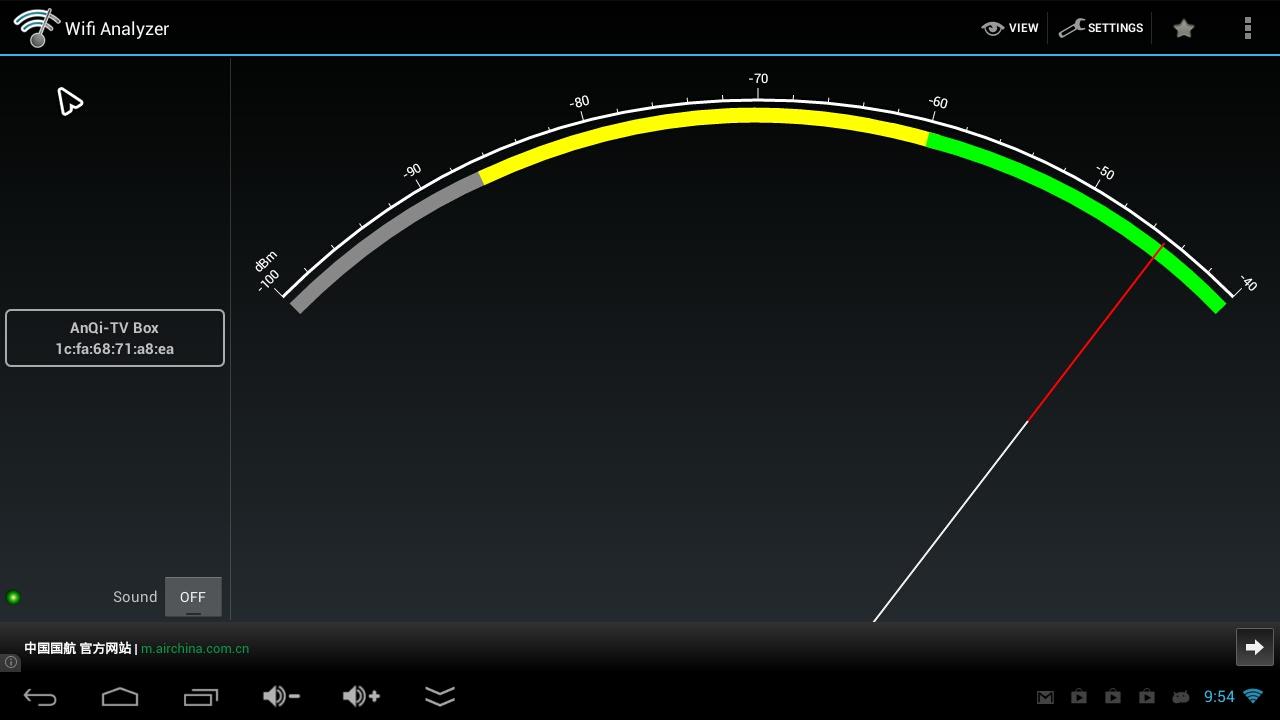 Till now, K-R42 has the best wifi signal in all of the tv box i tested, The external WIFI signal is really helped a lot.
ROOT
The K-R42 is rootable, you can follow the instruction here:
https://blog.geekbuying.com/index.php/2013/06/22/how-to-root-k-r42-quad-core-google-android-tv-box/
Firmware
Android 4.2 Stock firmware for K-R42 is here:
http://www.mediafire.com/download/4xmwxnxbcc4n2dk/RK3188_BOX_Kingnoval_K-R42-1_NEUTRAL_8188EU_20130619.rar
password: geekbuying.com
Get the K-R42 from Geekbuying.com:
http://www.geekbuying.com/item/K-R42-Quad-Core-Google-Android-4-2-2-RK3188-28nm-Cortex-A9-Mini-TV-BOX-HDMI-HDD-Player-2G-8G-External-Wifi-Antenna-Ethernet-Port-Blue-316909.html
You will get the best price, best Tech support!