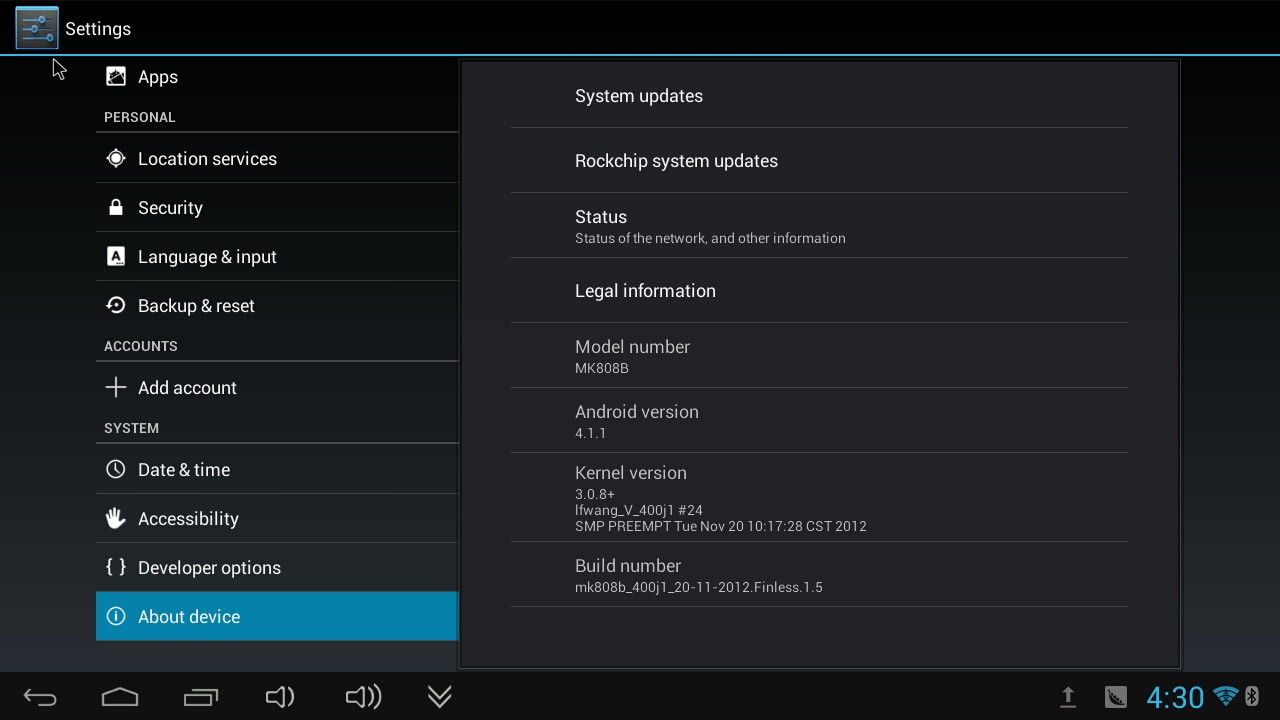 Thanks to BOB, a great rom developer! I mirror this custom rom and share with you guys:
This is for MK808B model, the one with bluetooth function,and also sold by geekbuying (please notice, there are some clone in market, geekbuying only sell original mk808b, and this custom rom also just work on original mk808b,not for clones)
changelog:
Features in 1.5 ROM:
1) Fully rooted with the latest SU and SuperUser.apk
2) Debloated of china and other junk APPs.
3) Added hide status bar button to the status bar. To return the status bar go into settings etc.
4) Special add for this ROM. Full init.d support! If you do not know what that is… ignore it.
If you do, you can now install and use boot time scripts like V6 SUper Charger!
5) All APPs are up to date as of 12/28/2012! So you will not get any Google Play APPs needing updated.
6) Cleaned up the file system so it is not fragmented! Basicly I used linux tune2fs when making the images.
7) I added a reboot APP that will allow you to reboot the device from the Android UI. No more unplugging the unit!
It will also allow you to reboot to ROM flash mode and later when I add ClockWOrk Mod, it will reboot to recovery.
8) ADDED BONUS User APP space by default is only .5GB. I have increased that to 2Gig.
9) The Xbox XPAD.KO module is now injected on boot. This was by request! Enjoy!
10) CIFS, TUN and MD4 KO modules were also added by request.
In the ROM kit there is a read me! This has full instructions for how to upgrade. So PLEASE read the read me!
Here is my Finless 1.5 MK808B ROM:
ROM -> MK808-B Finless 1.5 ROM with init.d (218 megs)
Update 1st Feb, in order to get a better download speed, we mirror it to dropbox, new download link:
https://www.dropbox.com/s/svrgi67cbz0xrhh/mk808b_finless15.zip?m

We have successfully upgrade the firmware, here are some screenshot: