At present ,digital products develop very fast .Smartphone ,tablet PC and so on products .Today,I'll bring you to see a new product mini PC,NEO G4 just as big as a USB disk .
First we take a look at the performance parameters .NEO G4 uses Rockship RK3066 dual core CPU,which is based on Cortex A9,frequencfy up to 1.6GHz,Android 4.0.4 operating system(4.1.1 Jelly Bean upgradable at the end of Nov) ;has 1GB of RAM and 8GB of ROM ;supports WiFi and USB 3G dongle;supports videos of 1080P :has Micro SD card reader(SD 3.0,up to 32GB),a USB 2.0port,a Micro USB OTG port ,IR receiver (built-in ,remote included ).Other more information about NEO G4 will be introduced combined with pictures .
We look at the photos of NEO G4.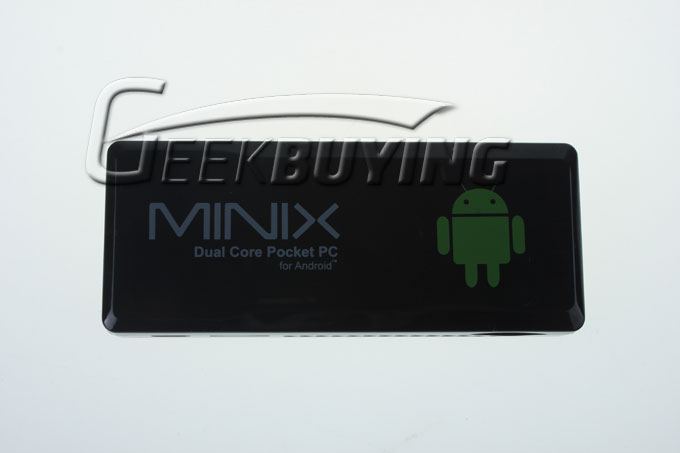 Front of NEO G4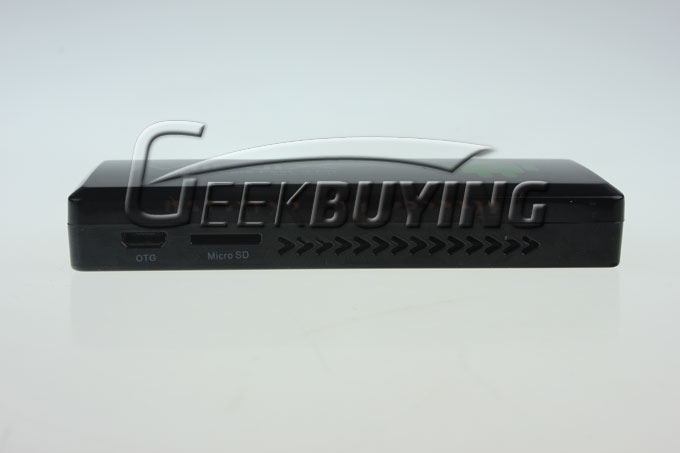 One side of NEO G4.We can see OTG interface and Micro SD interface.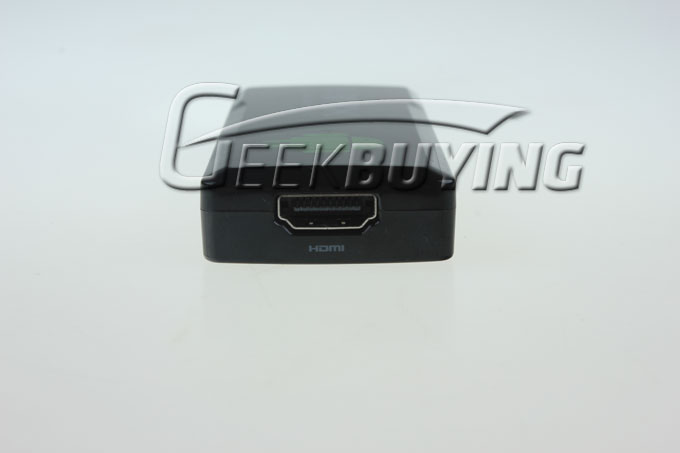 One end of NEO G4,this is HDMI interface.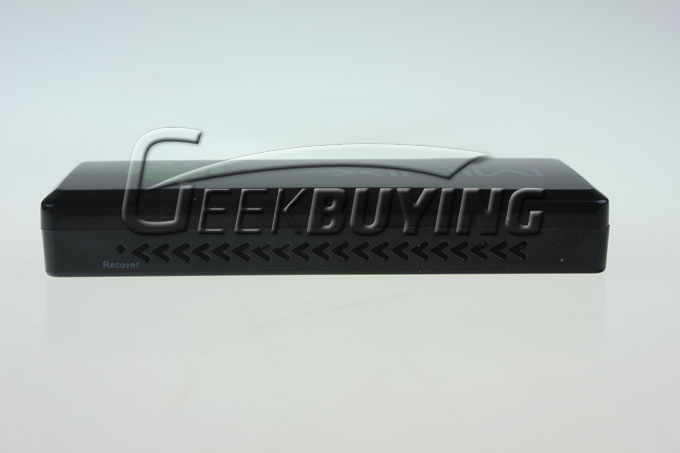 The other side of NEO G4.We can clearly see "recover "indicator. which will be used when you upgrade the firmware, so it make the firmware update easily;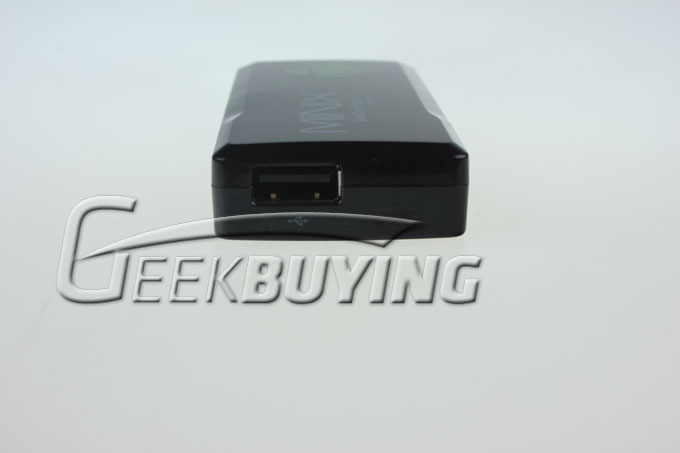 The other end of NEO G4.This is USB interface .
Next we'll see its special box .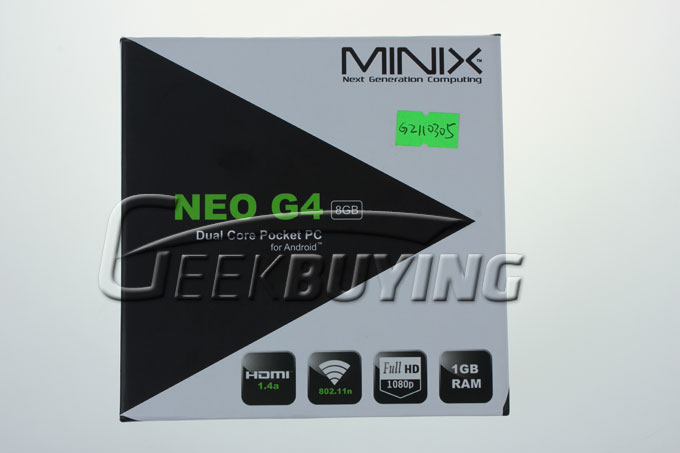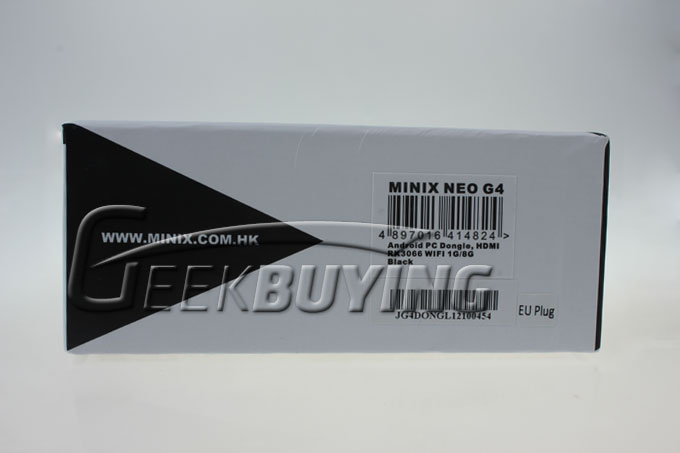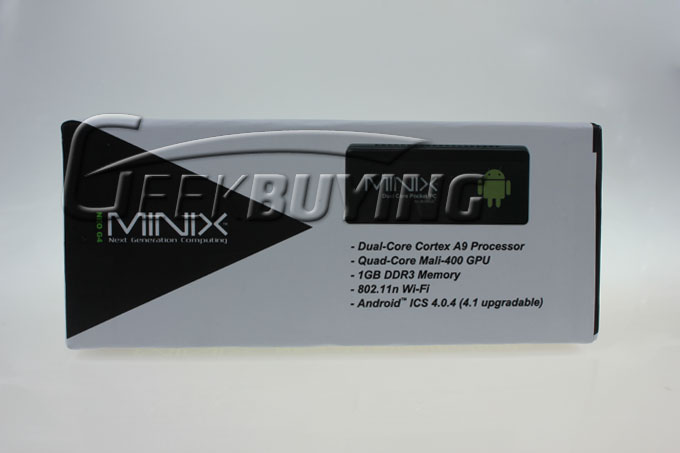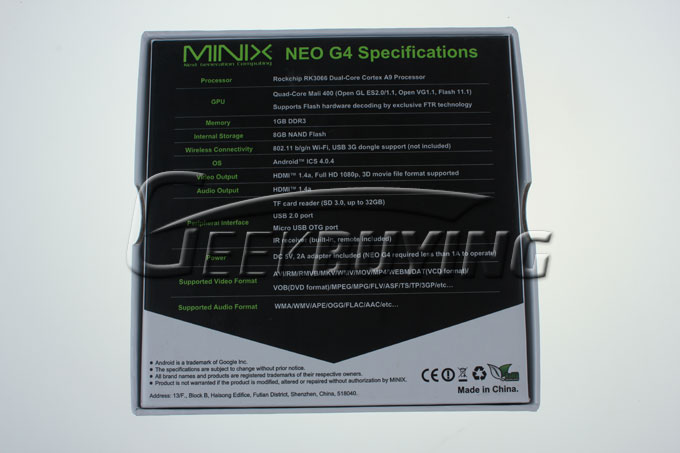 Four photos above show us its performance parameters .Generally ,boxes of other mini PCs have no so detailed information .
After opening the box .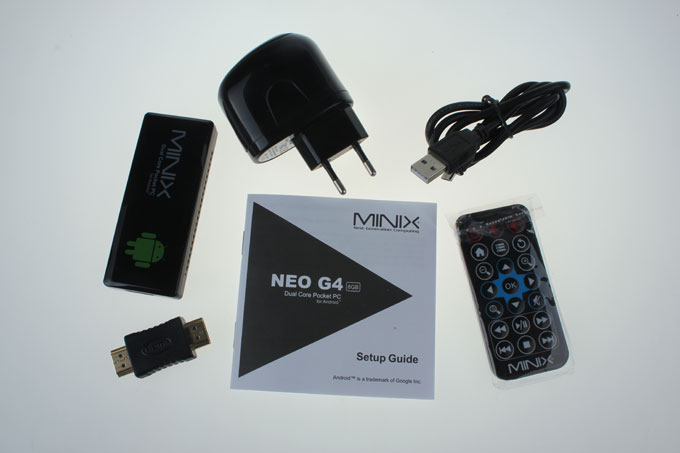 Fittings of NEO G4.A NEO G4 mini PC,a HDMI male –to- male adapter ,a manual ,a power adapter ,a Micro-USB cable and a remote control.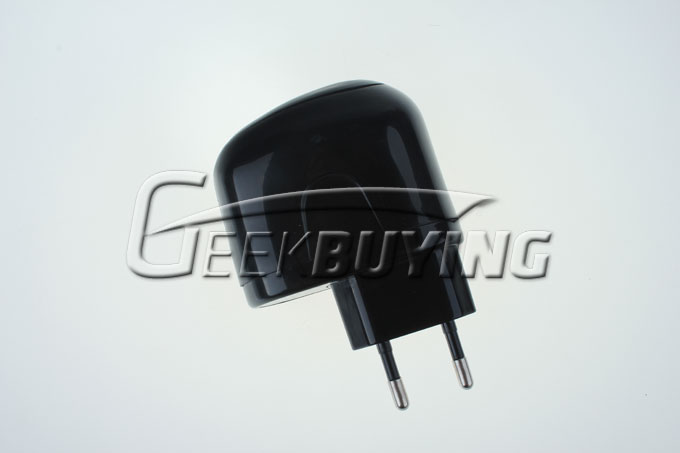 Power adapter ( The sample device is coming with EU charger, the factory can offer US charger, EU charger, and UK charger. they use the best quality 5V/2A charger in market.)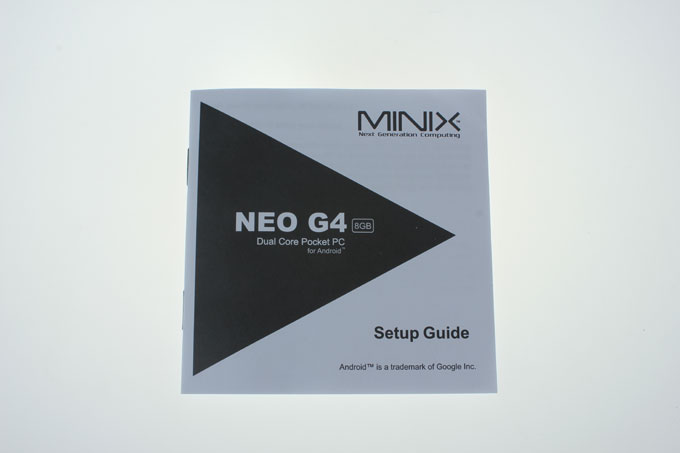 Manual in English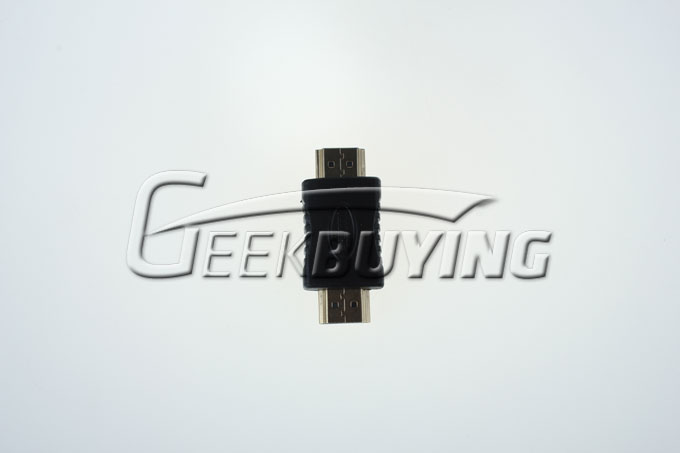 HDMI Male-to-male mini adapter .If you have a display screen with HDMI interface ,you can make it as a computer .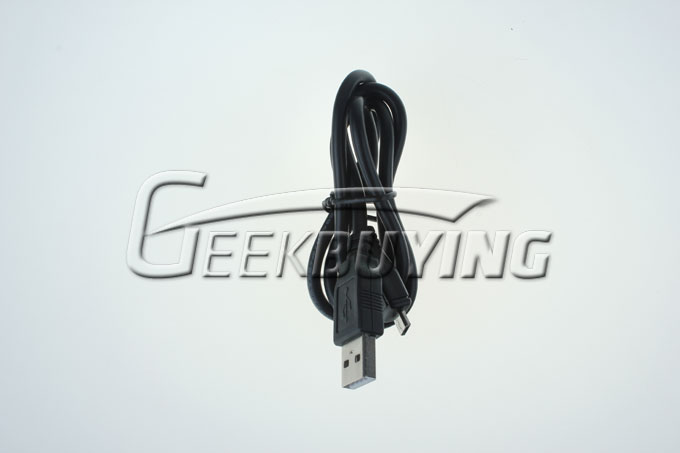 Micro-USB cable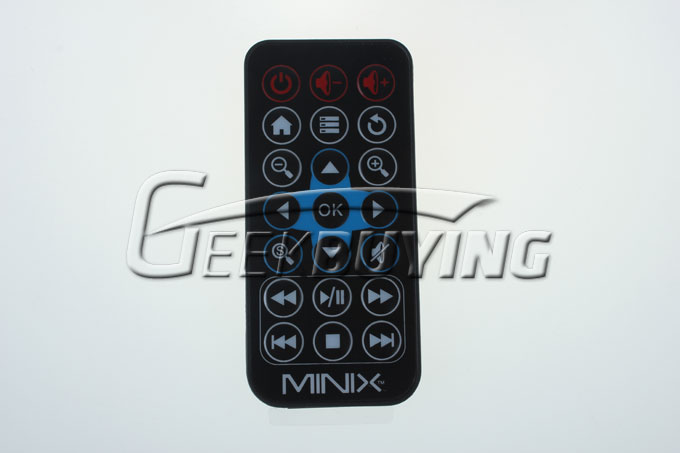 IR Remote control.
Here are the pictures of the interface of NEO G4.It also offer two launcher for us, you can choose the launcher by yourself when you first boot up.
This is the regular Android 4.0 launcher: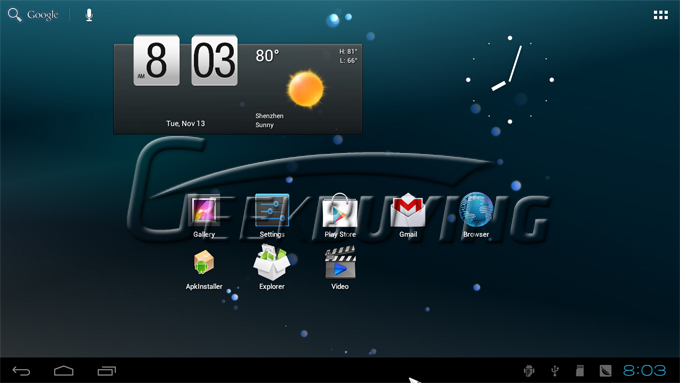 This is MiniX Special launcher: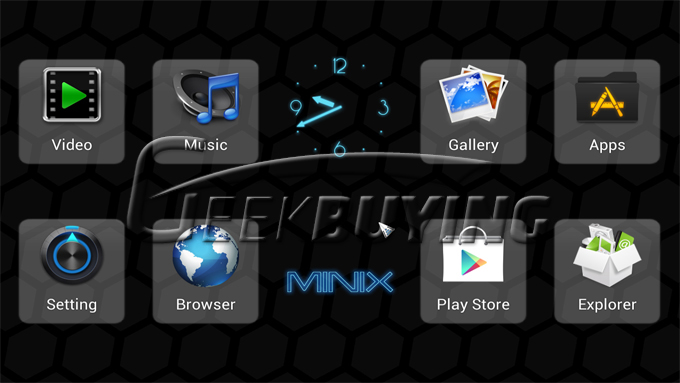 Preinstalled some apps,like Google Play Store,Twitter,Youtube;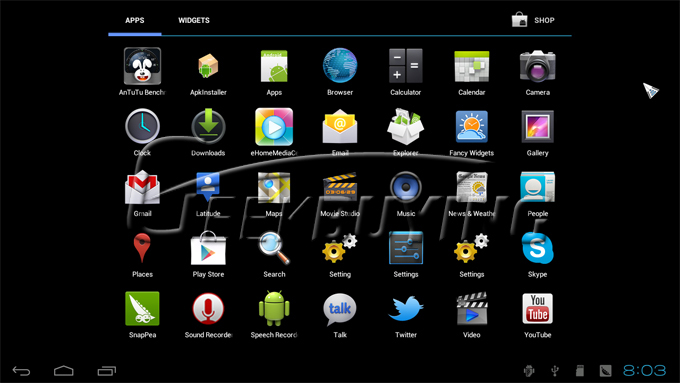 Setting Menu: NEO G4 support 802.11/b/g/n and can reach at 150Mbs and no drops. Not like other Mini PC which can just reach 65Mbs.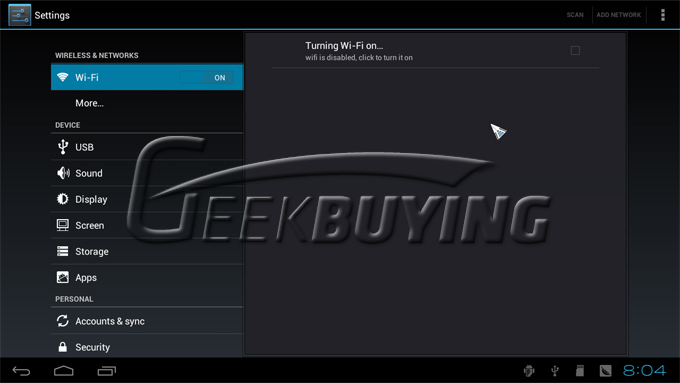 Support External USB 3G Dongle: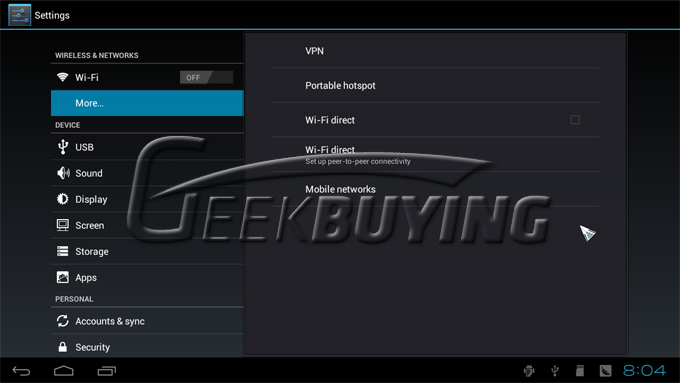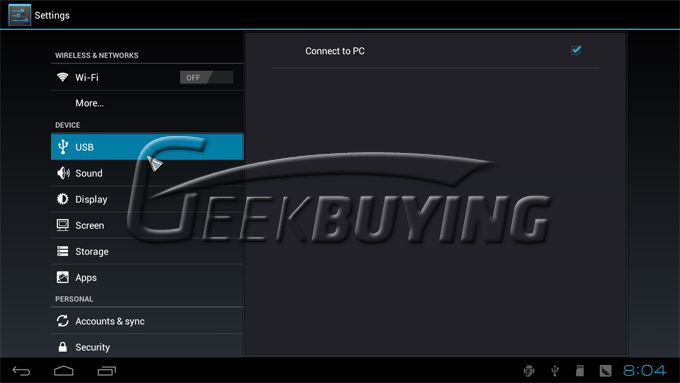 HDMI output: the factory said, at the end of Nov, they will release the Android 4.1 JB firmware, we will be the first one to get that, and in that ROM, they will put the REAL 1080P HD output!
Here is the menu for multi-language: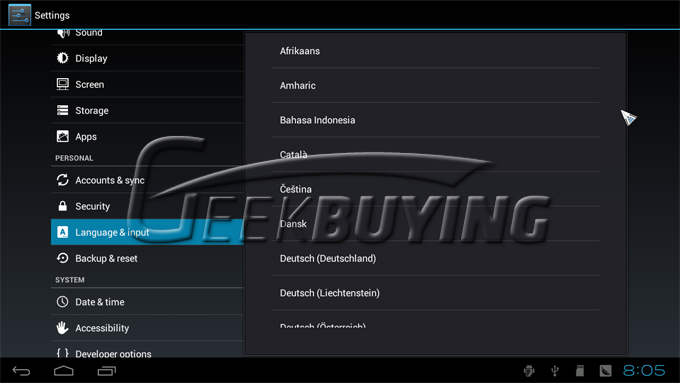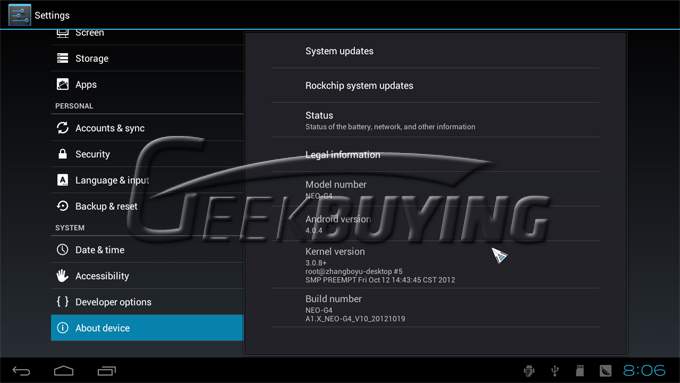 System information of NEO G4. Now all of the NEO G4 is coming with Android 4.0 ICS, but at the end of Nov, the Android 4.1 JB Firmware will release on our blog.
Next are application software and webpage browsing pictures .
Support XBMC, it can ply 720P HD streaming video smoothly:
Google Play store is pre-installed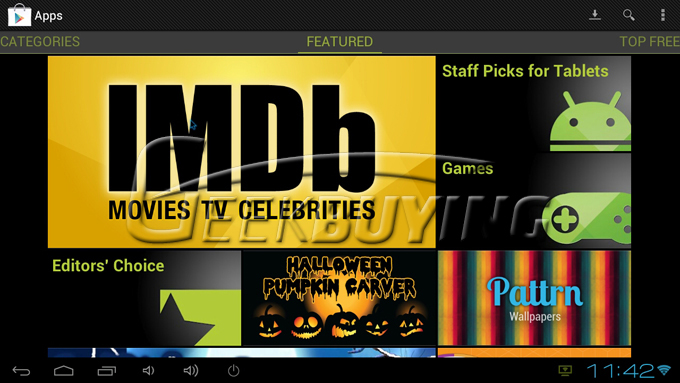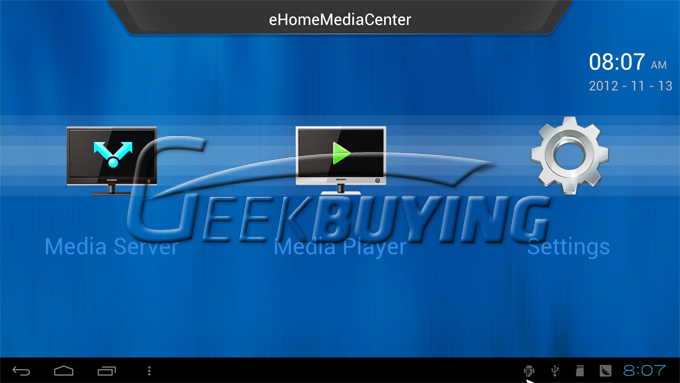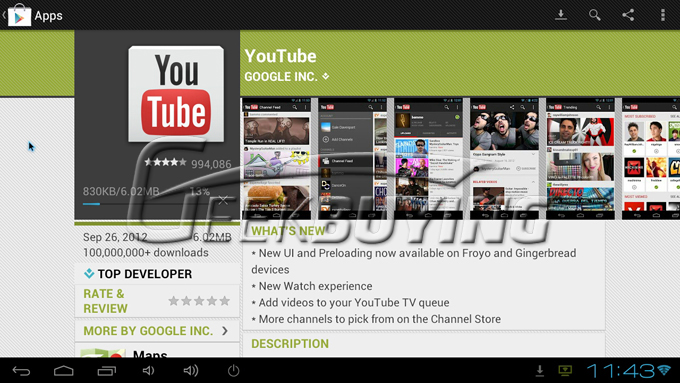 Some application softwares are necessary for internet users such as YouTube and facebook clients .XBMC is a Powerful software .Almost all files can be opened and played by XBMC . It's pratical and useful .Other softwares for example chat software are also supported .
AnTuTu test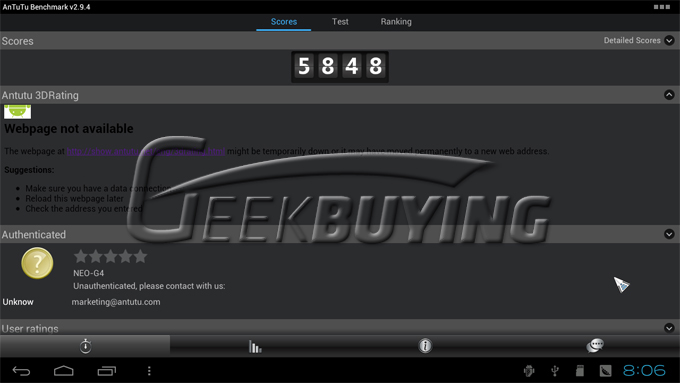 Now, the Antutu score is not very high, but factory said they will improve the performance in the new JB update.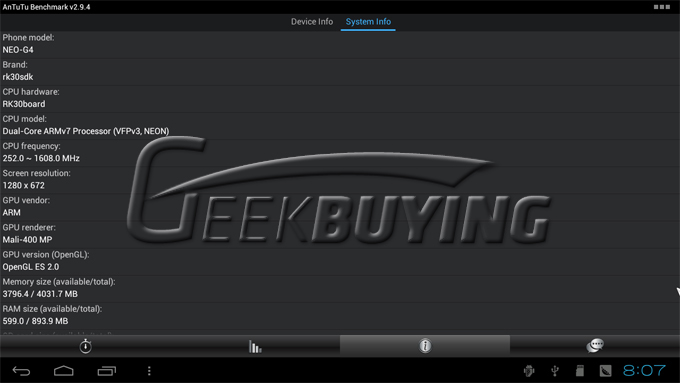 So Here is the shopping link for NEO G4:
http://www.geekbuying.com/item/NEO-G4-Android-4-0-Dual-Core-RK3066-DDR3-1GB-RAM—8GB-ROM-Google-TV-Box-Mini-PC-w–Wi-Fi—TF-Card-Slot-312378.html