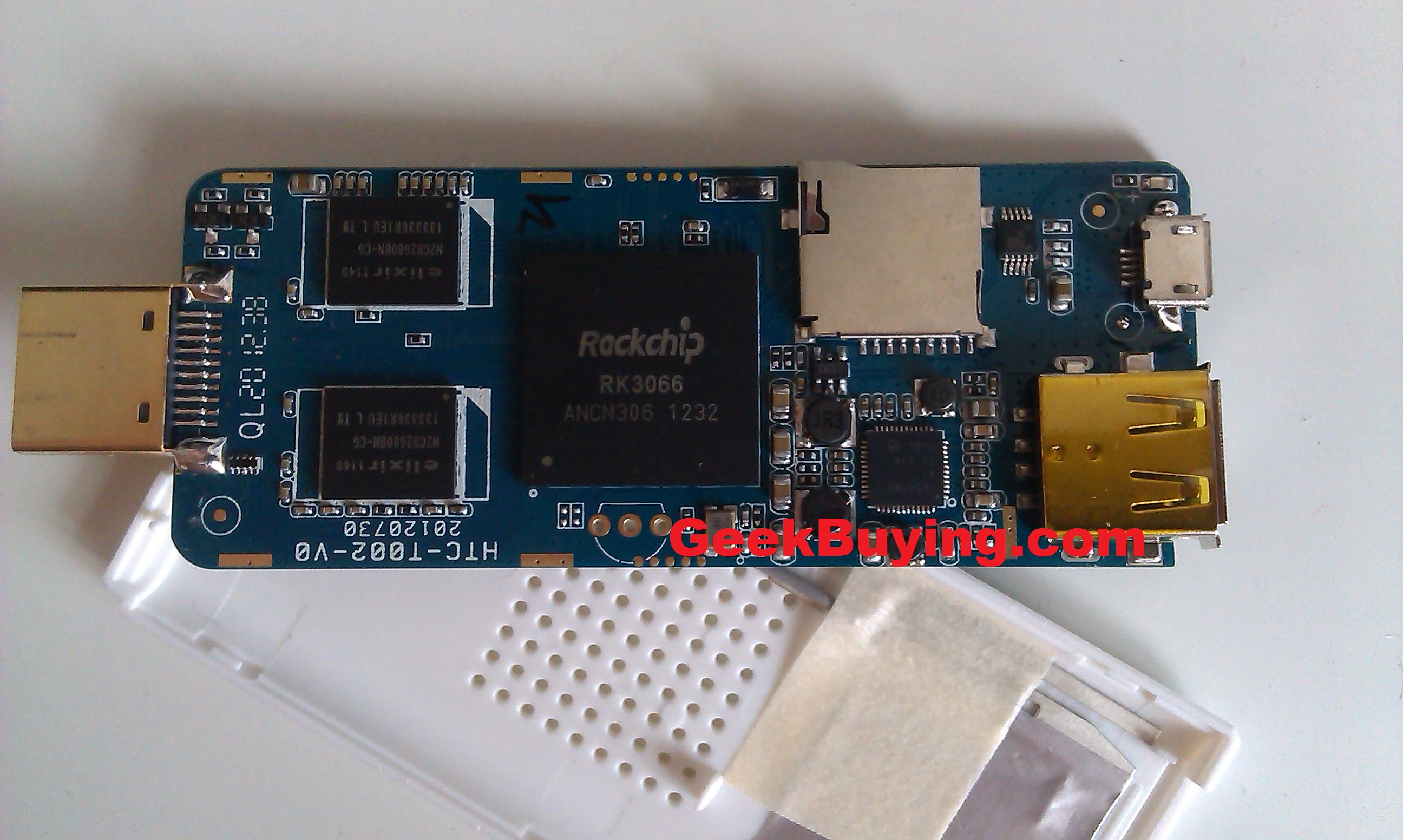 Rikomagic company just release their new model : MK802 III, we Geekbuying.com have got the sample and do the first review.
We got total 4pcs sample, they are :
So which one do you like? 🙂
Rikomagic MK802 III Video Review
Part 1 Appearance Review
It do like the MK802 II, use the male HDMI Port, and easy for use, the whole body is still using the plastic,and add some holes for heat radiation. The heat radiation is better than MK802 and MK802 ii.
For the port, it only come with one micro USB port and one USB 2.0 port, and one micro sd card slot, the micro usb port is for charger this MK802 III, and you can insert your wireless remote control receiver in the USB Port;
About the micro sd card slot, we have tried the 16GB Micro SD card,it worked, haven't got a chance to try 32GB, will try that later, also will try to connect with the external HDD driver to check.

Package photo:
This time, Rikomagic use the green box for this MK802 III, and it is same size as MK802 II Package, if you own the MK802 II, then you should know the size.
Accessories:
For the accessories, it only has two accessories, one usb cable, one hdmi cable, no charger, no manual, no OTG cable.
Part 2: System Review
Rikomagic MK802 III use the official Android 4.1.1 JB OS, with Google Play store pre-installed.
When you turn on this MK802 III, you will see the Rikomagic logo and site URL on the boot menu.
Menu 1:
Do you notice the bottom bar, Rikomagic MK802 III really did a good job, they add the sound control and the downward arrow is used for hid the bottom bar, so you don't need to worry that the screen can't get in full mode now! Great New Function!
Menu 2:
Antutu test result:
For this score, maybe you think it is not very high, in my opinion, this antutu test score just can use for reference, and we test a lot of device, we find, the device in ICS firmware get higher score than in JB firmware. when we place this device, we don't feel the lags.
Antutu specification: CPU frequency is up to 1.6Ghz.,and screen resolution is 1280*669,should be 1080P support.
Here is another setting menu which is important for the buyer:
HDMI output can be changed by yourself, it support 1080p ,720p, 576p, and 480p.
The Rikomagic MK802 III has the google chrome preinstalled, and here is a photo for using the chrome to browse our site.
BIG BOMB
XBMC, maybe most of you guys will ask if XBMC work on it, our answer is YES!!
We test it,and working great,here is the screenshot

Part 3: Disassembled photo: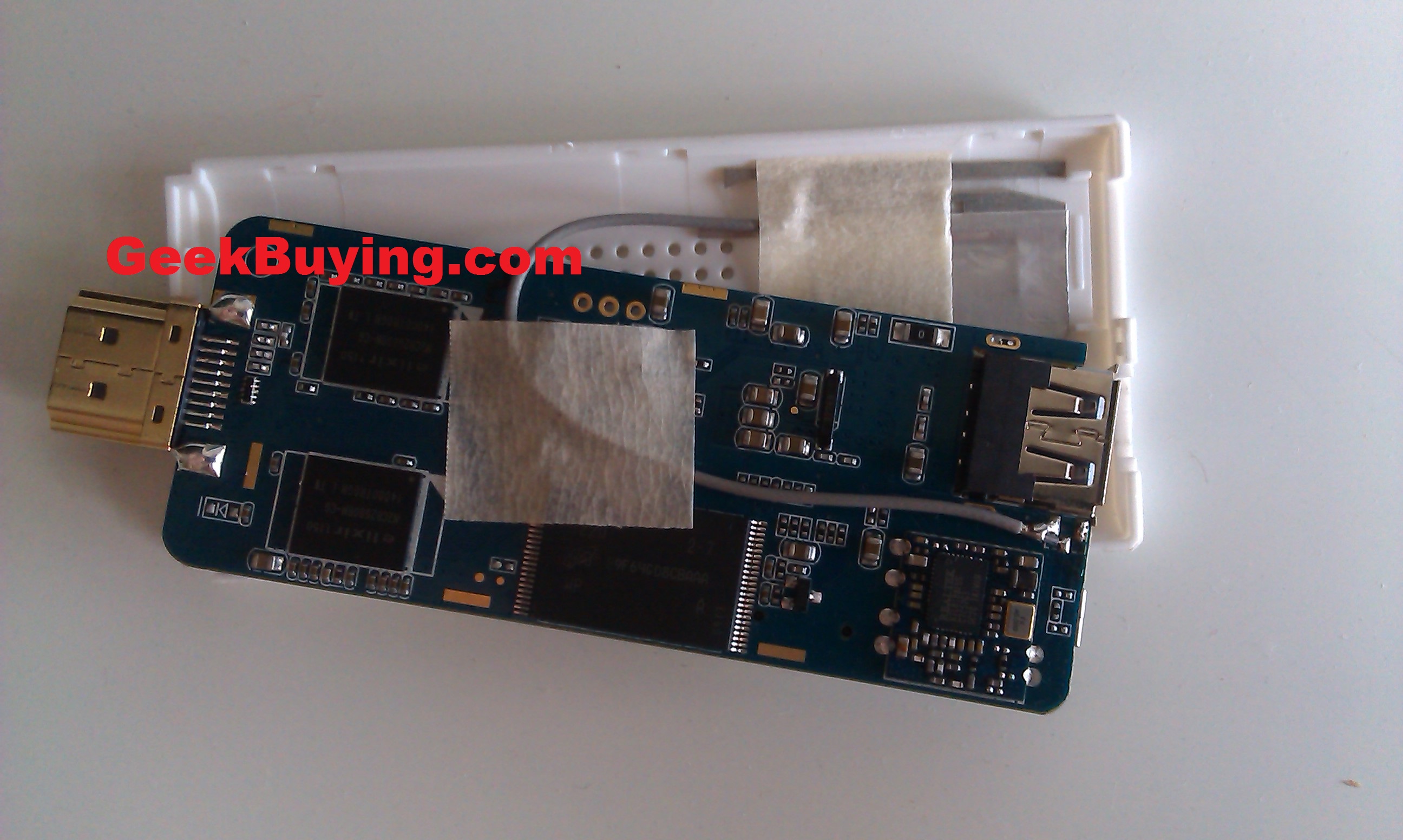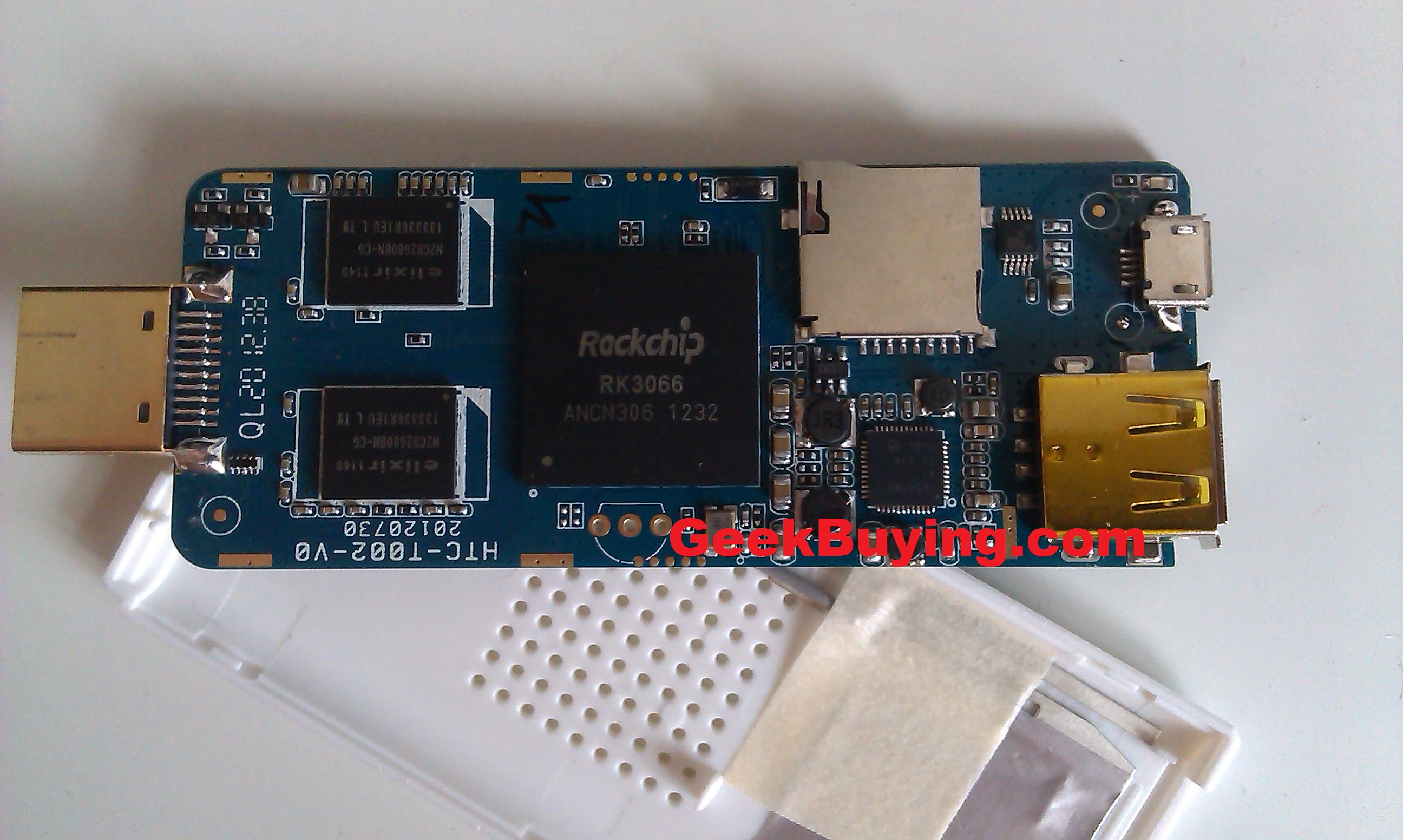 Also we find some bugs in this firmware:
1 When we click "Connet to PC" choice, the wifi will shut down directly, so it means when you connect this MK802 III with your PC, you can't get wifi work, it's annoying when i try to root this device yesterday,and i have reported this bugs to factory, they will release the new firmware to fix.
2 The google play store is not the full version,we find some app can't find in the pre-installed Play store, but it's not a big problem, we know lots of this chinese device has this problem, it can be fixed by flashing the custom roms.
So this is the only two bugs we find now.
And we have planed to arrange one sample to our US ROM DEVELOPER Team, they will help us to make the Custom ROM first, the geekbuying customers will get this custom rom first.
Later we will do a deep review for the wifi signal ,and the other problem you guys may ask.
Geekbuying is the best,professional Android MINI PC seller here. we will try our best to offer the lastest Android MINI PC news, the best quality android mini pc, and the professional review, and good customer service.
See you later, guys! we will update the ROOT Method, and the Firmware download link and Firmware update method for you. Wait for us!
How to ROOT Rikomagic MK802 III
I suggest you connect the Rikomagic MK802 III with your TV and your laptop together, so you can root it easily; we already tested to root Rikomagic MK802 III sucessfully with the following method:
Use the DC port to power on the Rikomagic MK802 III , and use the OTG Port to connect your Rikomagic MK802 III with your laptop.
1) Download Moborobo and unrar into a folder.
MoboroboSetup_V2.0.7.501(Moborobo_En_official)(1).rar
2) Download TPSarky-VonDroid-Root.zip and unzip into a folder.
TPSarky-VonDroid-Root.zip
3) Install Moborobo and open it
4) Make sure USB Debugging is enabled on your Rikomagic MK802 III ( you should go to "setting" –"USB"–choose" connect to pc chooice" and then go to "Developer options"–open"USB debugging"choice)
5) Wait for Moborobo to see the device and install drivers. It will detect the device as Rikomagic MK802 III.
6)Run TPSparkyRoot.bat and follow the on-screen instructions.Your Rikomagic MK802 III will reboot 3 times during this process.(please remember, after each reboot, you should choose "connect to pc" every time in the Rikomagic MK802 III , if not, the root will be failed, that's the reason why ask you to connect the Rikomagic MK802 III with TV and laptop together)When complete move on to the next step. (this root tool is based on the window n101 tablet, but please don't worry,it can use on your tv stick, because they are the same chip)
7)Install SuperSU from Play Store.(If not installed in previous step)
8)Optional Install BusyBox from Play Store.
If all went well you should be rooted.
After rooted, you will see a app called" root explorer" in all of your apps, click that, you can manage all of the files and built-in apps, Please remember don't delete any system apps, it will make your OS die. and if you are make sure some built-in app is useless, just open root explorer, choose 'system" folder,and check" app" folder, then you will show all of the built-in app, remember to choose " Mount R/O" ,then you can choose the app you want to delete, click for a while (about 3-4 seconds), there will be a menu ask you to delete, copy or others, then you can do anything you want to do.
Firmware Release
Original firmware from 31 Oct 2012 for MK802 III
New firmware release for Rikomagic MK802 III–Update on 15th Nov.
Upgrade method:
1. Unzip the file. Zip file and copy the update.zip on the root of MicroSD card (1GB minimum)
2. Insert the microSD card with the MK802-IIII on, then opens a dialog to update the firmware
3. Click "Yes" to begin the update. During the firmware update, please do not remove the MicroSD card or turn off the device 4. After a few minutes the device is auto-restart only. 5. Once rebooted remove the MicroSD card.
This deletes all device data:
It is recommended to reset the device.
From Settings> Backup> "Factory data reset" to complete the upgrade to 100%.
Changelog:
The new features are:
1. Added wifi direct (peer to peer);
2. Improved wireless signal