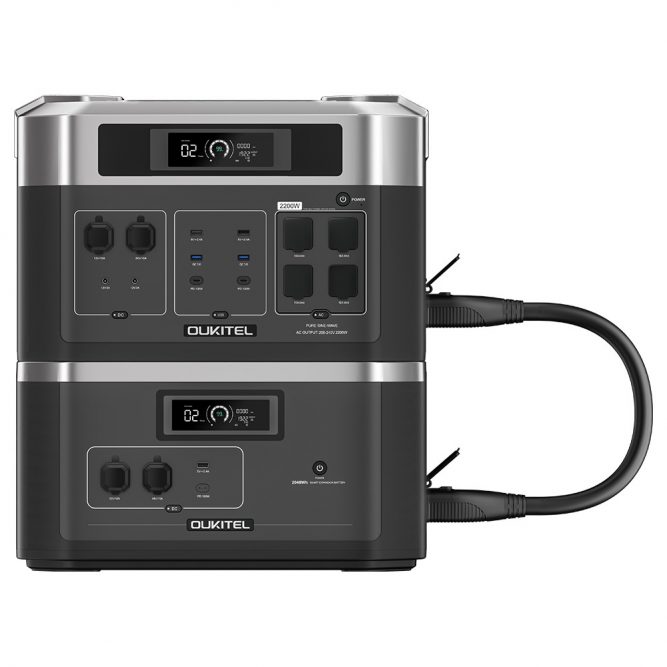 Generally, price is one of the major obstacles to purchasing very large power stations, but in the case of OUKITEL BP2000, the kWh/€ ratio is very favorable. At the moment, it is possible to purchase the OUKITEL BP2000 Portable Power Station + OUKITEL B2000 Battery Pack combo with 4,096 kWh of storage at an almost incredible price on Geekbuying.
In the world of portable power stations, we find products that range from super portable dimensions, perhaps useful for camping, to super capacities, for residential energy backup uses.
OUKITEL BP2000: spacious and powerful, for all situations
Today, we are in the company of a product that belongs to this last category, OUKITEL BP2000 Portable Power Station in the version with expansion battery OUKITEL B2000 Battery Pack.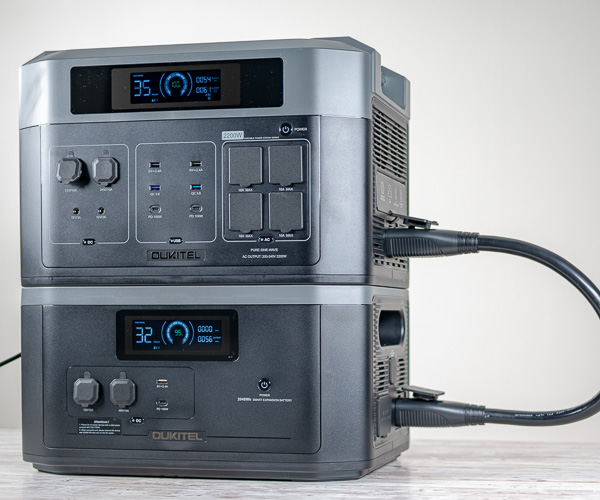 We are therefore faced with a couple that offers 2048Wh + 2048Wh, for a total of more than 4 kilowatt hours of energy. The system is very flexible and can accommodate up to 7 expansion batteries to provide up to 16,384 kilowatt hours, all using LiFePO4 batteries guaranteed to withstand more than 3500 charge/discharge cycles while maintaining at least 80% of the initial capacity.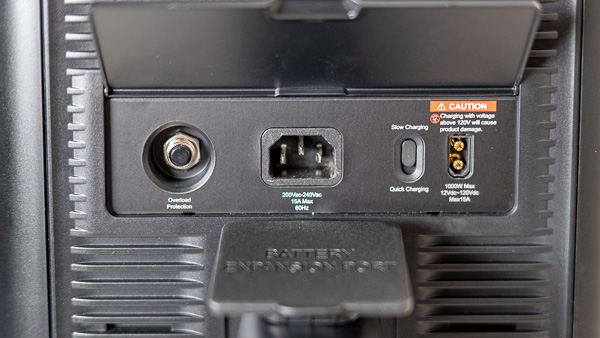 Not just storage, OUKITEL B2000 is also very flexible in charging options, with some goodies that the competition doesn't offer. Alongside fast charging from the AC200-240V mains up to 1,800 W, we find a standard XT-60 connector which offers an input that can be used for charging at 12V/8A via the car cigarette lighter, but also an input for solar panels in series up to 120V or 15amps, with an MPPT charging system up to 1 kW. Furthermore, it is possible to recharge the power station (and the connected expansion batteries) even in trucks with 24V voltage up to 10A.
There are also many ways to exploit the energy stored in the LFP batteries: the body of the power station houses 5 230V alternating current outputs with nominal inverter power up to 2,200W and with the possibility of powering appliances up to 3,000W, with technology that delivers current at a lower voltage, but maintaining the required amperage.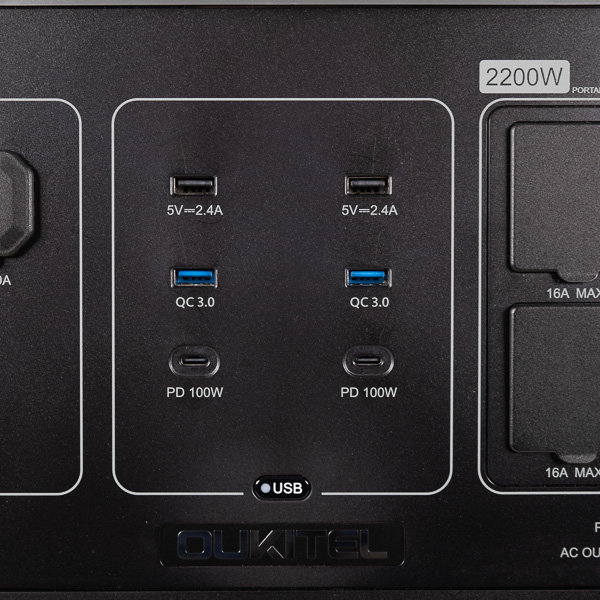 Wide range of USB ports: 2 standard type A at 12W (5V/2.4A), two standard type A with QuickCharge technology at 18W, and two USB-C with PD Power Delivery support up to 100W.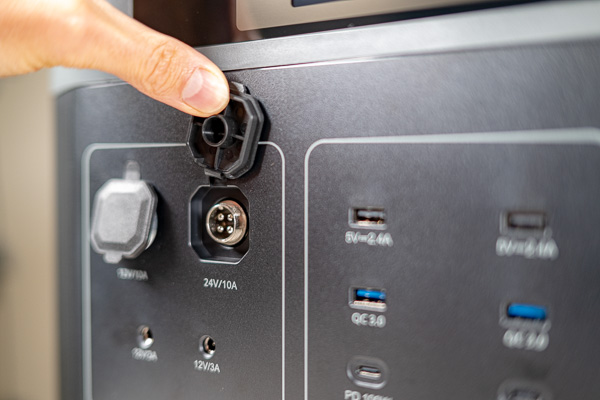 Among the low voltage outputs, we find a 12V/10A cigarette lighter socket, but also two DC5521 12V/3A ports and a real gem, the 24V/10A output on a 4-pin Aviation type connector, a truly rare specification in the power panorama portable stations.
Naturally, all this capacity has an impact on the weight front: the OUKITEL B2000 power station weighs 22kg, although the comfortable handles make it easier to transport. A much-appreciated detail is the presence of a compartment with a snap door in the upper part, which allows you to store cables and accessories in a convenient and safe way without the risk of forgetting something at home or losing it.
The additional OUKITEL B2000 Battery Pack expansion batteries can also be used directly to supply energy, but naturally only in direct current since they do not carry the inverter on board. They offer a 100W PD USB-C port, a 12W USB-A port, a 12V/10A cigarette lighter socket, and a 48V/15A XT90 connector. A twin connector is also present on the side (where we find the sockets to connect the power station and additional cascade batteries) and allows direct charging of the module via solar panels, also in this case with XT90 48V/15A specifications.
OUKITEL BP2000 usage scenarios
There are different use scenarios for a product like OUKITEL BP2000. The first and most obvious one is in the residential sector, as an energy reserve in the event of a blackout or in the event of strong voltage fluctuations. Thanks to the expansion of batteries, it is possible to tailor-build a system suited to your needs and perhaps exploit the storage even in the presence of a photovoltaic system.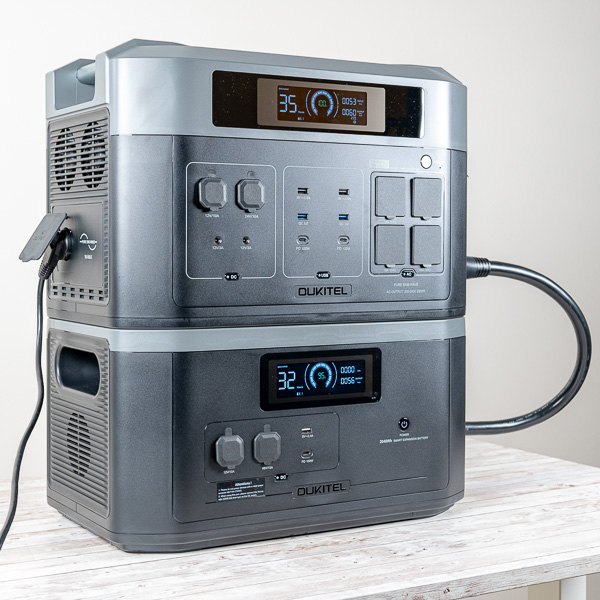 Thanks to the response time of less than 10 milliseconds, OUKITEL BP2000 can also act as a UPS, with the advantage, compared to classic solutions with lead batteries, of offering great capacity, and above all, the longevity of LiFePO4 batteries, which even with daily use promise more than 10 years of use.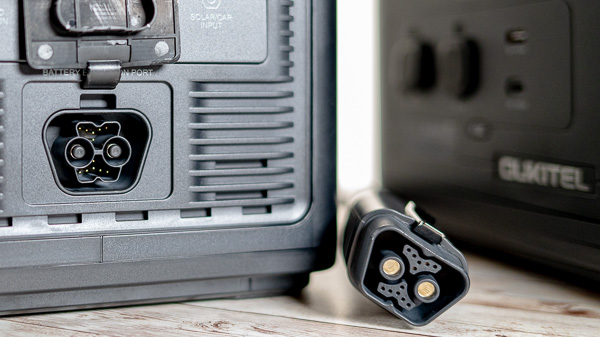 Furthermore, OUKITEL BP2000 can also be a portable energy reserve, for the use of 230V appliances even far from the electricity grid. In the mountain cabin, in the tool shed in the countryside, in the fishing shed, but also to use chainsaws and other tools for gardening without generating the emissions of a combustion engine.
For those looking for power output and lots of stored energy, the OUKITEL BP2000 Portable Power Station + OUKITEL B2000 Battery Pack is a decidedly unmissable offer.
Sources: https://www.hwupgrade.it/news/periferiche/oukitel-bp2000-power-station-e-battery-pack-per-4096-kwh-a-un-prezzo-imbattibile_121372.html