Are you ready for a shopping extravaganza like never before? Brace yourselves because the 11.11 shopping festival is knocking on the door, and Geekbuying is all set to make it an experience you won't forget! Get ready to dive into a world of irresistible deals and discounts.
Early Access Stage (November 1st – 5th): Exclusive Sneak Peek!
Gear up for an exclusive early access period from November 1st to 5th.



Subscribers to our newsletter are in for a treat! Receive an exclusive 5% sitewide discount coupon, saving you up to a whopping $20 instantly!


But that's not all – our early birds get access to additional coupons: $50 off $500, $30 off $300.


These incredible discounts kick in starting November 6th. Explore our big category coupons, offering savings of up to $120, and don't miss out on our exclusive flash deals. It's your ticket to the hottest discounts of the season!
Main Sale Event (November 6th – 9th): Dive into Savings!
From November 6th to 9th, our main sale event unfolds. Get ready for site-wide discounts that will blow your mind!


Snatch up sitewide coupons, offering savings of $50, $25, $20, or 8% off your purchases. And here's a secret tip – the first 10,000 orders paid with PayPal, Klarna, Credit, or Debit Cards get instant discounts of up to $10 on orders over $250.



Plus, participate in our lucky draw and stand a chance to win incredible coupons and top-selling items.



As an added bonus, make any purchases in November, and we'll give you 10 G-coins back on December 1st, helping you save an additional $20!

Still not clear about these discounts? Here is a picture showing how it works.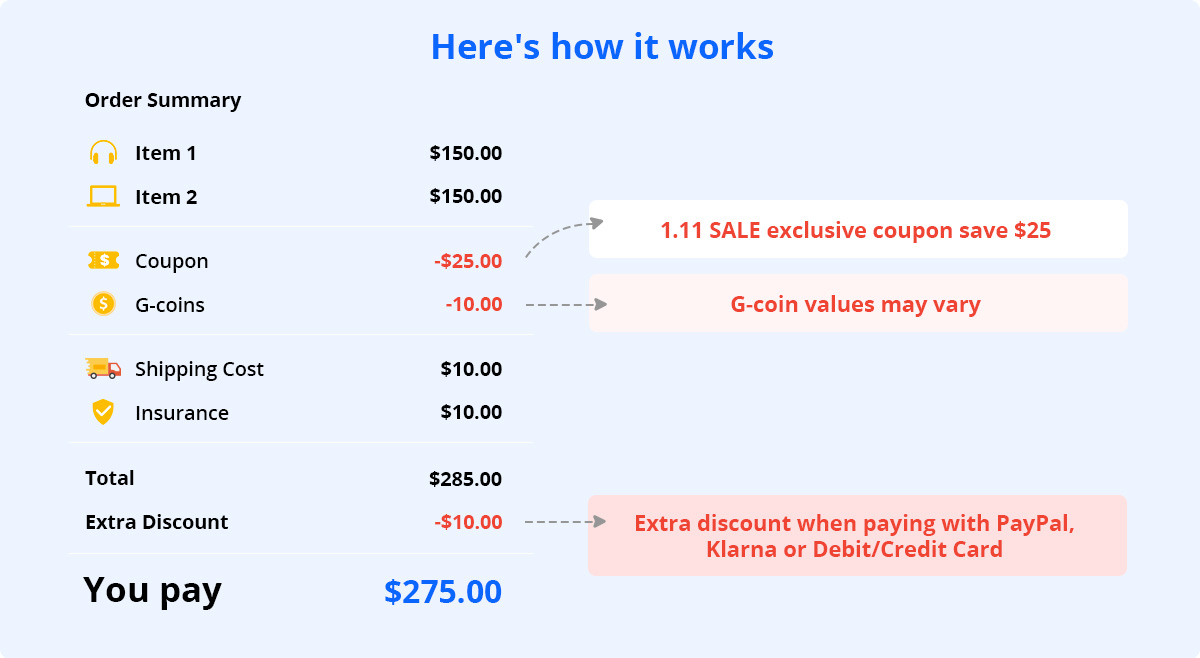 Explore discounts of up to 50% on premium brands and dive into our category deals, offering substantial discounts on hot items and best sellers.



For lightning-fast deliveries, check out our local warehouse deals – dispatched within 24 hours and at your doorstep within 5 days.


Shopping Spree Finale (November 10th – 13th): Seize the Last Chance!
The grand finale awaits you from November 10th to 13th. It's a 72-hour shopping spree featuring discounts on the trendiest items of 2023.



Dive into our treasure trove of best sellers and hot items, all with jaw-dropping discounts of up to 80% off.
And here's the cherry on top – the Payment discount is making a comeback! Save up to $30 on your orders, but act fast – this offer is limited to the first 3,000 orders!



Hurry, it's your final chance to utilize our 11th-anniversary coupons, slashing prices by $50, $25, $10, or $5.

What are you waiting for? Your ultimate shopping adventure begins at Geekbuying.com! Click your way into a world of unbeatable discounts, exclusive offers, and a shopping experience like never before. Happy Double Eleven Shopping Festival!