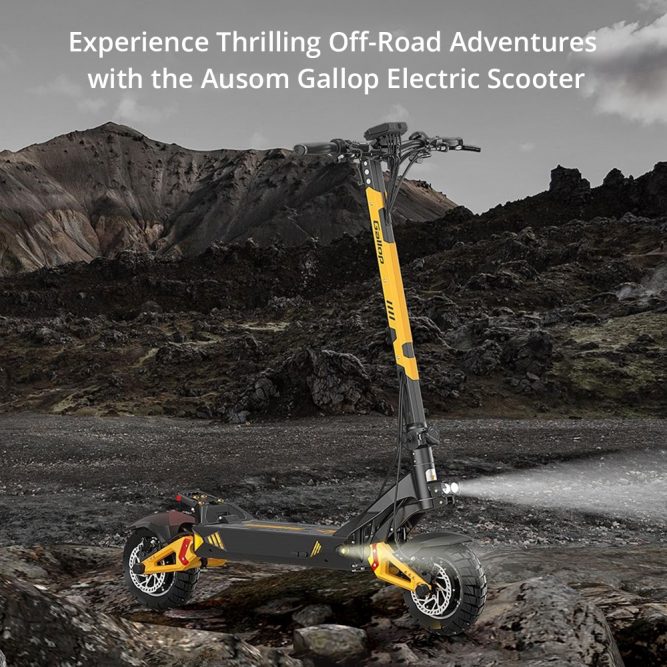 Are you ready to start an exciting off-road adventure? The Ausom Gallop off-road electric scooter will unleash your adventurous spirit like never before. This scooter has powerful dual 1200W motors, which can reach top speeds of 41 mph and allow you to experience the thrill of high-speed riding on any terrain. Up to 55 miles of range on a single charge, so you don't need to worry about running out of battery during the ride. With a rugged design, shock-absorbing system and specialized off-road tires, the Ausom Gallop will offer you a comfortable and thrilling ride experience every time.
Whether you are exploring rugged trails or conquering challenging off-road trails, the Ausom Gallop can get you there with ease.
Conquer Any Terrain with Powerful Performance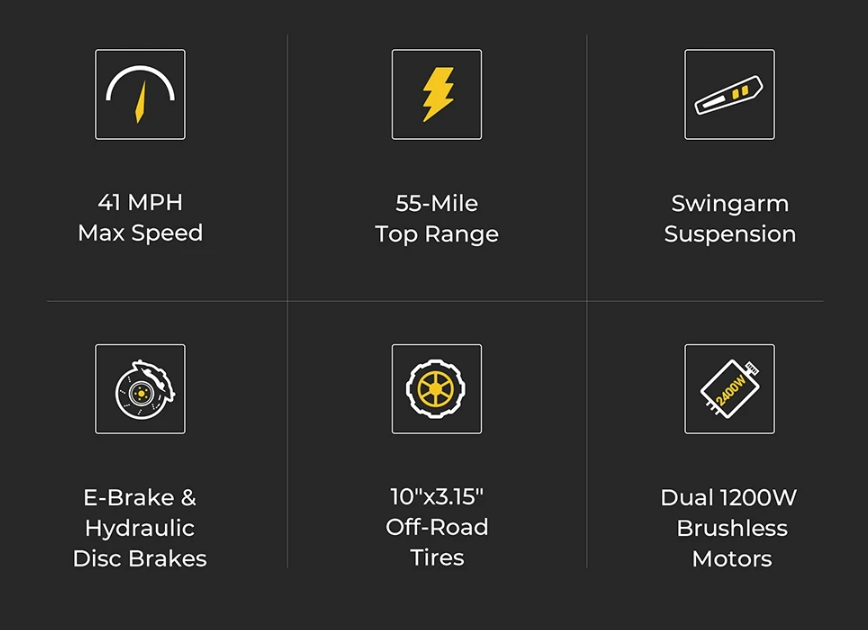 The combination of power and range provided by the Ausom Gallop makes it an ideal companion for outdoor enthusiasts and adventure seekers alike.
Equipped with dual 1200W motors, the Ausom Gallop delivers exceptional performance that will leave you exhilarated. You can reach thrilling speeds of up to 41mph, making it perfect for adrenaline-pumping off-road adventures. Whether you're racing through dirt trails or navigating through rocky terrains, this scooter's powerful motors ensure an exciting and dynamic ride.
But the Ausom Gallop doesn't just offer impressive speed; and it also boasts an impressive range for extended journeys. With a single charge, you can enjoy up to 55 miles of riding pleasure. This means you can explore vast terrains without worrying about running out of battery life. Say goodbye to limitations and embrace the freedom of endless exploration.
Safety and Convenience for a Hassle-Free Ride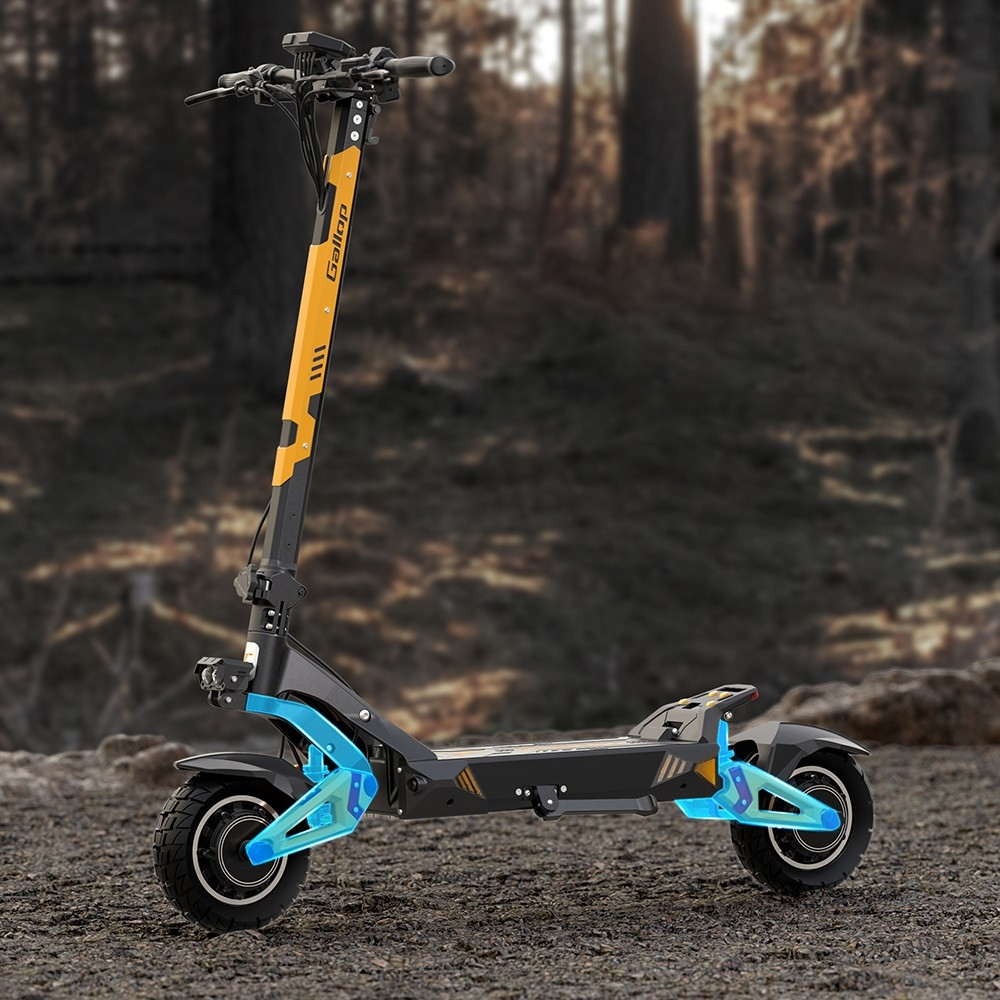 When talking about off-road riding, safety and convenience are of utmost importance. The Ausom Gallop Off-Road Electric Scooter is designed with features that prioritize your safety and ensure a hassle-free ride.
The scooter is equipped with an intelligent LCD dashboard, so you can get real-time information at a glance. When you cross through challenging terrains, the LCD display can keep you informed about speed, battery life, and other essential metrics so that you can adjust your riding style accordingly for a safe and enjoyable experience.
In addition to the smart LCD display, the Ausom Gallop also boasts a high-security braking system. With an e-brake and hydraulic disc brakes, you can have peace when riding on rough roads. Whether you're cruising down steep hills or encountering unexpected obstacles, the high-security braking system will provide the stopping power you need to stay in control.
Comfortable and Exciting Off-Road Riding Experience
The Ausom Gallop Off-Road Electric Scooter not only delivers powerful performance but also ensures a comfortable and exciting riding experience. Its design and features are specifically crafted to enhance your comfort and minimize the impact of rough terrains.
The scooter's robust design is built to withstand the challenges of off-road riding. It provides a stable and sturdy 8.7-inch Wide footboard, allowing you to maintain control even on uneven surfaces.
To further enhance your comfort, the scooter is equipped with an excellent shock absorption system. The front and rear swingarms offer outstanding shock absorption for a smoother ride over rough terrain. Bumps, rocks, and other obstacles on the trail are no match for this scooter's ability to minimize impact, ensuring that you can focus on enjoying the thrill of your off-road adventure.
Another key feature contributing to comfort is the professional off-road tires. The Ausom Gallop is equipped with 2 professional off-road tires with a diameter of 10 inches and a width of 3.15 inches. These specially designed tires are wear-resistant and shock-resistant and offer enhanced traction and stability on various terrains. Whether you're tackling muddy trails or navigating through sandy paths, these tires provide superior grip, allowing you to conquer any off-road terrain with confidence.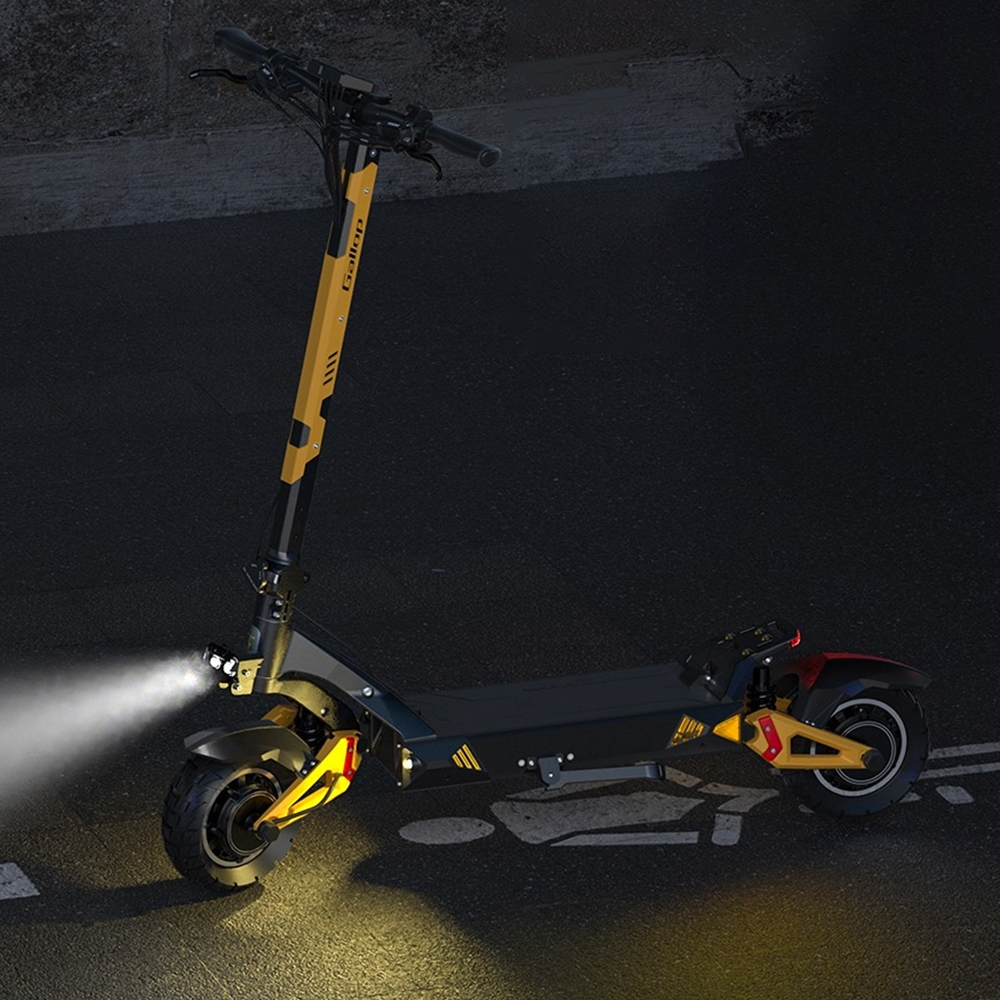 Also, the Ausom Gallop Off-Road Electric Scooter has 10 lights to brighten up your path, including a headlight, a taillight, 2 front lights and 6 sidelights. The sturdy folding mechanism allows you to fold the scooter effortlessly and store it conveniently. Designed with 2 charging ports and can be fully charged in just 6 hours by using 2 chargers at the same time. The combined lock design means you don't have to worry about the scooter being ridden away by others. All these features are designed to provide you with an unforgettable off-road experience.
So what are you waiting for? It's time to embark on unforgettable off-road adventures with the Ausom Gallop Off-Road Electric Scooter. Get ready to experience the perfect blend of power, comfort, safety, and excitement on every off-road journey!