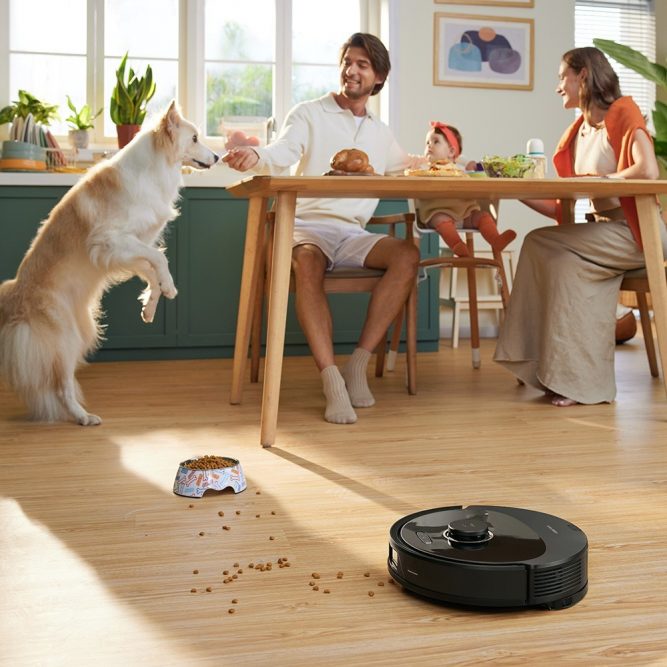 Roborock, a well-known robot vacuum manufacturer, recently launched its new Q8 Max series. These robot vacuum cleaners have been significantly optimized in the obstacle avoidance system, double roller brush design, and maintenance. The Q8 Max series robots feature faster mapping speeds, support for storing 4 maps, and more intelligent designs. You don't have to worry about it falling down the stairs or getting stuck under the furniture. The most intuitive feeling of this sweeping robot is that it frees your hands. All you need to do during the entire cleaning process is to control it through the App or voice.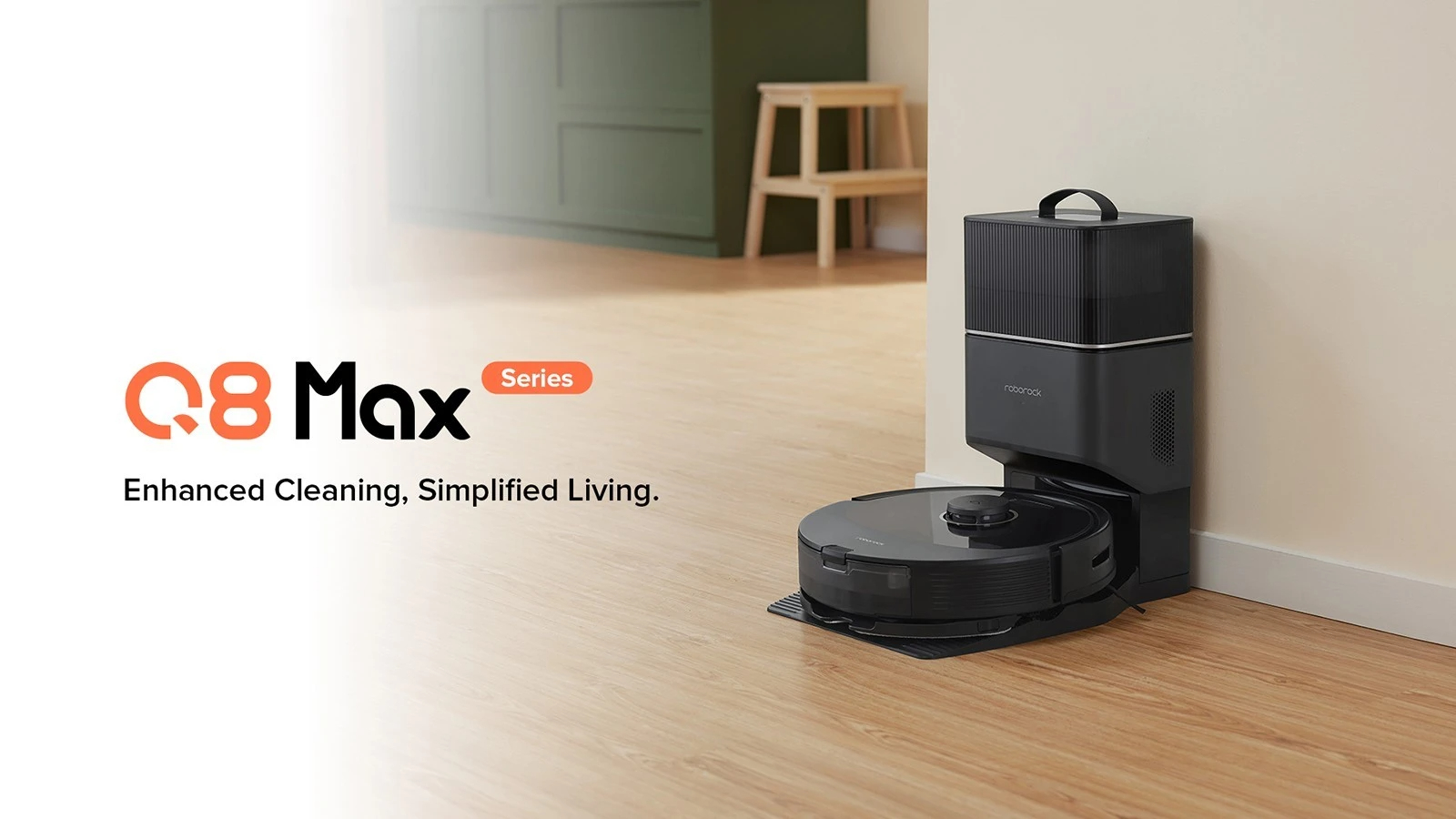 Super Cleaning Ability
The Q8 Max series has 5500Pa suction power and can handle dirt and dust on a variety of floor surfaces. Equipped with 2 counter-rotating rubber brushes, it has extraordinary dust and dirt collection capabilities while preventing hair from getting tangled. In addition, this robot vacuum cleaner can vacuum and mop the floor at the same time, with a maximum vacuum range of 300 square meters, effectively avoiding missing small dirt. If you have pets at home, cleaning your hair and pet hair is not a problem. There is also a small tentacle-like side brush on the edge of the Q8 Max sweeping machine. When the robot moves to the wall, this side brush can assist in cleaning the dust on the side and corners of the wall.
Dustbin & Water Tank Integrated
The design that combines a dustbin and a water tank is a highlight of the Q8 Max series. The dustbin and water tank are located inside the robot with a drawer-type design, making it easier to empty the dustbin and fill the water tank, greatly reducing the number of maintenance times. In addition, the Q8 Max+ robot vacuum cleaner is equipped with a self-emptying base station that automatically dumps dust and dirt into an E12-rated 2.5L dust bag. You can enjoy up to 7 weeks of cleaning without having to replace the dust bag. This dust bag also has an air filtration function that can filter 99.7% of pollen as small as 0.3 microns, making the air fresher.
Upgraded Navigation and Obstacle Avoidance Technology
Thanks to the PrecisSense LiDAR navigation system and reactive technology obstacle avoidance, the Q8 Max series robot vacuum can ensure that obstacles along the way are accurately avoided during any movement and optimally scan and map the home. The interior layout of the house determined by the LiDAR system is transmitted to the Roborock App, which provides additional user-customizable preferences such as no-go-zones, quick maps, multi-layer maps, and 3D maps. All you need to do is put down the robot.
Intelligent Design
Of course, the Roborock App has also been updated. Customized cleaning programs allow you to customize different areas of the room, set the cleaning sequence, and the suction power and water volume of the sweeping robot in each room. Intelligent route planning can reduce duplication, find better paths during cleaning and recharging, make cleaning more efficient, and surround cleaning without leaving any sanitary dead corners. These enhance the overall user experience and allow users to enjoy the happiness of smart technology improving home life.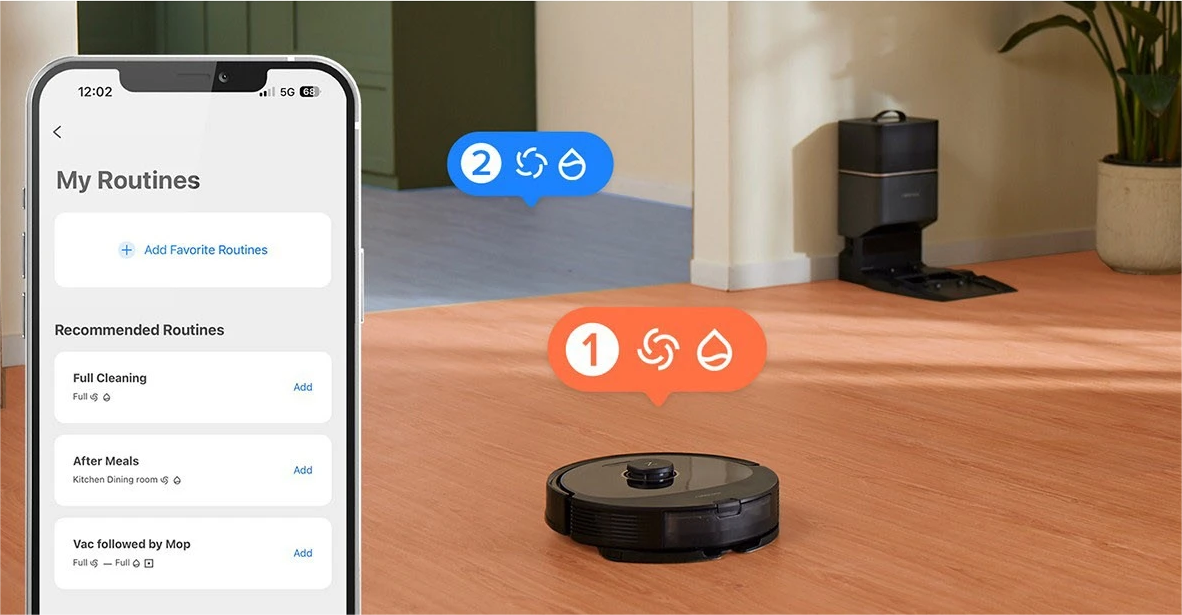 Summarize
Apart from the above very prominent highlights, Roborock Q8 Max series robot vacuum cleaners also have carpet detection, carpet enhancement mode, electronic water tank, pressure mopping, off-peak charging, etc., which can meet your various cleaning needs. For people who are in urgent need of a sweeping robot, the Q8 Max series is definitely a very cost-effective investment. It can not only keep the home environment clean and tidy for a long time, but more importantly, save time. If your budget is sufficient, then be sure not to miss the Roborock Q8 Max+ (equipped with a self-cleaning base station). If your budget is limited, then choosing the Q8 Max will be enough to help you reduce household cleaning tasks.