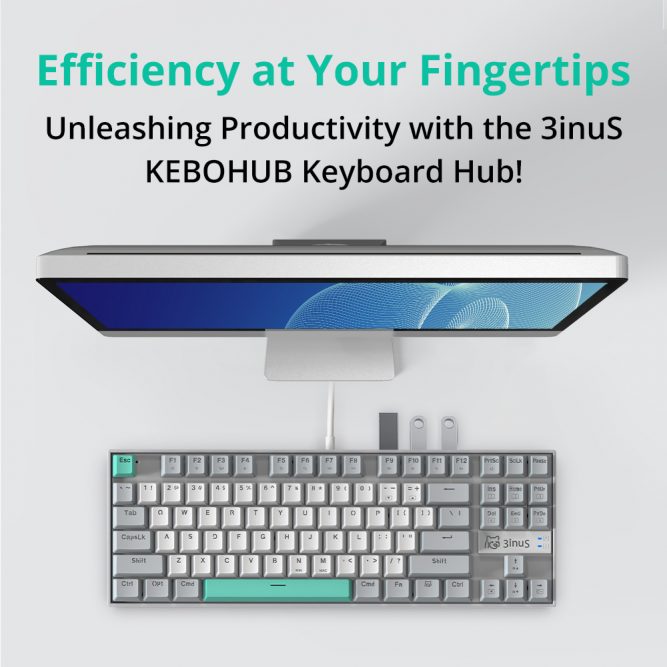 How to make a messy desk tidy, 3inuS KEBOHUB keyboard hub gives a perfect solution. 3inuS uncovers the truth with its nearly perfect product that the mechanical keyboard is not just for game lovers to pursue the typing feel, but also a necessity for office workers to improve their efficiency. Getting tired of the same generic keyboards in the market, 3inuS decides to innovate. 3inuS combines the HUB and keyboard into one, creating an optimal keyboard for you and facilitating a more efficient and convenient office experience!
Integration with A HUB
3inuS KEBOHUB keyboard features a hub, which includes a 4K HDMI port, 3 USBA 3.0 ports, and a USB-C port. The HDMI port has an amazing clarity of up to 4K, and the USB 3.0 port delivers speedy data transfer. A 1GB data transfer takes only 5s.
These USB ports can be used not only for data transfer but also for charging multiple devices, like mice, phones, fans, power banks, etc. They can be applied directly without the need for drivers or software.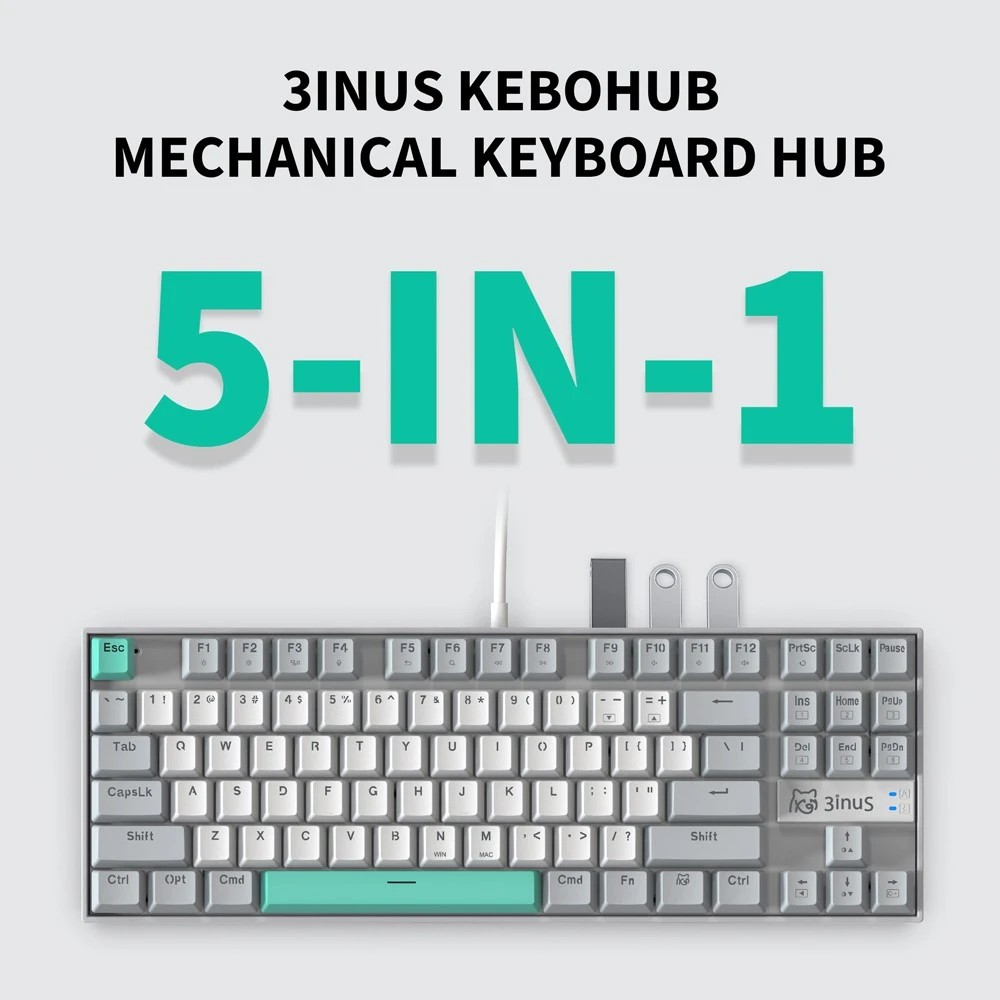 Interchangeable RGB Backlighting for More Fun
To add a personalized and aesthetically pleasing look to the keyboard and enhance the gaming experience, 3inuS KEBOHUB keyboard comes with 6 themes dynamic and excellent RGB lighting effects. KEBOHUB is designed with 18 RGB lighting effects, providing you with appealing and stunning dynamic visual. In addition, you can customize lighting effects as your preference.
Compact Design
The compact 87-key layout is also one of KEBOHUB's features. It saves more space for mouse movements and is helpful for those who need to type fast. Made of high-quality materials, KEBOHUB supports up to 70 million keystrokes, well above other keyboards.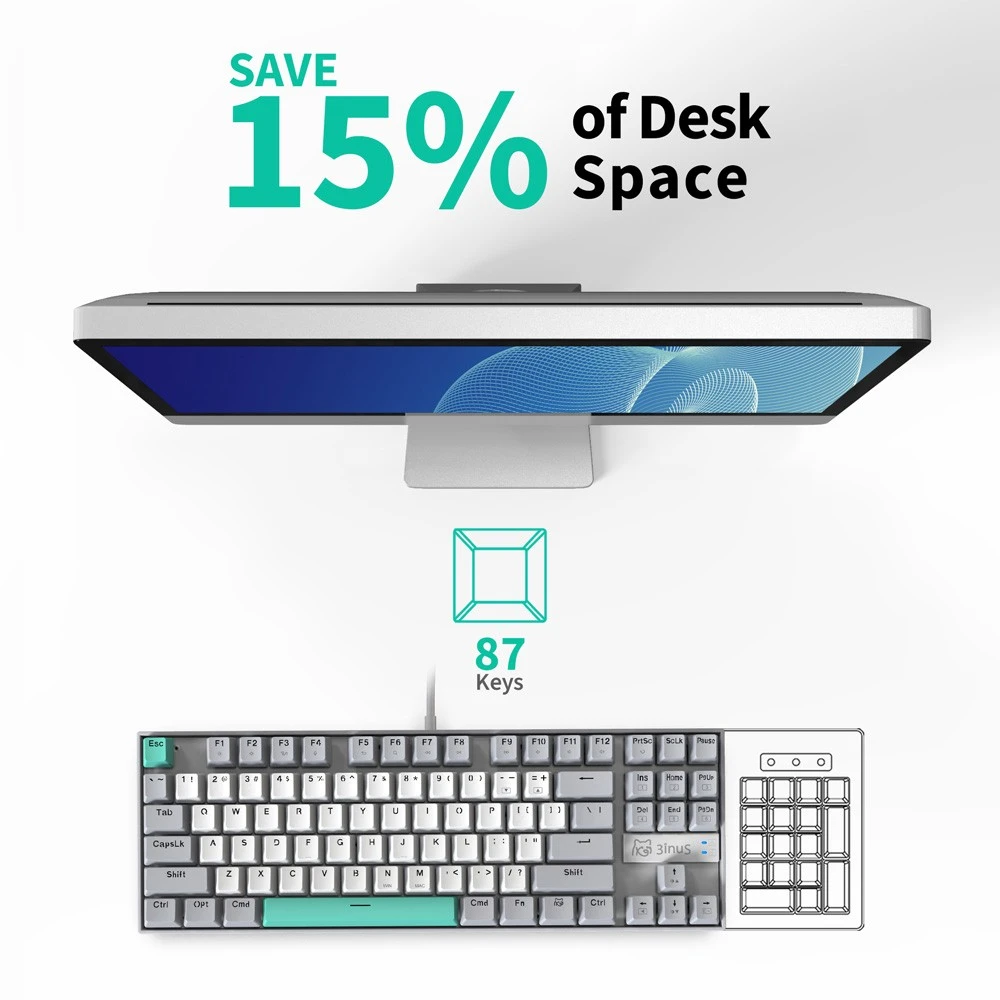 Experience-driven Keyboard
KEBOHUB is not a cookie-cutter mechanical keyboard, it thinks highly of experience and comfort. Whether you are a heavy game player or a member sitting in the office, KEBOHUB enables you to type in great comfort. All the key caps are designed to better fit the curvature of human fingers, to reduce hand fatigue after prolonged use.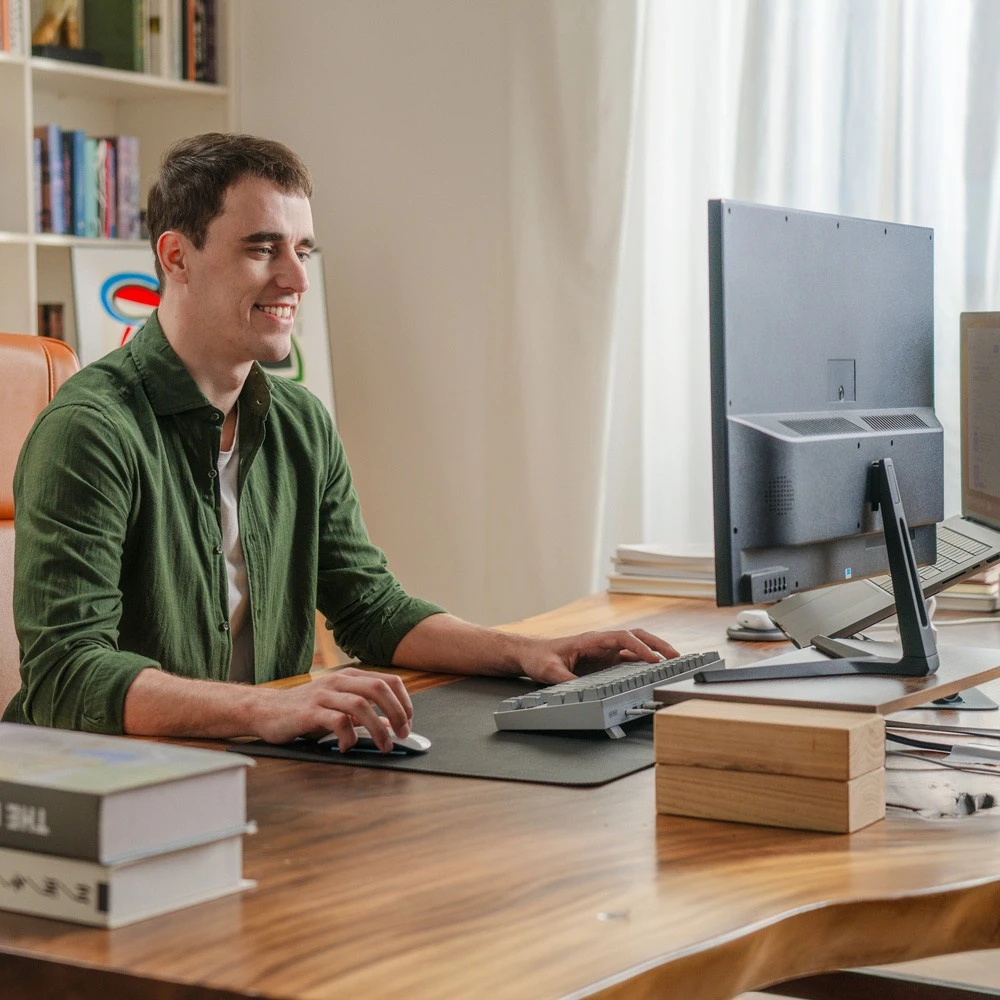 How to Choose Among the Switches?
Red Switch: a type of mechanical keyboard switch that have linear triggering characteristics and no obvious tactile feedback.
Blue Switch: They have a loud sound, a tactile bump, and require a higher actuation force and slower actuation time. They are only suitable for typing and not recommended for gaming.
Brown Switch: They have a moderate sound. Brown switch is a versatile switch, between red switch and blue switch, with a small actuation force. It is suitable for both office work and gaming.
3inuS KEBOHUB comes with 100% hot-swappable switches and two handy key pullers are included to allow you to freely DIY key caps and switches. Create your style of keyboard anytime to bring a unique taste to the monotonous desktop, and even a good mood to you.
Compatible with Dual System
KEBOHUB is compatible with both Windows and MAC system, working well with different operating systems.
Where to Buy
Now, 3inuS KEBOHUB keyboard hub has been launched on geekbuying.com, and you can get a 40% off discount! It only costs $89.99, and no additional postage is required! And you can also get a free gift: keyboard cleaner brush kits.