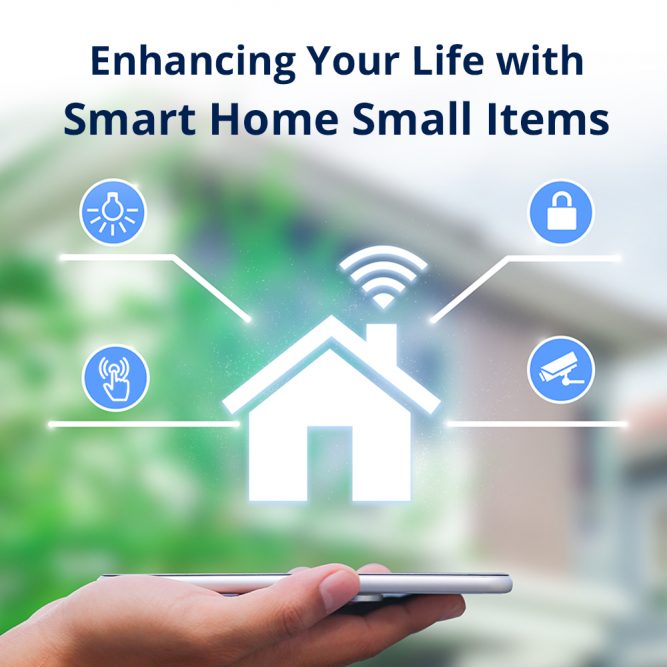 As one of the important achievements of technological development, the smart home brings unprecedented convenience and comfort to people's lives. With the continuous upgrading of the smart home system, more and more intelligent products come into the house, including robot vacuums, cordless vacuum cleaners, floor washing machines, etc. These devices' intelligence can greatly enhance happiness of life. In addition to large home appliances, smart door locks, smart lighting, smart security, and other small items can also make your family life easier and more enjoyable.
Top 4 Popular Smart Home Items
Smart Lock
Smart door locks have entered thousands of households. Compared with traditional door lock, the biggest merit of smart door lock is that it has a variety of unlocking methods, which successfully relieves us from the trouble of not being able to enter the house when we forget or lose our keys. Smart door locks can be opened or closed with fingerprints, passwords, face recognition, or smartphone Apps. And the safety of this kind of door lock is also guaranteed.
In terms of intelligence design, eufy S330 video smart lock is undoubtedly very good. It is not just an ordinary smart door lock, but also has doorbell and camera functions. You can unlock it with fingerprints, passwords, keys, smartphone Apps, and even smart voice assistants! It can be said that eufy S330 is an all-around door lock. If you have a relatively enough budget, just buy it.
Smart Doorbell
Some people think that the doorbell is dispensable, but those who have used it can't live without it. A high-quality smart doorbell usually includes two accessories, a ringer and a receiver. The ringer is attached to the outdoor door, and the receiver is placed in a suitable place indoors so that they can be used together. In addition, there are some additional functions, including video, adjusting ringtone and volume, etc. The smart doorbell's water resistance is also very good, it will not affect its use when hanging outside the door for a long time.
Compared with traditional doorbells, smart doorbells undoubtedly bring more security and convenience. eufy S220 video doorbell kit is a smart doorbell with perfect appearance and performance. It has a small and exquisite appearance and is suitable for various styles of home decoration. What's more, the eufy S220 is equipped with a Sony 2K sensor and a professional-grade camera, so you can take a closer look at your visitors. And you will get notifications on your phone when someone approaches.
Smart Security Camera
With smart cameras, you can remotely monitor your home security from your smartphone. Especially for families with babies or pets. Most of the smart cameras have the functions of remote viewing and control by smartphone, two-way voice, motion detection, and infrared night vision. No matter where you are or how far away from home, you can see the situation at home on your mobile phone.
If you need cameras in multiple locations around your home, the Hiseeu 5MP WiFi security camera system is a solid option at a reasonable price. This smart camera kit has 4 IP cameras, easy to install, and also supports functions such as synchronous playback, video backup, and video detection. When object motion is detected, you will receive email alerts.
Smart LED Bulb
Smart bulbs can be turned on or off, and adjusted the brightness and color, through smartphone or voice control. It can also be synchronized with the song and change the color of the light according to the rhythm of the music. With smart light bulbs, you will no longer need to touch a switch. Yeelight YLDP005 8W smart LED bulb with 16 million colors is suitable for any scene, it supports major smart home platforms such as Google Assistant, Amazon Alexa, and Samsung SmartThings. Of course, you can adjust it through the APP. Another strong point of the Yeelight YLDP005 smart light bulb is that it is compatible with major game platforms, and brings you the ultimate lighting experience through different lighting effects triggered by game events.