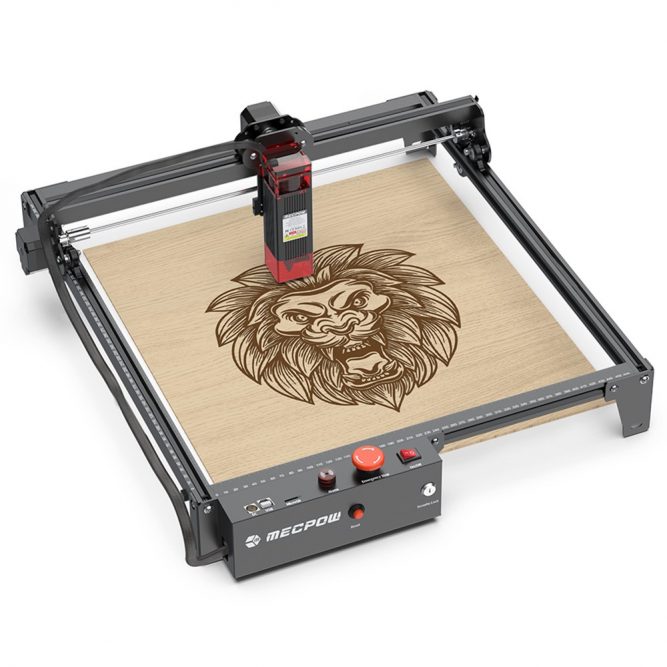 Mecpow, a brand that values the unlimited creativity of each individual, is committed to empowering users with innovative, easy-to-use products that are safe for everyone. X3 series laser engraver, as the flagship product of Mecpow, exudes unprecedented charm. This series of engraving machines has 5W (X3) and 10W (X3 Pro) laser power, which can efficiently carve wood, acrylic, porcelain, fabric, bamboo, plastic board, leather, fruit, bread, etc. The 0.01mm engraving accuracy, ultra-small spot size, and short pulse can generate high peak power, achieving more precise and deeper engraving and cutting.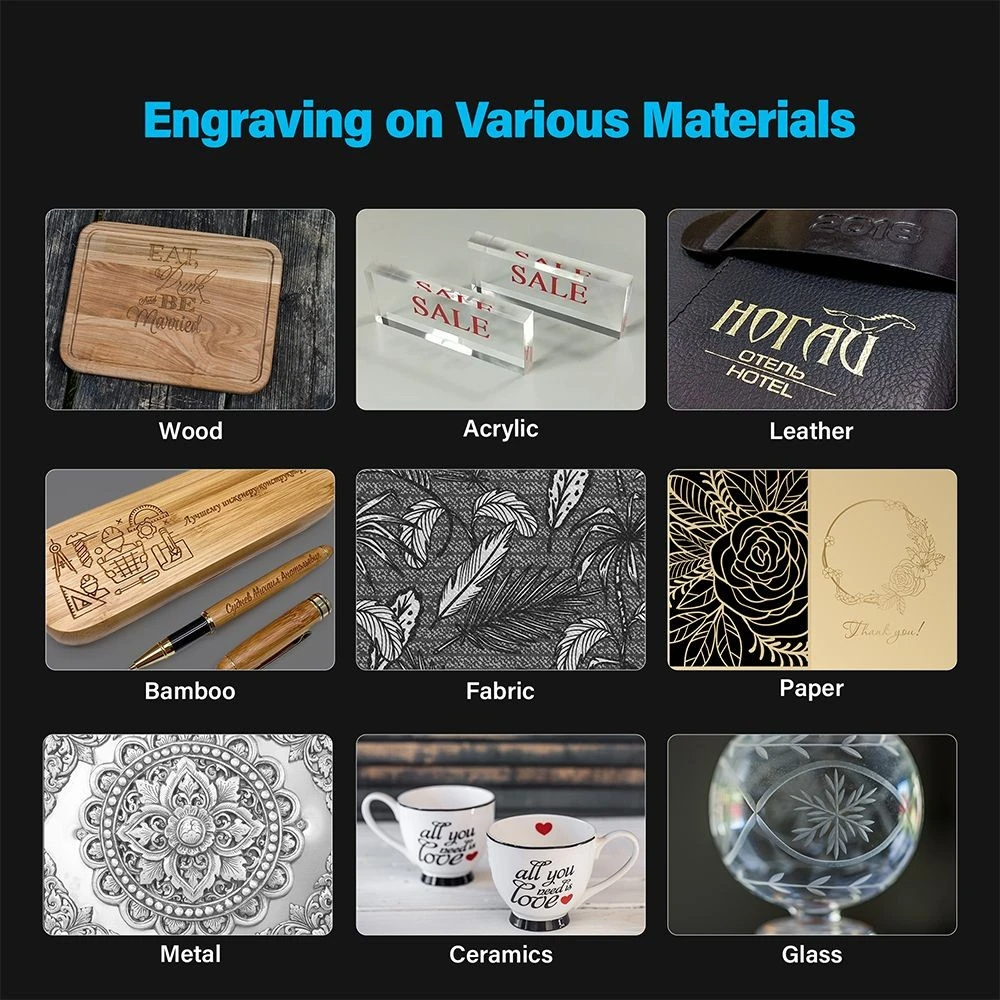 Powerful Engraving and Cutting Performance
The diode laser used in Mecpow X3 series laser engraving machine has a very small spot and engraving precision. The X3 5W laser module adopts a small focal spot design of 0.05×0.07mm, which can quickly cut 8mm thick wood boards and 8mm thick acrylic boards. While X3 Pro 10W laser head is equipped with a small focus of 0.06×0.08mm, which can cut wood boards with a thickness of 20mm and acrylic boards with a thickness of 15mm. Easily achieve high-precision engraving and cutting tasks.
In terms of focusing, Mecpow X3 series laser engraving and cutting machines can also save you a lot of time. The focusing screen can help you quickly move the laser head to the correct position. Although there are many low-power laser engraving machines on the market, Mecpow X3 series has made more safety upgrades and performance supplements on this basis.
Air Assist System
As the world's first 10W laser engraving machine equipped with an air assist system, Mecpow X3 Pro's cutting ability, cutting accuracy, and cutting quality are more powerful than similar products. As we all know, the air assist system can help engravers effectively remove debris and smoke, and achieve cleaner cutting results. X3 Pro 10W laser engraving machine is thoughtfully designed with an adjustable air-assisted pump for users. You can easily adjust the airflow according to smoke density, creating a smoke-free and odor-free workspace, reducing the risk of fire, and providing a safer carving experience.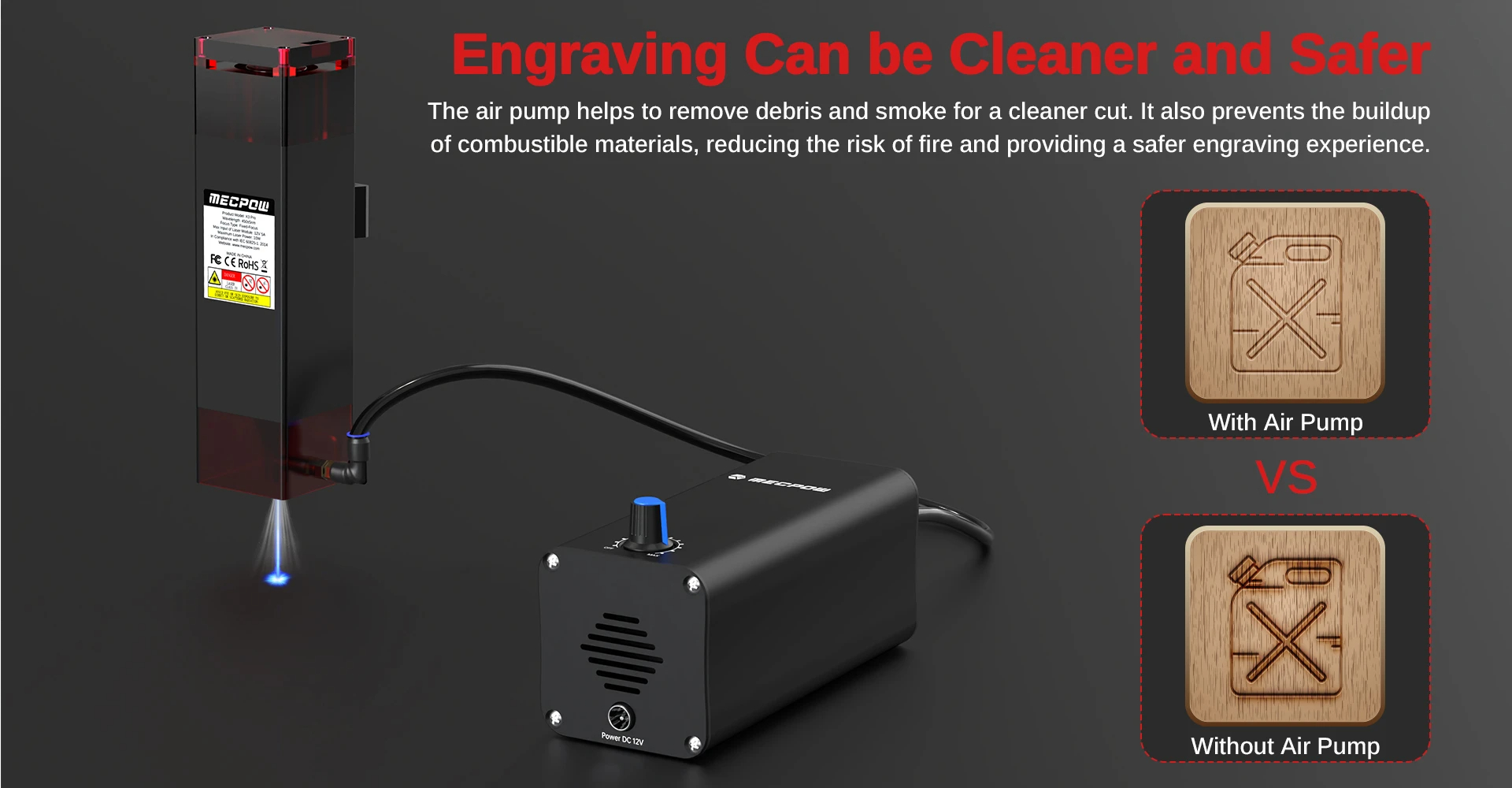 Security Upgrade
The safety protection functions of many laser engravers are not particularly strong, but Mecpow X3 series laser engraving machines consider almost all dangerous factors for users. It has designed a series of safety protection functions such as flame sensor, gyro sensor, safety child lock, emergency stop switch, limit switch, etc. When the material is found to be burning, the flame sensor in the laser module will activate the alarm and stop the machine from working. When the machine tilts more than 50±5 degrees, it will also trigger an alarm and stop the machine from running. In addition, this laser engraver has a laser shield on the laser module, which can largely filter out the ultraviolet light generated by the laser and protect your eyes.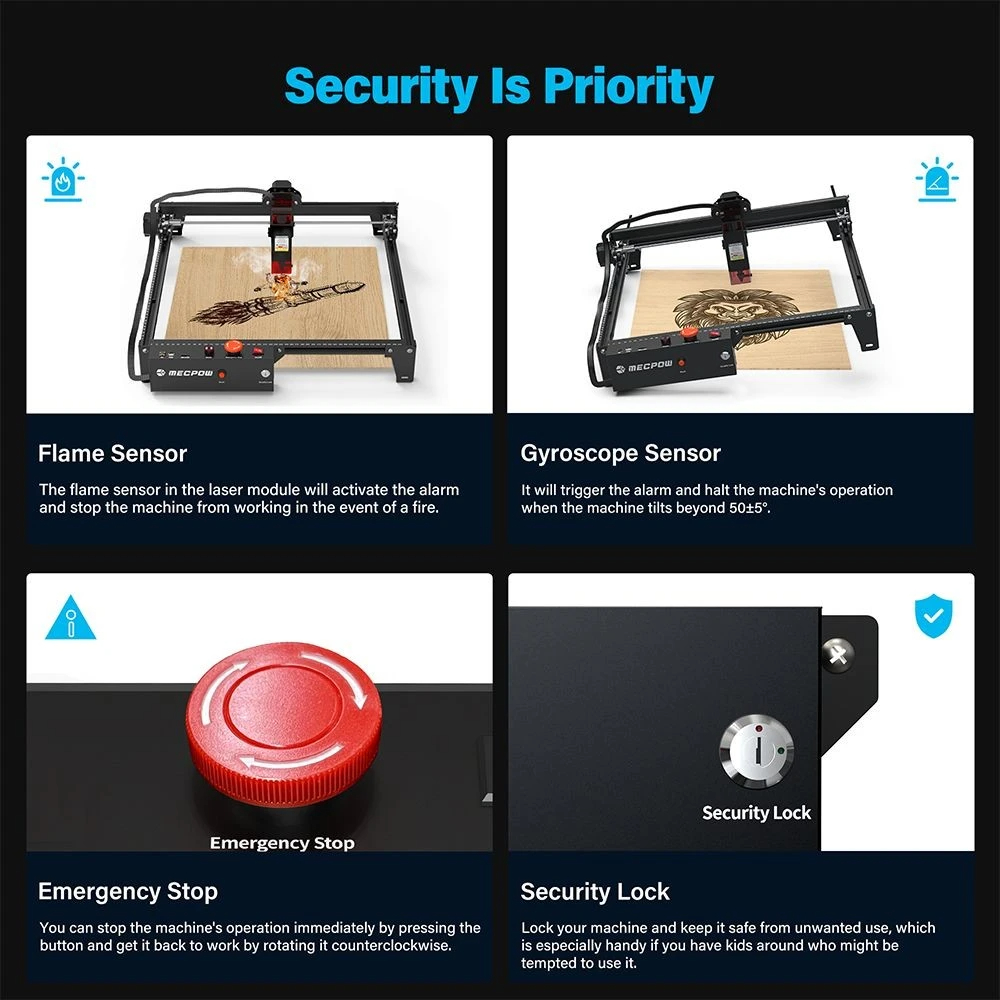 Wide Range of Applications
Mecpow X3 series laser engraving machines aim to help you turn your ideas into reality, creating with precision and ease. They are compatible with mainstream software such as LaserGRBL (Windows only) and LightBurn (Windows and Mac OS), and also support various file formats such as JPG, PNG, DXF, TIF, PDF, SVG, etc. Its large engraving area of 410x400mm can meet most of the user's creation and design. Of course, you can buy an extension kit to obtain a working area of 750x400mm, which can be applied to more usage scenarios.