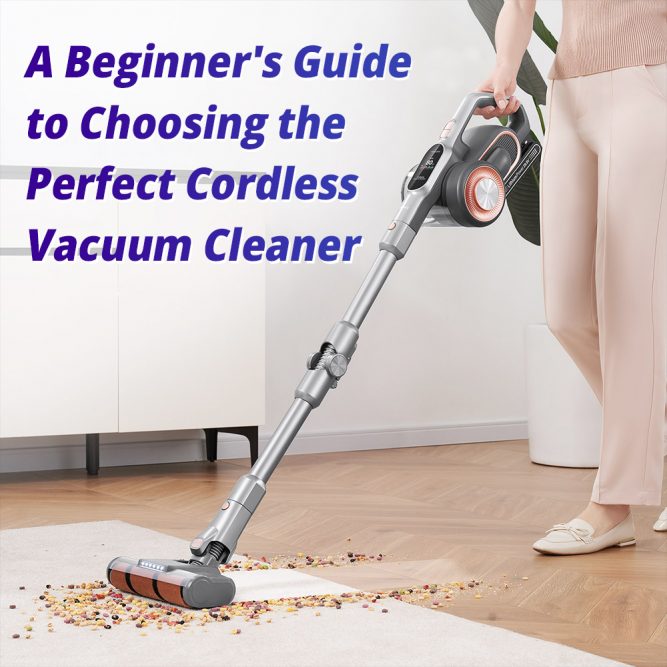 It can be said that as long as your home has carpets, sofas, shelves, cabinet furniture, or pets, then there is a need to buy a vacuum cleaner. Cordless vacuum cleaners are more convenient and flexible than traditional cleaning methods, and they can help you save a lot of time doing housework. However, there are so many vacuum cleaners on the market, it is not easy to buy a vacuum cleaner that suits you. If you are picking out your first cordless vacuum cleaner, then this article will help you.
How Does a Vacuum Cleaner Work?
The cordless vacuum cleaner's working principle is to provide power through the built-in battery, which drives the motor to rotate the rotating brush and fan of the vacuum cleaner. When the vacuum cleaner is turned on, the motor turns and the rotating brushes stir up the dust and grime on the floor. At the same time, the fan creates a negative pressure that draws air and dust into the vacuum cleaner's storage container or filter system. In the process of inhaling dust, the filter system can filter the particles in the air to keep the indoor air clean. When the storage container or filter system becomes full of dust, you can empty or replace them to continue using the cordless vacuum cleaner.
How to Choose a Cordless Vacuum Cleaner?
Suction
Suction is an important indicator to measure the cleaning power of a vacuum cleaner. Theoretically, the greater the suction power, the stronger the vacuum cleaner's ability to absorb garbage and the better the cleaning power. However, if the suction power is too large, it will also cause noise problems. If you pursue greater suction power, you can choose one according to your actual needs.
Brush Configuration
The handheld vacuum cleaner is equipped with special brush heads for targeted cleaning of balconies, sofa beds, carpets, cabinets, etc. The richer the brush head accessories, the more usage scenarios. Of course, different brands of vacuum cleaners have different numbers and types of brush heads. Here are the most common and basic four types of brush heads:
Floor brush: mainly used in the central area of the room such as the floor and the carpet.
Mite removal brush: mainly used in bed sheets and bedding, pillows, sofas, and even items that are often close to the body.
Brush: Hard objects such as marble.
2-in-1 flat brush: desktops, corners, keyboard gaps, and small-area precise cleaning scenes.
Filtering System
After using a cordless vacuum cleaner for a period of time, many people will find the suction power drops significantly. The problem is actually that the cyclone system is not very good. If the cyclone system of the vacuum cleaner is not done well, it will not only cause dust to accumulate inside the motor, making cleaning troublesome, but will also lead to a decrease in the suction of the vacuum cleaner in the long run. In addition, when the vacuum cleaner sucks dust into the machine, the filter system plays a vital role in preventing secondary pollution. In order to avoid the drop in suction power, it is recommended to choose a combination with a cyclone system + HEPA filter.
Motor
There are two types of motors for vacuum cleaners, brushed and brushless motors. Brushed motors are prone to heat, high noise, and short lifespan, while brushless motors have low noise and a long lifespan. Therefore, when you choose a vacuum cleaner, brushless motors are preferred.
Dust Box Cleaning and Runtime
At present, most dust boxes of cordless stick vacuums have a one-button dust removal design. The moment the dust cleaning box is opened, dust may appear, and manual cleaning is required. A smarter cordless handheld vacuum cleaner configures a self-cleaning function, which can automatically collect garbage through the built-in dust bag, avoid secondary pollution and make it more worry-free to use. In addition to cleaning and maintenance, runtime is also a matter of great concern to everyone. The relatively short runtime greatly affects the user experience. Therefore, when choosing a cordless vacuum cleaner, the longer the runtime, the better.
Anti-tangle Function
Anti-tangle is also very important. People who have pets at home will definitely be troubled by the hair all over the floor, but after cleaning the floor with ordinary vacuum cleaners, the roller brush is covered with hair and needs to be cleaned manually, which is very troublesome. Therefore, when choosing a vacuum cleaner, it is recommended to choose a machine with a soft velvet roller brush, which will not be easily entangled after a long time of use.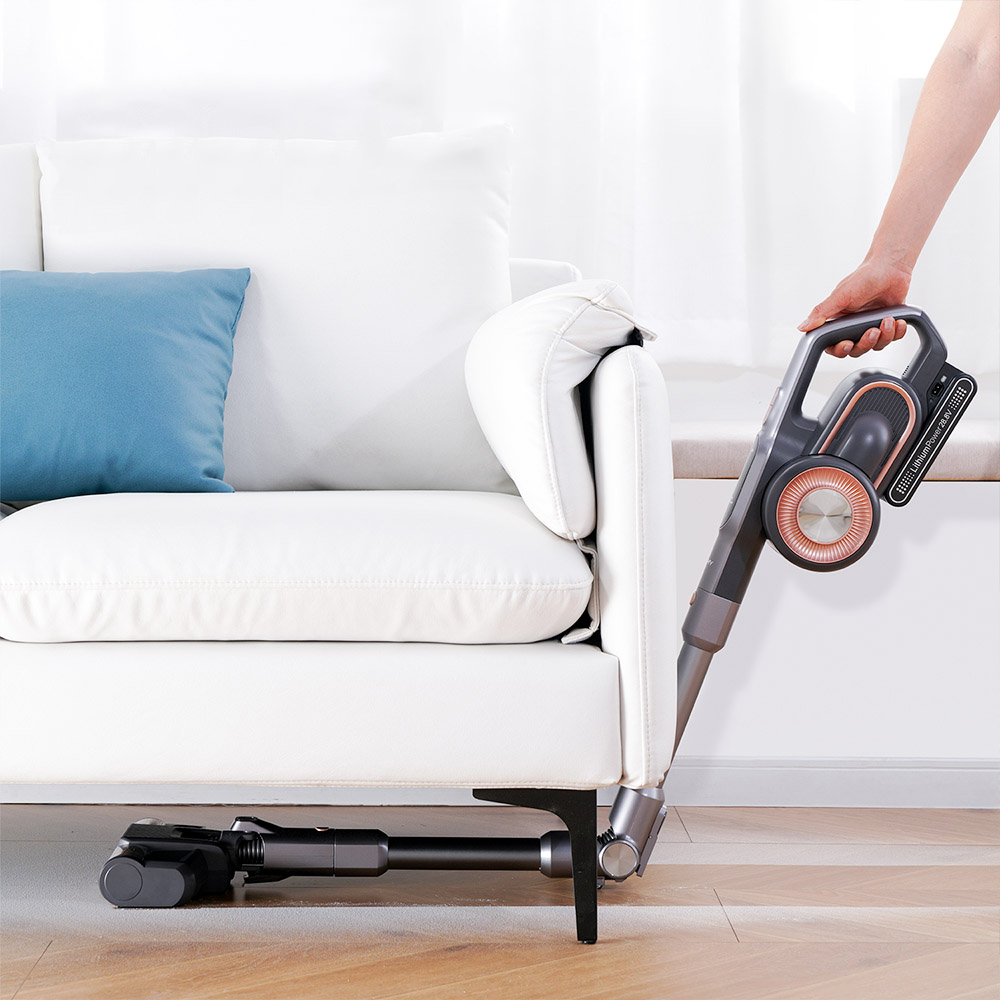 Top Cordless Vacuum Cleaners Recommended in 2023
Proscenic DustZero S3
The highlight of this cordless handheld vacuum cleaner is that it has an innovative automatic emptying station that automatically collects all the dust in the vacuum cleaner and stores it in an easy-to-remove airtight compartment, and is equipped with a 3L large-capacity dust bag. Compared with other cordless vacuums with a one-button dust removal design, Proscenic DustZero S3 cordless vacuum cleaner does not require you to manually clean up the garbage at all. You can empty the garbage without getting your hands dirty. Besides, the super large dust bag can hold for 30 Days without cleaning the dust box! Proscenic DustZero S3 is equipped with 30000Pa suction, 5-layer filtration system, up to 60 minutes of run time, and brush heads that can be applied to different areas. It performs very well from cleaning power to portability.
Proscenic P11 Animal
The reason for recommending this cordless handheld vacuum cleaner lies in its pet power brush, which lets you brush your pet and vacuum up loose hair with ease. The Proscenic P11 animal cordless vacuum cleaner has a suction power of up to 26000Pa and 5 adjustable suction levels. It also has a 4-stage filtration system that captures 99.98% of fine dust and dust mites. The LED touch screen and flexible brush head with LED lights can help you clean different corners of your home well. Proscenic P11 animal handheld vacuum cleaner has a one-button dust removal design. It may not be as good as the Proscenic DustZero S3 in terms of user experience, but it is equipped with different cleaning brush heads as well, which is convenient for you to clean different areas of your home. If your budget is not high and you have pets at home, then I would recommend you buy this vacuum cleaner with a pet power brush.
JIMMY H10 Pro
The standout features of the JIMMY H10 Pro smart handheld cordless vacuum cleaner are its flexible metal tube and a runtime of up to 90 minutes. It can easily help you clean the sofa or under the cabinet without you bending over. JIMMY H10 Pro cordless vacuum's suction configuration is also 26000Pa, and in automatic mode, it will adjust the suction level according to different dust levels and floor types. Plus, this cordless stick vacuum is equipped with a very smart dust sensor, which can clearly display the dust level of 4 different particle sizes on the LCD screen. Different from other vacuum cleaners, JIMMY H10 Pro adopts a horizontal filter system, which can also effectively separate dust in the air and reduce suction loss, capturing large particles and up to 99.9% of fine dust. Last but not least, this handheld vacuum cleaner comes with versatile brush heads for different cleaning needs.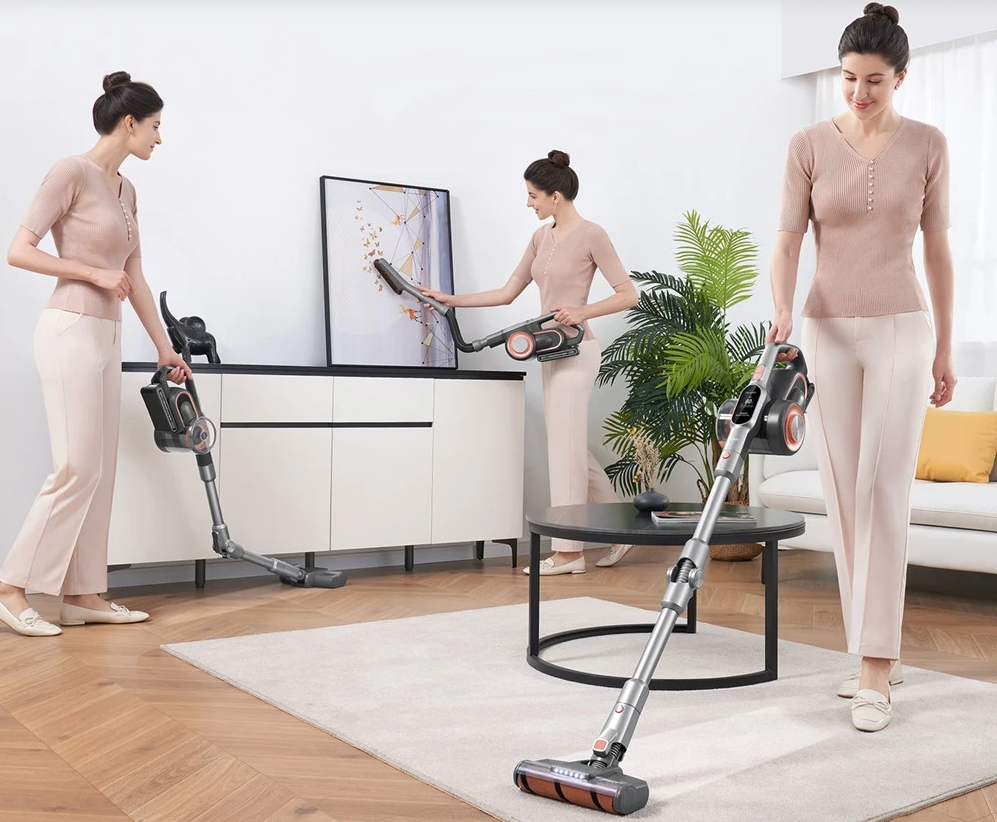 EASINE by ILIFE G80
The price of this vacuum cleaner is also very affordable, and the simple and elegant design makes it very suitable for women. EASINE by ILIFE G80 cordless handheld vacuum cleaner weighs only 1.95kg, so it will not be particularly strenuous to use. It is equipped with a 22000Pa suction power and a brushless motor that can quietly suck up dust and debris on the floor. The special feature of the ILIFE G80 handheld cordless vacuum cleaner is that it has a rotating side brush that can collect dust and debris from corners and edges, solving the problem that ordinary vacuum cleaners tend to ignore the edges of walls. 4-stage filtration with a cyclone system maximizes cleaning efficiency. Apart from that, the floor brush of this cordless vacuum is very flexible, it can be laid flat at 180 degrees for deep cleaning of low furniture. And the 270-degree swivel angle can clean the bottom of chairs, beds, corners, and crevices.
Roborock Dyad Pro
Roborock Dyad Pro is a smart cordless wet and dry vacuum cleaner. Its biggest advantage is the double-roller design that rotates in the opposite direction, which can deeply clean the dirt without leaving traces. Full-length rollers and two front rollers sweep up debris smaller than 1mm² around the edges, and sideways cleaning is also easy for them. Roborock Dyad Pro cordless wet and dry vacuum cleaner configures a suction power of 17000Pa, which can easily clean wet and dry floors. Its intelligence is mainly reflected in the self-cleaning system, self-drying system, automatic washing liquid dispenser, app control, and voice alarm. At the aspect of battery life, this cordless wet-dry vacuum cleaner can provide a maximum cleaning range of up to 300 sqm on a single charge. If you're looking for a vacuum cleaner that can handle both dry and wet messes, the Roborock Dyad Pro is the best choice in terms of cleaning power and smart design.