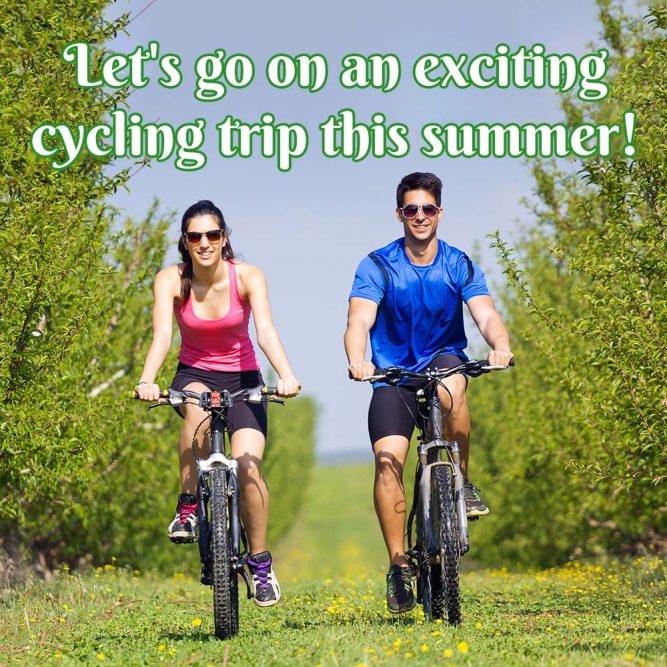 What's the joy of cycling?
The magnificent scenery, the going wind, or the freedom feeling? Besides these, Cycling is challenging yourself. Once you set up a goal, then you start from the beginning and work toward the end. The procedure may be very long and arduous, and you have to conquer the route little by little, to insist on breaking through the limit and challenging yourself. That's why so many riders always persevere and get indulged in this sport.
For the majority, the cost of cycling is not that high, and it is a good sports habit that you can easily form. What you need is a bicycle, and there is no need to hire a site. For fitness enthusiasts, cycling is also an excellent way to keep in shape.
The sweltering temperatures are on the way, and the scorching sun can not stop bike lovers to have a bike trip this summer. However, riding bikes in extreme weather may come along with potential danger and even accidents. Exposure to sunshine for a long time, it may lead to heatstroke and physical discomfort. Riding for a long time in baking hot weather is more likely to cause accidents due to physical exhaustion. Therefore, only by ensuring safe riding, can we have a better riding experience. In this blog, we summarize some summer cycling tips and provide comprehensive safe riding guidance for bicycle enthusiasts.
Cycling Wearing
Wear A Jersey or Being Shirtless
A few cyclists may hold the opinion that being shirtless makes you feel cooler. Is that true? In fact, human beings' thermoregulation not only relies on skin evaporation but also reacts with skin radiation. When the external temperature exceeds 37°C, the body temperature mainly depends on skin evaporation to dissipate heat; when the temperature continues to rise, the skin not only cannot dissipate heat through radiation but also absorbs heat from the external environment, making people feel more stuffy. As a result, being shirtless is not only unattractive but also can not dissipate heat at high temperatures. On the contrary, wearing a jersey can protect against sun protection, and accelerate ventilation and perspiration to a certain extent.The meaning of being shirtless is probably to save one piece of laundry. It's better to wear a long-sleeved jersey made of of breathable, quick-drying fabric, or a short-sleeved jersey + sun protection sleeves.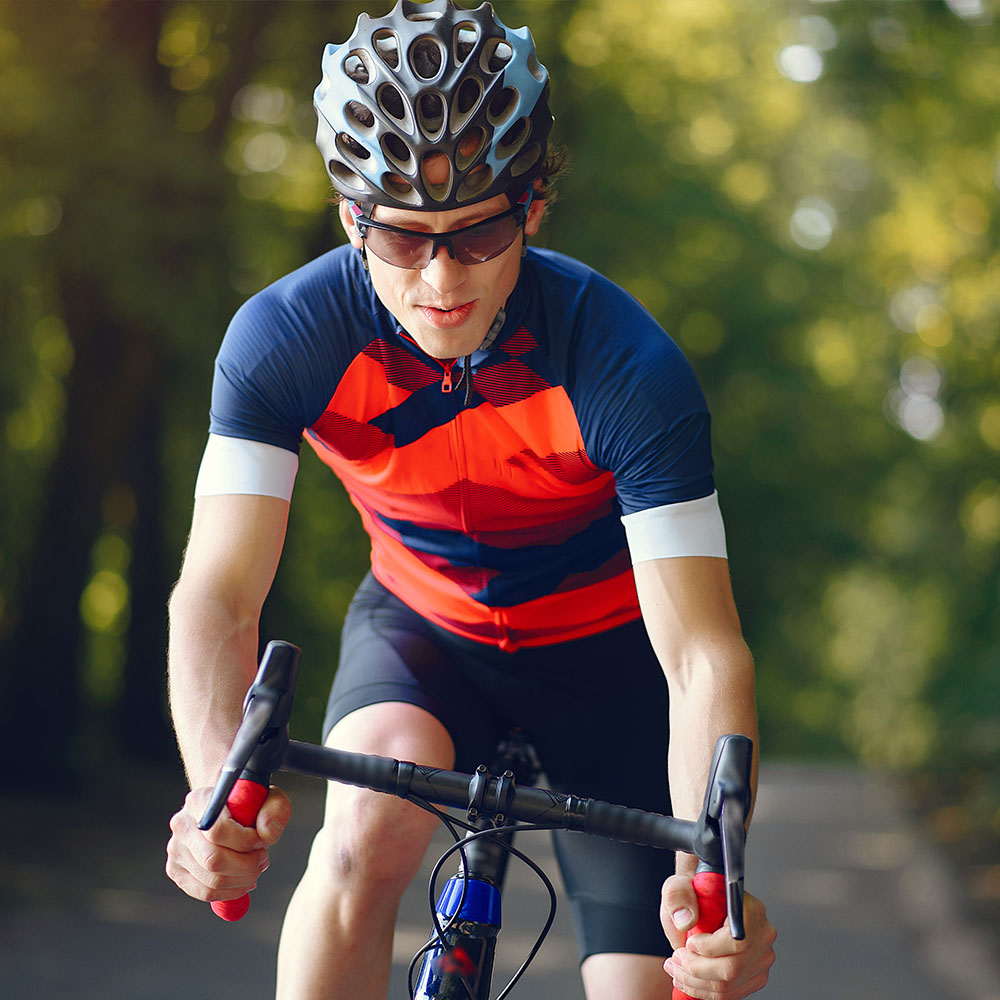 Magic Bandana
Wear a magic hood. Wear a hijab on your head to protect your face, including your ears, nose, etc. The reasons are: 1. The headscarf can absorb sweat and prevent sweat from entering the eyes or staining the glasses; 2. When riding for a long time, the wind will constantly blow the back of the head and make it uncomfortable. Wearing a headscarf can solve this problem.
Wear A Helmet
Wear a helmet with a brim, or add a cycling cap to it to keep the sun from hitting your scalp and protect your forehead. For safety reasons, it's suggested to wear a helmet, too.
Sunglasses
The strong ultraviolet may lead to eye cataracts. It's better to wear a pair of sunglasses with UV 400 above to protect our eyes from being damaged by strong light stimulation in the long term. What's more, it can reduce the adverse effects on the mind caused by strong and high temperatures.
How to Fuel Your Body
Water Supplement
In summer, the temperature is high and the human body loses water easily, and after exercise, it will accelerate the loss rate. The frequency and skill of drinking water are particularly important in this period. If you want the water you drink to be more easily absorbed by the intestines and transported to the cells, you should drink drinks containing electrolytes. According to nutritionist Dr. Stacy Sims, we should drink sports drinks that contain sodium and glucose to replenish electrolytes. Carbohydrates are not electrolytes themselves, but consuming them in moderation can help the body absorb electrolytes better and avoid dehydration.
Dr. Stacy Sims suggested that you can drink a little salt water before exercising, and the sodium ions in it can help absorb and transform water. We can carry a drinking water bag with us, or set some drinking points on the cycling route, and stop to replenish water every once in a while, instead of waiting until we are thirsty to drink water.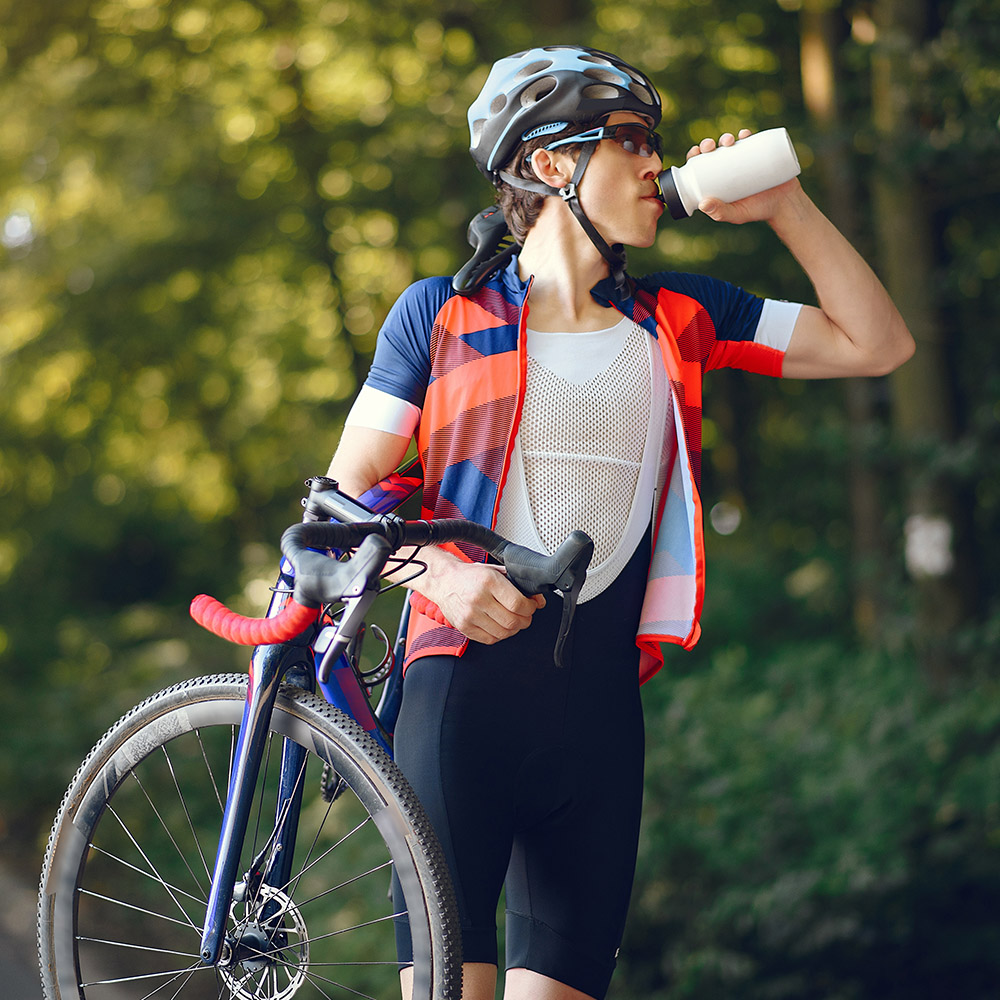 Energy Supplement
In order to make the riding trip more smoother, the riders need to replenish energy in time. While this doesn't mean that any food is eligible. In summary, The diet should not be greasy, and animal and plant protein and vitamins should be properly supplemented. There're abundant fruits and vegetable in summer, such as tomatoes, cucumbers, watermelons, peaches, grapes, and bananas which is good for replenishing water and other nutrients that the human body needs.
Tomato is a kind of vegetable with high nutrition and relatively low prices. It contains lycopene, which can effectively resist oxidation. When we ride in the sun for a long time, eating tomatoes is helpful for improving the skin's UV resistance. Please pay attention that eating tomatoes on an empty stomach can easily cause abdominal pain. In addition, Food in summer is easy to deteriorate, so think highly of food hygiene, and do not eat spoiled and polluted food. Portable high-energy foods such as chocolate may get melted in high-temperature weather, and it is easy to smear your face when eating it.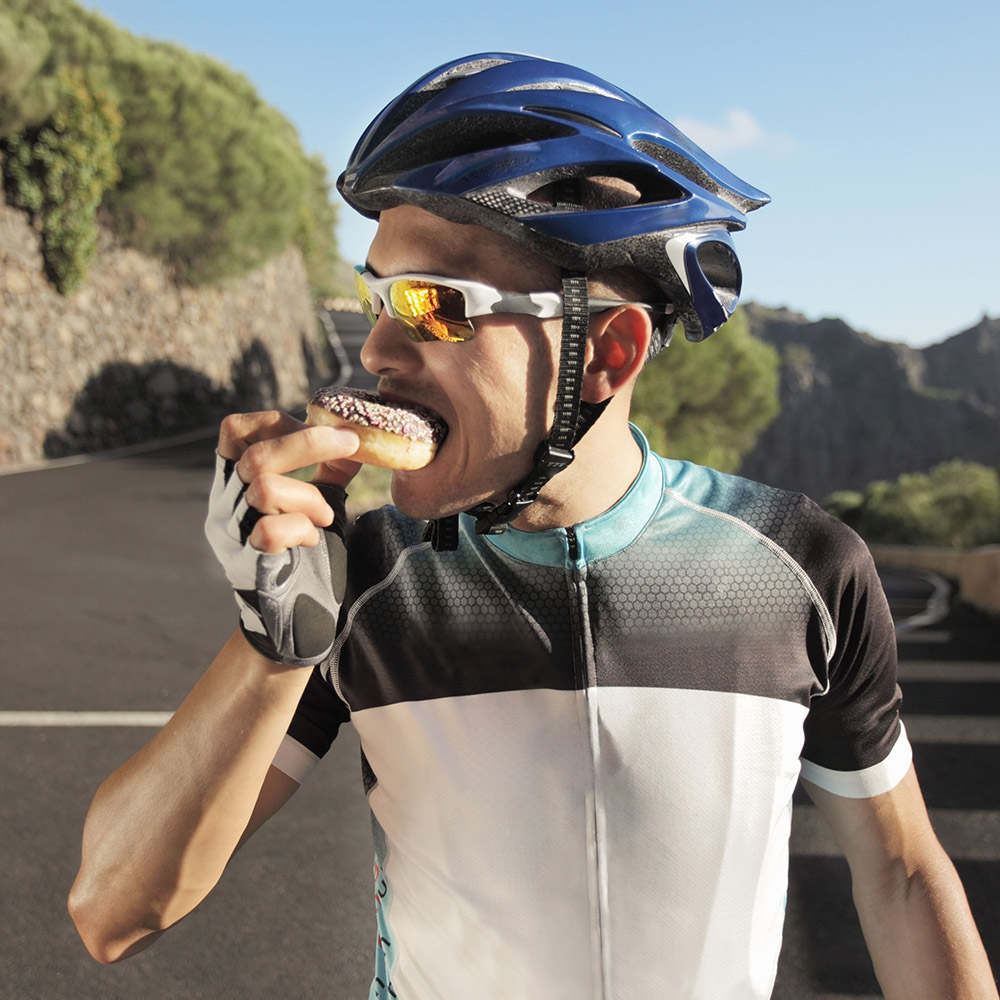 Staple Food
When we are making a cycling plan, we should take the meals into consideration as well. To avoid the torment of high temperature weather, try to start your trip in the morning, and prepare some dry food and drinks in advance. There is a tip: eat pasta for lunch. The main ingredient of noodles is starch, which is good for digestion and provides enough energy for cycling. While eating too much meat will increase the burden on the stomach and intestines. It will take a longer time to digest and affect the performance of the cyclist. When the cycling trip comes to an end, you can have a feast and eat what you want!
Plan Your Route In Advance
Which route to ride? How about the road condition? Are there many hills? How about the traffic condition and air quality? Where can you eat and where is for accommodation? Is there much shade on the road, and is the road section in direct sunlight long? Is there any water source or woodland to rest? Look, there're lots of factors to be aware of when making the routes.
In the hot summer, it is suggested to cycle on green land. It can avoid prolonged exposure to the sun and reduce the risk of heat stroke. In addition, there are a large number of plants in the green space, which can absorb heat waves and release oxygen, making the air fresh and breathing easier. Meanwhile, the green scenery can purify our minds and make us pleasant. Riding in the early hours of the morning or evening can also reduce the discomfort caused by the heat. The cycling route should be set as far as possible on a path with less traffic, flat road surface and shade along the way.
The senior pedalers suggest: usually start at 6 or 7 am, and 8 or 9 am is also acceptable; then ride until 2 pm for lunch. After having a meal and taking a rest for about half an hour, then set off. In this way, it is easy to run 150km on a relatively flat road in one day.
It is often the case that when you're unfamiliar with the route, you may feel hard to accomplish your cycling routes as planned. At this time, don't rush to the plan. It is recommended to adjust the goal according to your own state and actual situation. Don't feel upset, and cheer yourself up more.
Fully Armed – Sun Protection
In summer, long-term exposure to the sun can easily lead to sunburn due to the strong light. Some Cancer Reserch has found that a large number of men and women have died of skin cancer in the past 30 years. When on a sunny day, everyone will pay attention to sun protection, but on a cloudy day, most people will less care about the ultraviolet light. In fact, clouds have little effect on blocking ultraviolet rays, and even become the accomplice of multiple reflections of ultraviolet rays, deepening your ultraviolet damage.
The sunshine always directly casts on our face and skin when we're ridng out, which is not only easy to expose the skin to the sun, but also causes sunburn. There're two ways to protect ourselves from the sunburn: physical method and chemical method. The physical way is to wear a jersey, helmets, gloves, face shields, and sunglasses to reduce exposure. The physical way is to apply sunscreen products, and the effective time varies. Some can only maintained for about 2 hours, but also fails with the sweat wash, which needs to be supplemented on time. It is recommended to choose sunscreen with high sunscreen value, SPF value should be 30 or above, which can better protect the skin from damage.Therefore, it is generally based on physical methods, supplemented by chemical methods.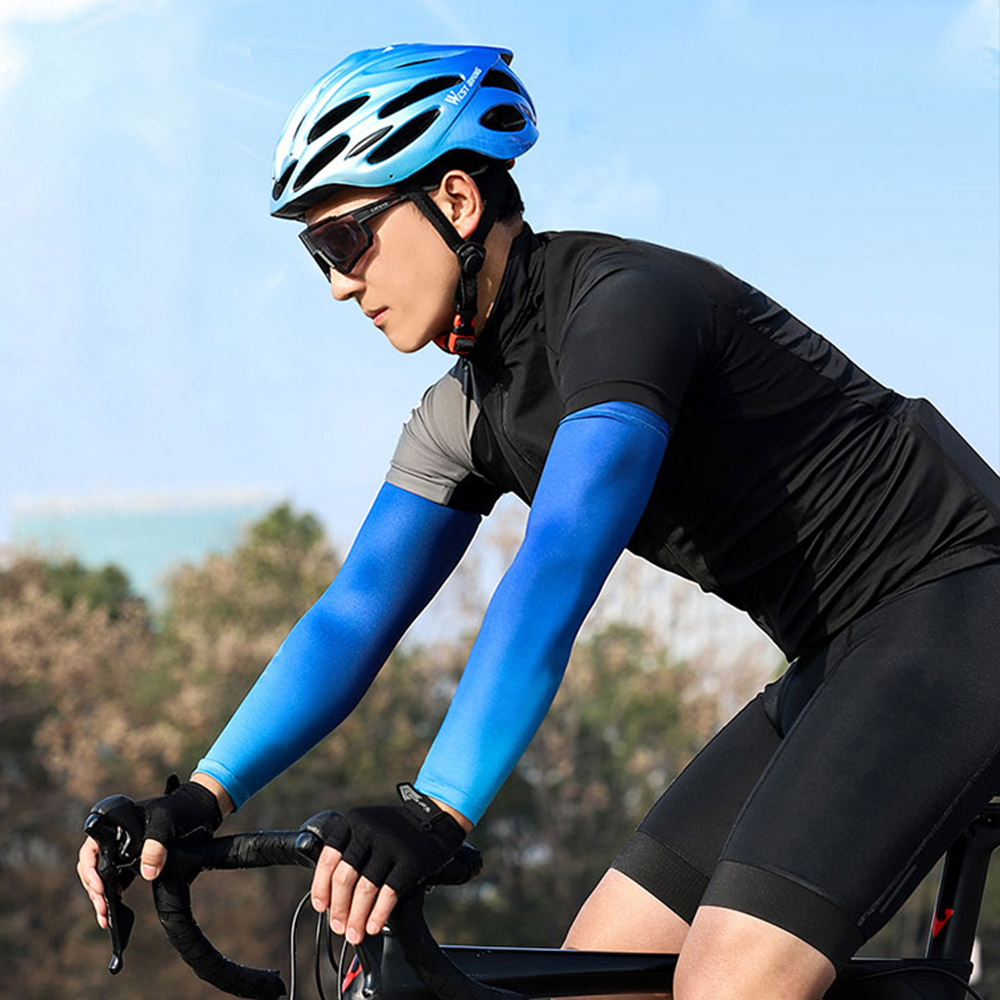 Potential Sudden Condition
Have a cold. Summer hot and cold temperatures alternate quickly, if coupled with sudden showers, it is easy to catch a cold. When the clothes gets sweaty and wet, they should be taken off as soon as possible. Bring a quick-drying clothes with you for replacement as far as possible. Never lie down on the spot in sweaty clothes.
Cramps: If you ride and rush out without being prepared for exercise, it is easy to cause leg cramps. It's advised to ride slowly for a while to get your foot customized to the movement, then gradually speed up. The feet are prone to congestion and swelling after riding for a long time. Try to lie flat and raise your feet as high as possible to promote blood circulation during the halfway break. If there is a slope with a small incline, you can also lie down and rest for a while or put your feet on the bicycle to rest.
Heatstroke: In order to avoid heat stroke, make sure to cover the head with any item. If you suffer from heatstroke, please shade the sun and drink more water right away. Apply some medicines to cool down, and take a short rest before going on. If the symptoms are too serious, go to the hospital immediately. When riding in dry areas, smear some grease in the nasal cavity to avoid it dry and ensure smooth breathing.
Stay away from colorful mosquitoes and unknown plants to reduce the risk of allergic inflammation. Control diet to prevent diarrhea and ensure normal riding.
Mechanical Failure
In summer, the weather is hot and the heat wave on the road is striking, which can easily cause tire wear or brake failure. The high temperature will lead to a high-pressure tire. The tire can not fully contact the ground, which accelerates the wear of the middle part. Please carefully check every component of electric bike before set off. Too much air in the tire will cause a puncture, and too little air will increase the resistance of riding. It's better to travel together, bring water and some emergency equipment with you, and put safety as the first place.
Be Aware of Weather and Geological Hazards
Summer is also the rainy season. It is often the case that unexpected rain caught off in the afternoon. While checking the weather conditions, prepare a raincoat for cycling, or choose to wear some rainproof windbreakers. Whether to bring long-sleeved clothes for cooling depends on the situation, since summer thunderstorms come and go quickly.
Stay away from dangerous reservoirs, ravines and cliffs to avoid accidents. The high temperature makes the soil structure fragile in some places.
After Cycling
It's suggested to so some proper physical activities, such as stretching when finishing cycling. This helps the muscles to get stretched, reduces fatigue, and also prevents muscle soreness. It is recommended to stretch according to personal physical fitness and riding intensity to avoid injury.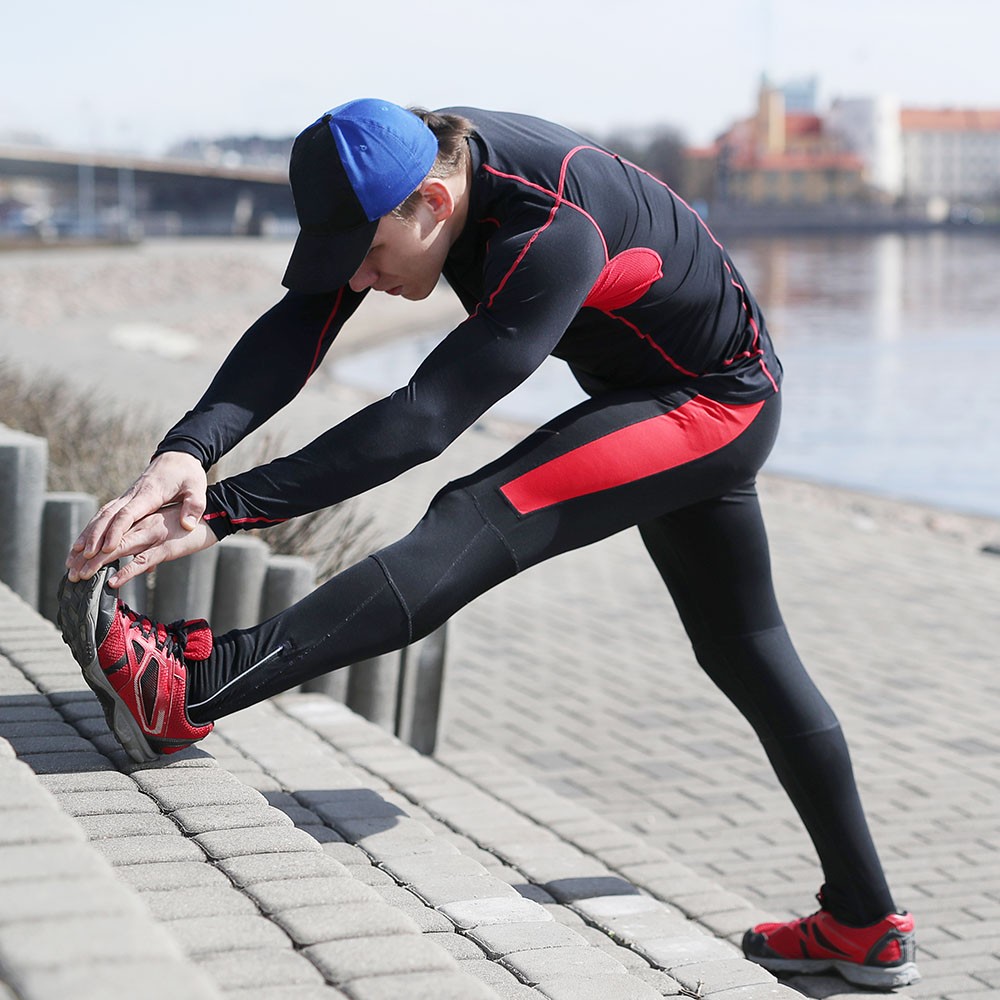 In conclusion, summer riding is fun and challenging, and it requires adequate preparation and protective measures to minimize dangers and accidents. Wish the bicycle enthusiasts take pleasure in riding, leaving a good memory and healthy figure.