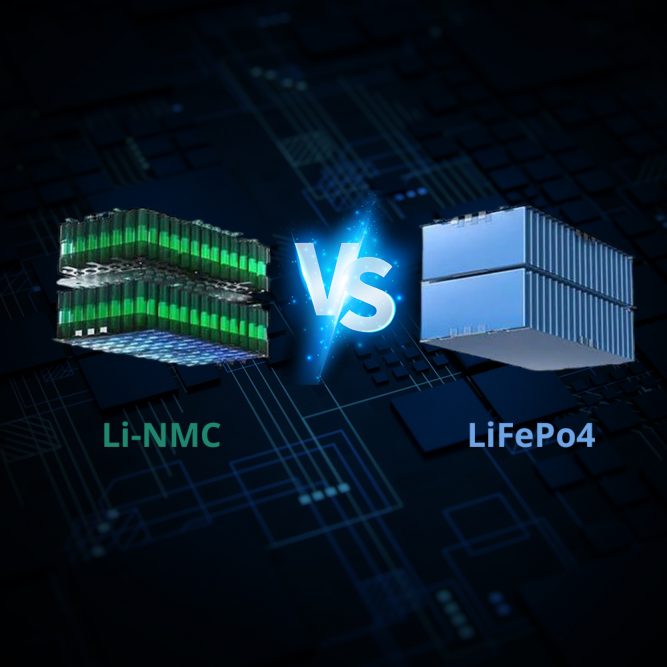 As a user of an outdoor portable power station, how much do you know about the core power source of your power station? Like new energy vehicles, you will be more concerned about battery life, charging, and safety issues, and these issues largely depend on the type of battery used in the machine. The most commonly used outdoor power station battery cells on the market are ternary lithium batteries and lithium iron phosphate batteries. So which one is better between ternary lithium and lithium iron phosphate? This article will take you through the differences, advantages, and disadvantages of the two kinds of batteries.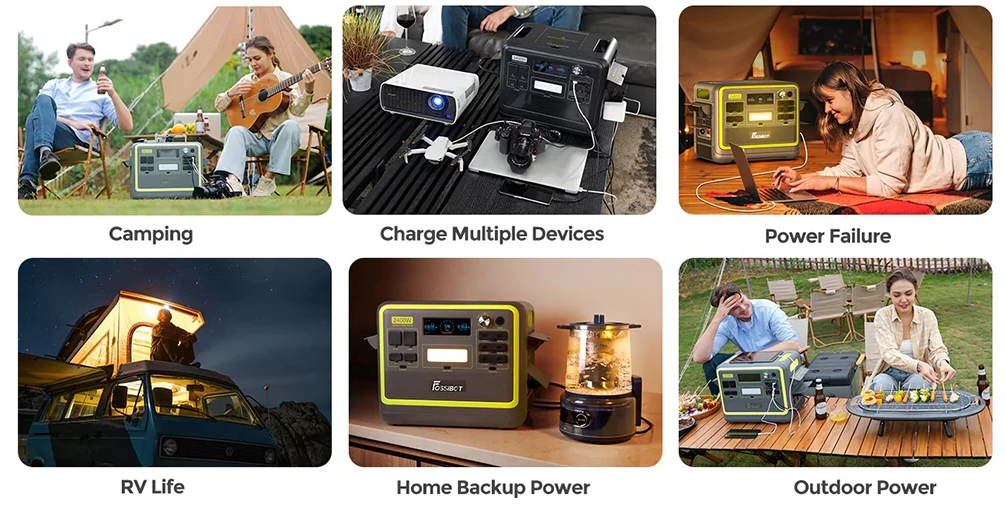 Ternary Lithium Battery (NMC)
The positive electrode material of the ternary lithium battery generally uses three metal elements of nickel, cobalt, manganese, or aluminum, so it is also called a ternary polymer lithium battery. The higher the proportion of these metal elements, the greater the energy density.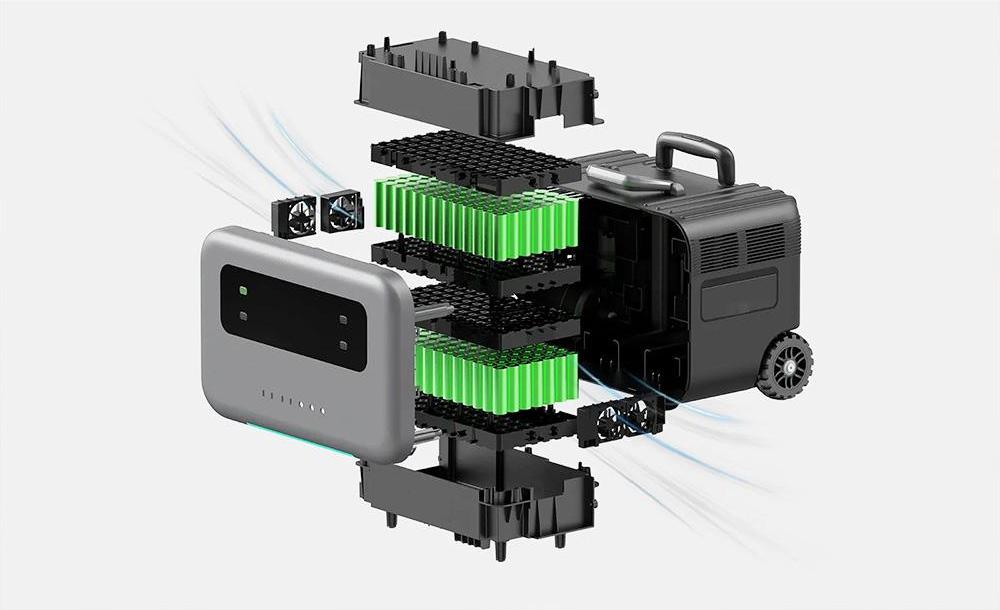 Pros
Energy density is an important indicator for evaluating battery performance. Generally speaking, the higher the energy density, the more power the battery can hold per unit weight or volume, and the longer the battery life. For example, two ores of the same weight and size, one with more impurities, and one with fewer impurities, the higher extraction rate will undoubtedly be more valuable. The biggest advantage of the ternary lithium battery is that it has a high energy density, basically 240kWh/kg, so it features strong power storage ability. At the same time, because of its ultra-high energy density, its volume is smaller than that of lithium iron phosphate.
During the winter, the battery life of most batteries fades. However, ternary lithium battery has a strong low-temperature resistance, its low-temperature limit is minus 30 Celsius, and the low-temperature discharge performance is good. In weather of minus 20 Celsius, the heating performance of the ternary lithium battery can reach more than 70%, and the area with relatively low temperature can also be used with confidence. Under the same low-temperature conditions, the winter endurance of NMC batteries is less attenuated than that of LFP batteries.
In terms of consistency, it is generally believed that ternary lithium is higher than lithium iron phosphate. Lithium iron phosphate batteries need to be charged frequently to calibrate the SOC power, while ternary lithium batteries are recommended to be charged no more than 90%.
Cons
Ternary lithium batteries have poor high-temperature resistance and are prone to safety problems such as overheating and melting in high-temperature environments, which may cause battery explosion or fire. This kind of battery is often easy to decompose at around 200 degrees, and the electrolyte will burn rapidly under the action of high temperature, triggering a chain reaction, or even spontaneous combustion. Therefore, many outdoor portable power stations equipped with NMC lithium batteries need to add temperature protection and BMS to protect the battery.
In addition, ternary lithium batteries use precious metal materials such as nickel, cobalt, and manganese. The production of high-nickel batteries has strict requirements on the process environment, and the positive electrode materials used account for 50% of the total cost of the battery, so the overall cost is higher than that of lithium iron phosphate.
Battery life is the attenuation of the battery after repeated charging and discharging. Unlike lithium iron phosphate, ternary lithium batteries have a shorter lifespan. After completing more than 2000 charge and discharge cycles, the attenuation phenomenon will begin to appear, and the time is generally about 6 years. However, with methods such as battery management, it is possible to extend battery life somewhat, but only a little. In general, ternary lithium batteries have some shortcomings in terms of safety, cost, and service life, which need further improvement and optimization.
Lithium Iron Phosphate Battery (LFP)
The cathode material of lithium iron phosphate (LiFePO4) battery only uses lithium iron phosphate compound, does not contain heavy metals, is relatively environmentally friendly, and has a lower cost.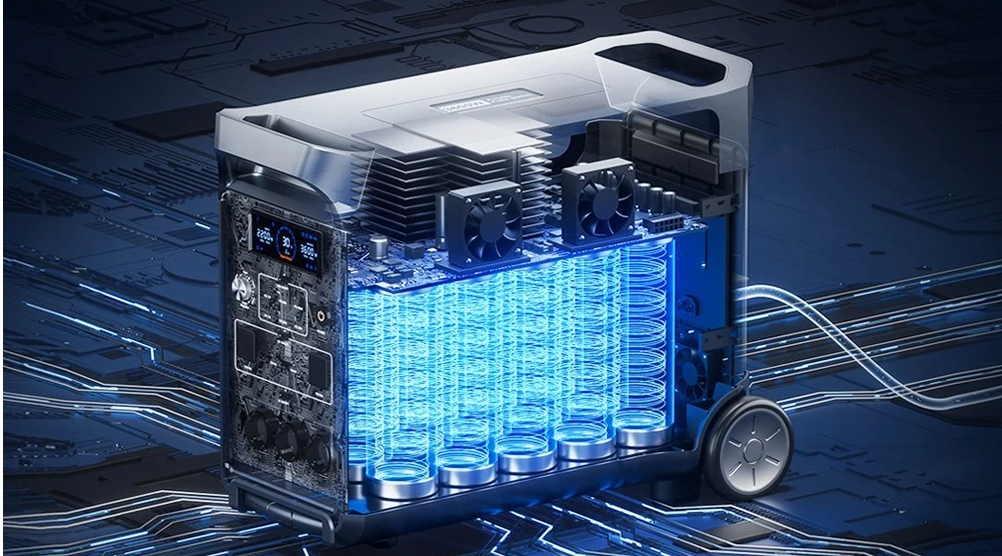 Pros
The biggest advantage of lithium iron phosphate battery is the good high-temperature performance. Due to the material, LFP has the best thermal stability with a peak electric heating of 350 Celsius, and the chemical composition begins to decompose between 500 Celsius and 600 Celsius. At very hot high temperatures, there is no need to worry about the hidden danger of spontaneous combustion and explosion of the battery. In terms of service life, lithium iron phosphate batteries will also be better. During the battery aging process from 100% to 80%, the charge and discharge cycles of lithium iron phosphate batteries can reach 3500+. For example, it cycles once a day and takes almost 10 years to start decaying and replacing. And under the same number of cycles, the remaining battery capacity of the lithium iron phosphate battery will be more than that of the ternary lithium battery.
Another merit of lithium iron phosphate is that it is resistant to bumps, and not easy to catch fire and explode. It can also resist extrusion, which is very suitable for self-driving tours. Regarding cost, lithium iron phosphate batteries also have a strong point. They do not contain precious metal elements and are therefore less expensive to produce. It is generally believed that when there are no heavy metals and rare metals contained, there will not be pollution, so lithium iron phosphate batteries are more environmentally friendly than ternary lithium batteries.
Cons
Due to the inherent chemical characteristics, lithium iron phosphate has a low charge and an energy density of about 140Wh/kg. That is to say, under the same weight, the energy density of the ternary lithium battery is 1.7 times that of the lithium iron phosphate battery. The lower energy density makes its power storage capacity not as high as that of ternary lithium, and its volume is also larger. In a low-temperature environment, the decay rate of lithium iron phosphate batteries will be faster than that of ternary lithium. The lower temperature limit of this type of battery is minus 20 Celsius, so the electrical performance in low-temperature environments is relatively poor. Its capacity retention rate is about 60-70% at 0 Celsius, about 40-50% at minus 10 Celsius, and about 20-30% at minus 20 Celsius.
In terms of battery consistency, the lithium iron phosphate battery is slightly inferior to the ternary lithium battery. It needs to be fully charged frequently to calibrate the SOC power, and the actual power output during use will be less than the parameter description. In general, lithium iron phosphate batteries have some shortcomings in terms of energy density, low-temperature performance, consistency, etc., and need to be improved and optimized.
Conclusion
Energy Density: NMC > LFP
Security: LFP > NMC
Low Temperature Performance: NMC > LFP
Battery Life: LFP > NMC
Manufacturing Cost: NMC > LFP
Volume: LFP > NMC
Consistency: NMC > LFP
Combining these factors such as energy density, low-temperature performance, safety, service life, and cost, lithium iron phosphate, and ternary lithium have their own pros. In actual use, lithium iron phosphate has the advantages of high-temperature resistance, strong safety and stability, low price, and better cycle performance. While ternary lithium has an absolute advantage in power storage capacity, which can meet the important needs of consumers for long battery life.
Lithium iron phosphate battery has a mature production process and market. It has been widely used and verified in the field of outdoor portable power stations. When choosing an outdoor power station, you can make a choice according to your own needs and economic capabilities, not only the price factor, but also the battery performance factor. If you need a safe, stable, and large-capacity portable power station, you can consider FOSSiBOT F3600, FOSSiBOT F2400, and OUKITEL P2001. These power stations use LiFePO4 batteries and have a variety of output ports, which are very suitable for summer camping. If you only need a small and medium power station for occasional picnics or weekend trips, then FlashFish E200 and OUKITEL P501 will be more suitable for you. These two power stations are relatively light in design and easy to carry.