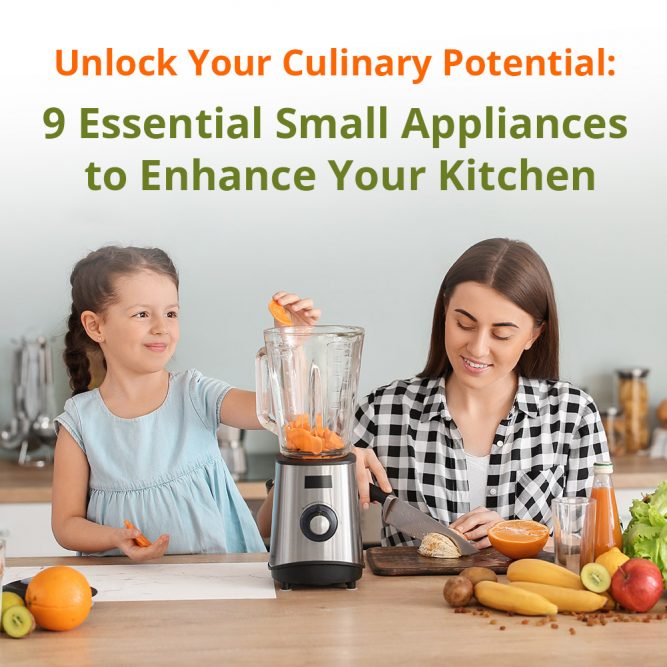 Kitchen is one of the indispensable areas in family life. In addition to common kitchen appliances such as rice cookers, refrigerators, range hoods, induction cookers, and electric kettles in modern life, small kitchen appliances such as microwave ovens, dishwashers, toasters, ovens, juicers, and air fryers can definitely improve your happiness in life. Whether you are a chef or a novice, the right kitchen tools will help you complete cooking tasks faster and stimulate your cooking potential. A well-equipped kitchen can significantly improve the efficiency of cooking. If you are thinking about getting some good kitchen gadgets but can't find where to start, then this blog about useful gadgets for the kitchen might help you. So get ready for a culinary adventure and unleash your full potential with these essential kitchen gadgets.
Oven
Whenever the cold winter comes, hot food must be what everyone wants. If you consider placing an oven in the kitchen, then you can satisfy your family's favorite eating habits anytime, anywhere, and it is also more convenient. Of course, no matter what the season, the oven is very practical, for example, you can use it to make egg tarts, bake bread, cakes, pizza, meat, vegetables, etc. The oven provides people with a convenient and quick cooking method, while also retaining the nutrition and taste of the food. Whether it is a home kitchen or a commercial catering establishment, the oven is one of the indispensable kitchen tools.
The development of technology has made traditional ovens multifunctional. They can not only be used as ovens but also as air fryers, toasters, barbecue machines, or dehydrators. The BioloMix 15L air fryer oven has a large cooking capacity and is equipped with sensitive touch buttons, which is suitable for professional chefs and beginners. It has 11 menu preset functions, professional stainless steel inside, and comes with 7 different food-making accessories, you can use it to quickly make biscuits, chips, roast chicken, pizza, toast, and more.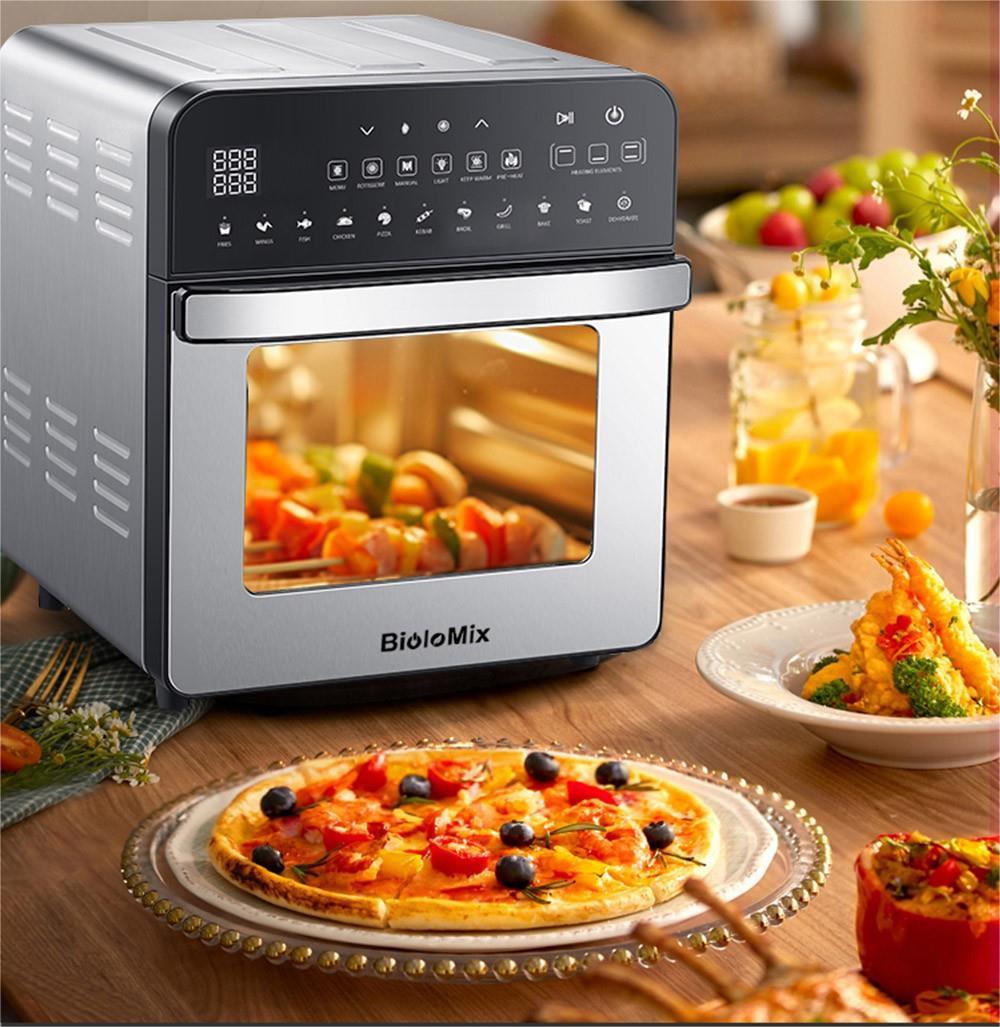 Air Fryer
The air fryer mainly uses air to replace the hot oil in the original frying pan to cook the food, so many people who don't want to eat fried food will choose to buy an air fryer. It can "fry" the surface of the food crispy through high-speed circulating hot air while keeping the moisture and texture of the food inside. Compared with traditional frying, the air fryer can reduce the amount of cooking oil used, the calories and fat content of fried food, and is more healthy and environmentally friendly. You can use it to make french fries, kebabs, roasts, and more.
If you just want to buy a simple and functional air fryer, then the Proscenic T22 is a good choice. The large capacity of 5L can prepare food for multiple people at the same time. 360-degree hot air circulation, uniform heat, and precise temperature control, to ensure the taste of food. The oil pan and the frying basket are all designed with coating, and the non-stick material is also very easy to clean. The Proscenic T22 air fryer is designed with many preset menus, even if you are a novice in the kitchen, you can easily start your cooking journey. Besides, this practical kitchen appliance features App control function, you can control your air fryer remotely and unlock more online recipes.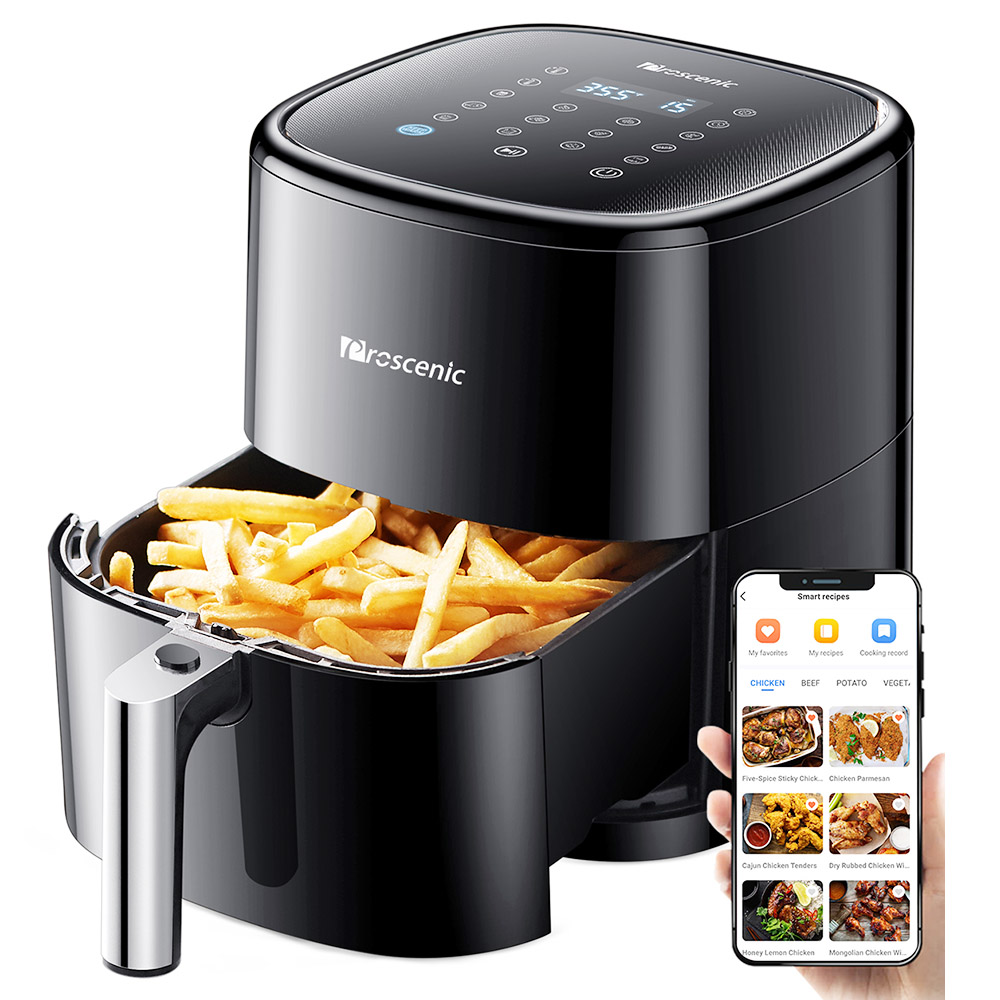 Electric Grill
I believe that many people like delicious barbecue, but traditional outdoor grills tend to emit a lot of oily smoke, and they are not particularly clean and hygienic. If you want to experience the fun of frying and grilling indoors, then an electric grill is a great choice. Electric grills usually have adjustable temperature controls that can be adjusted to the requirements of the food. It can be used to bake various foods, such as meat, vegetables, bread, and so on. Using an electric grill cooks food quickly and evenly, while also retaining moisture and nutrients.
The CalmDo 1400W Multi-Function Electric Grill comes with two pans, it can be used for grilling and frying like beef, eggs, bacon, and chicken chops, or for making thick soups and hot pots. Its temperature can be controlled with the knob at the bottom of the machine, there are no other complicated function buttons, and the operation is very simple. You need to be very careful not to get burned when using this type of appliance because the heating plate of the machine will be very hot. CalmDo electric grill also features cool handles and a tempered glass lid, which allows you to monitor the progress of your food while reducing the risk of burns.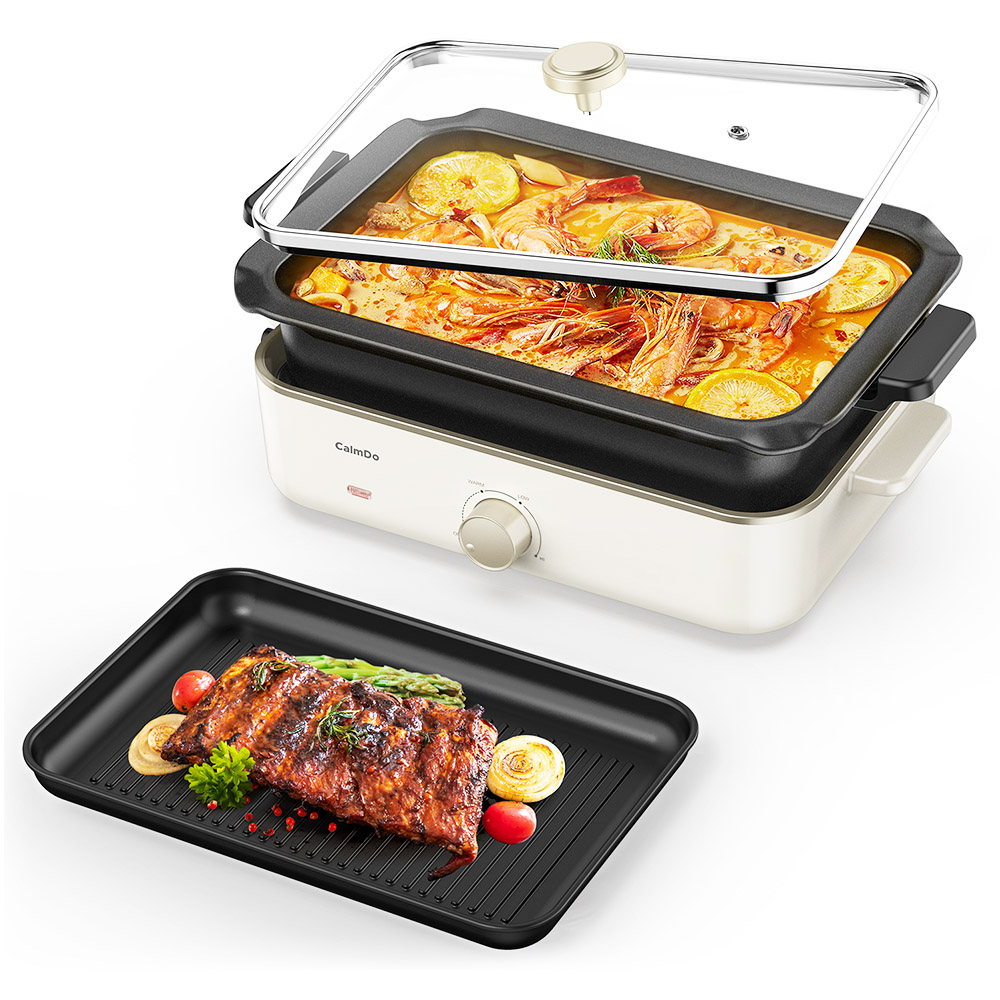 Bread Maker
People who like to eat dessert must not miss the bread machine! It enables you to make bread anytime and is relatively easy to operate. The working principle of the bread maker is to put the raw materials (such as flour, yeast, water, etc.) into the bread tank, and then select the desired bread type and baking time through the settings on the control panel. The bread machine automatically mixes, rises, and bakes the dough, resulting in delicious bread. A quality toaster can give you very good bread quality and taste. Whether it's breakfast, lunch, or dinner, the bread machine can bring healthy and delicious bread enjoyment to the family.
The multi-functional toaster can not only make simple bread, but also sandwiches, pizza dough, cakes, jams, yogurt, and more. Involly BM8216-D 15-in-1 fully automatic bread maker has 15 menu options, 3 bread capacities, and 3 baking color options, which can meet different taste preferences of families. The 15-hour timer function and the 1-hour automatic heat preservation function can save you from being extremely busy in the morning. In addition, the Involly toaster can provide 600W of low power consumption while having a powerful functional configuration, which greatly reduces the production cost of bread. It is worth mentioning that this bread maker is also designed with a fruit nut dispenser, which can automatically distribute the nuts evenly in the bread at the optimal time.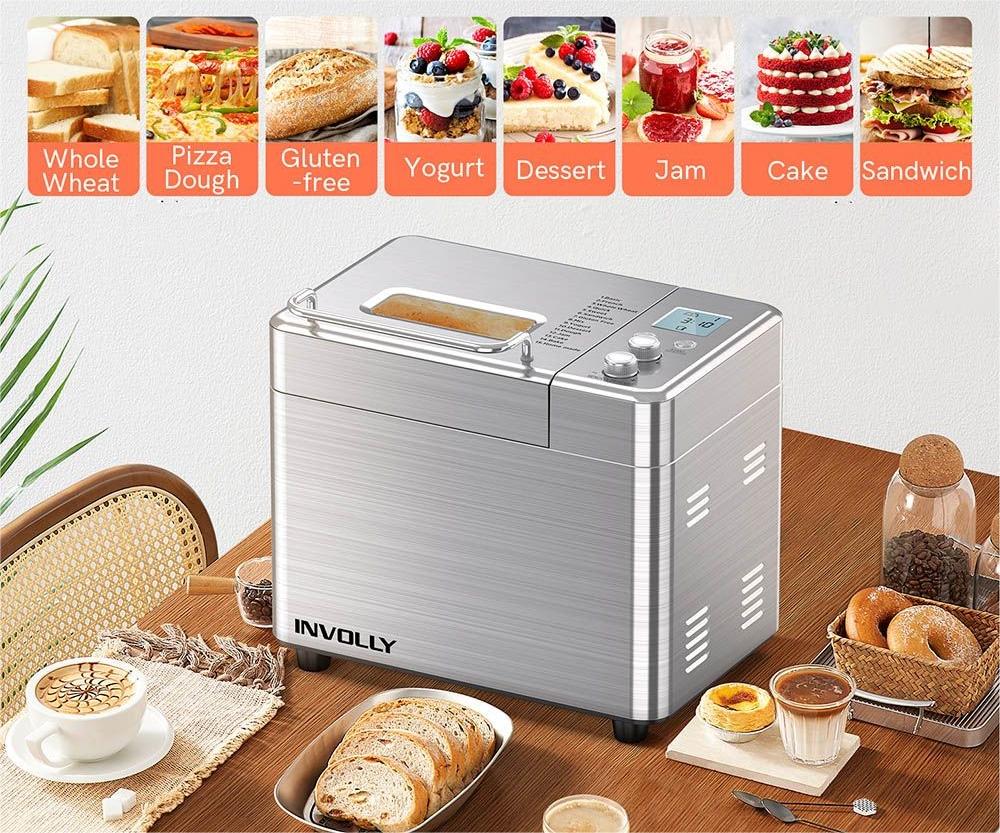 Coffee Maker
Coffee has always been a fascinating drink. There is a certain gap between ordinary bottled coffee drinks and real-time ground coffee. If you don't want to go to the coffee shop frequently to drink expensive coffee, then you can consider purchasing a suitable coffee maker. The operation of the coffee machine is very simple, just add water to the water tank, put coffee powder or coffee capsules into the adapter, and press the switch, then the coffee machine will start working. You can adjust the strength and taste of coffee according to your personal preference, enjoying delicious coffee easily at home. Of course, you can also purchase a special grinder for grinding coffee beans to make very pure and aromatic coffee drinks.
Before you start choosing a coffee maker, you have to figure out what function of the coffee machine you need. For the novice, an easy-to-operate and functional coffee machine allows you to quickly start making coffee. The 19-bar high-pressure extraction HiBREW H11 coffee machine has a very simple and compact design, and it is compatible with ground coffee and Pod coffee capsules. In addition to making coffee, this premium coffee maker has been designed with a fast foaming system that produces rich milk froth. Also, you can use the cup warmer panel on top of the machine to warm up the cup before using it.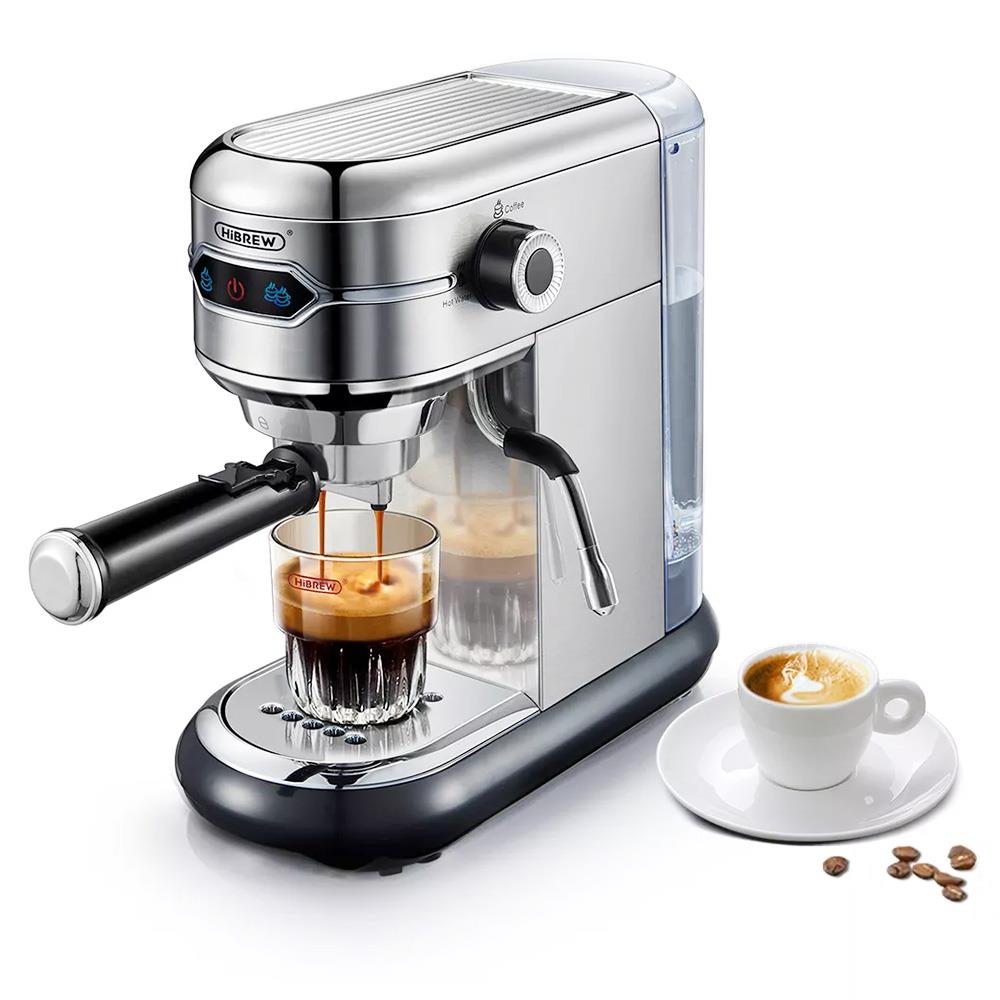 Juicer
Who doesn't want a glass of ice-cold juice on a hot summer day? If you happen to have a juicer in your kitchen, you can enjoy fresh and delicious vegetable and fruit juices anytime. If a family with a baby is equipped with a high-quality juicer, it can provide the baby with a variety of nutritional supplements without additives. Juicers can extract fruits, vegetables, and other ingredients into juice. It chops the ingredients with high-speed rotating blades, and then uses centrifugal force to separate the juice from the solids, and finally gets fresh fruit and vegetable juices. This type of machine is easy to operate, can maintain the taste and nutrition of the food itself, and provides people with a healthy lifestyle.
BioloMix T5200 Juicer is equipped with a 2L large capacity and timing function. The sharp stainless-steel blades quickly cut through fruit and vegetables, easily making fresh juices, shakes, smoothies, baby food, frozen yogurt, and more. The bottom of this high-quality juicer is made of stable and non-slip material to ensure that it will not easily tip over during the juicing process. The design of the operation panel is also very intuitive, so novices don't have to worry about being confused. What sets the BioloMix T5200 juicer apart from other juicers is its self-cleaning function. After each use, you can add an appropriate amount of water to the container and let the machine stir by itself to achieve the purpose of internal cleaning.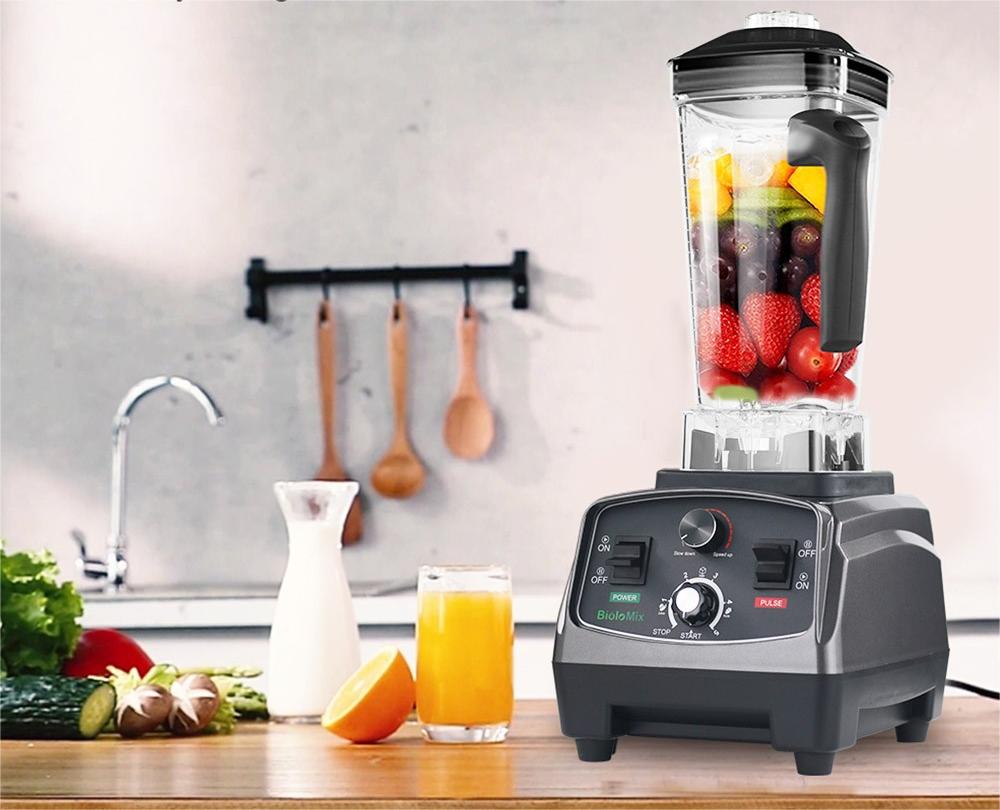 High Speed Blender
In terms of performance, high-speed blenders are much better than ordinary juicers. This kind of blender combines the functions of a juicer, soy milk maker, cooking machine, grinder, etc., so if you have enough budget, you can consider purchasing a multi-functional high-speed blender. This food processor can completely break hard ingredients such as nuts, grains, and fruits and vegetables through high-speed rotating blades and strong friction, and easily makes healthy drinks and foods such as soy milk, rice cereal, thick soup, juice, and milkshakes. The high-speed food blender is easy to use and can preserve the original nutritional content of food.
Anyone who likes smoothies, soy, or vegan milk in the morning should invest in a high-speed blender as it saves a lot of time and energy. Joyoung Y1 multifunctional food blender soymilk maker has very good food processing technology, it can be used as a combination of a blender, juicer, vegan milk maker, and soup maker. Whether you want to drink milkshakes, oat milk, soy milk, hot soup, juice, or need to grind food ingredients, this machine can satisfy you. The Joyoung Y1 kitchen food processor can quickly make vegan milk and safe baby food for you.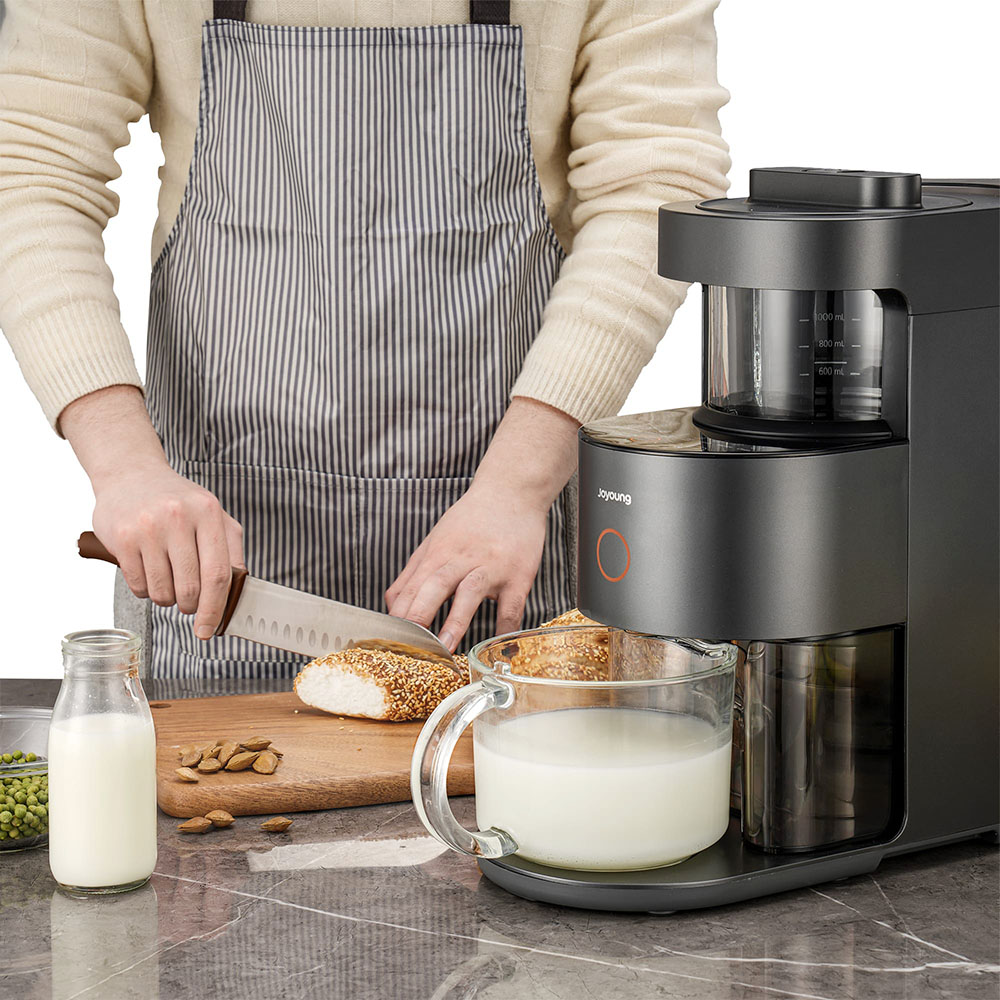 Food Grinder
Grinder is also a must-have small kitchen appliance, it is suitable for people who have higher grinding needs for ingredients. This food processor also has a powerful motor and sharp blades. It can grind food materials into fine powder, and the degree of grinding can be adjusted according to needs. Food grinders play an important role in food processing. They can grind hard ingredients such as grains, nuts, and medicinal materials into powder, and can also grind soft ingredients such as fruits and vegetables into pulp. It can not only improve the utilization rate of ingredients but also increase the taste of food, which is very convenient and practical.
A food grinder is an essential appliance among kitchen food preparation tools. Good quality mills will provide you with very fine powder. If you just need a food processor that can grind fine powder quickly, then the BioloMix 700g grain dry food grinder might be for you. It has a triple-blade design for more thorough shredding of ingredients. You can set the grinding time according to your needs to obtain different grinding fineness. This mill can not only be used to process food materials but also grind medicinal materials, which is more convenient and efficient than traditional crushing and grinding processes.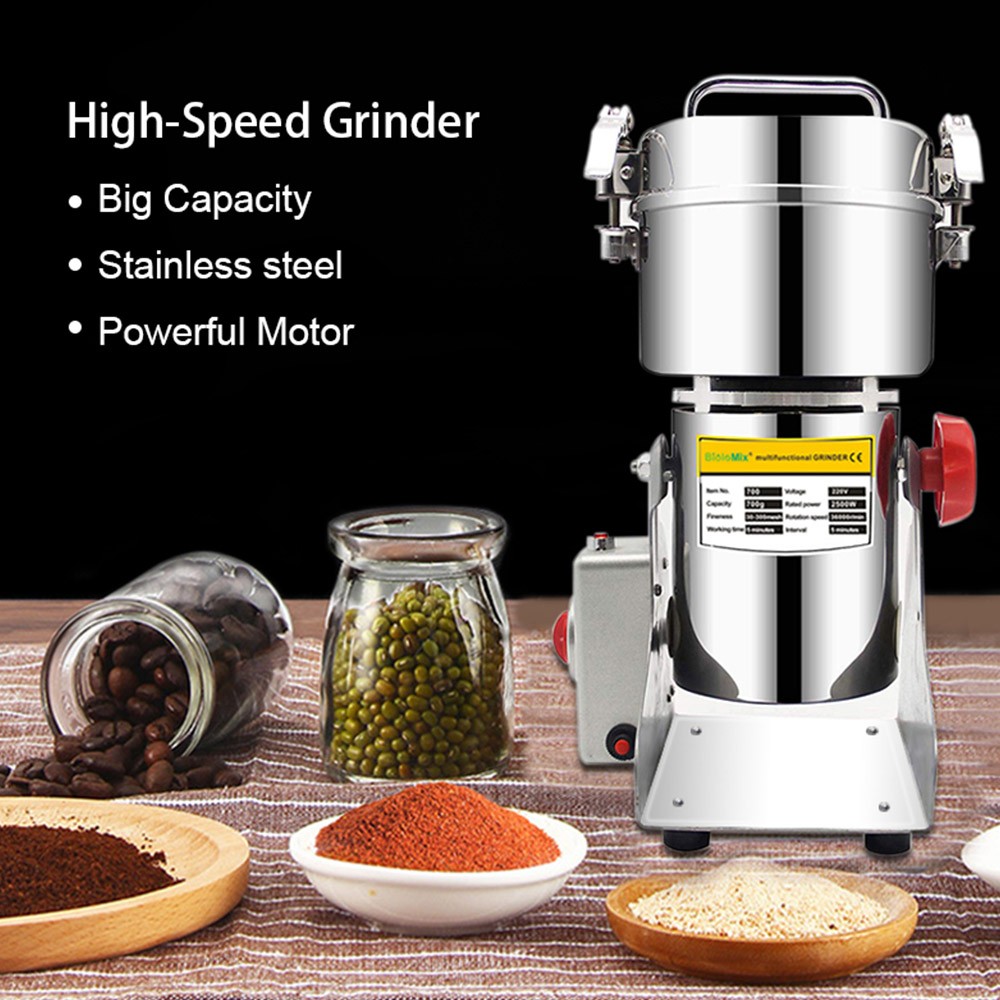 Stand Mixer
Stand mixer is one of the best kitchen appliances that is well worth the investment. It has the characteristics of a simple structure, convenient operation, and a good stirring effect, making various cooking projects easier. Stand mixers typically consist of a standing container and a rotating beater and can be used for baking ingredients preparation, or for mixing, stirring, and homogenizing ingredients. This type of mixer has strong stability and high efficiency. And you can adjust the mixing speed and time according to your needs, making mashed potatoes, salads, dough, cream, and more as you want.
The BioloMix 6L stand mixer has multiple functions, it is not only an ordinary mixer, but also can be used as a whisk and a dough kneader. BioloMix stand mixer is equipped with three different food mixing tools, which can help you make cakes, cheese, cream puffs, bread, pizza, thick batter, and more. This blender is also designed with a clear LCD screen, 6-speed adjustments, and a timer function, which is convenient for you to prepare different ingredients according to your needs. The noise level during the operation of the machine is very low, so it will not interfere with your other cooking tasks. The large-capacity stainless steel mixing bowl with dual handles lets you prepare more ingredients at once and cleans up easily.