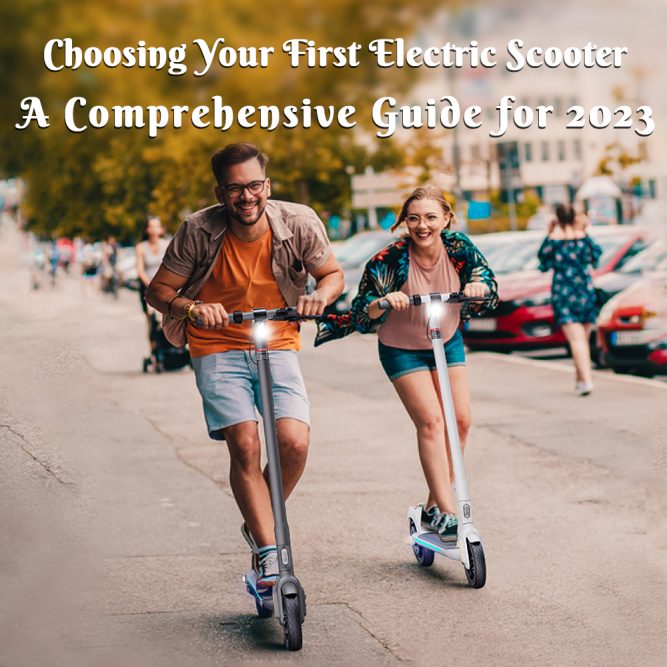 In the present day, electric scooters have been greeted with open arms and is becoming one of the main transportation tools. People take pleasure in riding an electric scooter, because it has a compact size for parking, and is simple to operate. There's no need to squeeze in a bus with a portable e-scooter, and you can take it into the subway for transfer. Besides, we can save lots of time, space, and money by riding an e-scooter, which provides fast speed as electric bikes!
Why Buying An Electric Scooter?
When talking about why people buy an electric scooter, there're a lot of points to say.
1. Easy to Get Started
There is no easier and user-friendly transportation tool than an e-scooter. Nearly all electric scooters are designed with minimal requirements of physical effort to operate. Unlike e-bikes, which take much physical strength to make them work, e-scooters have extremely simple controls. As an all-ages covered tool, electric scooters are generally easy to get started with clear instructions and safety features. Once you've developed confidence in your balance, braking abilities, and turning skills, you'll be ready to venture onto busier streets. Just remember to go slow, wear your helmet, and always keep a small bend in your knees.
2. High Efficient Transportation Tool
We often say time is money. Indeed, modern people always put efficiency in the first place. We are seeking to go to the destination in a quicker speed, and complete the tasks in a shorter time. At best, waiting in rush hour traffic is a huge waste of your time. At worst, it can be an incredibly stressful experience, especially if you're running late. While electric scooters are the best choice for those who pursue efficiency. Thanks to the compact size, riding an electric scooter saves you from traffic jams and just keeps on going straight.
3. Convenient And Direct
What distinguished electric scooters from other means of transportation lies in their foldability and portability. When you commute to the office with an e-scooter, just fold it within seconds and store it in any corner of your office, or just under your desk. Never worry about parking and it being stolen. When you plan to go on a long trip, take it with you. The trunk or back seat is a good place to hold it. When you need to run errands in the community, step on the electric scooter and go!
4. Great Value for the Money
Compared with a car, or an e-bike, I dare say an electric scooter is the cheapest one, while has similar functions to some extent. Generally, electric scooters are set prices varying from $300 to &1000, depending on the brand, model, functions, and features. The price means an e-scooter is affordable for most people. After investing in an electric scooter, you'll be happy to learn that they're much more affordable per mile as well. What's more, the maintenance cost is also less expensive than other transportation means.
5. More Joyful
The feeling of gliding along on an electric scooter can be exhilarating and brings us back to childhood, where the thrill of riding a scooter for the first time comes rushing back to us. The ability to easily maneuver through traffic and crowded areas can make it a fun and practical option for commuting or running errands. The flying speed helps you come across one of one place while you you're out and about. When embracing the breezing wind, you will feel like a free bird. You have the "wings"! All the pedestrians and scenery met you face to face, and then slowly flashed behind you.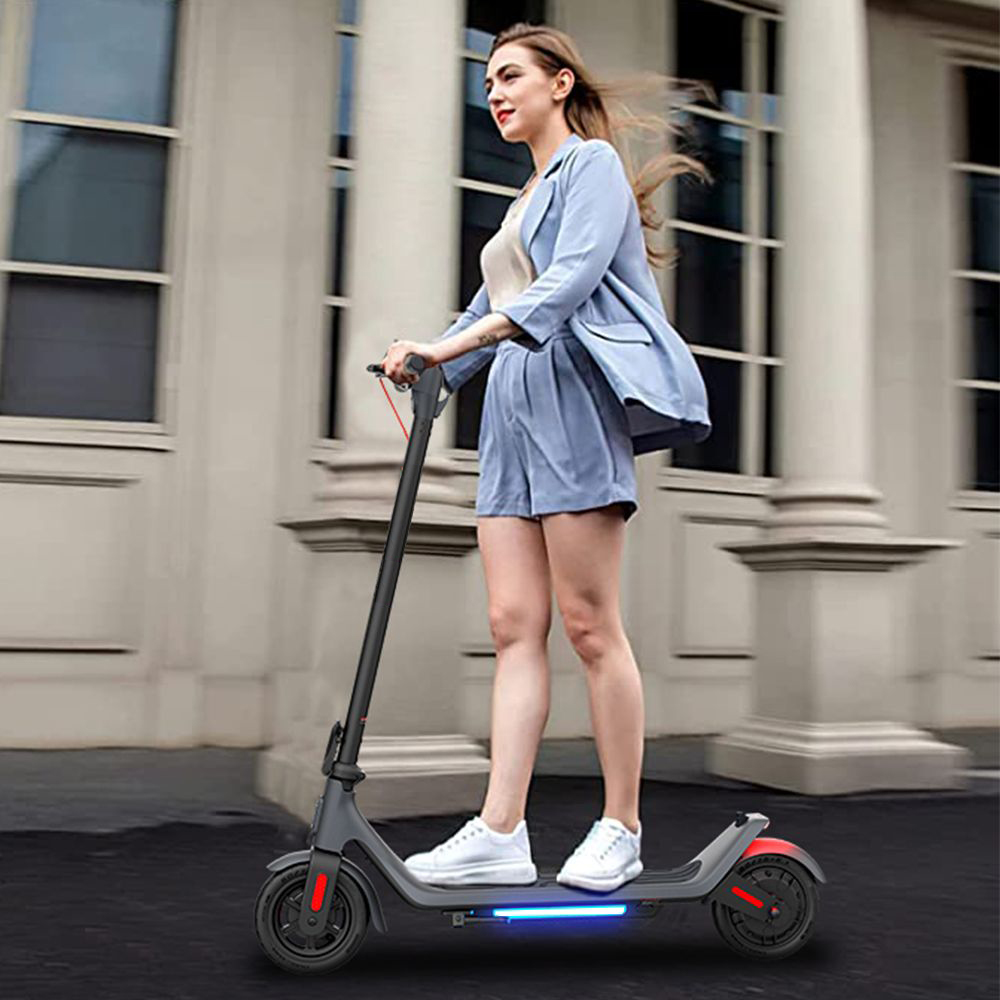 How to Choose an Electric Scooter?
When it comes to buying an e-scooter, there're numerous factors to take into consideration. Those who are planning to purchase an e-scooter desire a durable and high-quality one for their daily commutes. We have made a summary of how to choose an electric scooter with the following points:
1. Small And Portable
The great part of electric scooters are designed to be foldable now and try to pick the foldable one. You can check the size including the folding and unfold size before paying the order. By the way, some scooters come with a seat to enhance comfort during the trip, but please note: when adding the seat, it may cause inconvenience to fold the scooters. Secondly, the area of the scooter is limited, and it may get crowded after adding the seat.
2. Weight
The weight of an electric scooter is determined by various factors such as the material and type of the motor, battery capacity, frame size, and additional features such as suspension, lights, and brakes. If you prefer a portable electric scooter, then you can choose the carbon fiber material, which is quite light. It suggested that women should try to choose electric scooters that weigh 15 kilograms or less. Make sure to select a sturdy one.
3. Mileage
The majority buy an e-scooter with the purpose of commuting and going out. A range of 20-50km will mostly cover their needs, and present electric scooters can provide a mileage with this range at a reasonable price.
If you require a long distance with an electric scooter, then choose one with a longer cruising range to avoid running out of juice halfway. However, it should be noted that the electric scooter with a long mileage has a relatively large battery capacity, which means that the scooter will be heavier.
4. Tire
Firstly, most e-scooters tires on the market are divided into solid tires and pneumatic tires. Each has its advantages and disadvantages. Solid tires are durable, but the riding experience is not very good with a poor shock absorption function. While the pneumatic tires have a good shock absorption effect, there is a risk of a tire blowout. you should pay attention to avoid prolonged exposure to the sun during normal use. You can choose professional anti-explosion tires with enough budget.
The common size of electric scooter tires varies from 8 to 10 inches, the difference among which is not that big. It's acknowledged that the bigger tires offer more comfort when going uphills or handling bumpy roads.
5. Speed
The core of the electric scooter lies the motor. The motor decides the speeds and the overall performance of the scooter, and it is advised to set the speeds between 15-25km/h. For safety reasons, It's better to choose models with limited speeds for daily commutes.
6. Motor
The electric scooters on the market today basically use brushless motors, which have low noise and strong controllability. It would be better to install a high-speed high-temperature resistant magnetic steel brushless motor since it can withstand high temperatures up to 120 Celsius. It will not demagnetize and can be used for a long time.
The power of the motor has an influence on the speed, climbing, mileage, and span life. The greater the power, the faster speed and the stronger the force. Generally, the power of an electric scooter with a climbing function should reach 800W-1200W, but the climbing ability and voltage are also related. If there are many climbing sections on the commute, you can choose a voltage of 52V and above, with electric power above 1200W.
7. Braking System
Safety always comes first when going out. The braking system is of great importance to electric scooters, and we should check the braking before placing the order. Safer electric scooters use front and rear brakes, the front brake is the main brake component, and the rear wheel foot brake is an emergency brake. For electric scooters, there are two common braking ways: the first, electric brake + foot brake; the second, electric brake + mechanical brake. There is a braking distance, and in theory, the shorter the distance, the better.
8. Shock Absorber
Some electric scooters have shock absorbers on the front wheels. It doesn't matter when riding on flat roads, but on a mountain trail or rough terrain, there will be a shock. Generally speaking, pneumatic and large-size tires also have a certain shock absorption effect.
9. Height
The suitable height for the rider of an e-scooter varies among brands and models. The majority of electric scooters are suitable for people between 4 feet 9 inches (about 145 cm) and 6 feet 6 inches (about 198 cm) tall. However, it is recommended to check the product manual or contact the manufacturer before purchasing an electric scooter to ensure that the model is suitable for your height and figure.
Additionally, some electric scooters may have adjustable handle heights or seat heights, so you can personalize them to suit your needs.
10. Load Capacity
The load capacity is also a key point that everyone should consider. You should check it carefully before buying. At present, mainstream electric scooters have a load capacity of 100 kg. Of course, there are also larger loads. The bearing capacity of the electric scooter indirectly reflects the quality of the scooter and its material from the side.
11. Waterproof
If you live in a city where it rains a lot, or the climate is humid, remember to ask customer service whether the electric scooter can ride on rainy days. If not, try not to ride the scooter for a long time on rainy days.
If you want to choose an electric scooter with a waterproof function, the waterproof grade must reach IPX4 to have a waterproof effect. The higher the grade, the better the waterproof effect.
12. APP Control
Some models of electric scooters can be controlled through an APP, which can achieve remote control, adjust the speed, check the battery power, turn on/off the light and other functions. Controlling e-scooter on the phone brings users much more convenience. In addition, the APP can also provide some useful information, such as route planning, and weather forecast, so that users can better plan their trips.
13. Brand and Model
After determining the budget for purchasing electric scooters, try to choose well-known brands and hot-selling models within the budget. The quality of materials, safety, and after-sales are more guaranteed. At the same time, you also judge whether to buy based on user reviews.
14. Local Regulation
Remember to refer to the local traffic laws when you buy an electric scooter or electric bicycle. Different regions may have different regulations and restrictions, such as speed limits, trial sites, age restrictions, etc. Get to know local traffic laws can help you avoid violations and keep yourself safe.
Electric Scooters Recommendation List
DUOTTS D99 Off-Road Electric Scooter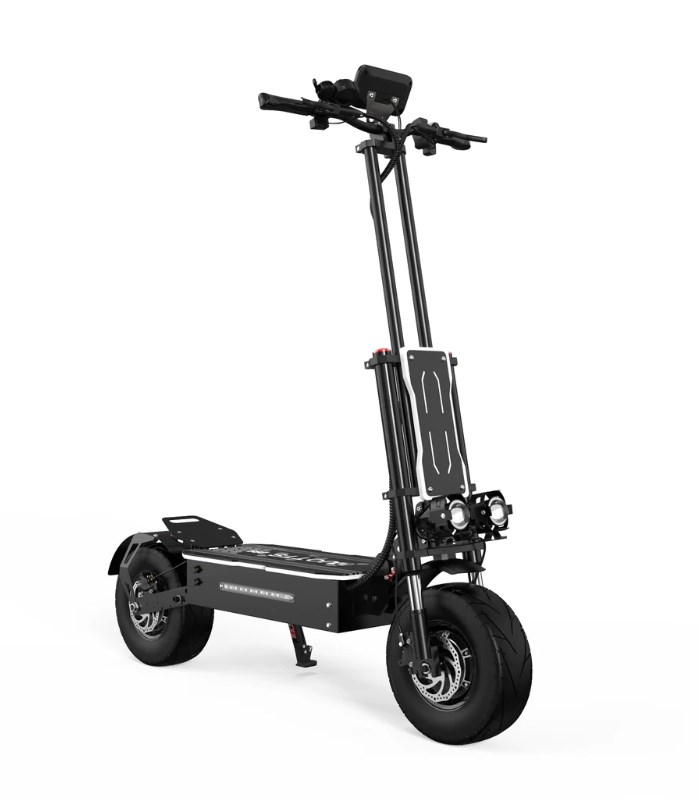 This behemoth is born for off-road riding. DUOTTS D99 installs ultra-large size pneumatic tires of 13 inches, which are prepared for over the steep mountain road. It boasts a dual 60V 3000W motor, which provides super power to speed up and let you go forward, galloping on your way.
Equipped with dual suspension, DUOTTS D99 offers off-road performance even on urban roads, while enhancing stability to give you a smooth ride. Equipped with front and rear hydraulic brakes with EBS, which are more effective, this e-scooter has great stopping power to ensure a safer trip.
The battery capacity is also exceptional. The DUOTTS D99 electric scooter is equipped with a 60V 42Ah large-capacity battery, with a range of up to 120 kilometers. Short trips are easy to cover, and it can be charged once a week for daily commutes.
Ninebot KickScooter D Series
For those who have simple needs, and just want to buy an electric scooter for commuting and running errands, Ninebot KickScooter D series is the best choice. They're pretty affordable, durable, and foldable.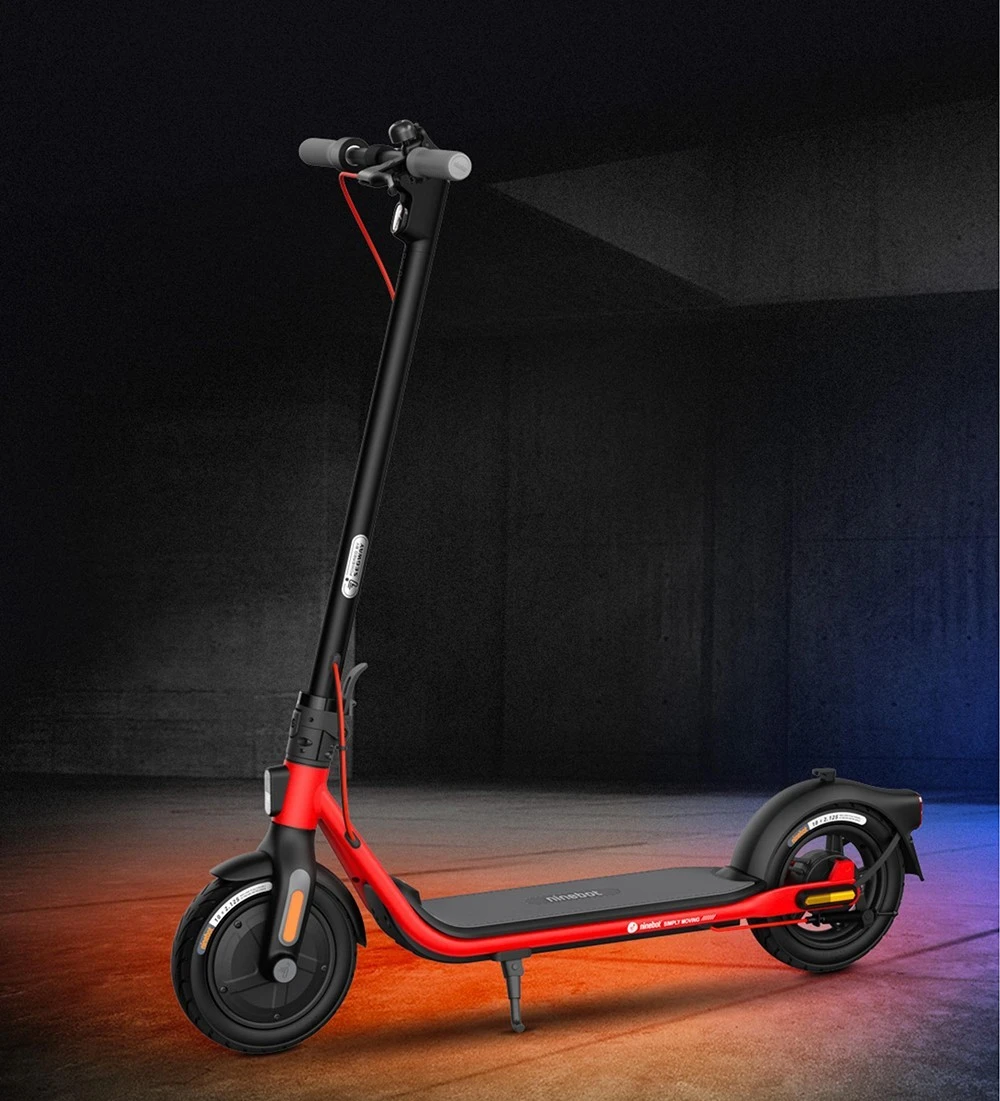 Ninebot KickScooter D18E
Ninebot KickScooter D18E electric scooter has a 250W hub motor that reaches a maximum speed of 25km/h. The 36V 5.0Ah battery provides a range of 18km on a full charge. The scooter comes with 10-inch pneumatic tires which have an inner tube. This ensures that the shocks are absorbed as much as possible and you ride comfortably.
Ninebot KickScooter D28E
Ninebot KickScooter D28E electric scooter installs a 300W hub motor with a top speed of 25km/h. The 36V 7.6Ah battery allows you to travel 28km at most. There's a dashboard, from where you can read how much battery you have left, how fast you are going, and what speed level you are riding in.
Ninebot KickScooter D38E
Ninebot KickScooter D38E electric scooter is equipped with a 350W hub motor with a maximum speed of 25km/h. D38E comes with a larger capacity battery, and the 36V 10.2Ah battery can travel a distance of up to 38 km with a full battery. The D38E has 3-speed settings: Eco, Standard, and Sport. Furthermore, this electric scooter has a double brake system: an electric front brake and a drum brake at the back.