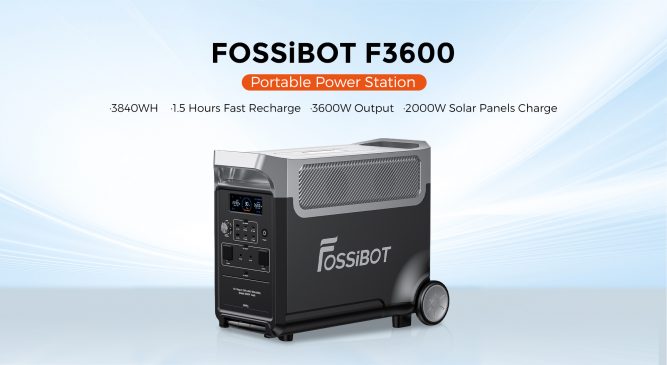 What is the Large Capacity Portable Power Station?
Most high-capacity portable power stations feature industry-leading battery technology to keep your devices and appliances running no matter where you are. Following the release of the F2400 2400W portable power station, FOSSiBOT has recently launched its ultimate outdoor portable power station – the F3600. It proceeds with the design style of large capacity, high power, and ultra-fast charging, aiming to provide a strong outdoor power solution. FOSSiBOT F3600 has the characteristics of 3840Wh large capacity, 3600W AC output power, bidirectional inverter fast charging, and so on. With such a massive battery capacity, the F3600 is still "Portable". It adopts an extendable handle design, just like a suitcase, so you don't have to worry about how to move this big guy outdoors.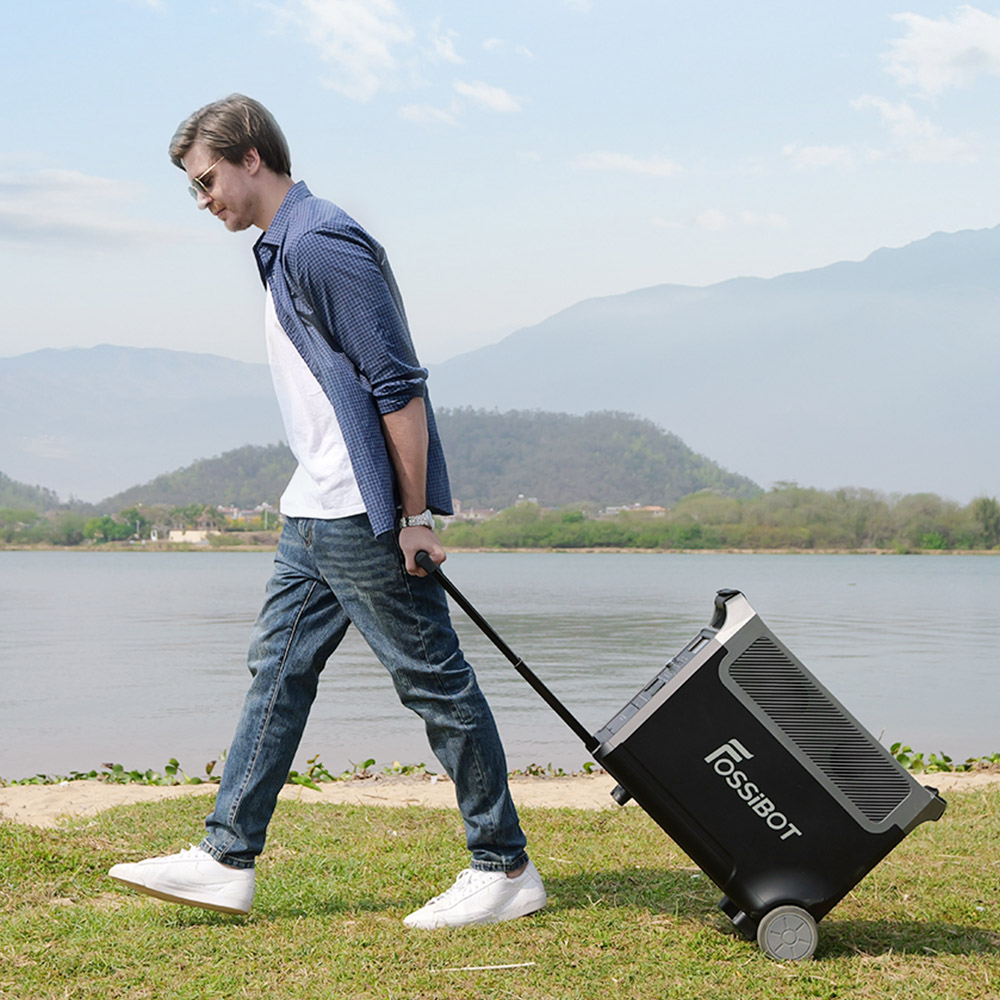 How to Use FOSSiBOT F3600 Portable Power Station?
As the ultimate outdoor power solution, F3600 has extremely powerful performance. With ultra-high battery capacity and output power, safe and durable LiFePO4 battery, 2000W solar input, UPS function, and port design that can meet 99% of devices, FOSSiBOT F3600 solar power station allows you to fully enjoy the freedom of outdoor camping and easily cope with sudden of blackouts. In order to use the power station better, let's first understand its main functions.
Large Capacity, High Output Power
Equipped with 3840Wh (48V, 80Ah) battery capacity, 3600W ultra-high AC output power, and 7200W surge power, this portable solar power station can power more and higher power devices without any pressure, and meet a variety of power needs, such as camping, outdoor activities, emergencies, etc. Provide you with reliable and efficient power anytime, anywhere.
Fast Recharge with Bidirectional Inverter Technology
Utilizing the latest bi-directional inverter technology, FOSSiBOT F3600 power station allows users to quickly charge the machine without using additional adapters. What's more, in order to provide users with a better experience, F3600 supports 5 charging methods: AC charging, solar panel charging, generator charging, car charging, and AC+solar fast charging. When the AC charging input power reaches 2200W, it can be fully charged within 2 hours. Inputting 2200W AC and 2000W solar at the same time, this portable power station can be fully charged in 1.5 hours.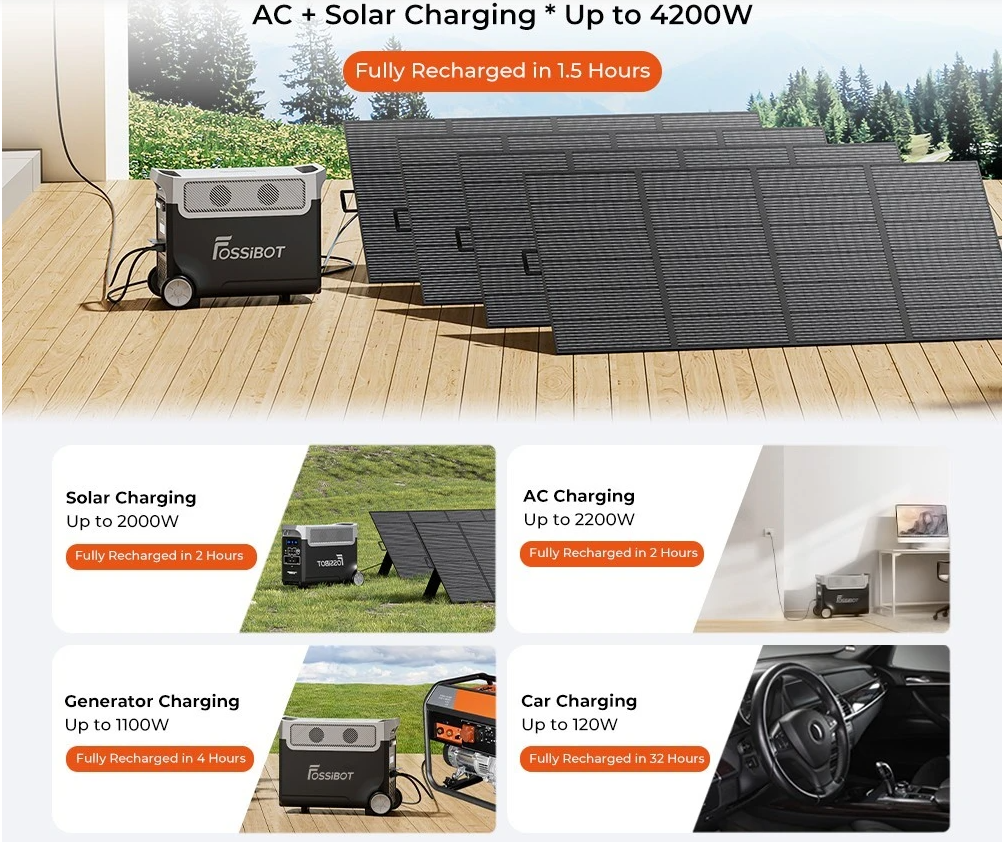 Power Multiple Devices
The F3600 outdoor portable power station can supply power for up to 13 devices at the same time. It is equipped with a series of output ports, including 4 PD ports, 1 cigarette lighter port, 2 QC 3.0 ports, 2 DC5521 ports, 1 XT60 port, and 3 AC output interfaces. It can power mobile phones, drones, rice cookers, electric stoves, microwave ovens, hair dryers, refrigerators, and other equipment and appliances.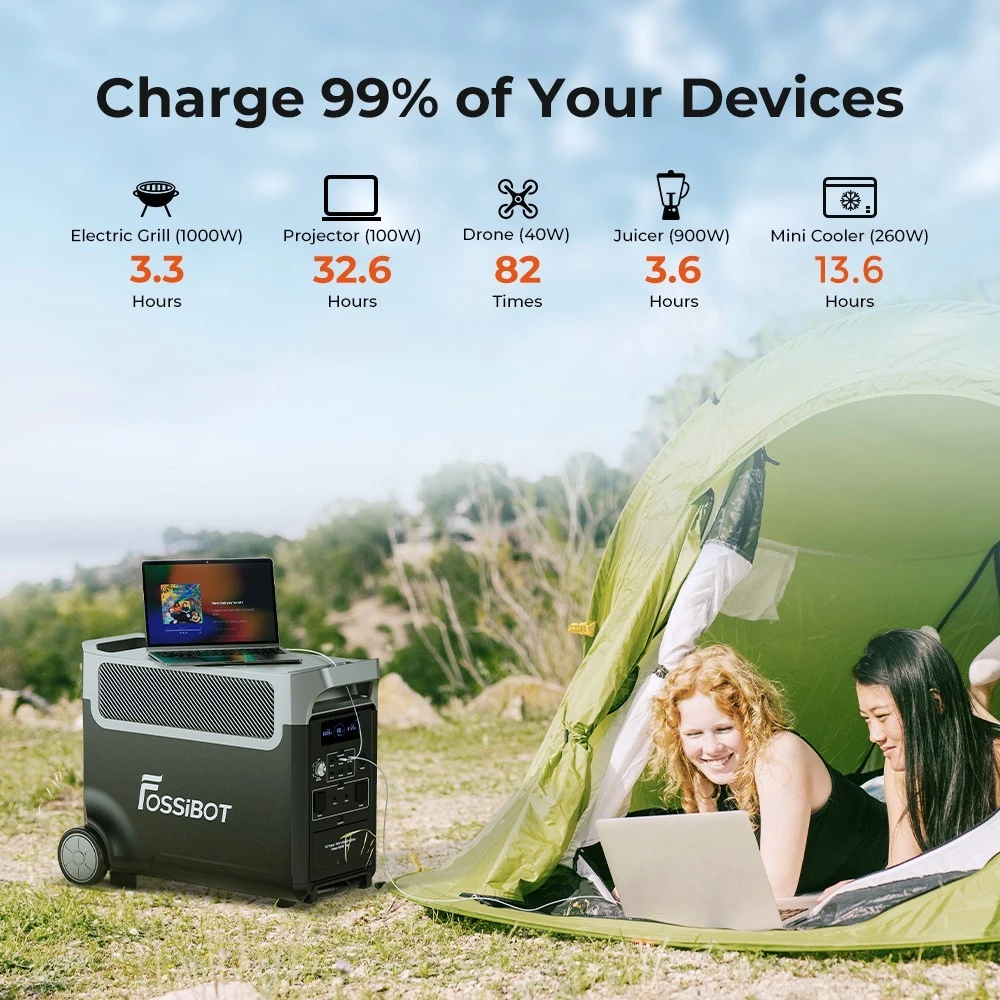 2000W Solar Input
This power station has a solar charging system that can be charged in a green and economical way. With a maximum solar input of 2000W, it can be fully charged in just 2 hours. FOSSiBOT SP420 420W foldable solar panel is specially designed for F3600, you can use 4 SP420 solar panels to charge this outdoor power station to achieve the fastest charging speed.
Reliable LiFePO4 Battery, BMS System
As we all know, lithium iron phosphate battery has higher safety and durability. The 3840Wh LiFePO4 battery used in F3600 can be charged more than 6500 times and can be used for more than 10 years. In addition, it provides a stable pure sine wave power supply and BMS protection system to calmly deal with overload, low temperature, overvoltage, low voltage, short circuits, and other situations.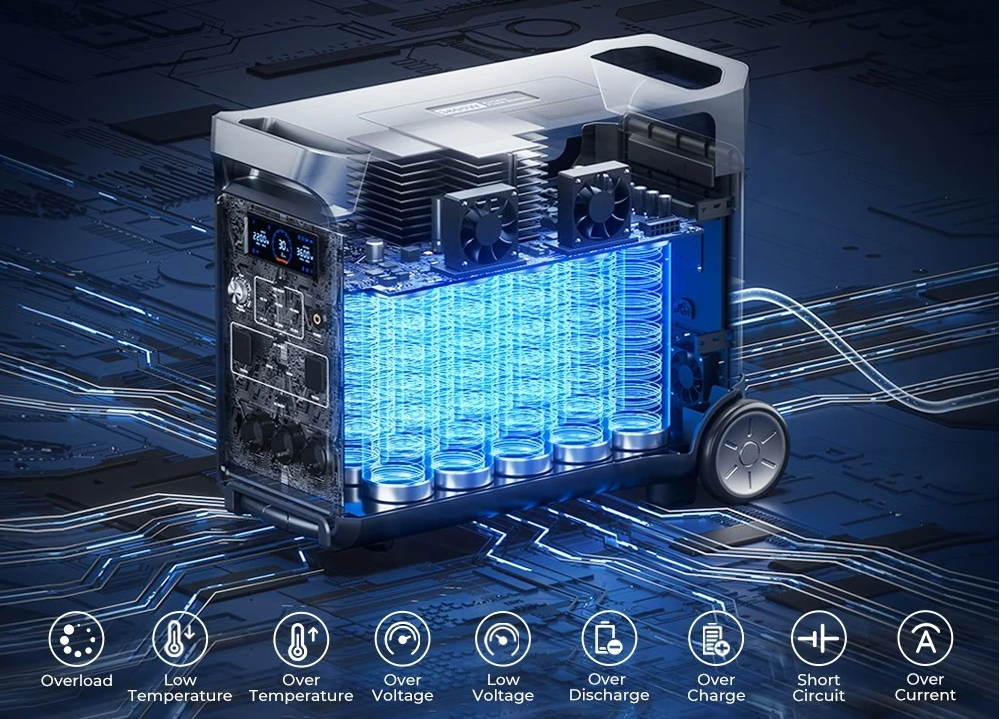 5 Gears of Charging Speed
F3600 large capacity power station retains the user-friendly AC input power adjustment knob design and provides 5 levels of AC input power: 400W, 800W, 1200W, 1600W, and 2200W. Users can freely control the charging speed of the machine by selecting the appropriate power level, and prolonging the service life of the machine.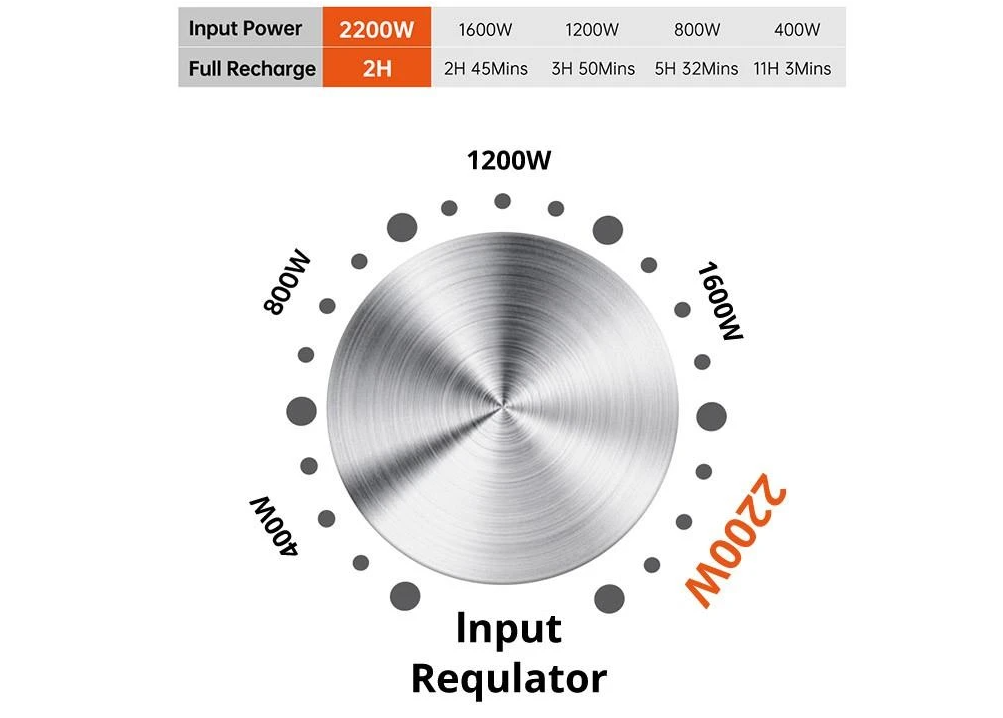 Great Portability and Convenience
A detachable magnetic flashlight is specially designed for users by FOSSiBOT, which is easy to use and operate. Also, it is designed with stylish wheels and a retractable handle, allowing you to easily carry it like a suitcase. Of course, F3600 has a UPS function to power your home appliances at all times. In terms of cable storage, the F3600 does not continue to use the top storage box design but is equipped with a large-capacity cable storage bag, which can conveniently store all charging cables.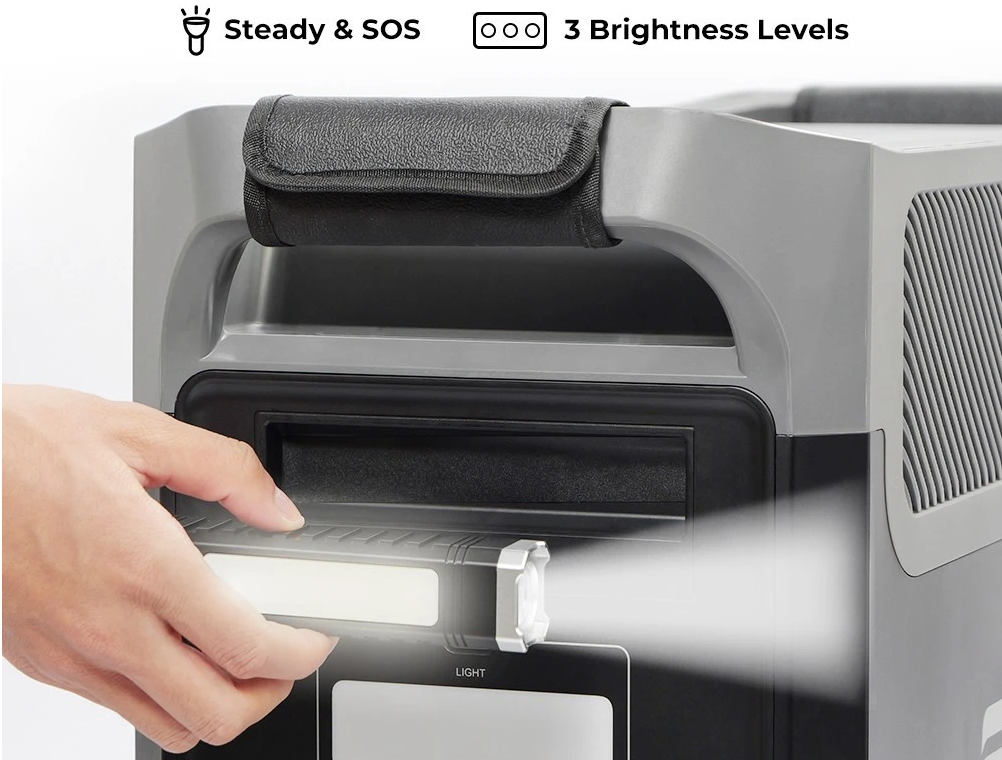 Where to Buy a High Capacity Portable Power Station?
Apart from the impressive features and functions, the FOSSiBOT F3600 high-capacity portable power station has a sturdy frame design that can withstand harsh weather and rough handling, making it ideal for outdoor use. Whether you're camping, traveling, or dealing with emergencies like a power outage, this portable power station is the perfect tool to keep you connected and energized.
FOSSiBOT F3600 Portable Power Station EU Warehouse Launch Sale will start on June 13, 2023. Geekbuying will provide the most cost-effective price for FOSSiBOT F3600 portable power station! Please click the link below for details.
https://promotion.geekbuying.com/promotion/fossibot_f3600_portable_power_station_launch_sale