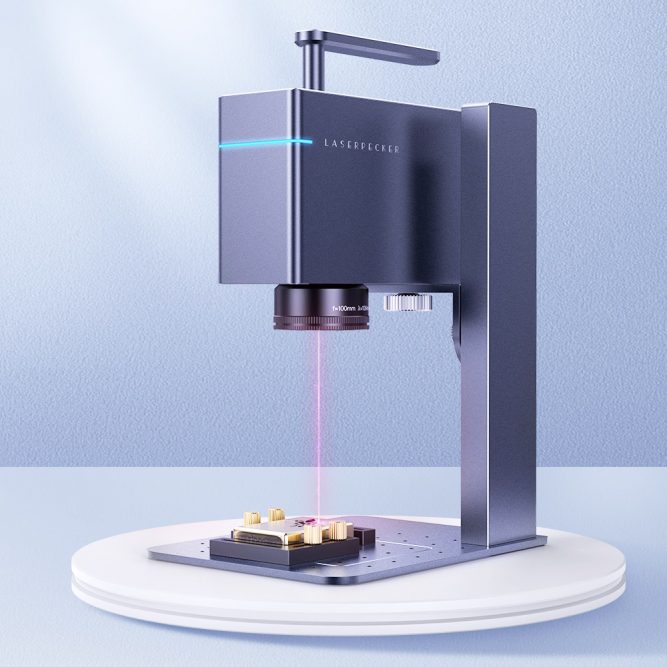 What is a Laser Marking Machine?
Laser marking machines use laser beams to make permanent markings on various material surfaces. The function of marking is to expose deep substances through the evaporation of surface substances, to "carve" marks through chemical and physical changes in surface substances caused by light energy, or to burn off some substances through light energy to display the required etching patterns and text. Laser marking machines are mainly divided into CO2 laser marking machines, semiconductor laser marking machines, fiber laser marking machines, and YAG laser marking machines.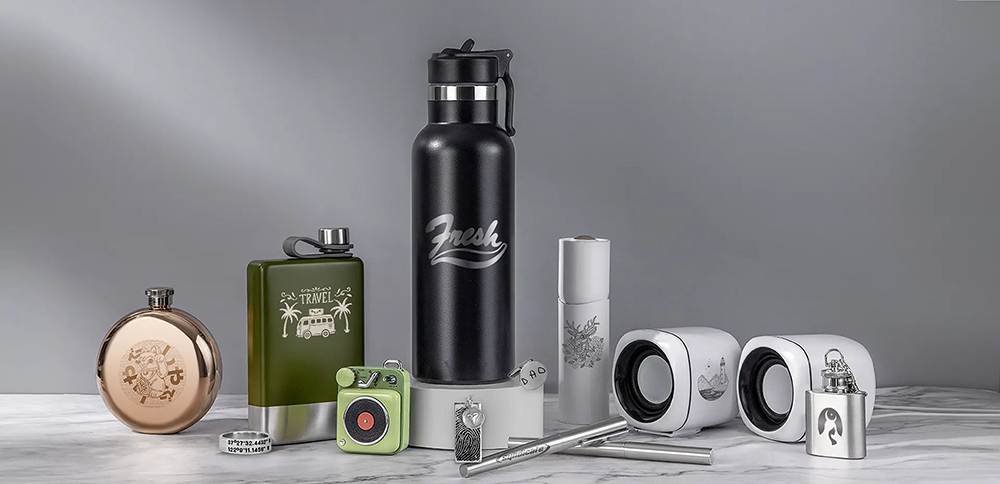 What is the Purpose of a Laser Marking Machine?
With the continuous development of technology, laser marking machines have been used in various industries accordingly. It is mainly used in the processing of products that require finer and higher precision, such as electronic components, integrated circuits (ICs), electrical appliances, mobile communication, hardware products, tool accessories, precision instruments, glasses, watches, jewelry, automotive accessories, and so on.
Laser marking machines can carve metal and various non-metallic materials. Including ordinary metals and alloys (all metals such as iron, copper, aluminum, magnesium, zinc, etc.), rare metals and alloys (gold, silver, titanium), metal oxides (all kinds of metal oxides are acceptable), special surface treatments (phosphating, aluminum anodizing, electroplating surfaces), ABS materials (electrical appliance casing, daily necessities), ink (transparent buttons, printed products), epoxy resin (electronic component packaging, insulating layer), and so on.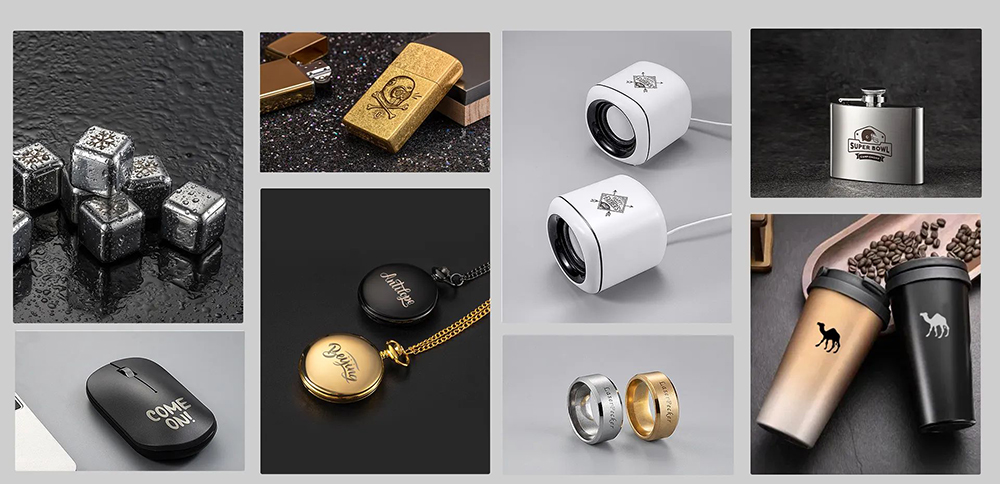 How to Choose a Laser Marking Machine?
Laser marking machines are loved by many enthusiasts and niche entrepreneurs for their ability to quickly and conveniently engrave characters and images. If you want to invest in the best laser marking machine for yourself, you must ensure the correctness of your choice. Here's what you need to consider:
1. Purpose
The first thing you need to consider is why you are buying a laser marking machine. Maybe you just want to start a new hobby or do some gift customization, or maybe you need a more powerful laser marking machine for your small business. Once you have a clear idea of your goals, you can narrow down your options.
2. Type of Material to be Engraved
The target material determines which type of laser you choose. If you want to engrave on non-metallic materials such as bamboo and wood products, paper, cloth leather, plexiglass, epoxy resin, acrylic, polyester resin, etc., then CO2 laser marking opportunities are more suitable for you. But if you want to engrave more on metal, then you need to buy a fiber laser marking machine.
3. User Friendliness
Learning a new machine or technology often takes some time. Easy-to-use and stable software is an important part of user-friendliness as it relates to design work and engraving setup. Of course, various operating guides and tutorials are also necessary. If the machine is lightweight and designed with a handle, it will do well for portability and ease of use.
4. Engraving Size
The engraving area may vary with different engraving machines. You can choose the right laser marking machine according to your needs. Engraving small objects can be done with a portable laser marking machine, while larger objects require a machine with a larger working area.
5. Additional Features
Is there a rotary module or material holder? Equipped with a rotating roller module allows the machine to easily engrave on cylindrical objects such as rings mugs, bottles, and more. Extensibility and other features can also increase functionality.
Recommended Laser Marking Machines
1. LaserPecker 3
The LaserPecker 3 is an infrared laser marking machine designed for engraving on metal. In terms of engraving speed, it has more advantages than the blue laser, which reaches 600mm/s. Unlike the second generation, the LaserPecker 3 has excellent performance when engraving on metal and plastic surfaces. The device is said to be the smallest portable fiber optic marking machine available. With dual optical lenses and dual focus, LaserPecker 3 can achieve high-precision engraving with 4K resolution. In addition, it supports 360-degree rotary engraving (need to purchase accessories separately).
Average Power: 1000mw
Max Power: 10000mw
Laser Wavelength: 1064nm
Laser Source: II-VI Laser EnterpriseErlu optics
Engraving Area: ellipse: 90x80mm, square: 60x60mm
Resolution: 1k, 2k, 4k
Preview Mode: Square Preview + Graphical Preview
Preview Speed: 5000mm/s
Engraving Speed: 6mm/s – 600mm/s
Wireless Connection: Bluetooth 5.0+
Supported File Formats: JPG, SVG, PNG, BMP, G Code, CAD, Al, CDR, DWG, and more
Support System: Phone: Android & iOS, PC: Windows & Mac OS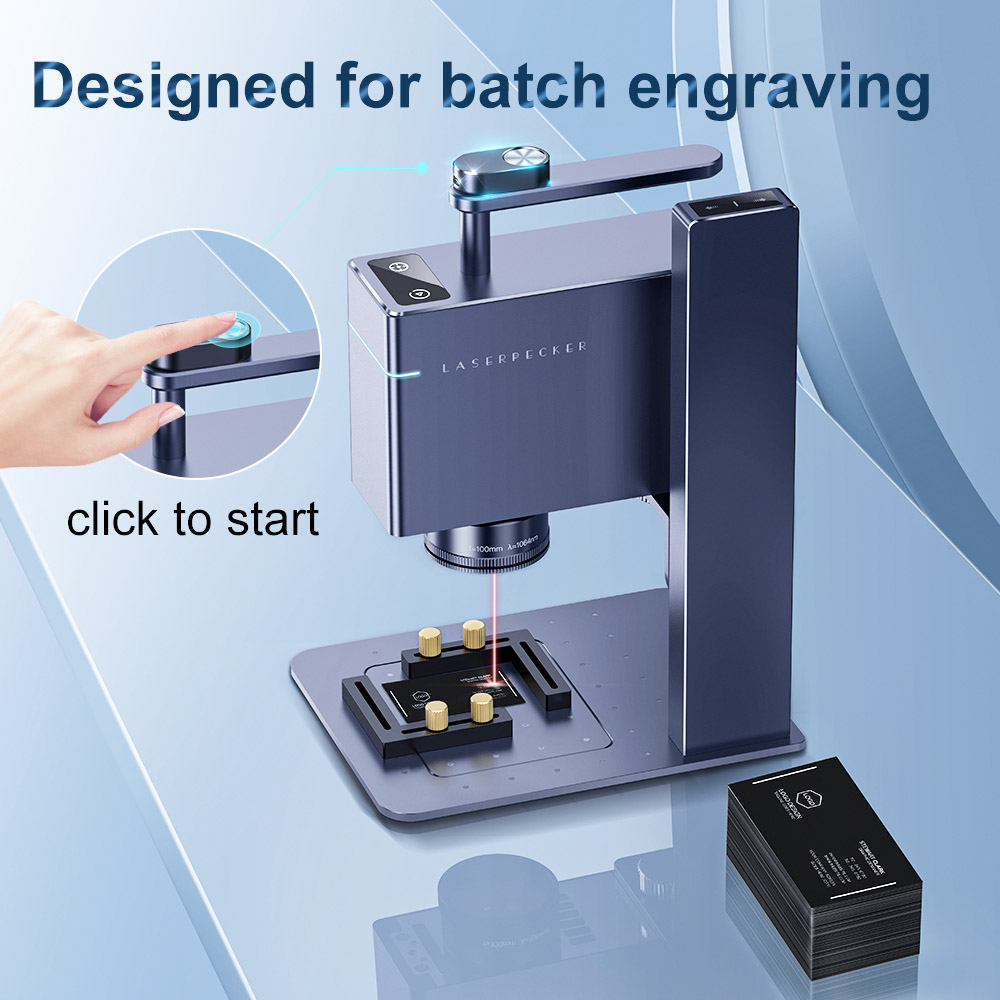 2. MR CARVE M1 Pro
This laser marking machine has an ultra-light design, easy to use and carry, very suitable for metal engraving at home and production on the factory assembly line. MR CARVE M1 Pro is equipped with a motorized lifting function, visible dual red light laser polymerization, and high-precision focusing, suitable for engraving of all metal materials and plastics. Of course, it supports 360-degree rotary engraving (need to purchase accessories separately).
Laser Power: 2W
Total Power: Max 300W
Marking Speed: <10000mm/s
Marking Accuracy: Max 0.001mm
Marking Range: 70x70mm
Engraving Line Width Accuracy: 0.001-0.05mm
Cooling Method: Built-in Fan
Carving Depth: 0.015-0.2mm
Ambient Temperature: -10 – 65 Celsius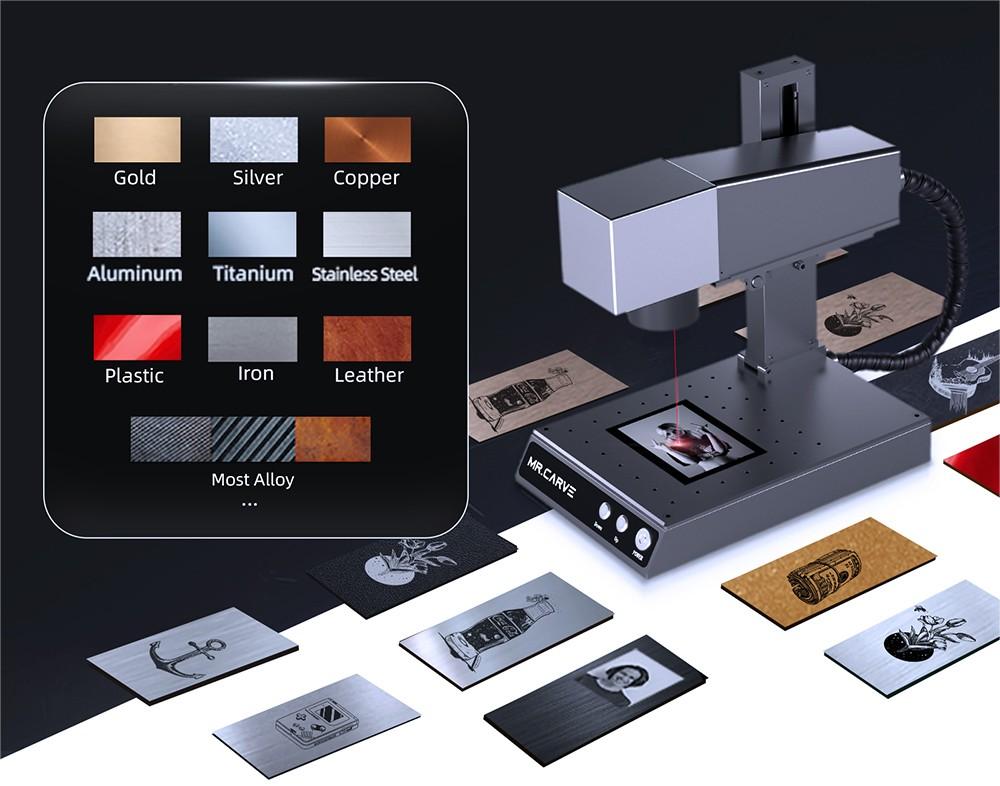 3. MR CARVE M4
Different from MR CARVE M1 Pro, MR CARVE M4 has two kinds of lasers: 5W 455nm blue laser and 2W 1064nm infrared laser. This means it is handy for engraving on metal as well as non-metallic materials. You also don't need to spend more money to buy 2 different laser marking machines. Additionally, it can rotate the laser module to engrave larger objects. If the R3 rotating shaft is installed, it can also rotate and carve curved objects of different volumes.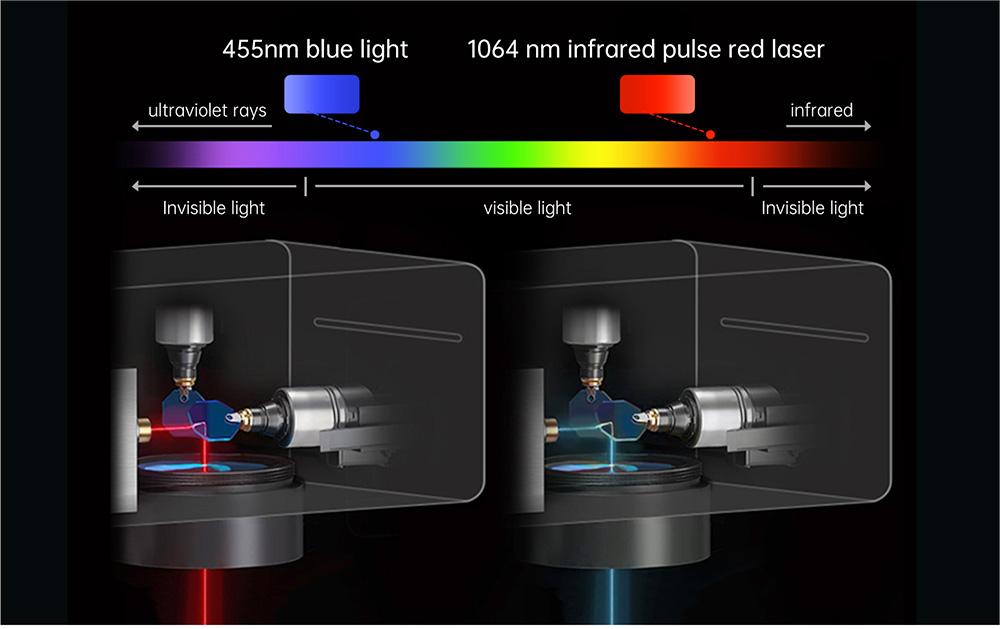 Infrared Laser Power: 2W
Infrared Laser Wavelength: 1064nm
Semiconductor Blue Light Laser Power: 5W
Semiconductor Blue Light Laser Wavelength: 455nm
Engraving Accuracy: ≤0.001mm
Engraving Speed: ≤10000mm/s
Operating Ambient Temperature: -10 – 65 Celsius
Cooling Method: Air-cooled
Repeat Engraving Accuracy: ≤0.001mm
Engraving Depth: 0.015mm-0.2mm
Engraving Area: 70*70mm
Support System: Win7/Win8/Win10/Win11/XP
Image Format: JPEG/BMP/TIF/GIF/DXF/PLT/PNG
Whole Machine Power: ≤300W