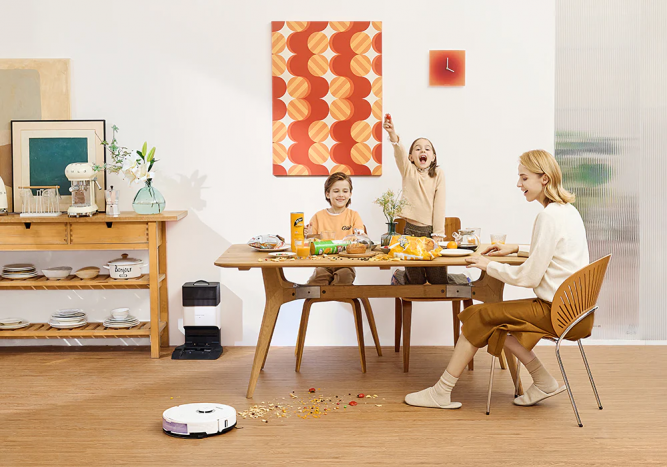 A clean and tidy home is an important condition for a healthy and happy life. Advances in technology over the years have brought about a variety of household cleaning products, they can make your cleaning routine easier and more efficient. In this blog, we will discuss the top 5 must-have household smart cleaning products that you cannot live without in 2023.
1. Robot Vacuum Cleaner
The biggest helper in household cleaning is undoubtedly the machine that cleans the floor. Robot vacuum cleaners have become more and more popular for their efficiency in keeping homes clean. It is designed to clean floors and carpets without human intervention. They are equipped with sensors and advanced algorithms, which can bypass obstacles and effectively clean all areas of the floor.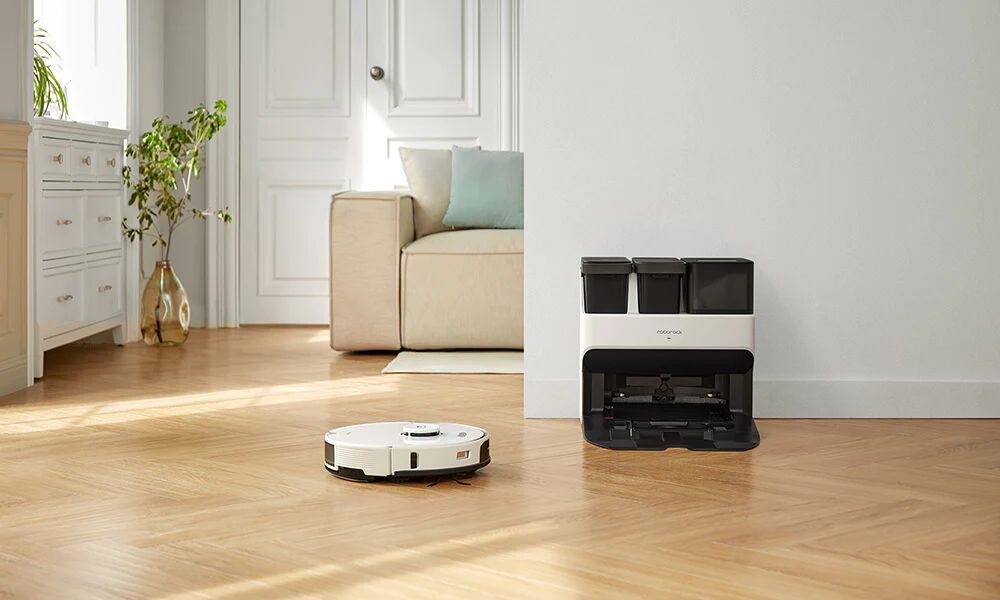 The cleaning effect of the floor depends largely on the suction power. The Roborock S7 Pro Ultra and Roborock S8 have suction powers of 5100Pa and 6000Pa respectively, which means they can pick up almost all the dirt and dust on the floor, even the smallest particles. In addition to powerful suction, they also have many smart designs that completely free your hands, such as the vibration mopping system, 3D mapping system, obstacle avoidance system, APP control, etc. Roborock S7 Pro Ultra is equipped with a high-performance base station, which can realize self-washing, self-emptying, self-cleaning and self-refilling. While the Roborock S8 robot vacuum cleaner is upgraded to dual roller brushes, which can effectively reduce tangles and quickly sweep the hair to remove dirt.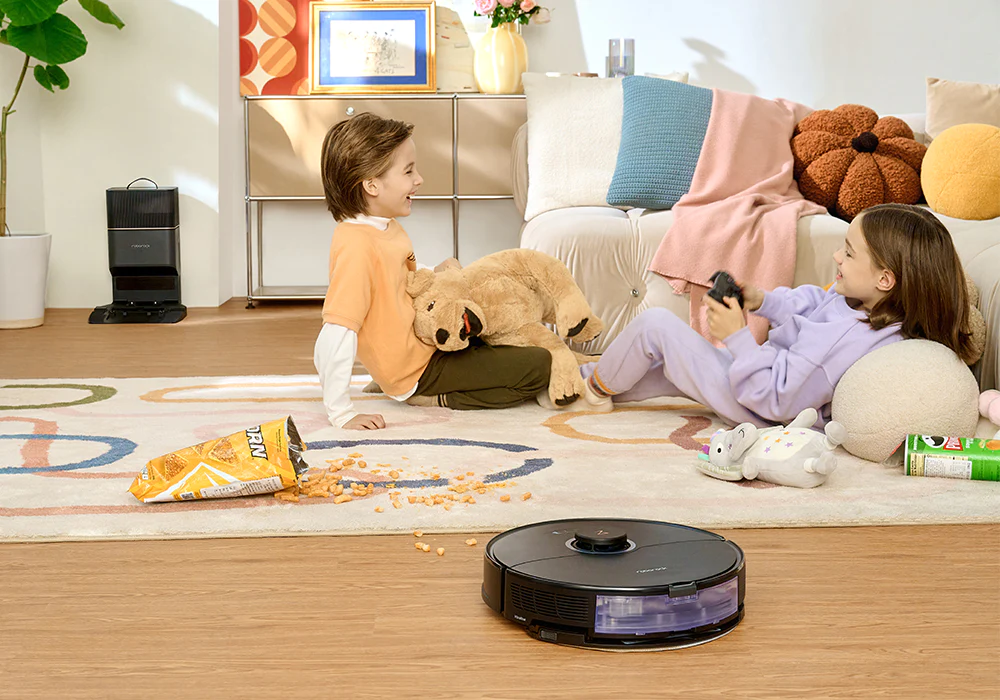 2. Cordless Handheld Vacuum Cleaner
Another great tool for cleaning floors is a cordless handheld vacuum cleaner. It cleans small clutter and spills from the floor conveniently and efficiently. This kind of vacuum cleaner is easy to use and comes with a variety of attachments to help you clean different surfaces. They're also easy to store, perfect for anyone looking for a hassle-free cleaning solution.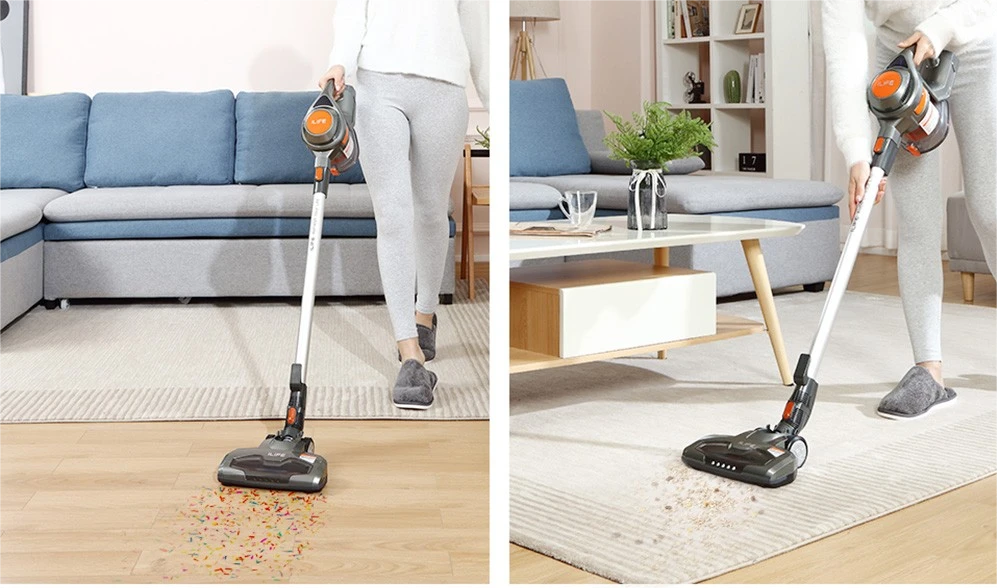 This vacuum cleaner's suction is much greater than that of a robot vacuum cleaner, so it can help you better absorb large particles of garbage, such as coffee beans, food crumbs, cereal, etc. The Proscenic P11 and Proscenic P12 are very popular cordless vacuums on the market right now. They are equipped with 25000Pa suction and 33000Pa suction respectively and are specially designed to suck away all surface debris and deeply embedded dirt. Although the ILIFE H50 handheld vacuum cleaner only has a suction power of 10000Pa, its design is lightweight, flexible, and very convenient to use, also a very happy choice for users. The floor brushes of these cordless vacuums come with headlights for easy cleaning in dark corners. Another great feature is that they all come with different types of suction heads, which means that they can be used not only to clean floors, but also to clean sofas, beds, windows, the interior of cars, and some small spaces.
3. Anti-Mite Vacuum Cleaner
Mite remover is a machine that effectively removes dust mites from carpets, sofas, and other surfaces. It helps reduce allergies and other respiratory problems. These mite vacuums may also be equipped with additional features such as UV-C lights or HEPA filters to further increase their efficiency. An anti-mite vacuum cleaner is a worthwhile investment for anyone looking to maintain a clean and healthy living environment.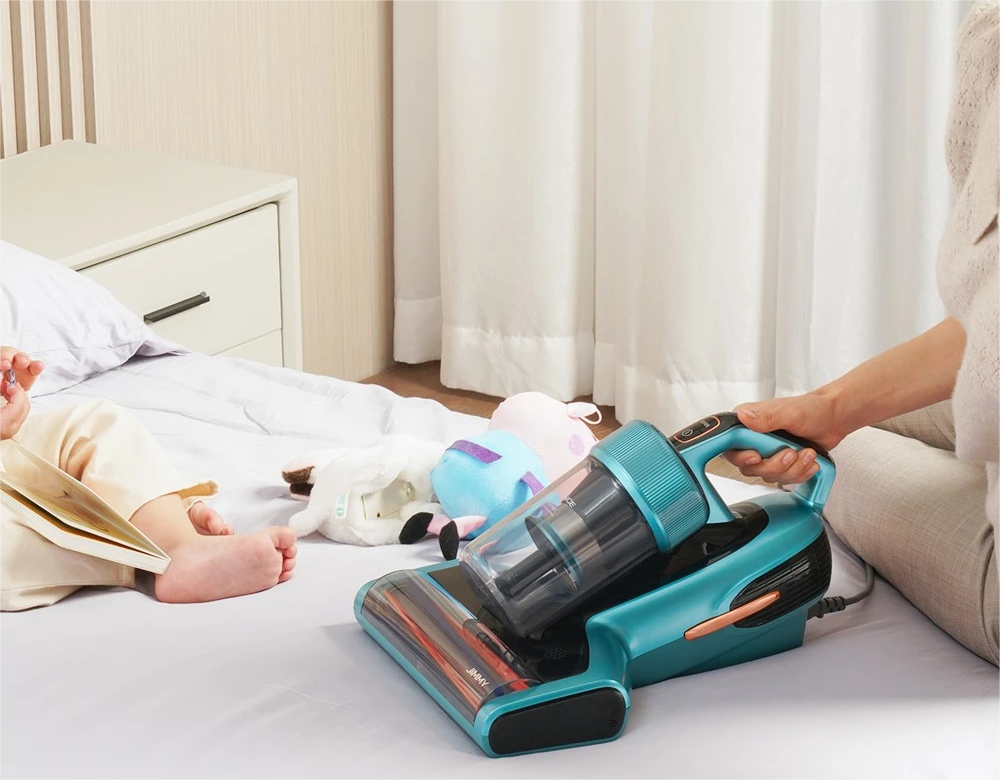 Most mite removers have only one dust cup, but the Smarock S10 Pro smart mite cleaner is designed with 2 dust cups, which greatly improves the efficiency of mite removal. Smarock S10 Pro configures 13000Pa suction, a 230mm wide suction inlet, as well as a UV lamp and ultrasonic mite removal function. The intelligence of Smarock S10 Pro lies in its smart dust mite sensor, which can calculate the dust mites in the environment with high precision, and display the dust mite index and cleaning status, providing you with deep and efficient cleaning. Although the JIMMY BX7 Pro mite remover has only one dust cup, it has a 700W high-precision motor and a 245mm wide suction inlet and is designed with 3 different modes to meet your different cleaning needs.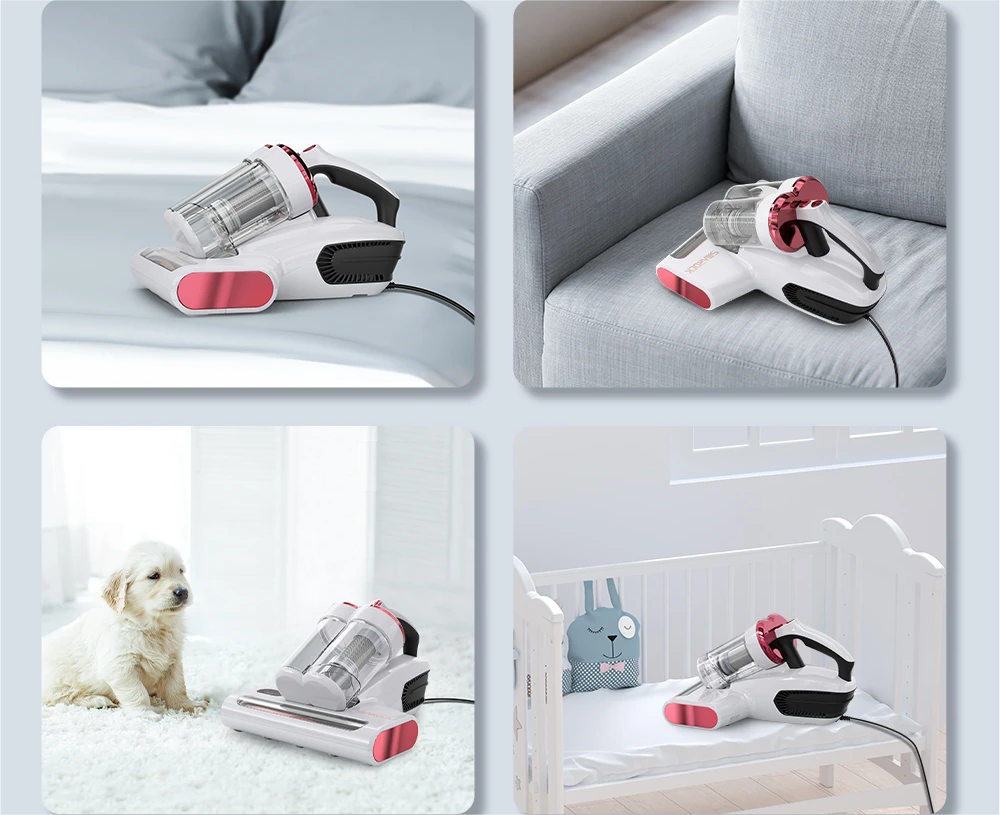 4. Cloth Cleaning Machine
Cloth cleaning machine is a small, portable device designed specifically for stains and grime on surfaces that are difficult to clean on your own, such as sofas, cushions, mattresses, rugs, car upholstery, and more. They can be used to remove stains, dirt, and debris from hard-to-reach areas with traditional vacuum cleaners. Often using powerful suction and specialized cleaning solutions to effectively remove dirt and stains, these cleaners are a handy tool for keeping your home or office looking clean and tidy.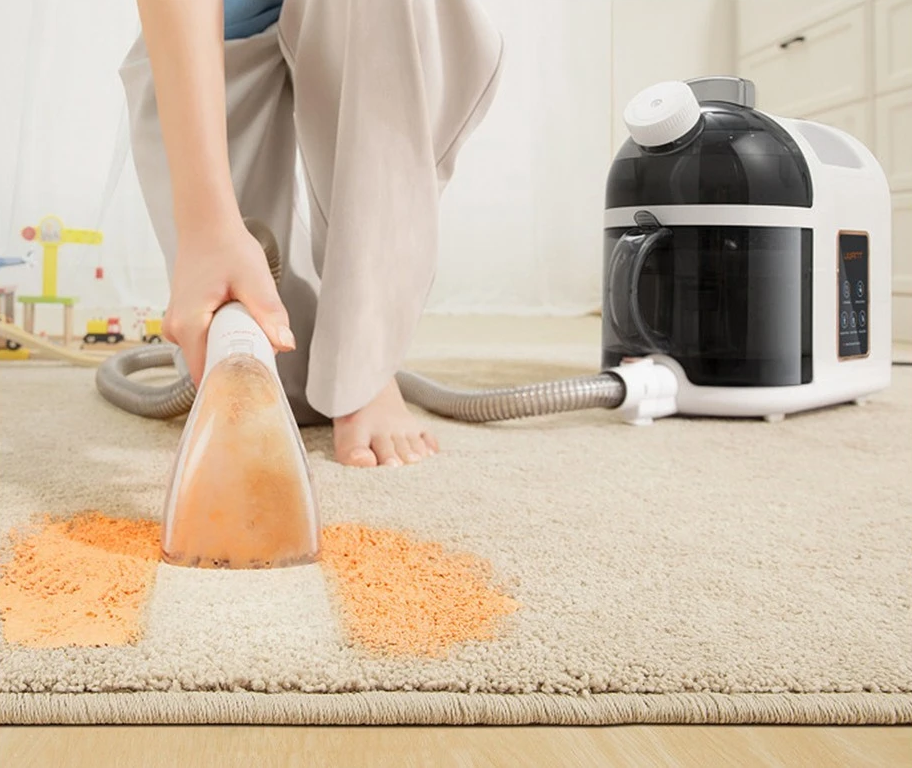 In addition to clothing, other cloth items are relatively troublesome to clean, especially sofas, carpets, and plush toys. UWANT B100-E vacuum spot cleaner has a powerful suction of 12000Pa and a super large water tank of 1800ml, which can remove deep stains, mites, dust, and bacteria. It has round and dense bristles that will not damage the fabric, and the patented magnetic levitation motor noise reduction structure can ensure low noise operation. In addition to powerful suction and a large water tank, the UWANT B200 cloth cleaner also has 4 cleaning modes: steam mode, ironing mode, standard cleaning mode, and cleaning solution mode. What's more, it has patented self-cleaning technology, saying goodbye to the growth of bacteria inside the machine.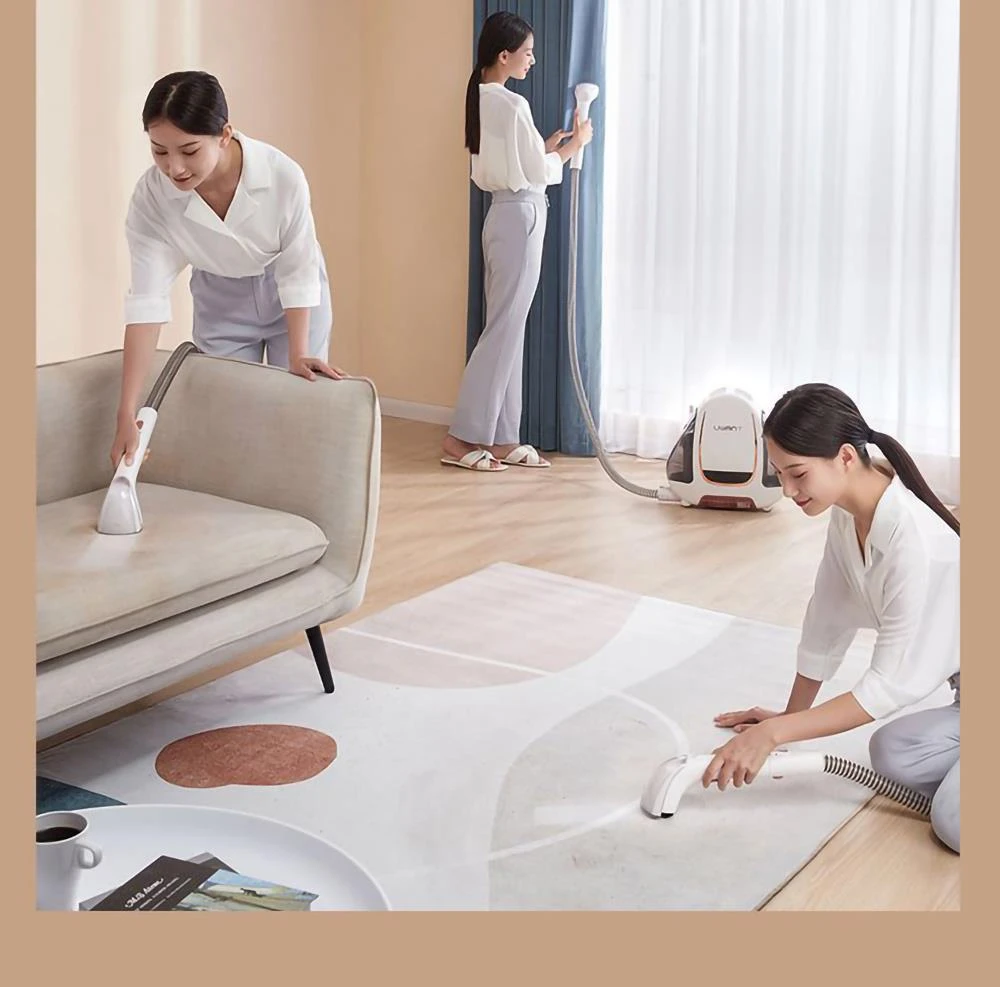 5. Robot Window Cleaner
Presumably, the cleaning of windows is also a very painful process for everyone. While the emergence of the robot window cleaner has given a good solution. These machines are designed to clean windows without human intervention. They use advanced sensors and algorithms to navigate the window surface, while powerful suction technology removes dirt, dust, and debris. This is a convenient and efficient solution that saves you time and energy compared to traditional window cleaning methods.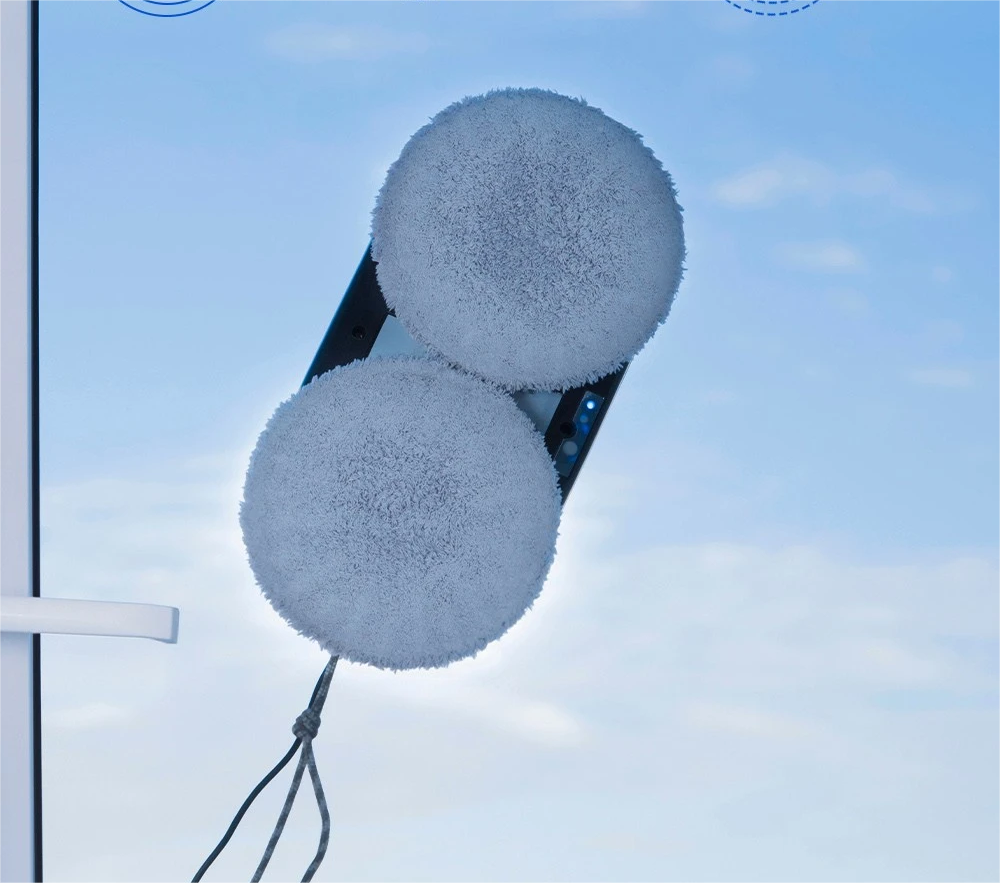 Liectroux HCR-10 and Liectroux YW509 robotic window cleaners are equipped with 2800Pa and 3000Pa suction respectively, which can effectively clean the dust and dirt on the windows without slipping or falling. Liectroux HCR-10 has a compact body, and the atomizing nozzle can produce a 15μm water mist, which is easy to dissolve dirt and dust to achieve the best cleaning effect. The Liectroux YW509 window cleaning machine adopts a square design, it has two water tanks that automatically spray water and 3 different cleaning modes. These robotic window cleaners can be controlled remotely and are easy to operate, making them perfect for cleaning bathroom mirrors, windows around the house, framed glass, tiled surfaces, and more.