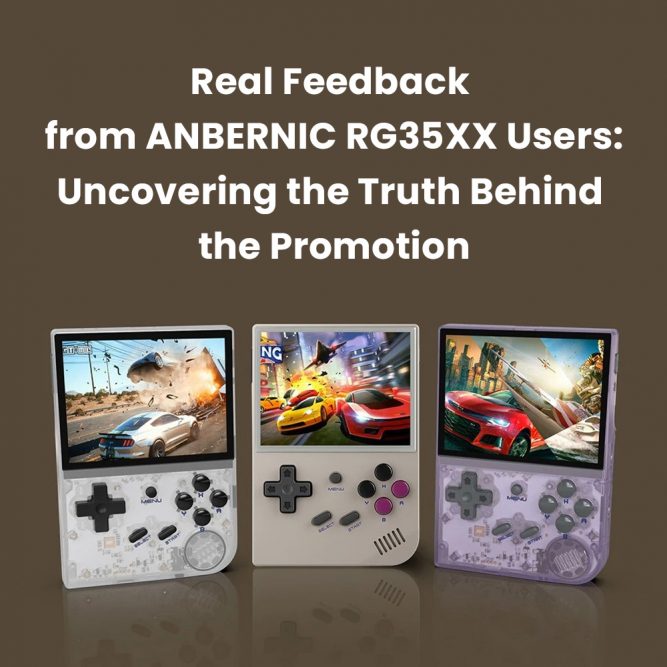 The ANBERNIC RG35XX is the latest handheld gaming console released by ANBERNIC. It continues the retro style of previous models and has been very popular since its launch, receiving praise from many gamers and becoming one of ANBERNIC's best-selling consoles.
This gaming console features a 3.5-inch IPS full-screen display and is very compact and lightweight, weighing only 165g, which is equivalent to the weight of a small apple. Even if you hold it for a long time to play games, you won't feel tired.
It runs on Linux and supports games in various formats such as PS1, CPS, FBA, NEOGEO, GBA, GBC, GB, SFC, FC, MAME, MD, GG, PCE, NGPC, SMS, WSC, and more. You can also download games in related modes.
There is an included 64GB Micro SD card with the RG35XX which contains the Linux-based operating system and game storage for as many as 5,000 games. A second Micro SD card of up to 128GB can be used for additional game storage on the retro gaming handheld.
The followings are real feedback from some customers who purchased RG35XX. They provided positive comments and suggestions on RG35XX products based on their own experience.
Mr. J believed this is the best pocket-able handheld at the moment. It's sturdy and very well build. I can take it safely anywhere in my pocket. It's comfortable to play for a good while without straining you. The display is the highest selling point. It's a big and vibrant screen. The major downfall is the installed OS. It even crashed on the second NES game I started. After replacing the original OS of 1-2 hours of pain it transformed into a wonderful experience. You need to at least tinker with it once before it truly shines. I can't give this a high rating as the success depends on an unofficial OS. Only when you're planning to replace OS, do I fully recommend it. Looks like a bad review, but I am very happy with the device. I just hoped it came with the replaced OS as official OS. The company, Anbernic, shouldn't rely on other people to fix their software.
To summarize a rating of 3/5 due to the great hardware, but bad software which is unreliable and only has a handful of features.
Replace the OS asap to have the best pocket-able device, when you do I rate it 5/5.
While others also said he is fond of this operating system:
I really like this handheld device, no problem at all to just turn it on and play. Plenty of games to select from, OS is good with some options to configure. I do like a "search" function which makes easier to find the game you want to play. I do recommend
Customer G gained a great gaming experience with RG35XX.
I received my handheld sooner than expected and was pleasantly surprised by the build quality. The buttons and D-pad are perfect for classic gaming and the triggers in the back albeit small are also very good. The UI is simple and the games run great! I was happy to see that I didn't have to load many ROMS as the ones I wanted were already installed. My wife and sons want their own now. Makes for an awesome gift.
Mr. R greatly appreciates its portability.
Can play straight out of the box, lots of quality games to choose from, very portable but the screen not so small that it's difficult to see what you're doing, USB-C charging, can add more games if you want, also display on bigger screen if you wish.
Customer H regarded it as a great device.
Have had great fun with this easy-to-use device. Great game list, and great gameplay. Good controls. I play for hours every day.
Customer V really loved this game console.
I was torn between this and the mini+ and after watching and reading many reviews I decided to go with the rg35xx. I'm so glad I did. Build quality is great and the games play efficiently. Hopefully, they will release a new model with Bluetooth and WiFi or a better GPU for more system capabilities.
Mr. N highly recommended RG35XX.
I had watched all the videos on YouTube about how this is such a great "budget handheld" so I took a gamble and ordered it. The last thing I ordered like this was a BittBoy several years ago. The device shipped from China and took a couple weeks to get here. All I can say is that it was worth the wait and worth every penny. It certainly does not feel or perform like a budget device. I was blown away by just the solid feel and heft of it when I unboxed it. The screen is great, controls have also been great so far as well. Battery life is decent so far and I've already been playing with some Garlic OS stuff to rename and reorganize roms. I feel like it's an absolute steal for the price and I highly recommend it. I have 2 friends who played it once and immediately ordered their own…it's that good.