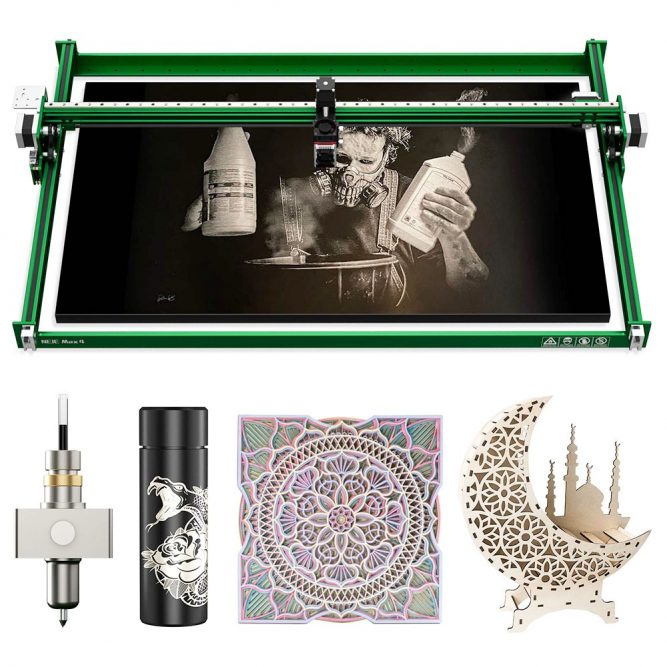 NEJE recently launched its newest laser engraver – NEJE Max 4. As the flagship engraving machine of NEJE, Max 4 has different laser module configurations and is the first laser engraver on the market that can achieve four-axis collaboration. In the engraving machine industry, the laser modules independently developed and manufactured by NEJE are famous for their high performance. NEJE has the most advanced laser processing technology experience and excellent software, bringing more extreme engraving experience to enthusiasts and manufacturers. Meanwhile, the breakthrough four-axis design undoubtedly makes NEJE Max 4 create a new milestone in the engraving machine industry.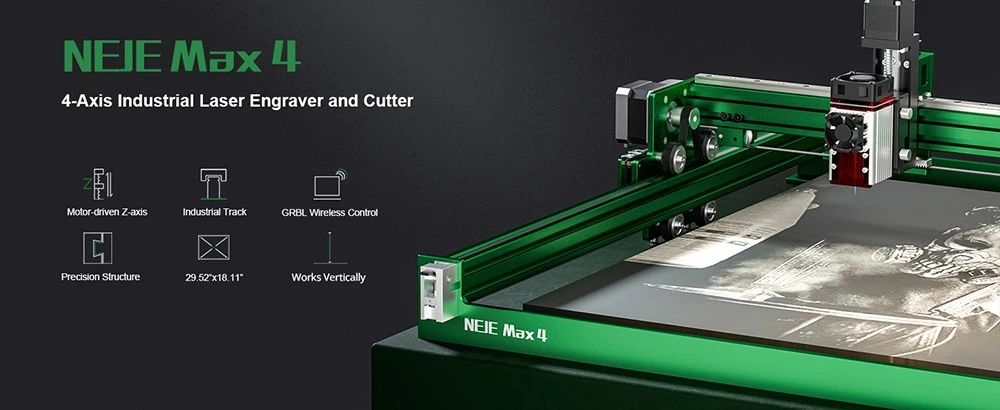 Pioneering 4-Axis System
The X-axis, Y-axis, Z-axis and A-axis collaborative system developed by NEJE can ensure that Max 4 can automatically complete more accurate processing. With expandable functions, the Max 4 laser engraver and cutter can automatically complete M7 and M8 auto smoke discharging, air assist, door safety functions, and visual positioning functions, and is perfectly integrated with various expansion functions of LightBurn. Moreover, the added high-precision motorized Z-axis allows NEJE 4 Max to load up to 1kg and travel 45mm, achieving high-precision repositioning with an accuracy of 0.001 mm.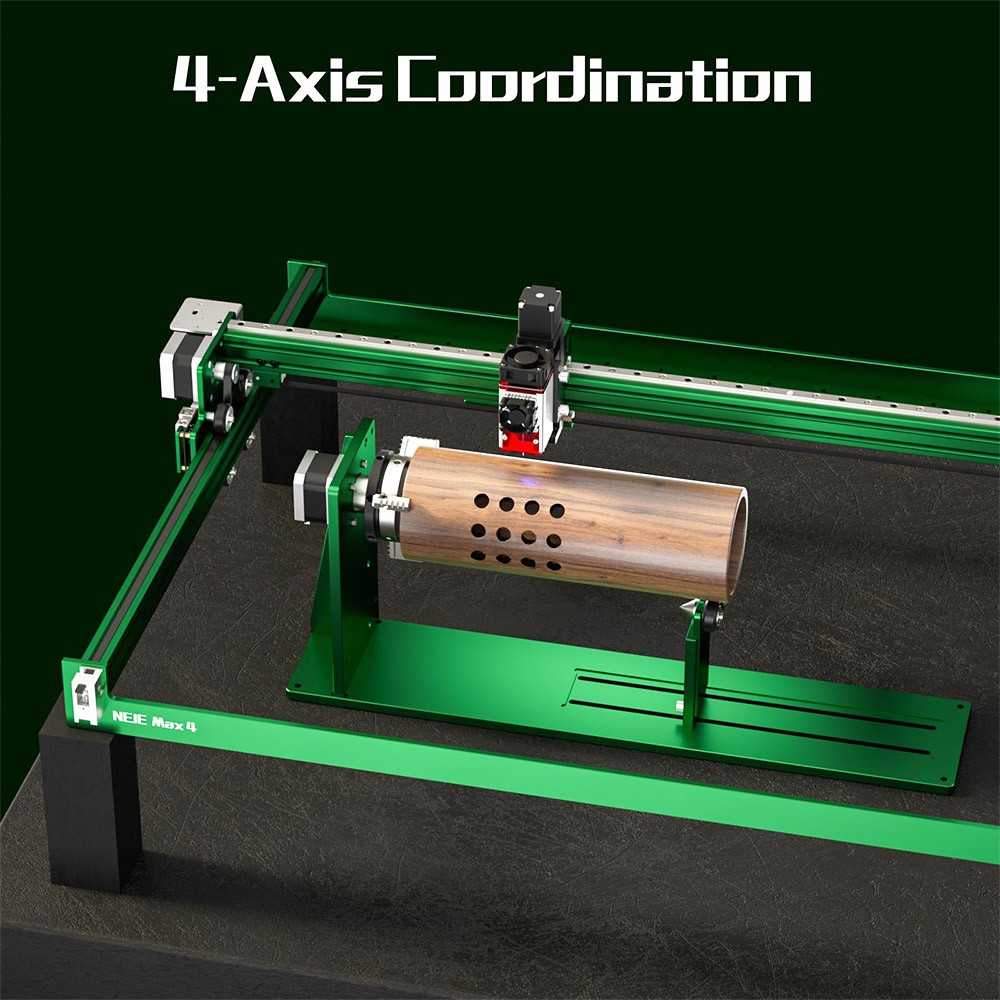 High-Performance Laser Module Configuration
As the best laser module configuration for Max 4, E80 has revolutionized the solution to the fire problem of high-power modules. With the Z-axis layer-by-layer cutting mode and the E80's unique optical cutter design, it can safely cut 17mm pine without fire, even without air assist. For cutting thick wood, the E80 laser module could be revolutionary. Although E80 only has 24W laser power, it can almost reach the same cutting speed as a 40W laser module.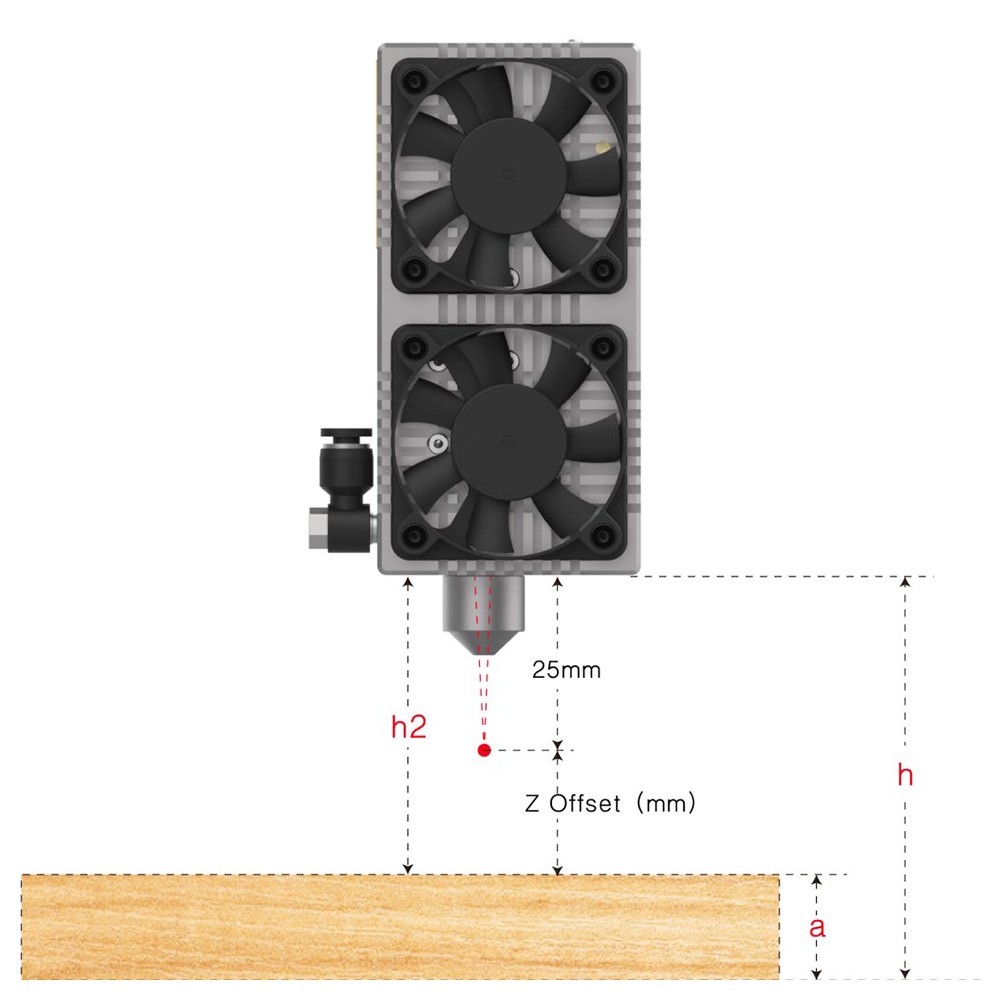 A40640 laser module is the world's first dual-beam laser diode engraving and cutting module with zoom design. It has the best metal engraving ability, fast groove engraving ability, and thick material cutting compatibility. Adopting NEJE's unique fiber compression technology, A40640 has 12W+ pulse and 11W continuous optical power, which has very special and top-level artistic performance in the engraving of stainless steel grayscale carving, stone carving, glass carving, hardwood relief, canvas art, and other materials.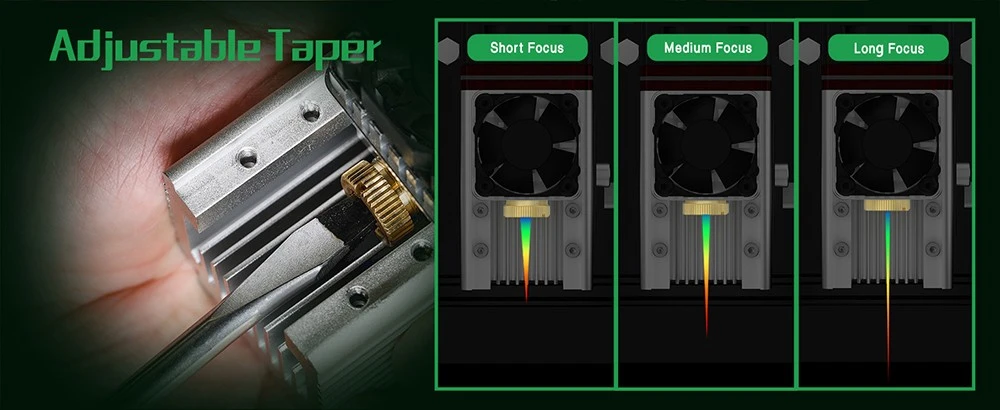 With NEJE's unique external lens optical compression technology, the energy density of the E40 laser module is even 2 times higher than that of the 20W optical power module, so it has faster speed and precision in the actual engraving process. As a high-power dual-beam fixed-focus high-precision module, E40 has very small incisions when cutting MDF board, leather, acrylic, fabric, cardboard, and other high-density materials that are less than 4mm, and the minimum gap between incisions is less than 0.06mm. At the same time, it can engrave stainless steel, stone, glass, ceramics, and other high-resolution materials with high-precision rendering capabilities, and the imaging effect is detailed and accurate.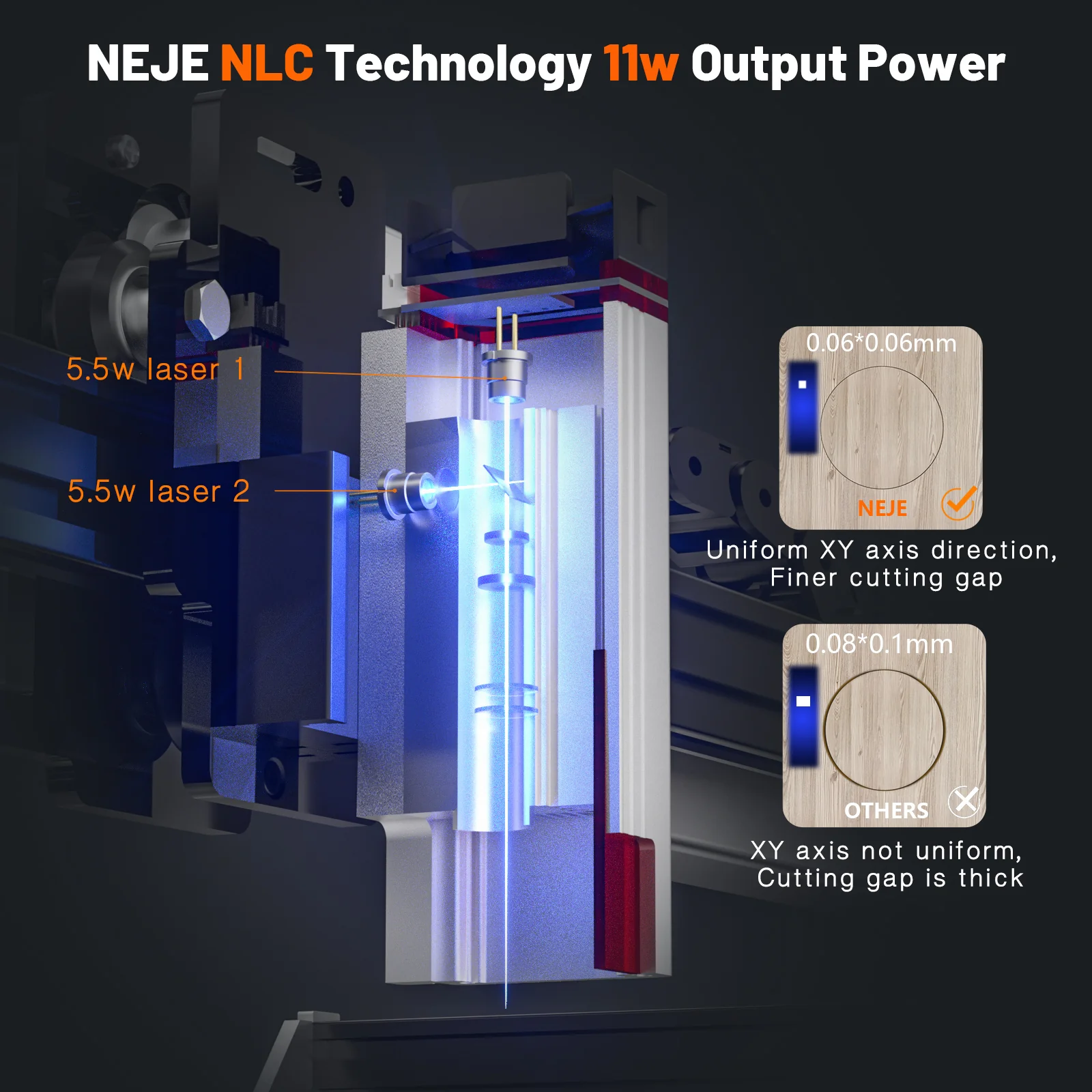 NEJE Max 4 is also configured with a drawing pen, which is specially designed for beginners, easy to use, and safe. Install the drawing pen to the Max 4 machine to draw the image, you will experience the fun of CNC. Also, you can draw paths with a drawing pen and pre-process advertising materials that cannot be processed by laser wavelengths.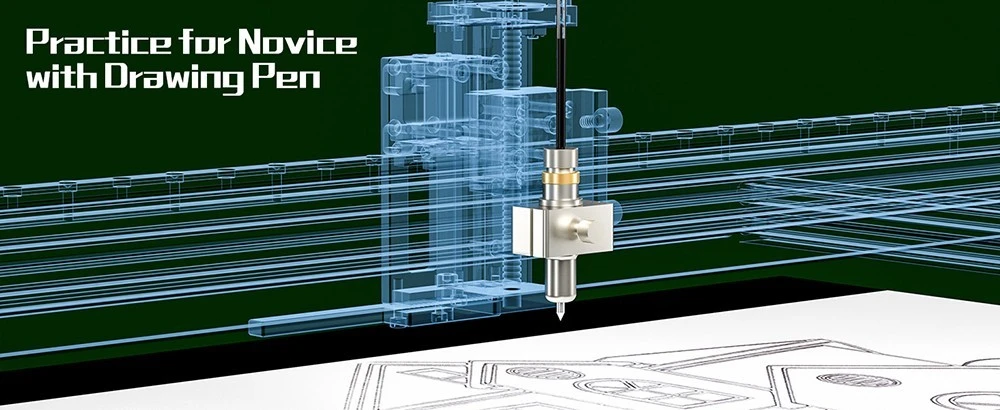 Industrial Grade Track
NEJE Max 4 laser engraver and cutter features industrial-grade structural precision. The X-axis adopts an industrial linear track, and the Y-axis adopts NEJE specially designed diamond tool cutting linear track, which has longer life and precision. And all the parts of Max 4 are calibrated by the high-precision industrial master machine, the linear track is corrected, and the installation direction of each plane is precisely matched, bringing you a more accurate and stable engraving effect.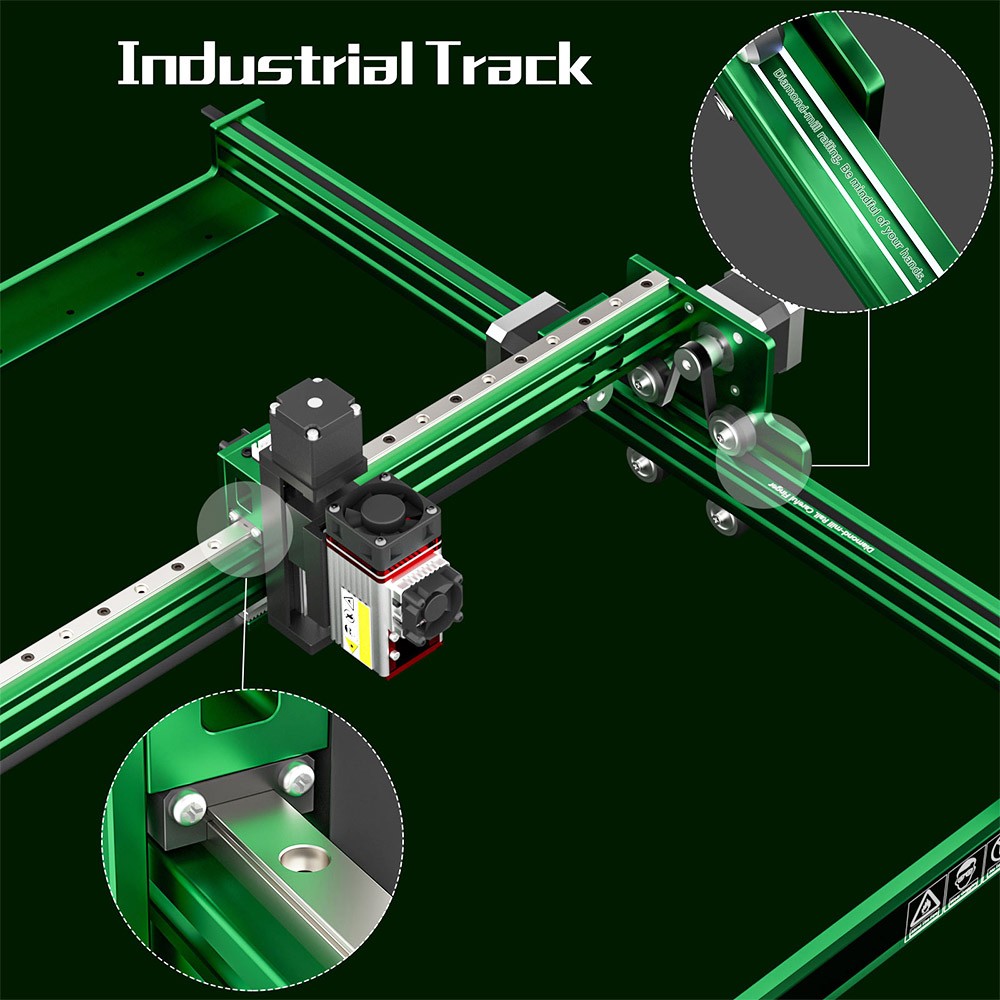 Large Engraving Area and Reliable Design
750*460mm working area allows you to give full play to your creativity. In addition, the Y-axis can be extended to 1030mm by using an extension. This allows you to process various items of different sizes, greatly improving work efficiency. Some people may ask whether such a large area of lightweight equipment will not produce fluctuations during work. My answer is that NEJE Max 4 is very stable. With an anti-shake design, Max 4 can effectively eliminate the vibration of precision stretching by customizing alloy materials with different hardness and matching reasonable shock absorption design.
Conclusion
NEJE Max 4 laser engraving and cutting machine has a very high-performance configuration to meet your needs, and the price of each configuration is very favorable. As the most cost-effective laser engraving machine, the function of NEJE Max 4 is far more than that. For more information, please click the link below.
https://promotion.geekbuying.com/promotion/neje_max_4_laser_engraver_global_launch