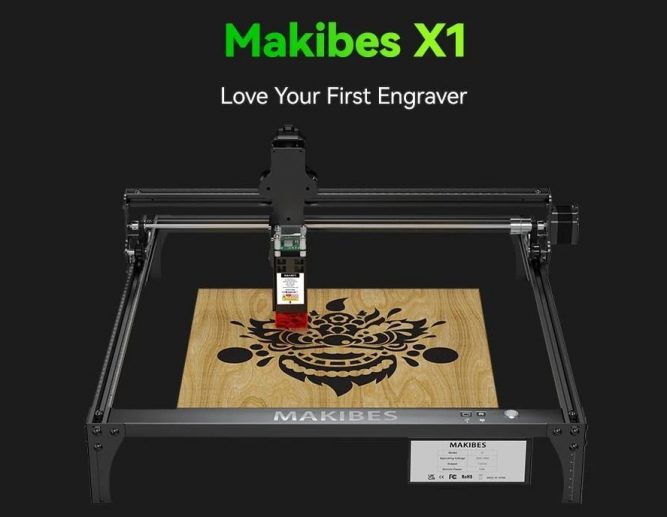 Here at Geekbuying, I've reviewed many fancy laser engravers, they can do lots of fancy stuff. But none of them are offering a particularly fancy price, they usually cost around $1,000, which is pricy for most average consumers to be honest. So you may wonder if is there a – simple enough, but with passable engraving ability, and of course, budget-friendly laser engraver on Geekbuying?
Well, today I'd like to introduce one that meets the three I mentioned above perfectly: The Makibes X1. After my weeks of testing, I think it has got all the basics right and is good enough tobe your daily laser engraver.
The assembly is simple. These are what all included in the box. You connect the frames and two stands with the correct screws and tools, install the X-axis module and tighten the belt, install the other two stands. Lastly, connect the cables, the blue one is for connecting the computer, the one beside it is to connect the power source, and bang, that's it! If you are using it for the first time, just follow the manual and you will get there easily. Overall, it takes about 10 to 15 minutes to assemble.
To use it, it's simple. Just like many other core XY laser engravers, you adjust the laser head manually to focus the laser. Place that board, which they will include in the box, under the laser head and let it just touch the surface, fix the head tightly, and take out the board, done!
The Makibes X1 supports LaserGRBL and LightBurn software, the former is free but with limited features, while the latter only offers one month of free trial but later comes with subscription fees, but basically you can do almost anything with it. Here in this video, we are going to demo the LightBurn software. To engrave, normally you just need to adjust two parameters, the Speed and Max Power, if you want faster speed but less obvious engravings, like shallow engravings, you can adjust the Speed to the highest and Max Power to a low value, also if you want more accurate results you can adjust the Line Interval, the less interval, the more accurate and finer engraving results, but takes more time. I mean, the software is super powerful, if you want to learn really deeply, you can spend days or even months learning all, but if you want to know the basics then it is just that.
And now the engraving ability. For those who are wondering what kind of materials the Makibes X1 can do is it features a 450nm laser, or some call Diode Laser, it's best for wood, medium-density fibreboard, leather, all kinds of painted metals, and 304 stainless steel, etc. You can also engrave white ceramic or transparent plastic but you have to paint it black and wash away the paint after engraving. And here are the results. They look Okay, right? Especially it has a good result on the wood, the edge is very smooth. The results are overall decent, though definitely fall short compared to those expensive laser engravers I've reviewed before. If you don't have a high demand for your engravings, the X1 did a fairly good job, you get what you paid for right?
Out of curiosity, we tried the machine to see if it's compatible with a rotary roller we have. We just connect the cable that's supposed to connect to the Y axis on the X1 to the rotary roller. And then we enable the "Rotary Mode" in the LightBurn, then you know what, it works! Though on the official page of the Makibes X1, it doesn't mention the rotary compatibility, so considering this is a bonus.
And if you are curious about cutting ability, it can cut a 3mm thickness of wood in one pass, actually, I tried to cut an 8mm wood in several repeats but seems not working. So yeah, it's a 5W laser power laser engraver, you probably don't want to use it to cut things.
There you have it. If you just want a simple and cost-effective enough laser engraver that handles your daily normal stuff engraving, I can easily recommend the Makibes X1, it does all the basics right while at the same time offering a very competitive price among the same design laser engravers. And if you are interested in this product, please check out the link in the description and get one now. Thanks for watching, I'm Sami and I will see you in the next one.
Have you ever thought about personalising your own stuff to make them unique? Or just want to make a truly unique gift with your own work to someone you care about? Well, today I'd like to introduce a simple yet practical laser engraver that lets you do all that easily without breaking your bank! The Makibes X1. Let's get started.