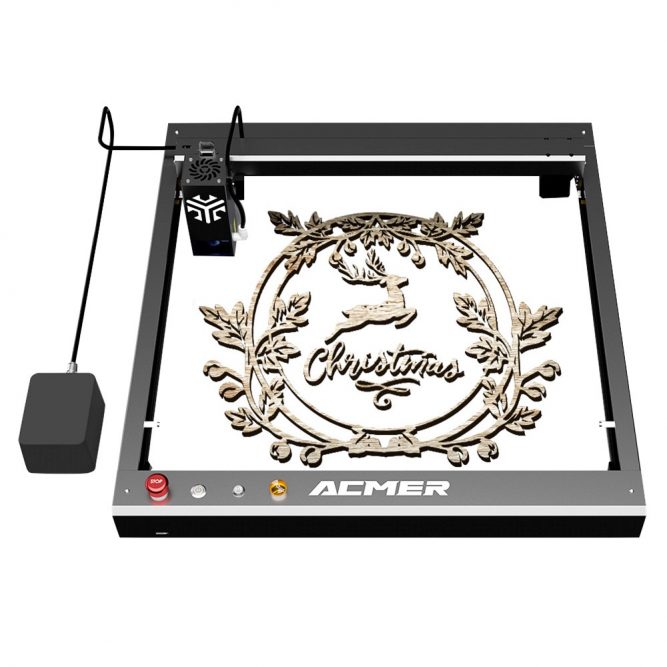 With the continuous development and innovation of laser engraving technology, the application of laser engraving and cutting machines is becoming more and more extensive. With it, you can engrave various exquisite patterns and characters on wood, bamboo, leather, and other materials to make handicrafts or souvenirs; you can also perform 360-degree rotating engraving on spherical surfaces or cylinders to meet your individual needs. In addition, it can be applied to make logos, signs, medals, etc.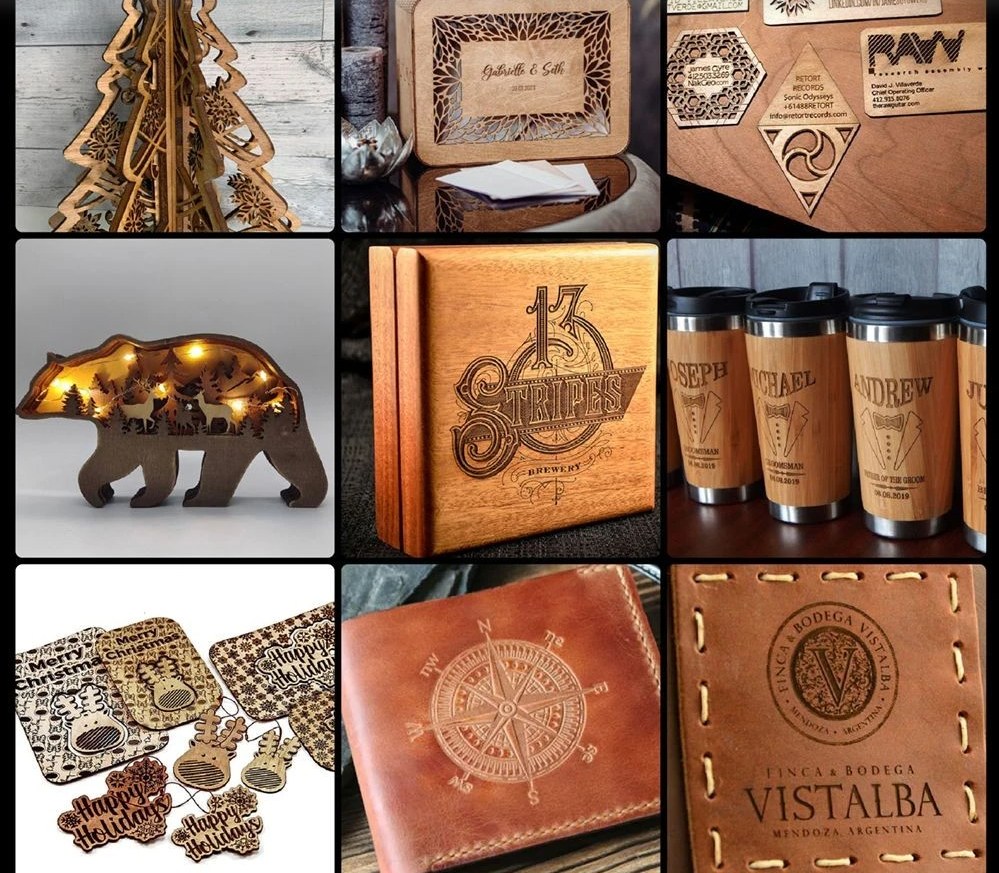 What can a laser engraver do for Easter?
Traditional "egg carving" generally adopts the method of hand-carving, which requires a high professional level of the processor, and takes a lot of energy and time. The emergence of laser engraving technology makes all this easier. Laser engraving machines can directly engrave patterns on the surface of eggs, and can engrave more complex patterns. Such a machining process is fast and efficient! In addition to eggs, you can use a laser engraver to engrave beautiful designs on Easter rolling pins and gift bags, or laser cut a shelf for displaying Easter eggs.
While ACMER P2 can help you do all of these! As a high optical power laser cutter, the cutting and engraving performance of ACMER P2 is unmatched by most machines. It combines as many safety features as possible with the highest power of a consumer-grade diode laser engraver – 33W, making it a phenomenal hobbyist's laser engraver and cutter. With it, you can unleash your creativity and make your Easter crafts fascinating!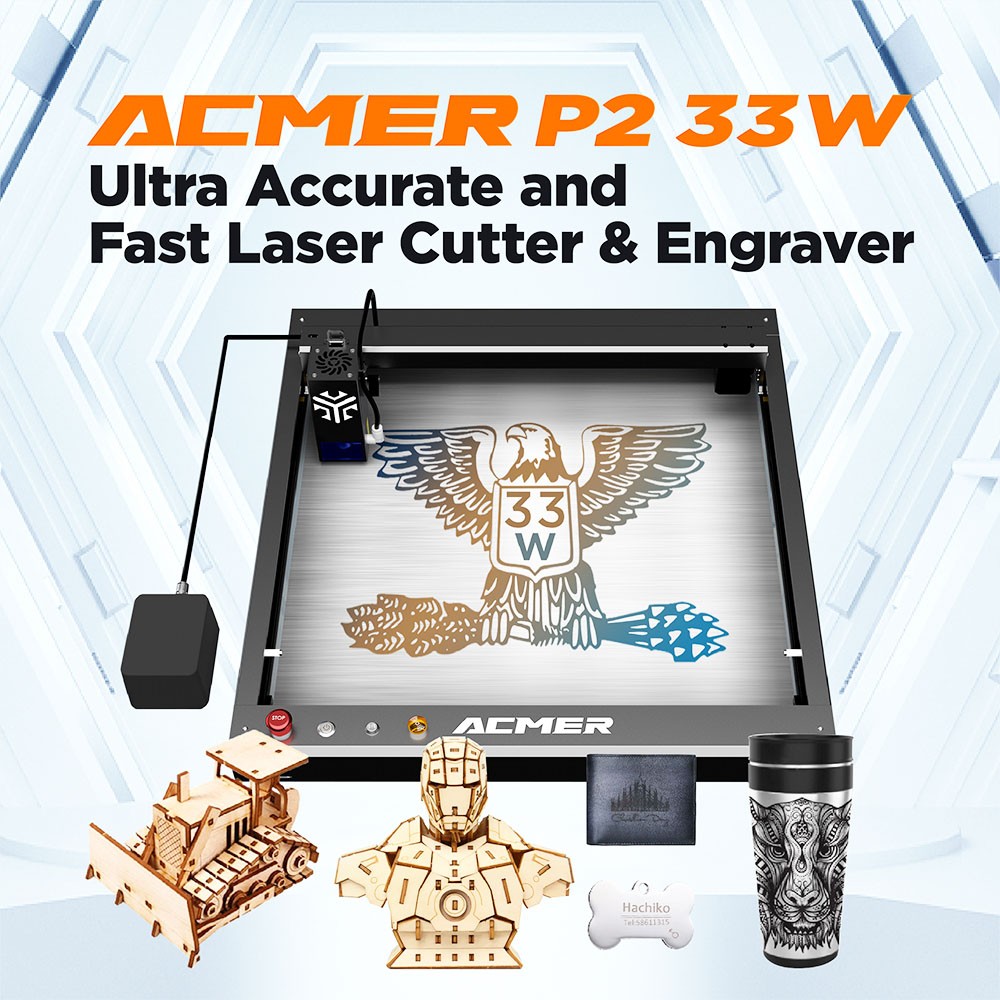 Powerful 33W Laser Engraver
Adopting the latest 6W laser coupling technology, ACMER P2 laser engraving machine has real 33W optical power. It also has an ultra-fine laser focus of 0.08mm, a minimum engraving accuracy of 0.01mm, and an engraving speed of up to 24000mm/min. What's more, it can cut 30mm wood, 20mm acrylic, and even 0.1mm stainless steel at one time.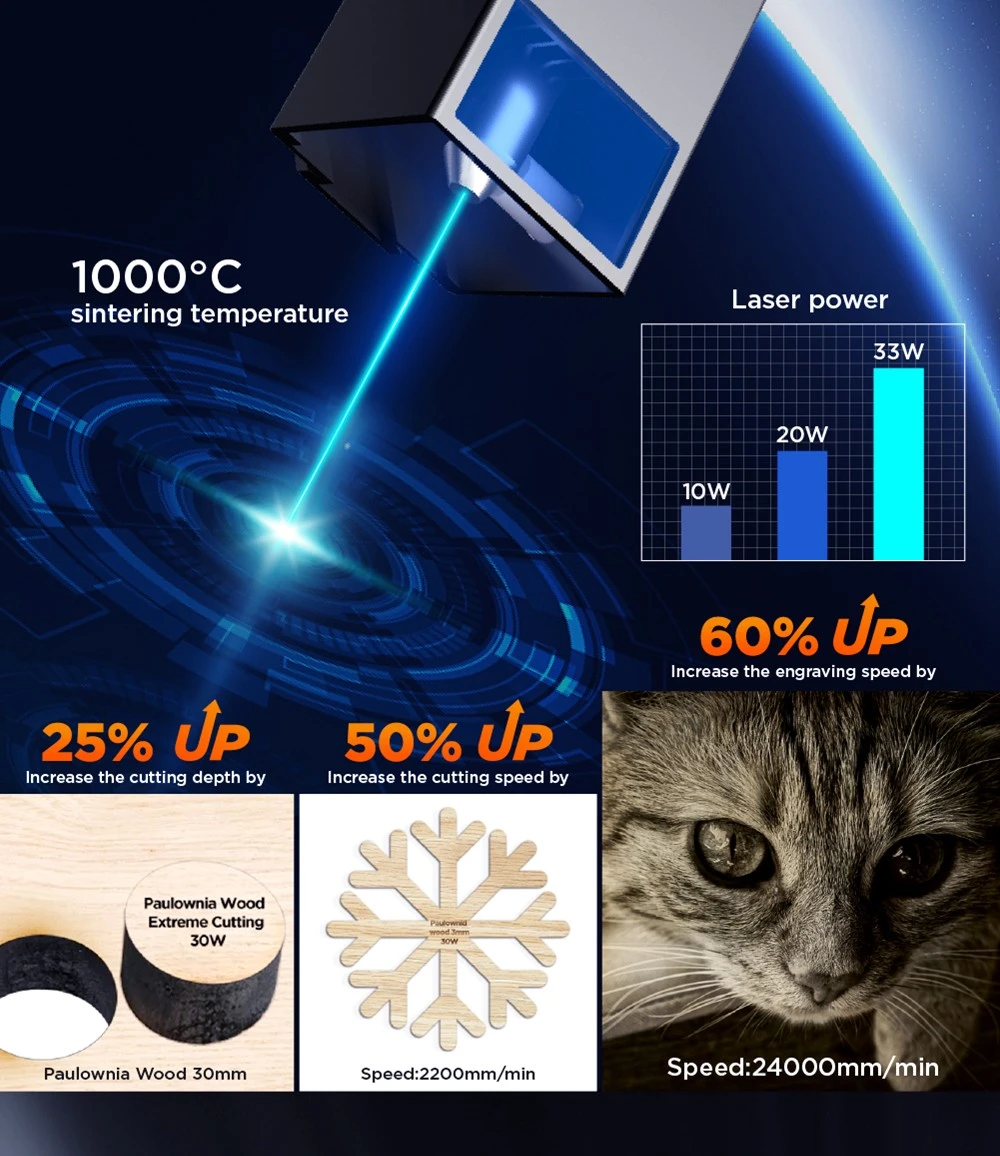 More Engravable Materials
Equipped with a large engraving area of 420*400mm, the P2 laser engraver can engrave wood, bamboo, paper, acrylic, leather, PCB board, metal, etc.; cut wood, acrylic, bamboo, leather, paper, etc. It's a great tool for creating ornaments, picture frames, and craft projects that require more laser cutting.
Ultra-silent Auto Air Assist
Equipped with a built-in automatic air assist kit, the 33W laser cutter minimizes heat around the laser head, removes debris around the contact point, and prevents workpiece burns. Meanwhile, the air assist kit operates with minimal noise, which brings a great sense of experience to the laser engraving and cutting process without disturbing your other work.
Strong Structure, Safe and Reliable
This 33W laser engraver uses an all-metal structural frame, which is stable and durable. The whole machine adopts a modular design, which is convenient for the assembly, maintenance, and updating of parts. Equipped with an emergency stop switch, power safety lock, moving/tilting instant stop, eye protection lens, and flame detection instant stop, the P2 laser cutting machine enables you to fully play to your creativity.
Conclusion
With super powerful laser technology, the ACMER P2 33W laser engraver can achieve a finer engraving effect and higher contrast effect. It is also compatible with various mature engraving software, such as LaserGRBL (free) and LightBurn (paid), and it can be controlled by APP, which is very convenient to use. With it, you can create unique Easter gifts and decorations at home without paying much money.