Geekbuying March mega sale is coming. We set some incentive policies to thank your support and help you earn more money. The incentives are valid from 15th to 31st March 2023(UTC+8).
From Mar.15th to Mar.31st, hot-selling brands such as Eleglide, SCULPFUN, Fossibot, Jimmy, Artillery, Tronsmart, and Roborock will be offered at the lowest prices – up to 70% off in this sale feast.
Click the link below to enter the promotion page:
https://promotion.geekbuying.com/promotion/march_mega_sale
Mega sale Activity:
Warm-up Sale: Mar.15 – 22 @16:00 (UTC+8);
Official-up Sale: Mar.22 – 28 @16:00 (UTC+8);
Blow-up Sale: Mar.28 – 31 @16:00 (UTC+8);
Incentives to Drive your Sales:
Incentive Campaign 1:
Commission Rate Increasing:
– Valid Date: Mar.15 – 31 @UTC+8
– Extra 1% commission increased, as long as our activity banner is displayed free of cost on your channels, top article, post or other ways you can do for Geekbuying during the activity period.
– 8% commission for activity-introduced or live-streaming videos on online social channels.
Details are attached below: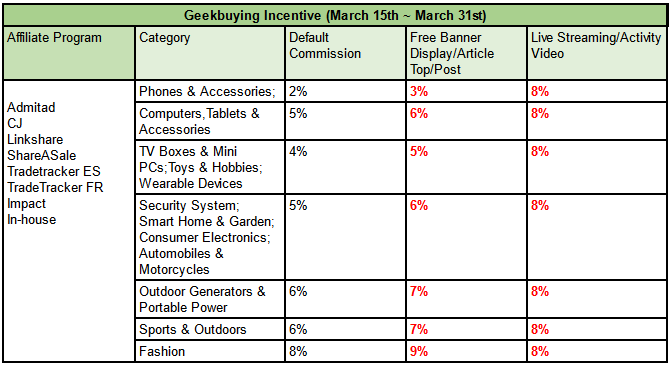 Incentive Campaign 2:
Fixed Bonus for Achieving a Sales Threshold:
– Valid Date: Mar.15-31 @UTC+8
– Official affiliate members can get varied bonuses in accordance with different sales goals:
$19999 Sales: a $199 one-time bonus
$39999 Sales: a $399 one-time bonus
$49999 sales: a $499 one-time bonus
$99999 sales: a $999 one-time bonus

Incentive Campaign 3:
Exclusive Discount Codes:

Incentive Campaign 4:
High-Commission Items recommendation:
Up to 10% commission for Eleglide/JIMMY/ZENDURE during the period of Mar.15 – 31 @UTC+8.
– Check more details through the link: https://promotion.geekbuying.com/promotion/high_comission_products

Please contact your affiliate managers to learn more details about the incentives if you have any questions about them.
Good luck!