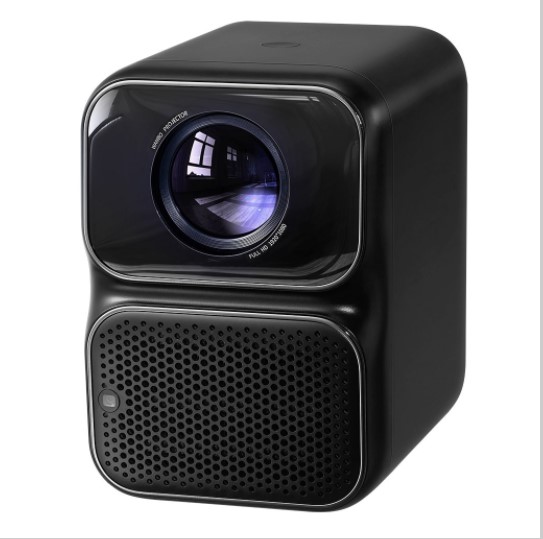 Compared with mobile phones, tablets, and TVs, projectors are the last ones to cause damage to the eyes. Buying a projector at home enables you to enjoy the theater-style super-larger screen visual effects, and gives you an immersive feeling when watching movies or playing games, which is unmatched by TVs or monitors.
Wanbo has launched its latest projector–TT, which is more than outstanding while at an inexpensive price. Do not ignore its excellent projection performance due to the price. Wanbo TT offers a large field of vision with AI auto-focus function, 650ANSI lumens, HD 1080P resolution, Netflix certification, HDR10+, 360 degrees Dolby atmos, keystone correction, Bluetooth 5.1……
TT projector is built in genuine Netflix authorization, owns many film and television drama copyrights, a large number of high-quality dramas, which can be directly watched online with it. 360° Dolby panoramic sound effect with two 5W speakers, an independent digital power amplifier, Hi-Fi stereo surround sound with clean voice detail, turning your home into an immersive theater.
The projector boasts a small body with the size of 17*12*17.5cm, and you can place it in any corner of your house. The black appearance, symmetrical water chrome decoration, and 2.5D acrylic panel make the projector full of a sense of technology.
Brightness increased greatly up to 650 ANSI with full colors to enjoy the large screen. With 650ANSI brightness and an anti-light curtain, you can enjoy the big-screen viewing experience during the day. The projection size varies from 40 to 120 inches, and you can spend a perfect weekend at home without going out.
The resolution of a projector is measured in pixels of height and width. The higher the resolution, the clearer the picture displayed on the screen when zoomed in, and there will be no pixelation problem even when viewed at a closer distance. Wanbo TT projector features 1080P physical resolution, supports 4K decoding, effectively improves the picture contrast, clearly shows every detail, and supports more film sources at the same time.
When the projector is not completely facing the screen, the projected picture will become a trapezoid, and the projector with the keystone correction function can adjust the picture to normal.
Compatible with 2.4G & 5G dual-band WiFi, TT projector is more stable, transmits faster, and ensures a smooth experience with low latency. It has a high-performance MT9666 that can decode 4K60 video streams using common multimedia formats such as HEVC, VP9, and AV1.
Now, the Wanbo TT projector is available on Geekbuying.com, you can enjoy the valentine's day discount.