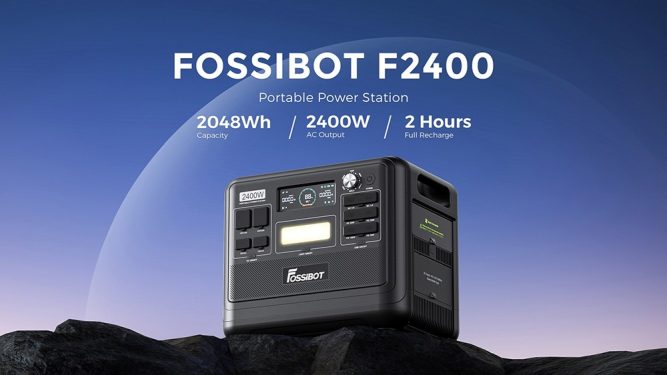 Who is FOSSiBOT?
FOSSiBOT portable power station brand was founded by an innovative technology team with 8 years of research and development experience in the energy storage industry. Focusing on large capacity, high power, and ultra-fast charging, FOSSiBOT aims to provide portable and renewable energy solutions. Its first-release product, FOSSiBOT F2400, is characterized by a large capacity of 2048Wh, a high power of 2400W, and a super-fast charge within 1.5 hours. It is UPS-capable and can also be combined with solar cells.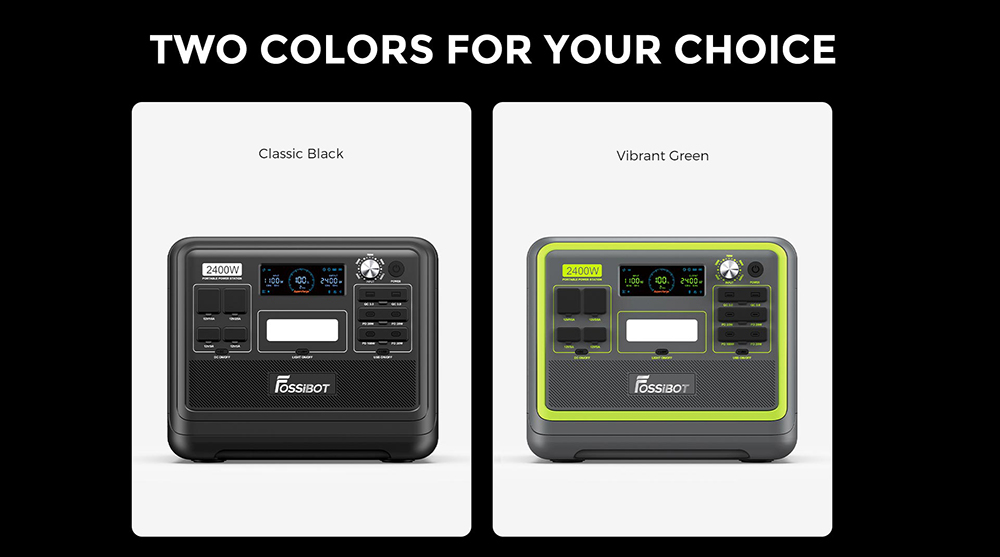 Best Portable Power Station – FOSSiBOT F2400
You may be looking for a rechargeable portable power station for camping, or to deal with sudden power outages. And when choosing a portable power supply, you should consider its battery capacity, power, battery type, inverter technology, and input and output ports. While in these aspects, the FOSSiBOT F2400 electric power station is undoubtedly excellent.
2400W AC Output, 2048Wh LiFePO4 Battery
Super large capacity 2048Wh/640000mAh portable solar power station configures 2400W rated output, which satisfies a family's half-day emergency use and 8 people's whole day camping out or RV's one day use. With 2400W high output power and 4600W surge, the F2400 solar generator can power more and higher-power appliances.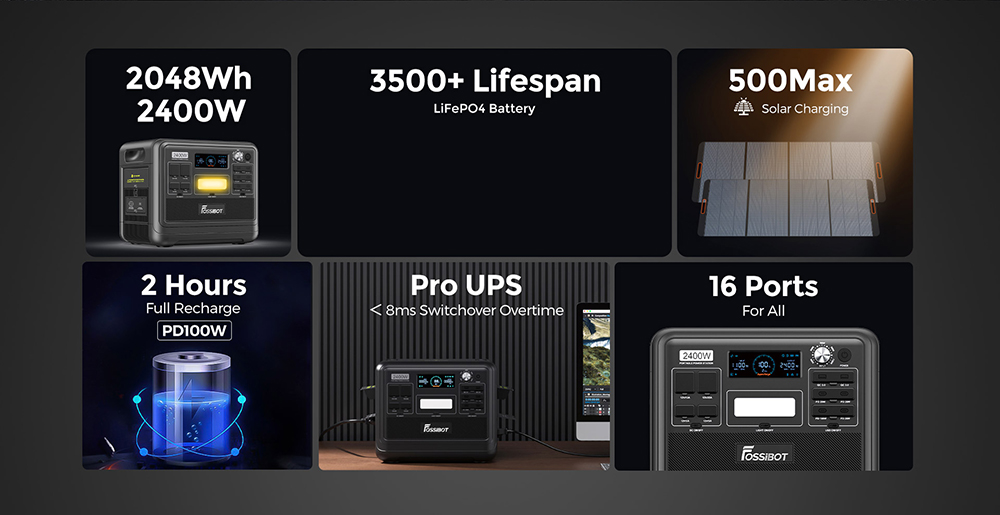 Super Fast Charging within 1.5 Hours
FOSSiBOT portable power station adopts the latest bidirectional inverter technology which enables users to recharge the machine super fast. It supports AC charging, solar panel charging, and car charging. When the input power reaches 1100W by AC charge, it can be fully recharged within 2 hours. By AC and 500W max solar panels charge simultaneously, it only takes 1.5 hours which is over twice faster compared to similar products on the market.
Intelligent Input Power Adjustment Knob
F2400 solar power station, with 300W, 500W, 700W, 900W, and 1100W input power protection power supply, the charging speed is completely controlled freely, the adjustment knob can keep the input voltage constant, greatly extend the service life of FOSSiBOT F2400, protect your equipment.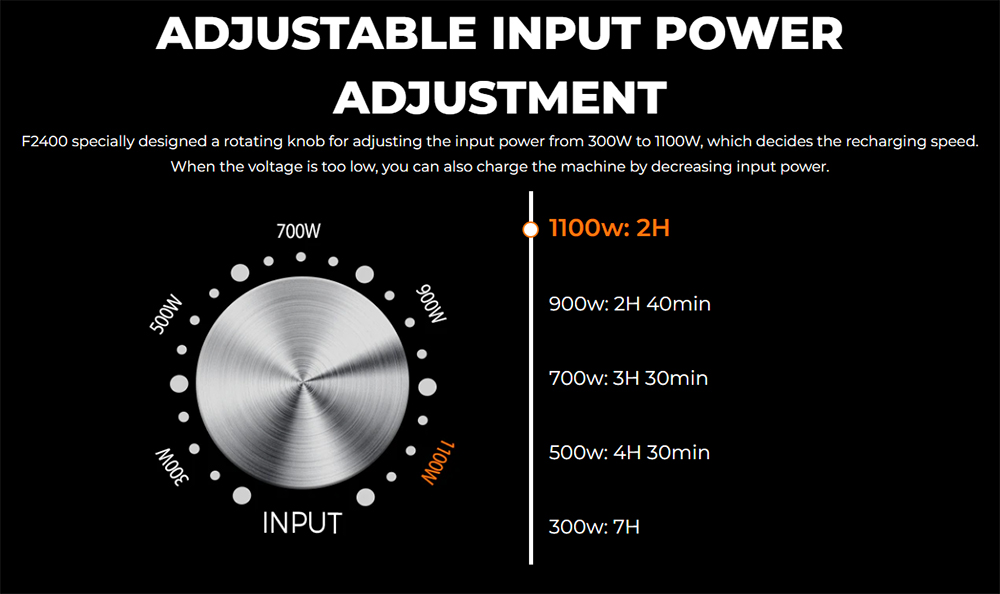 Multiple Ports to Power 99% of Appliances
Equipped with 3 AC output ports (EU version), 4 USB-C ports, 2 USB-A ports, 2 DC5521 ports, 1 cigarette lighter, and a 12V/25A outlet for RV, the F2400 power station can be used for most devices like rice cookers, TVs, electric blankets, electric kettles, hair dryers, tools, and even higher power appliances (such as electric stoves, electric microwave ovens) and refrigerator. When the total loads exceed 2400W, the F2400 can continue to power all the loads by decreasing the voltage until the peak power reaches 4600W and the voltage below 78V.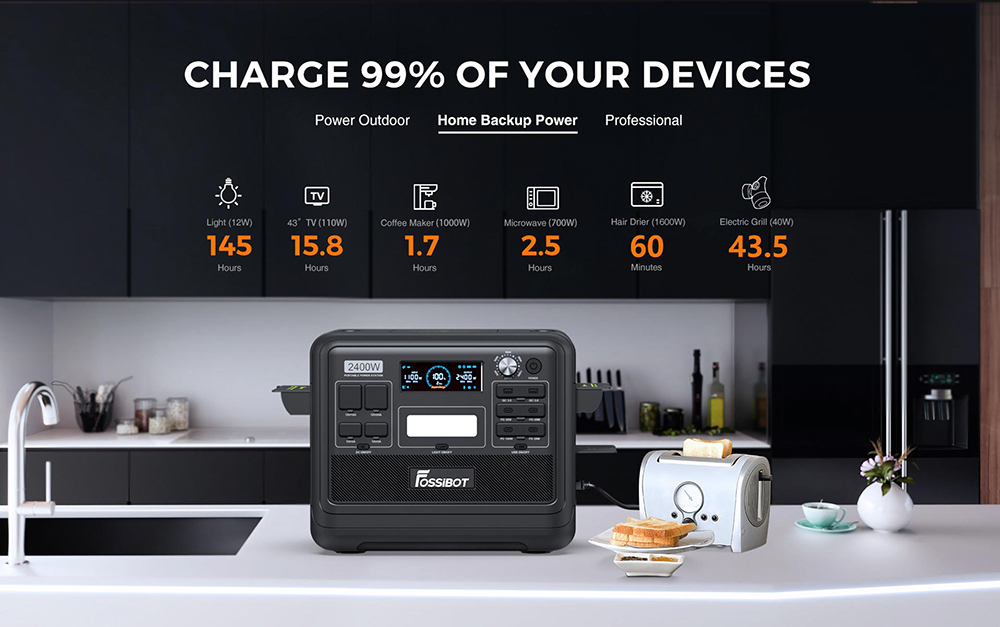 Convenient Designs
FOSSiBOT F2400 solar power station's fan covers are dust-proof and can prevent ants or flies from entering which may possibly cause short circuits. The DC and USB ports are also designed with rubber plug covers for daily life water-resistance and dust-proof. Also, there is a space on the top of the portable power supply for collecting the charging cables to avoid losing them.
Portable Power Station with Solar Panel
FOSSiBOT SP200 is a 200W solar panel that supports both FOSSiBO F2400 portable power station as well as other solar generators which have Anderson port, XT60 port, and DC5521 charging port. It features Monocrystalline solar cells with up to 23.4% efficiency, making it an efficient and durable solar panel. When combined with the two FOSSiBOT 200W Solar Panels, you can charge the F2400 completely within 4 hours.
Massive Discounts for FOSSiBOT Products
In summary, I think FOSSiBOT F2400 is the best budget portable power station. If you've been thinking of a longer off-grid vacation, outdoor camping, and backup electrical power for home power outages, portable power stations are necessary.
The FOSSiBOT brand EU warehouse promotion will be launched on February 7th, 2023. Geekbuying will offer the most cost-effective price for the FOSSiBOT F2400 Portable Power Station. Below, we have provided discounted prices for FOSSiBOT products.
FOSSiBOT F2400 Portable Power Station
Price for EU Version: 1599€
Discounted Price: 1299€
Period: from February 7th, 2023 to February 14th, 2023
https://www.geekbuying.com/item/FOSSiBOT-F2400-2048Wh-Portable-Power-Station-Black-EU-Plug-518993.html
https://www.geekbuying.com/item/FOSSiBOT-F2400-2048Wh-Portable-Power-Station-Green-EU-Plug-518992.html
FOSSiBOT F2400 Solar Generator Bundle
1. FOSSiBOT F2400 + 1Pc FOSSiBOT SP200
Price for EU Version: 1799€
Discounted Price: 1599€
Period: from February 7th, 2023 to February 14th, 2023
https://www.geekbuying.com/item/FOSSiBOT-F2400-Portable-Power-Station—SP200-Solar-Panel-EU-Plug-519050.html
This combination is very cost-effective, equivalent to buying an additional solar panel at the price of only one energy storage power supply!
2. FOSSiBOT F2400 + 2Pcs FOSSiBOT SP200
Price for EU Version: 1999€
Discounted Price: 1799€
Period: from February 7th, 2023 to February 14th, 2023
https://www.geekbuying.com/item/FOSSiBOT-F2400-Portable-Power-Station—2-x-SP200-Solar-Panel-EU-Plug-519051.html
FOSSiBOT SP200 Portable Solar Panel
Price for EU Version: 399€
Discounted Price: 379€
Period: from February 7th, 2023 to February 14th, 2023
https://www.geekbuying.com/item/FOSSiBOT-SP200-18V-200W-Foldable-Solar-Panel-518991.html