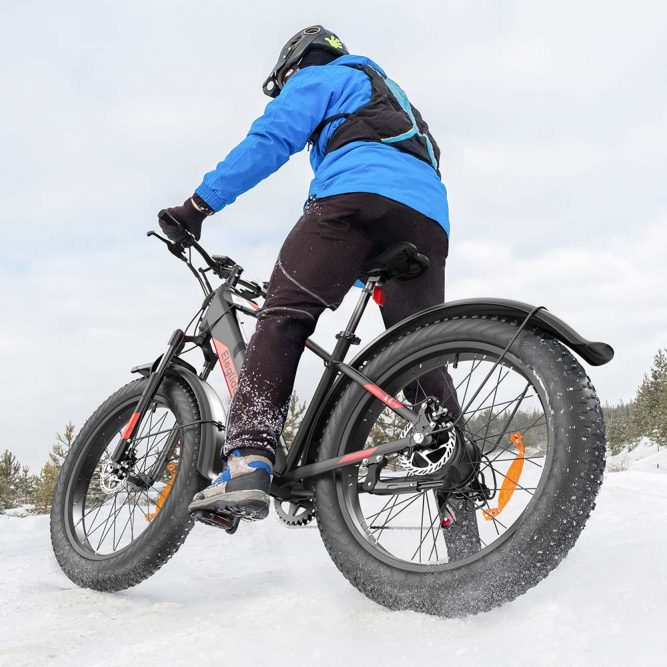 Buying your first electric bike is a lifestyle choice that can benefit your health and wellness, lower your carbon footprint, and save money in reduced car trips, but it's also a big and potentially expensive decision.
Here are some factors to consider before buying your first ebike.
Consider Your Intended Usage
The first step in narrowing your search is to define how you plan to use your ebike.
Much like a regular bike, how do you plan to ride? Off-road on dirt trails? City commuting? Perhaps your focus is getting a workout or simply being able to keep up easier with your riding partner. Options range from high-powered, moped-style ebikes to fat tire ebikes, mountain ebikes, average cruisers, and thin-tired single-speed city riders. So before you start comparing models, figure out what style of ebike you want and then start comparing ebikes with similar characteristics.
2. Consider the margin cost of the bike
A common mistake consumers make when purchasing any new product is to look only at the price to determine the best deal. However, the price tag on an electric bike doesn't tell the whole story. A cheap purchase price may lower your upfront cost, but it can become expensive when you need to repair a broken bike, upgrade or replace specific parts, or find that your e-bike is far from powerful or fast enough.
Expensive products may end up costing you less to own throughout the life of the product. So, while the initial cost may be higher, ultimately an expensive e-bike may be the less costly option.
3. Consider the Size and Weight
Electric bikes are heavy, typically weighing 50 pounds or more. While lightweight models are available, these will have smaller ranges and less power, due to the simple fact that batteries and motors are heavy, and in turn frames must be built stronger to carry that extra weight.
If your ebike will be stored in a garage, eliminating the need to lift it or carry it upstairs into an apartment, then weight is less of a consideration. Parents who want to haul their children or individuals who want to carry heavy loads might consider an electric cargo bike.
If you live in a small apartment, or plan to bring your ebike onto public transit, a folding ebike such as the ENGWE T14 could be your best bet.
4. Mid-drive or Hub Motor?
The motor will have a major impact on your ebike's weight, range, and performance; choosing the right type of motor is likely the most important decision you will make. Motors fall into two categories,hub or mid-drive. Hub motors are in the wheel itself, front, rear, or both, and they propel you by accelerating the wheel. Mid-drive motors are built into the frame between the pedals, and their power is added to increase the power of your pedal stroke. It's a subtle but important difference.
While hub motors are typically cheaper and work for most riders, mid-drives offer higher performance. "Hub motors are roughly 30 percent efficient," says ebike drive system engineer Zach Krapfl, "while a mid-motor from Bosch or Shimano is designed to run at about 70 to 80 percent efficiency."
5. Take a look at reviews or watch YouTube videos
Another great way to research electric bikes is to get first-hand accounts from other riders. Their experiences may help you understand how a particular bike will meet your needs. There are many review videos on YouTube as well as free articles on the Internet. These reviews often go over the features of a particular e-bike on a case-by-case basis so you can learn more about how they work or what they offer.
6. Compare Key Specifications
Our next tip for you is a basic, but important, product research tip. That said, you can't just look at e-bike prices or reviews and learn about the bike. You need to look at the individual specs and parts that make up the bike. For example, you might buy a very inexpensive e-bike because it's attractively priced, only to find out that the maximum range is 20 miles and that you'll often need to charge it or you could run out of battery at the worst possible time.
If you compare the range of two different e-bikes, you may want to take this into account when looking at the overall condition and price of both.
7. Storage/Security
Many electric bikes have rear wheel locks which make them harder, but not impossible, to steal. If you must leave your ebike outside, invest in a high-quality lock at the same time you buy your new ebike. Ideally you will be able to store your ebike indoors or in a secure area overnight. Again, that makes size and weight an important consideration.
8. Service and Maintenance
All electronics eventually fail and need repairs, which means choosing a motor that can be serviced is another crucial decision. Shop mechanics are sometimes unable to repair no-name brands because they lack the parts or diagnostic tools. Sadly, some of those ebikes are destined for landfill. That sucks. Look for bikes that use motors from well-known brands such as Bosch, Shimano, Brose, Yamaha, and Panasonic.
With these tips, you'll be riding your new e-bike in no time. Enjoy!